CONCEPT
Expand the workspace and the possibilities of your desk
As we aim for a more comfortable desktop environment,
the problem of insufficient workspace becomes more pronounced.
With the Extension Desk, just lining it up with your current desk
can expand the surface area of your tabletop.
With a spacious workspace, you can place large monitors
while still maintaining a distance from your screen that is healthy for your eyes.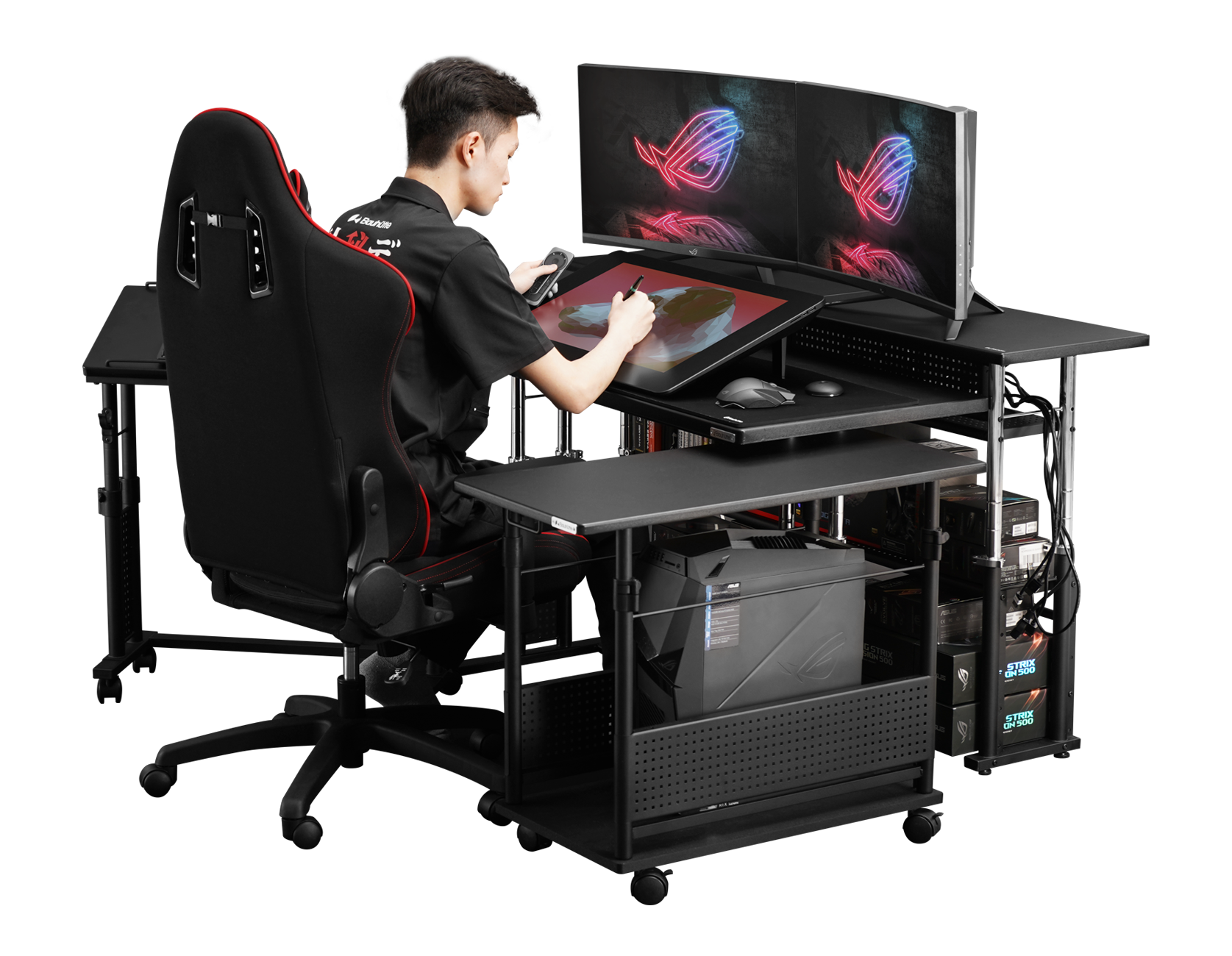 SERIES
*Click the color buttons to change product colors.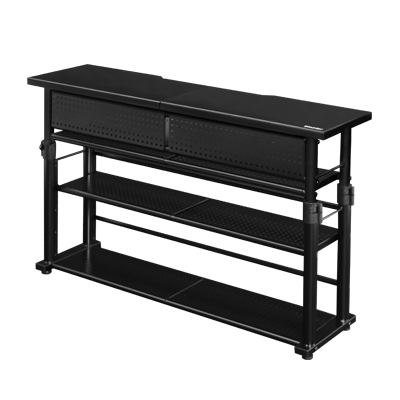 Length:1000mm
BHC-1000H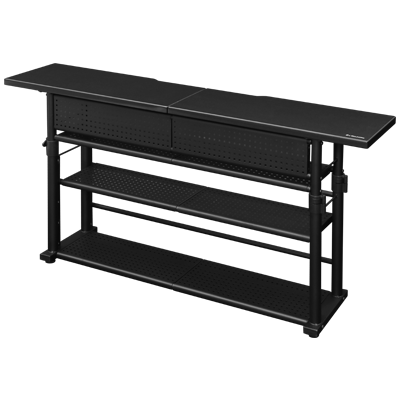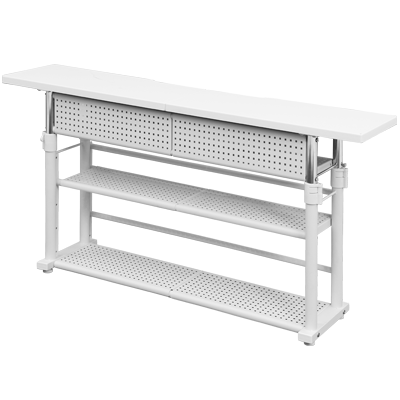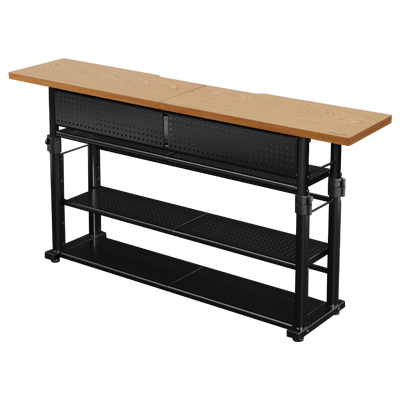 Length:1200mm
BHC-1200H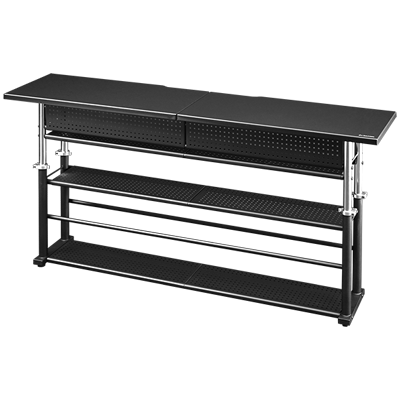 Length:1400mm
BHC-1400H
FEATURES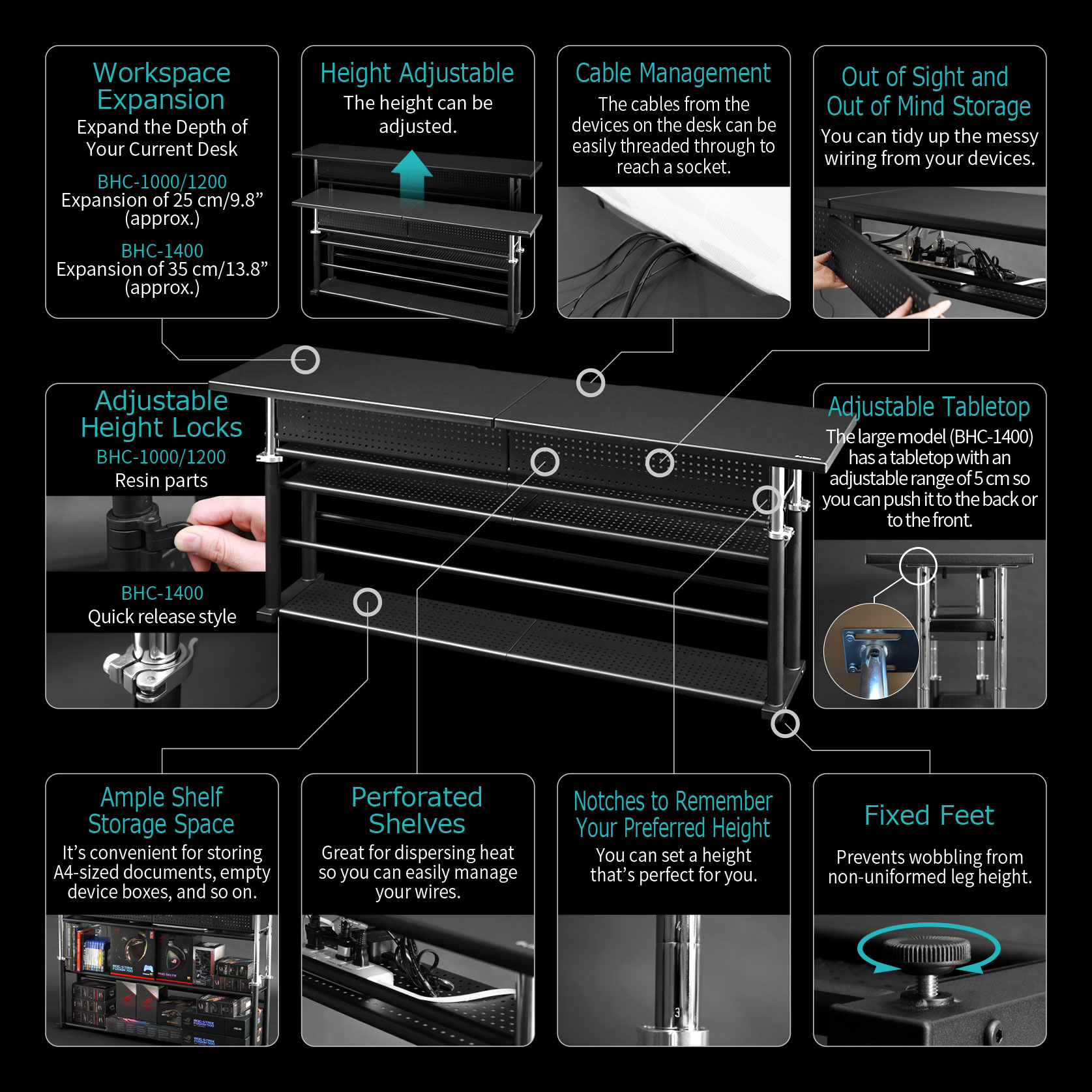 Expand the Depth of Your Desk
Do your eyes get tired from being too close to the computer screen?
Or is your screen so big that you can't view it all at once?
Well, the Expansion Desk can solve all these problems.
Large monitors can be placed on it while still enabling
you to maintain a distance from your screen that is healthy for your eyes.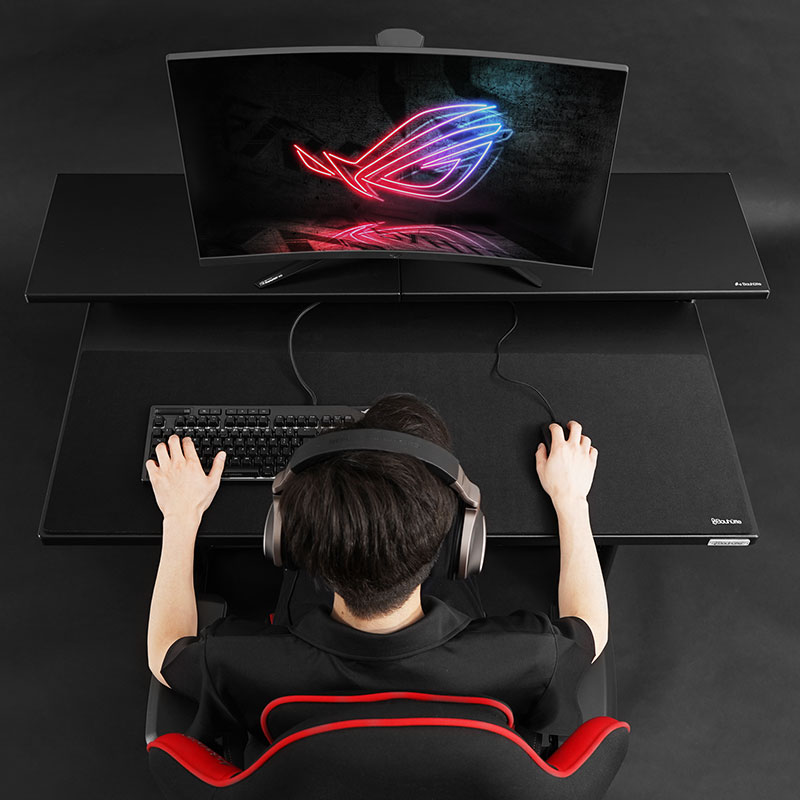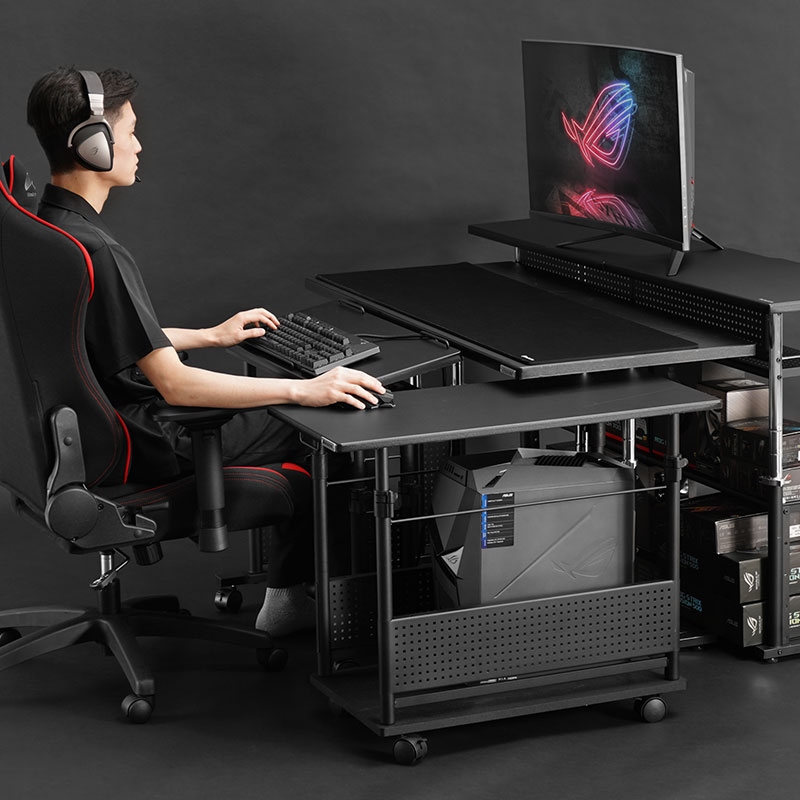 Place Large Devices on It
By expanding the depth of your desk,
you can place large devices to make your work easier.
A 32-inch LCD tablet and dual monitors can be used with room to spare.
A spacious workspace will expand your creativity too!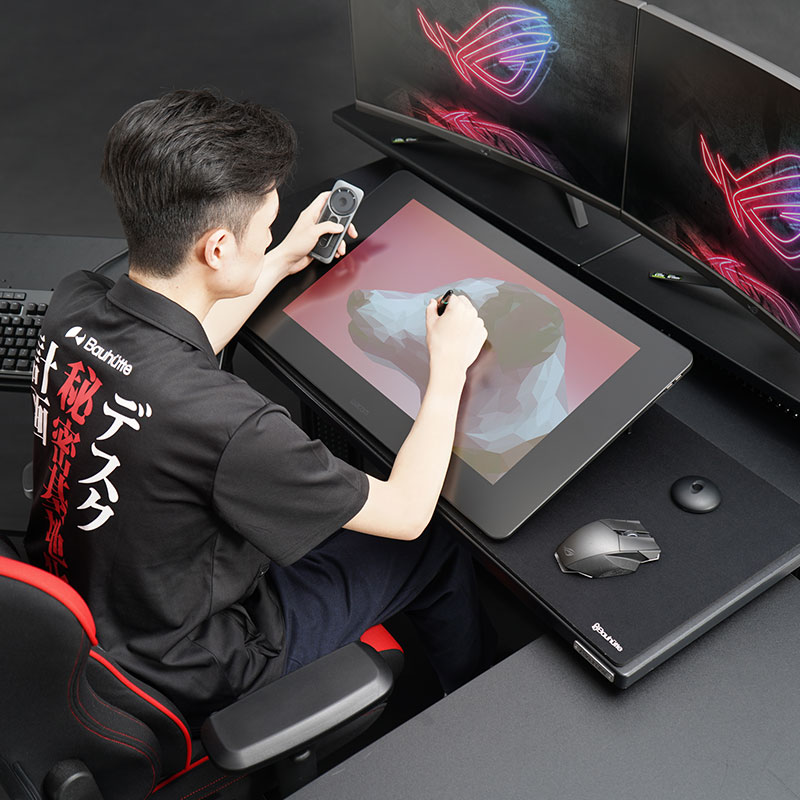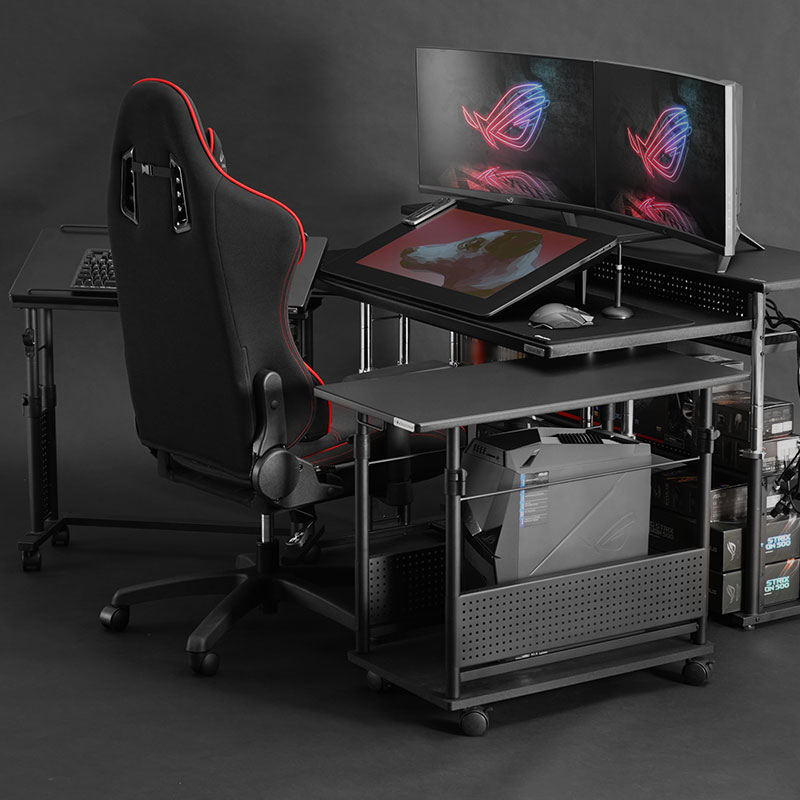 Out of Sight and Out of Mind Cable Storage
The topmost perforated shelf has a hidden board
that you can attach or detach according to your own preferences.
It can store all your power strips and cables,
leaving your desk tidy and refreshing to look at.
Your cables can be managed and tidied,
flowing directly from your desk to your computer.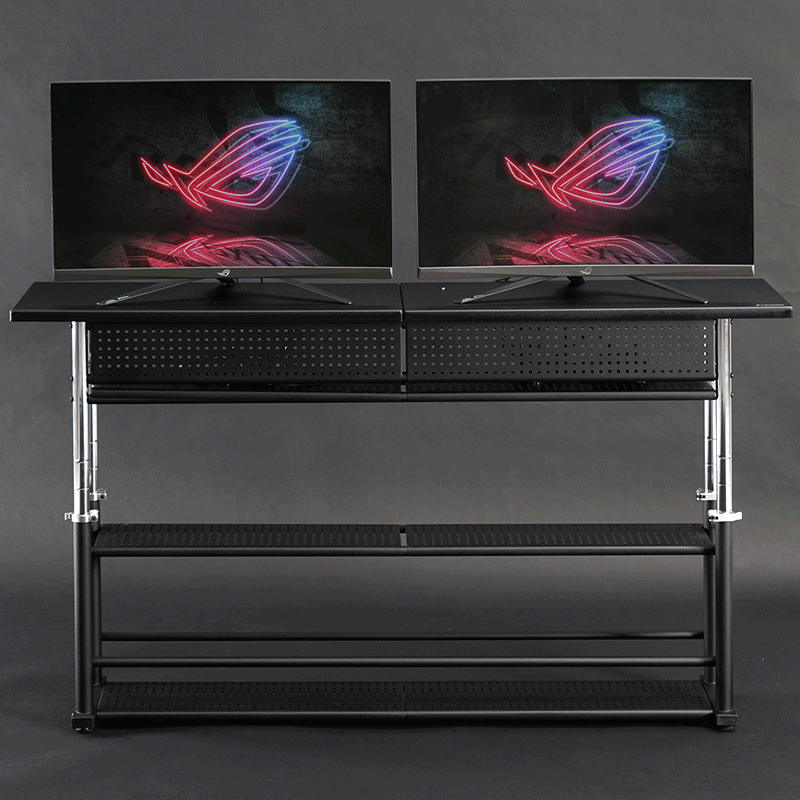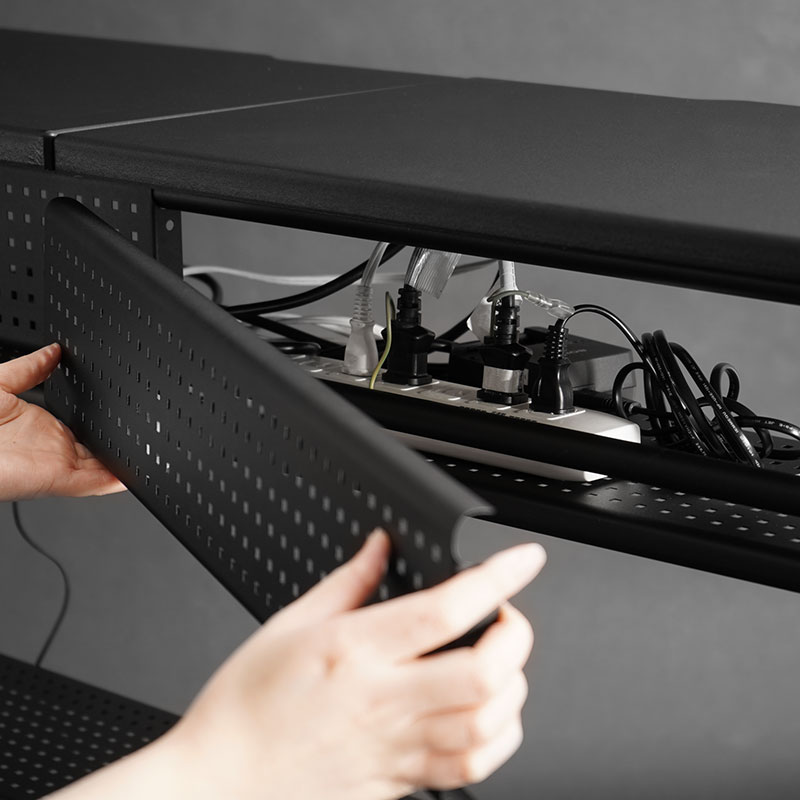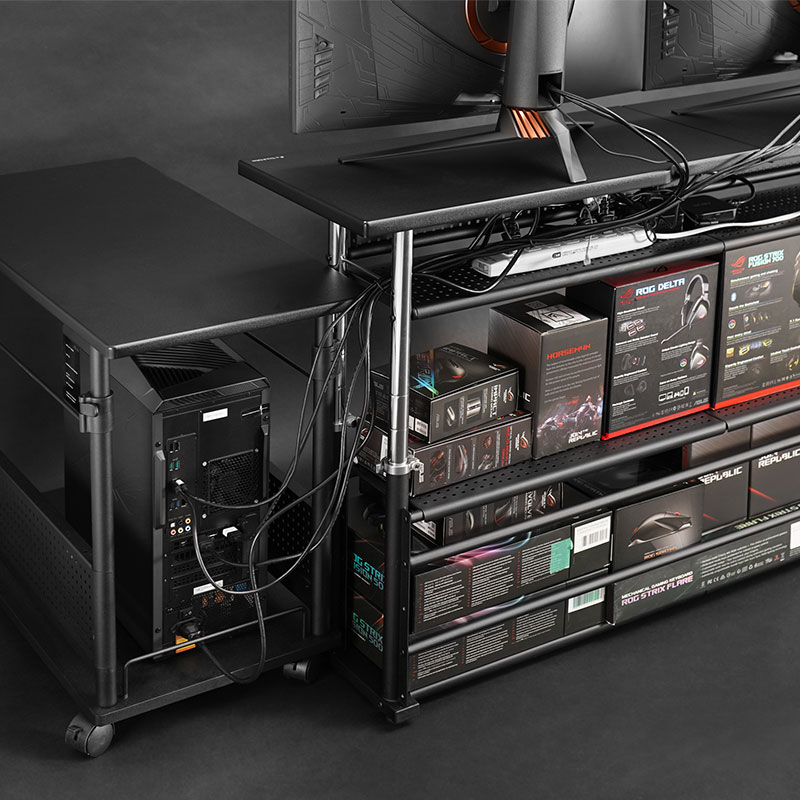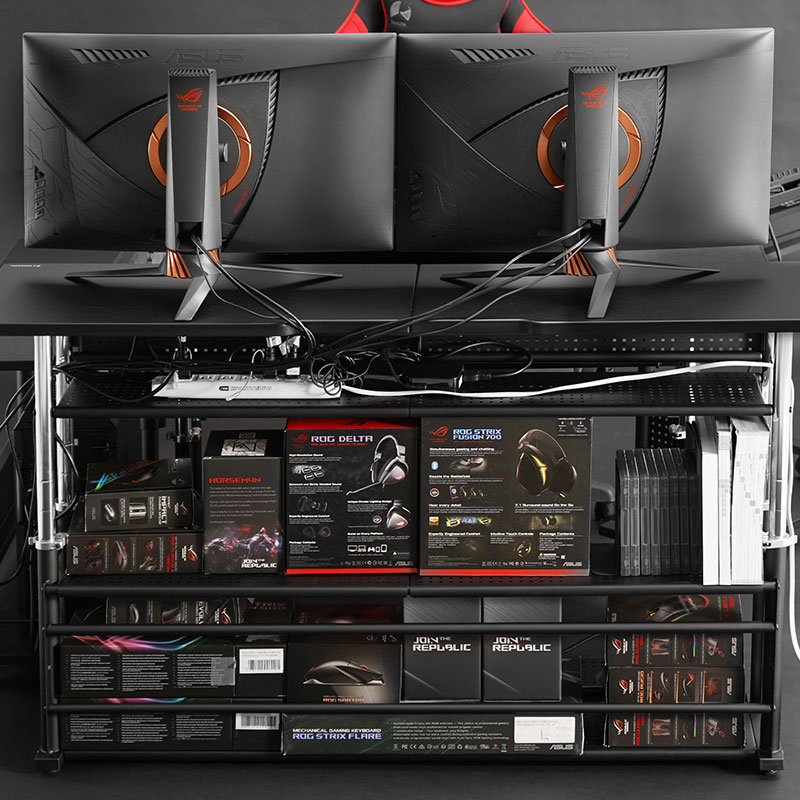 Adjustable Height (if Used as a Monitor Stand)
Each model has an adjustable height range
so you can adjust the table top to your preference.
From the floor, the BHC-1000H / 1200H can be adjusted between 59~80 cm (23.2"~31.5"),
and the BHC-1400H between 59~90 cm (23.2"~35.4").
We recommend setting it to be a little higher up than your desk
so it can be used as a monitor stand.
By matching your purpose for it to your personal preferences,
you can create your own comfortable gaming environment.
*Please note that a monitor arm cannot be attached to this stand.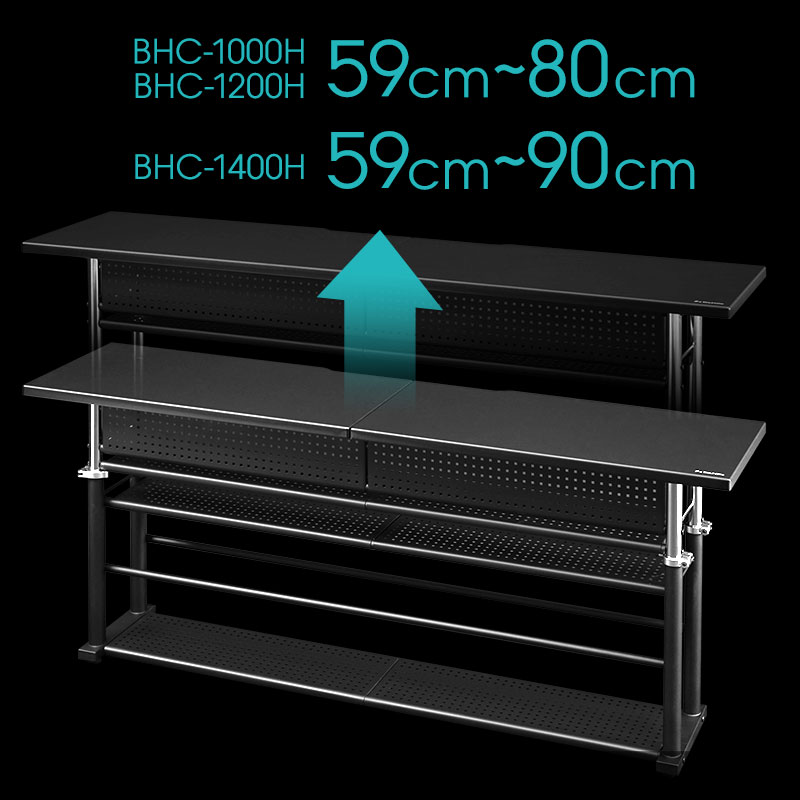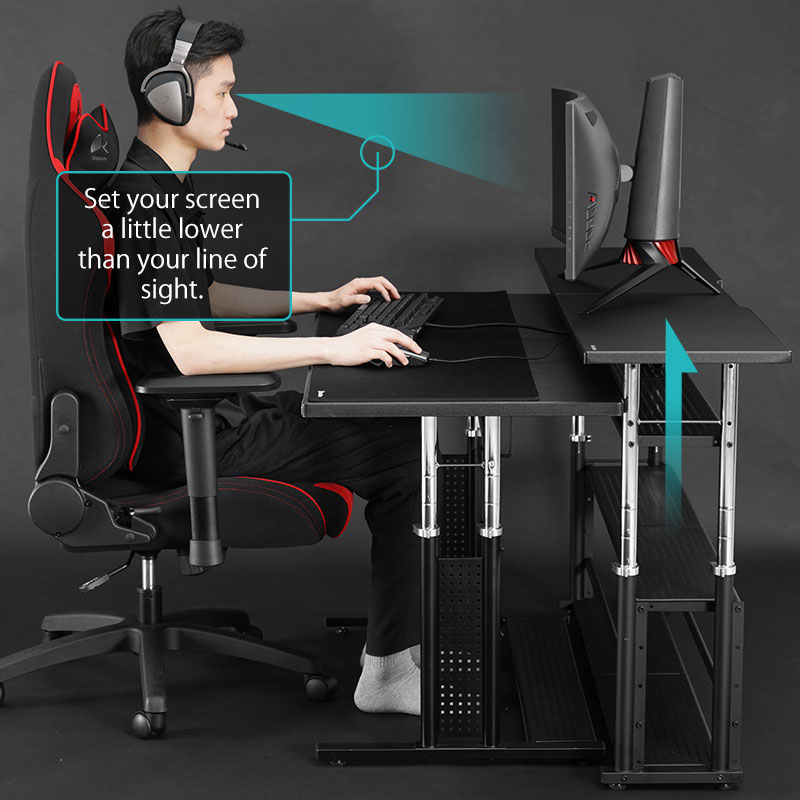 Notches to Remember Your Preferred Height
There are scales on the desk legs to make it easy for you to remember which height you prefer. You can make sure the left and right sides can be evenly adjusted.
Quick Release / Adjustable Height Locks
The BHC-1400H is adjustable with quick release locks that can withstand a lot of weight.
*The locks on the BHC-1000H/1200H models are made from resin.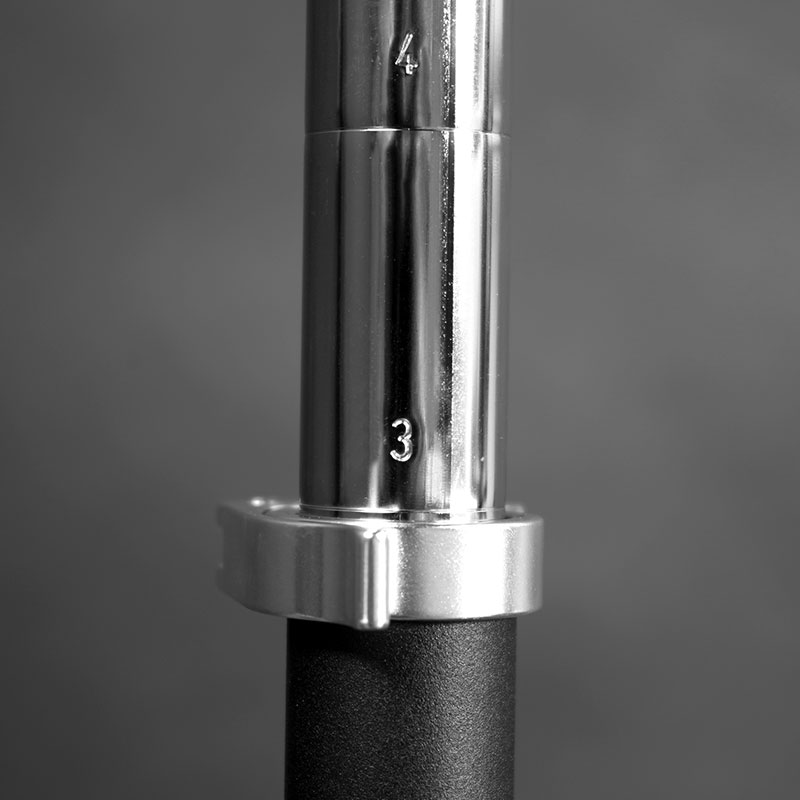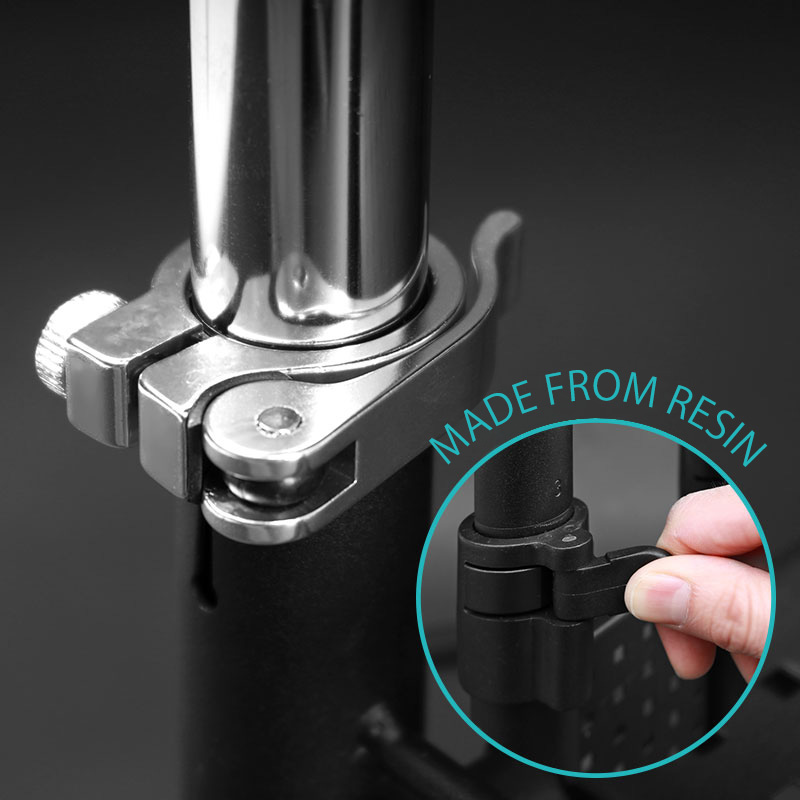 Tabletop Finish
The Extension Desk has the same finish as the Bauhutte's Desk Series. You can enjoy the satisfaction of having a uniform workspace.
Fixeed Feet
There are adjusters on the feet of the desk so you can easily make sure that your desk is even. With this design, you can keep your desk steady and minimize wobbliness.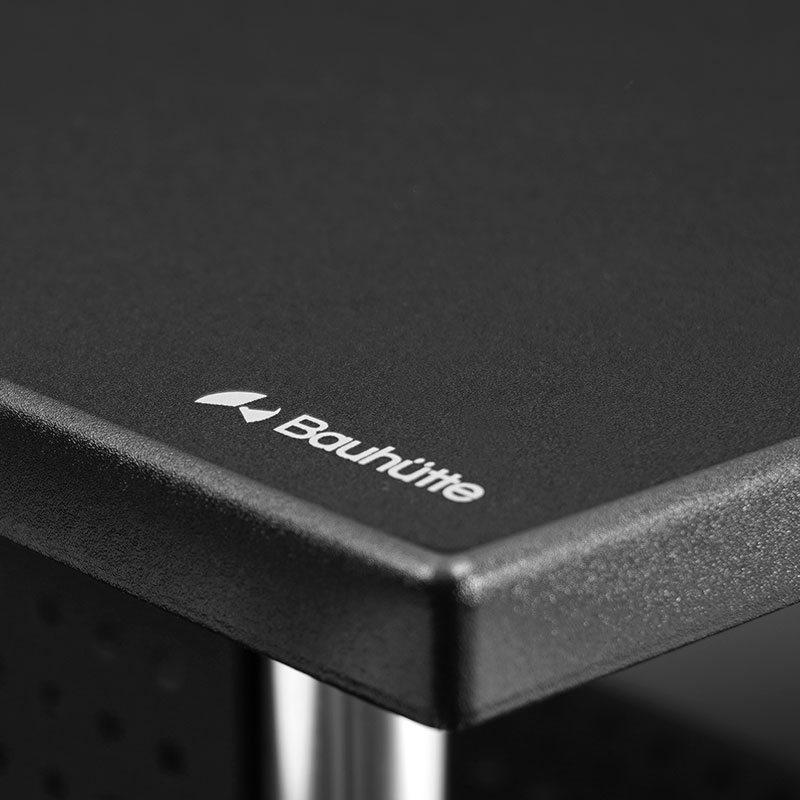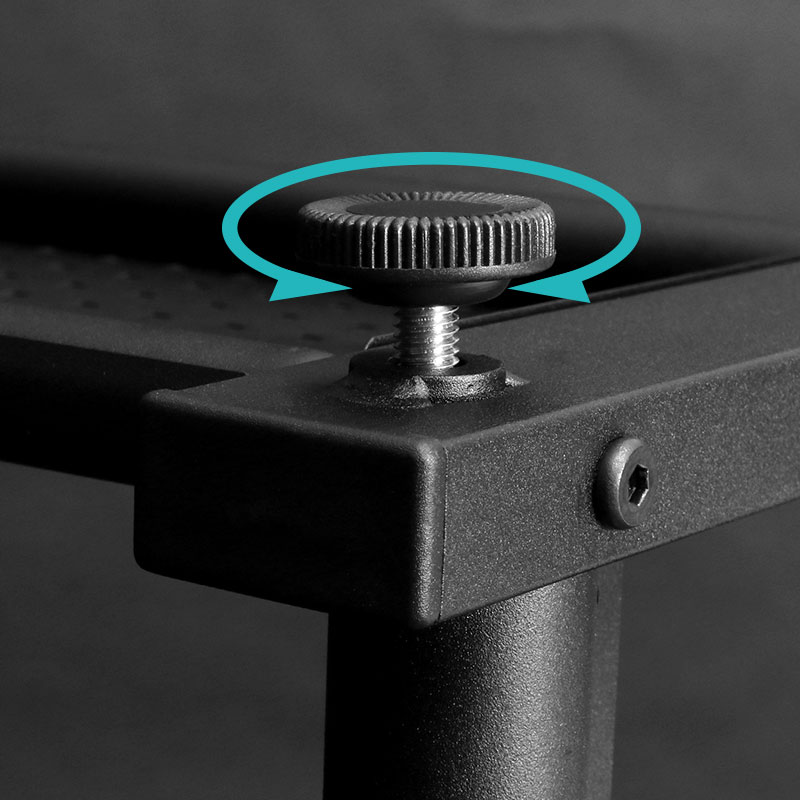 Maximize the Use of Dead Space
We recommend storing empty device cases and video games within the desk. This way, you can maximize the use of the dead space under your desk.
Place a Large Monitor
The BHC-1400H has a width of 35 cm/13.8" and can securely hold the stand of a large gaming monitor.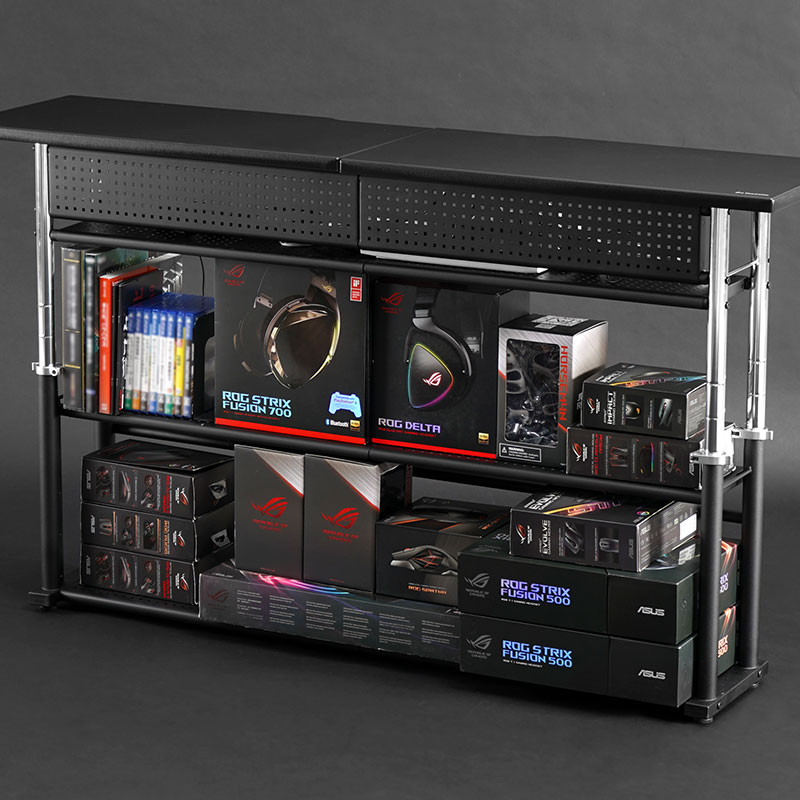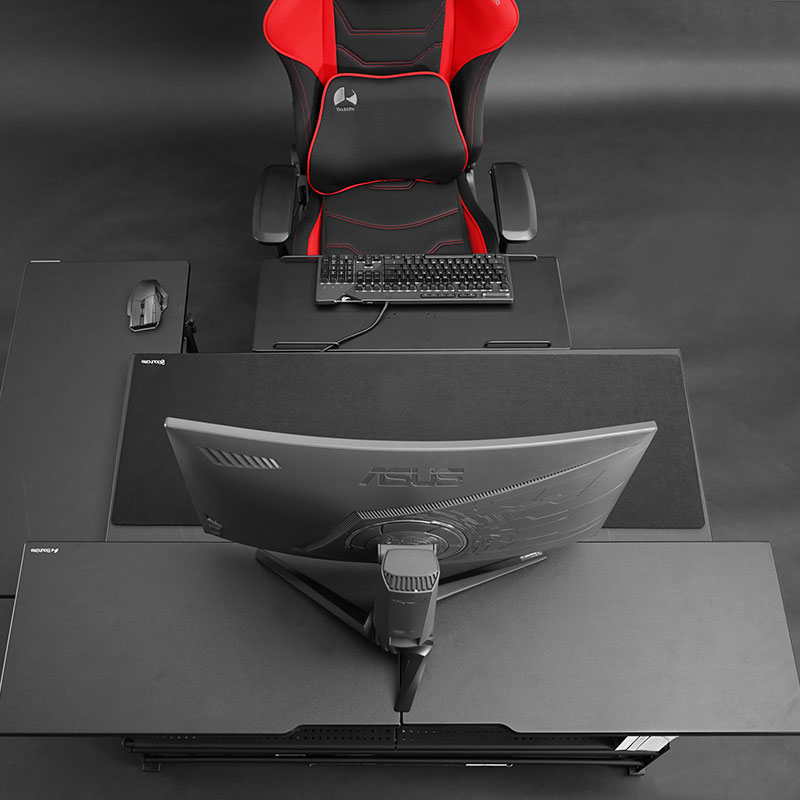 Adjustable Tabletop Distance
With the BHC-1400H model, the tabletop can be pulled towards or pushed away from you within a range of 5 cm/2".
*The BHC-1000H / 1200H models have fixed tabletops.
How to Securely Set It Up
To avoid the risk of the Extension Desk falling over, we recommend setting it up between a wall and your desk.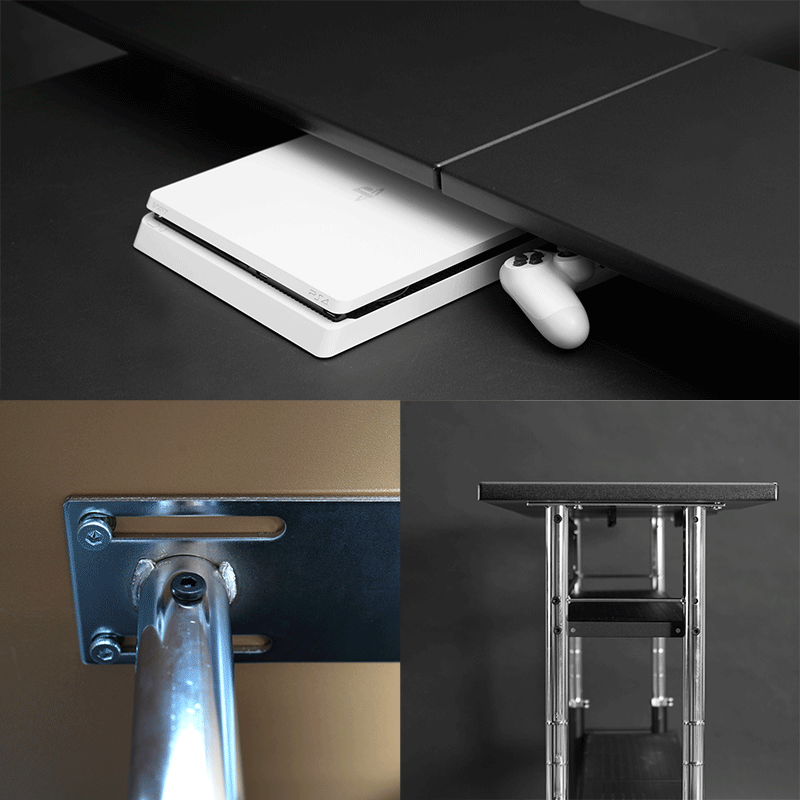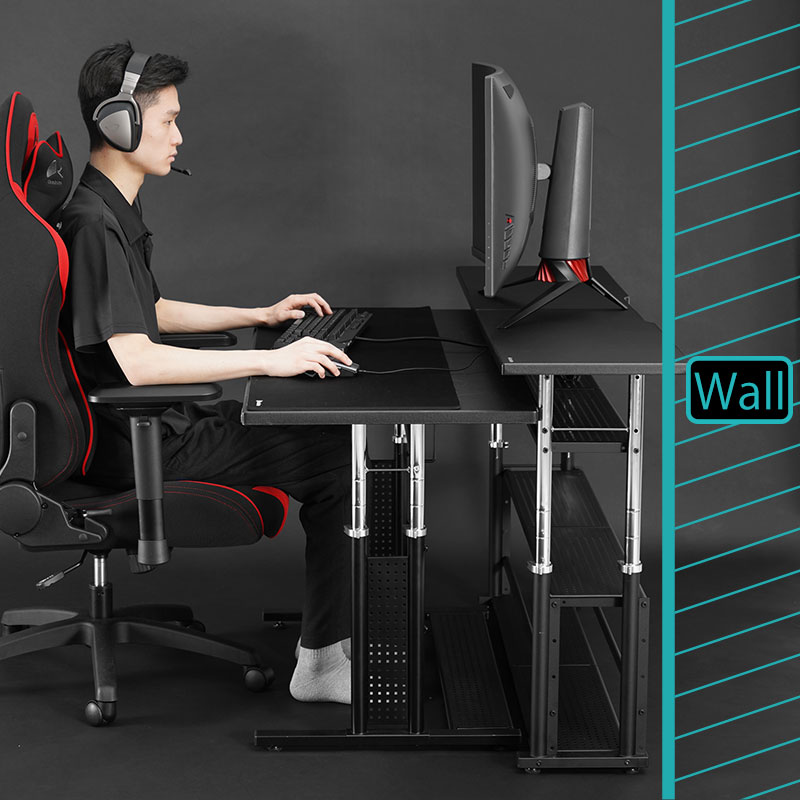 If You Enjoy Sitting on the Floor to Game
If you prefer to game close to the floor, our Adjustable TV Stand is perfect for you. Measured from the floor, its height is adjustable from 37-55 cm/15.5"~ 21.7"(range of 19 cm/7.5").
Expanding Sideways
If the Adjustable L Desk is also used, you can expand your workspace adjacently too. It's also convenient for storing gaming computers.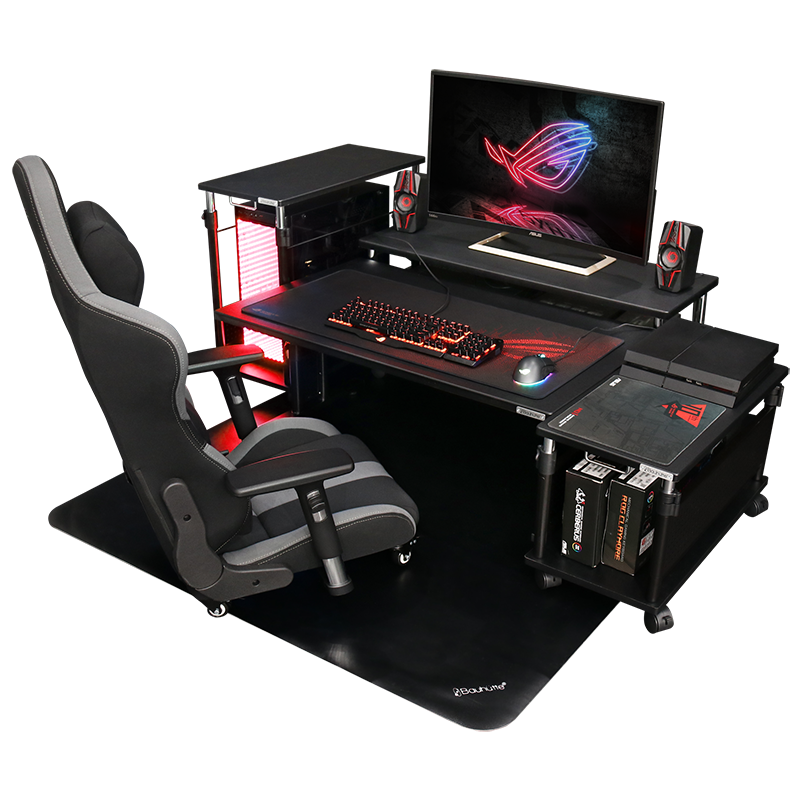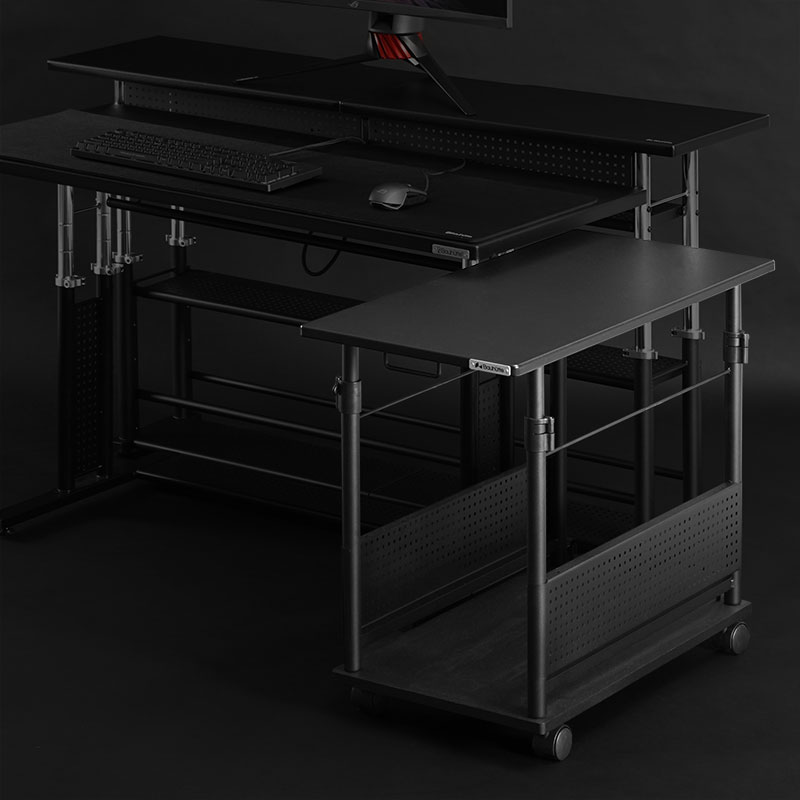 Weight Limit
Size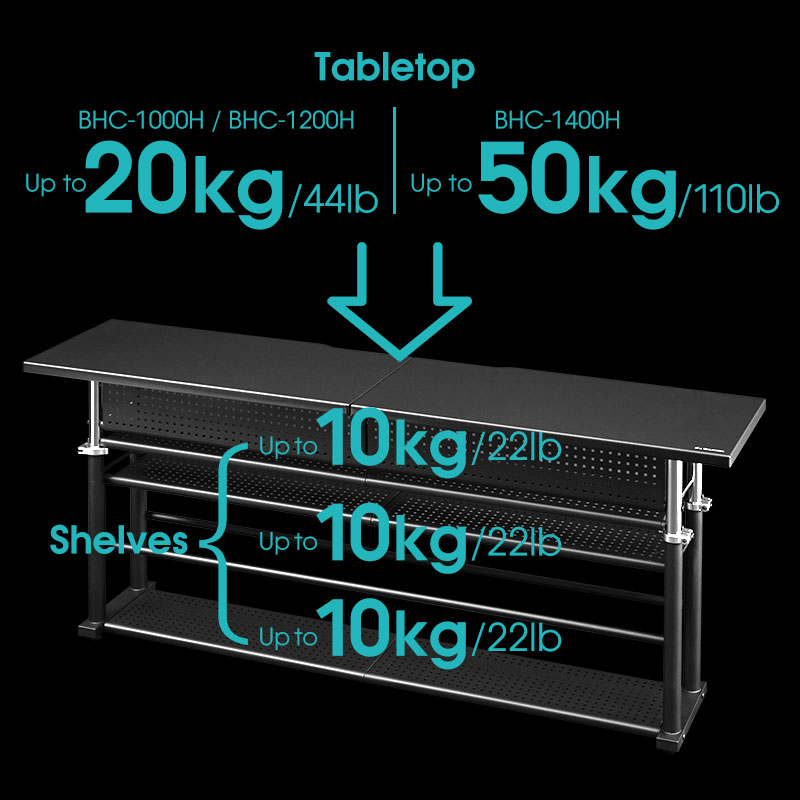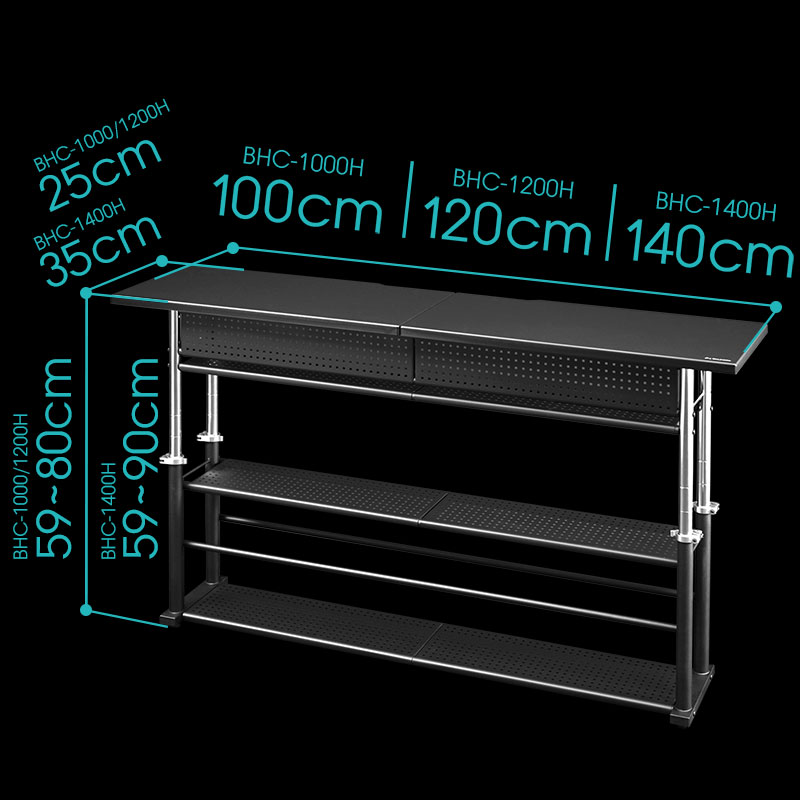 Cooperated with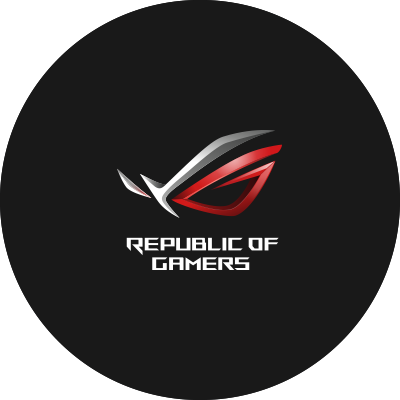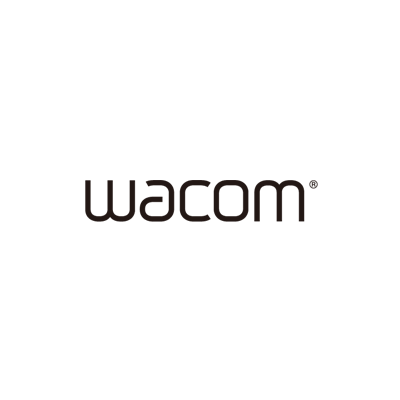 SPEC
Color
BK:black
WH:white(BHC-1200H only)
WD:wood(BHC-1200H only)
Size
BHC-1000H:Width 1000mm × Depth 250mm× Height 590mm(590~800mm)
BHC-1200H:Width 1200mm × Depth 250mm× Height 590mm(590~800mm)
BHC-1400H:Width 1400mm× Depth 350mm× Height 590mm(590~900mm)
Weight
BHC-1000H:13.72kg
BHC-1200H:14.44kg
BHC-1400H:20.10kg
Surface Finish
desk legs・shelves:epoxy powder coating
Weight Limit
BHC-1000H / BHC-1200H:tabletop Less than 20kg, each shelf Less than 10kg
BHC-1400H:tabletop Less than 50kg, each shelf Less than 10kg
Material of Tabletop Surface
laminated fiberboard(PVC resin)
MSRP
Varied
JAN Code
BHC-1000H-BK:4589946139877
BHC-1200H-BK:4589946139884
BHC-1200H-WH:4589946143409
BHC-1200H-WD:4589946140910
BHC-1400H-BK:4589946143539
*Please do not place hot vessels, like heated pots, kettles, or hot mugs, directly on it. This might result in a change in the color or shape of the product. Please lay a pot stand or coaster on the table before placing such items on it.
SIZE
*Proof of quality stickers on some products may differ from the above measurements. The measurements on the product page are more accurate than those on your product.
*The sizes written are control sizes. Depending on the individual and the way the product is assembled, measurements might differ slightly.