CONCEPT
A New Model Built to Accommodate
the Base of Large Chairs!
This is a table for your devices
that we developed specifically with PC gamers in mind,
as minute movements of your mouse
make a huge difference to your gaming.
With your mouse and your keyboard
set up separately from your main desk,
it'll support your endeavours in
creating a more comfortable gaming environment.
In response to the feedback that we've gotten from users
that the wheels of large desk chairs get in the way,
we've added 4 cm (1.6 in) to the width of the desk in this new model.
We recommend installing a racing wheel to it.
FEATURES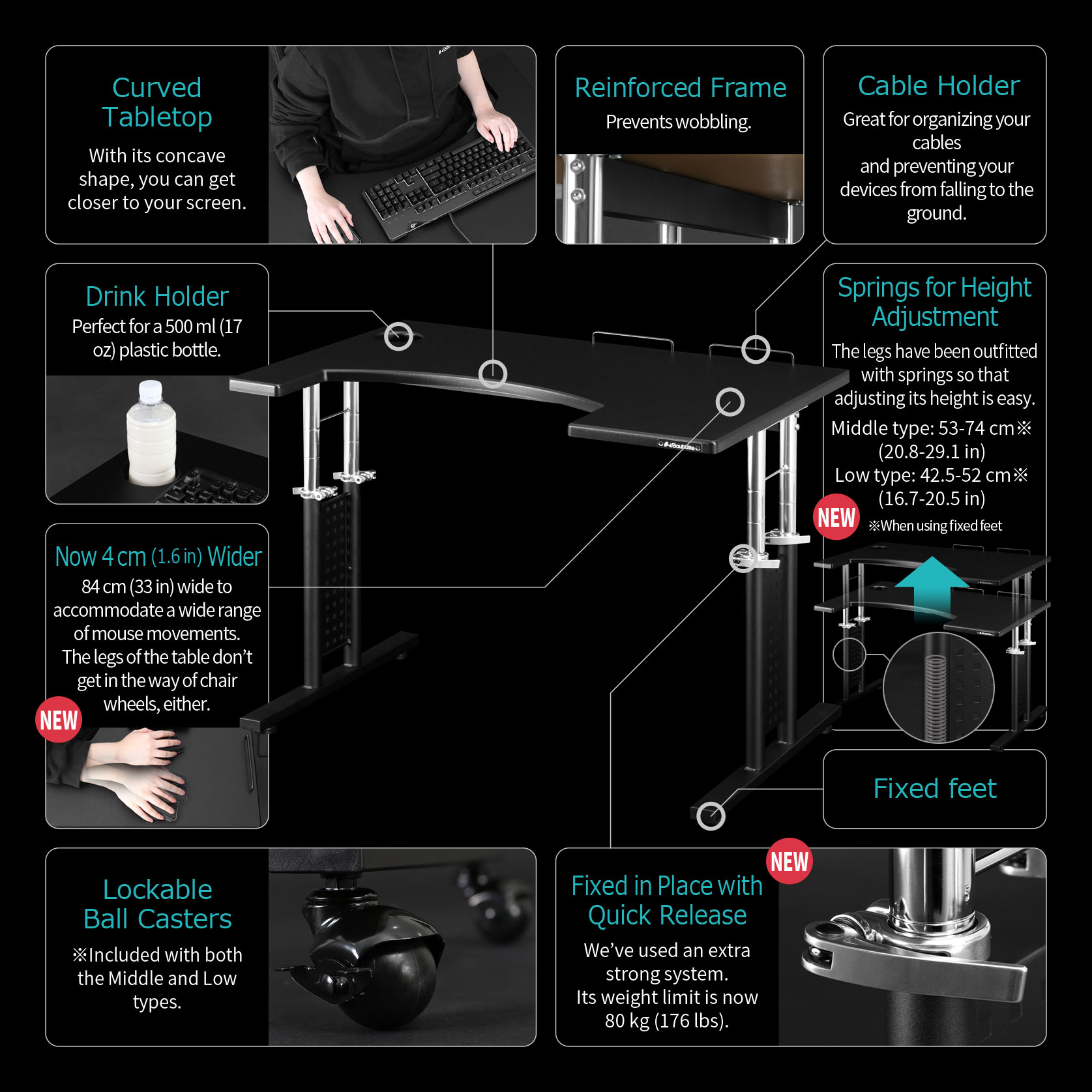 Adjust the Height to Your Gaming Style
With this function, you can set the tabletop seamlessly at any height you'd like.
You can match it to the genre of games you play, your gaming style, and your height.
Middle type: 53.5-74.5 cm* (21-29.3 in) *Using fixed feet
Low type: 42.5-52 cm* (16.7-20.5 in)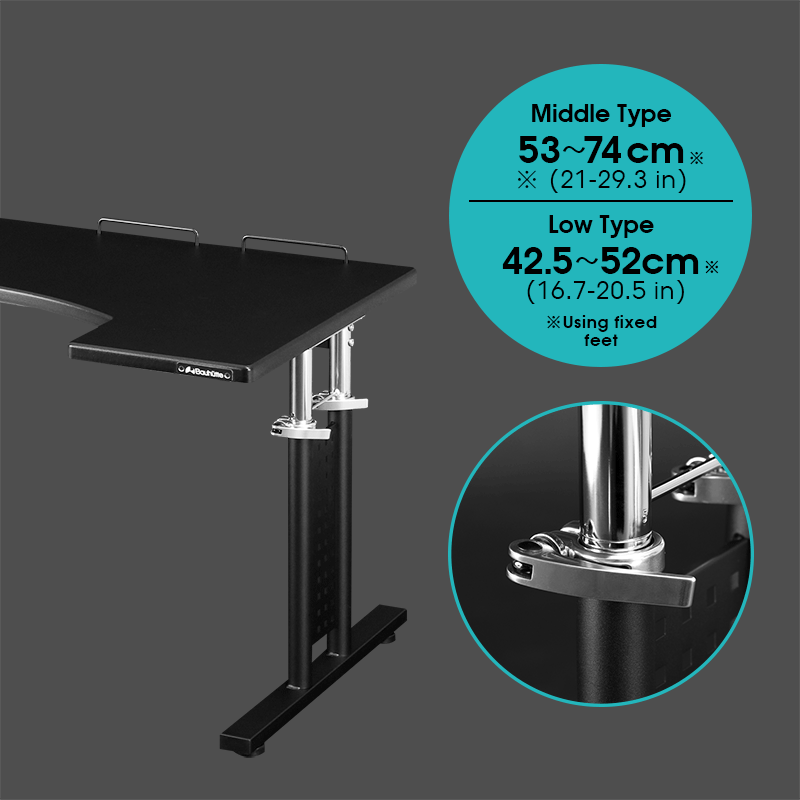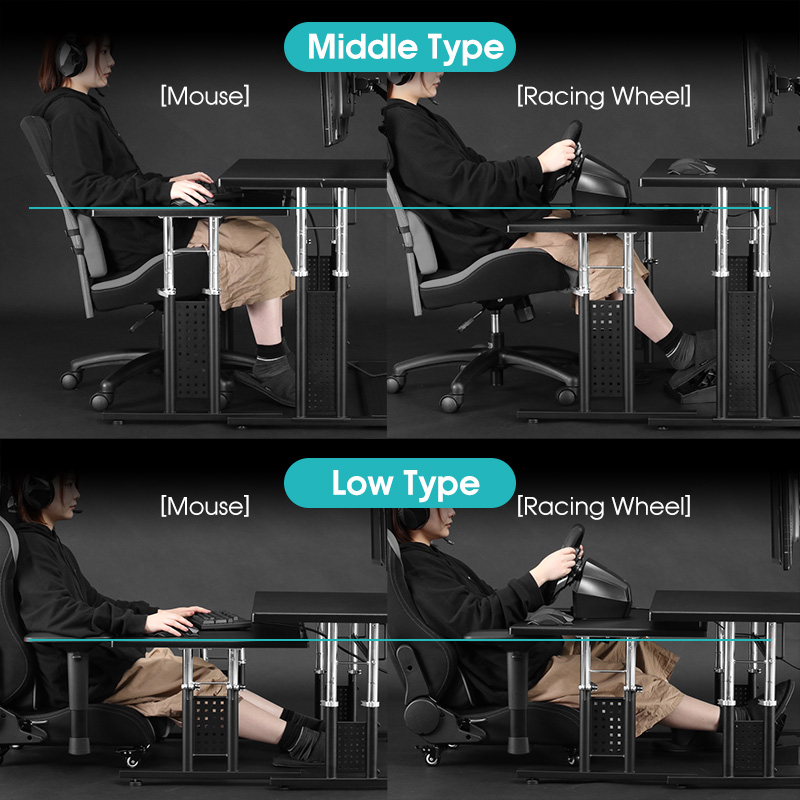 Maintaining a Good Distance for Your Eyesight
(Great for Large Monitors Too)
With the Cockpit Desk, you can maintain a good distance
from the monitor to your eyes while
still having your mouse and keyboard close enough to you.
Since it is separate from the main desk,
you'll be able to maintain your distance from the screen,
so it's great for large monitors too.
Working too close to your screen can be the cause of tired eyes and stiff shoulders.
It may also make your sight blurry and so on,
so it is necessary to be careful and cautious of its effects.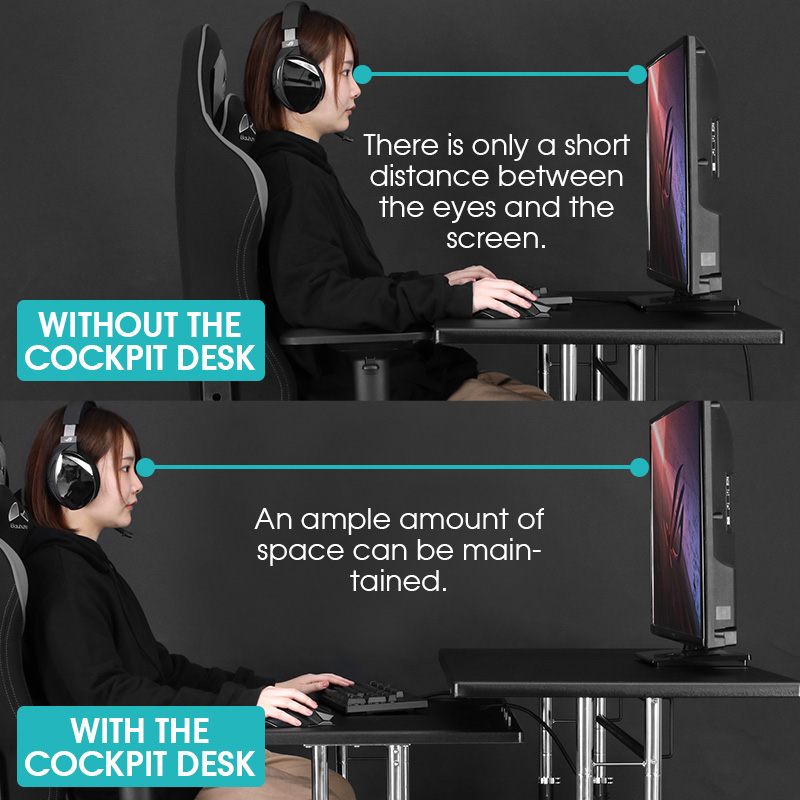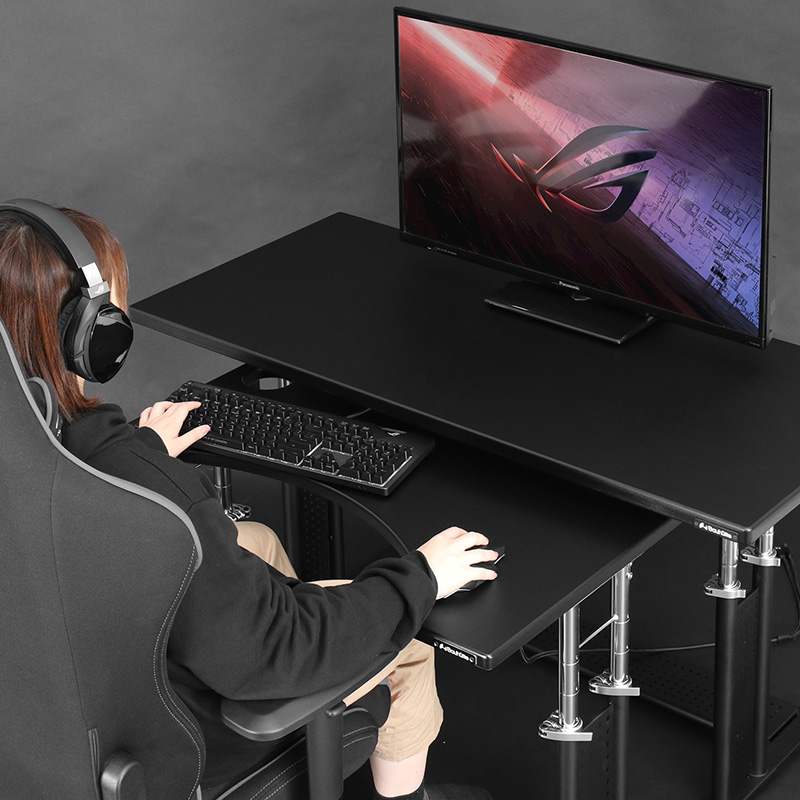 The tabletop is now 4 cm (1.6 in) wider!
We've added 4 cm (1.6 in) to the width of the older model.
For FPS gamers and other users for whom mouse movement is crucial,
the tabletop is a lot more spacious and easier to use.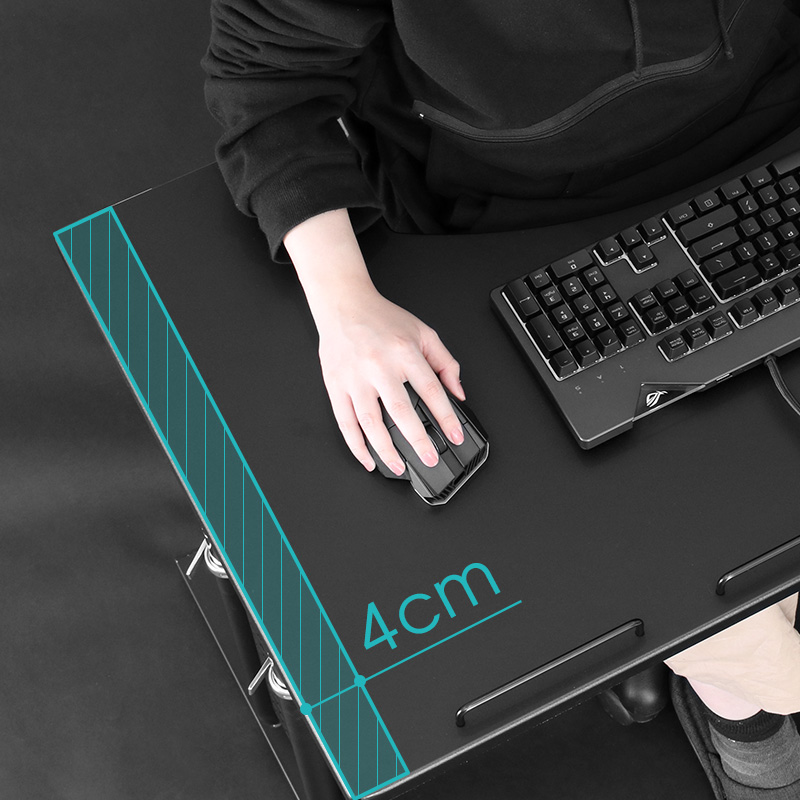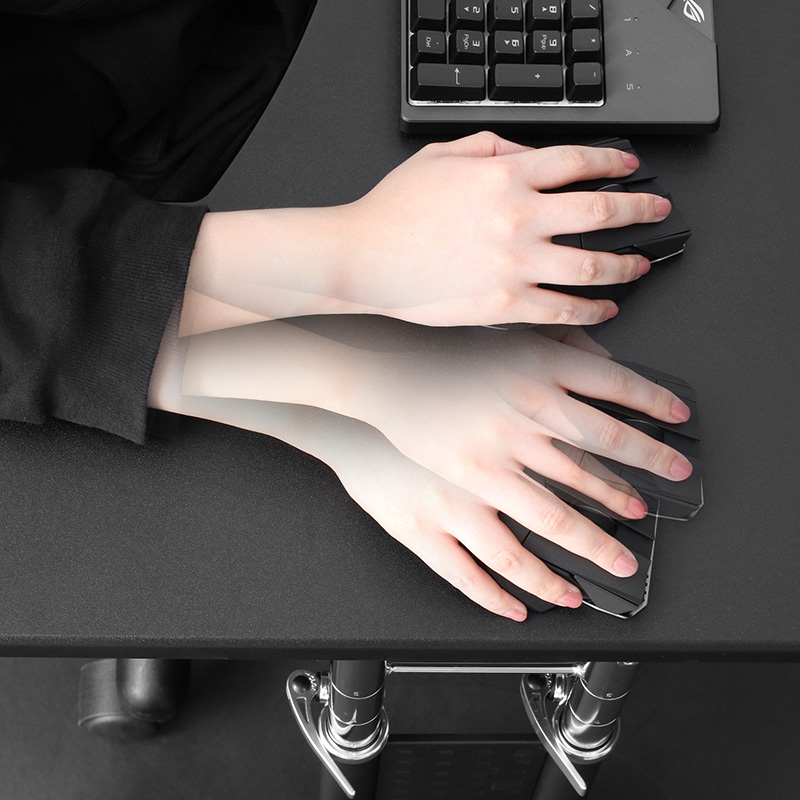 Wheels of Large Chairs
Won't Get in the Way
Learning from the older model, we've made sure that you can tuck large chairs underneath when they're not in use.
※Please check the measurements before purchase.
Added Springs
for Height Adjustment
As a support for the height adjustment function, springs have been added in the legs of the desk. This was done to make it easier to adjust its height.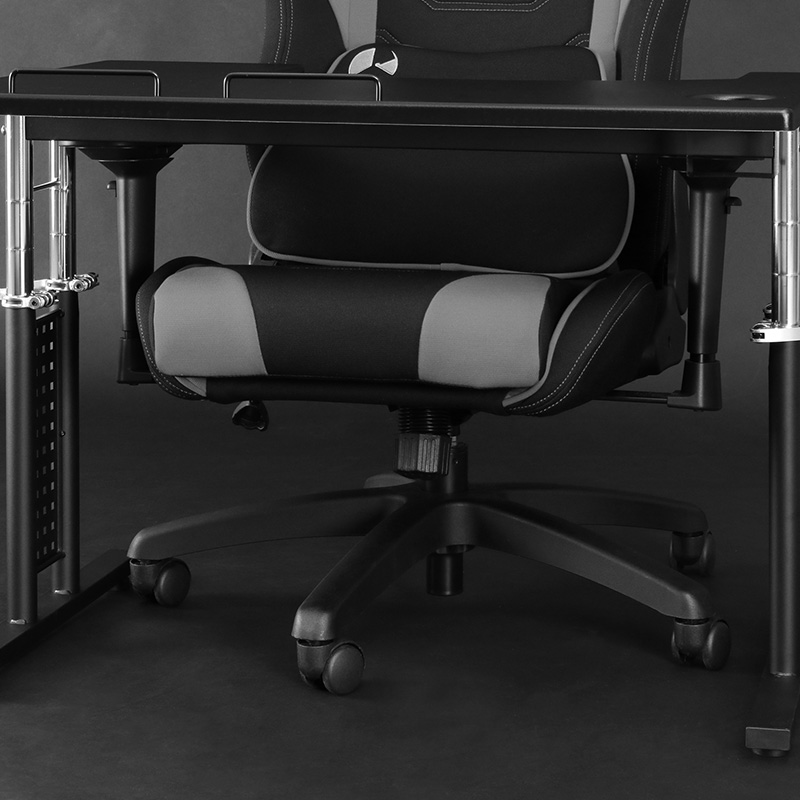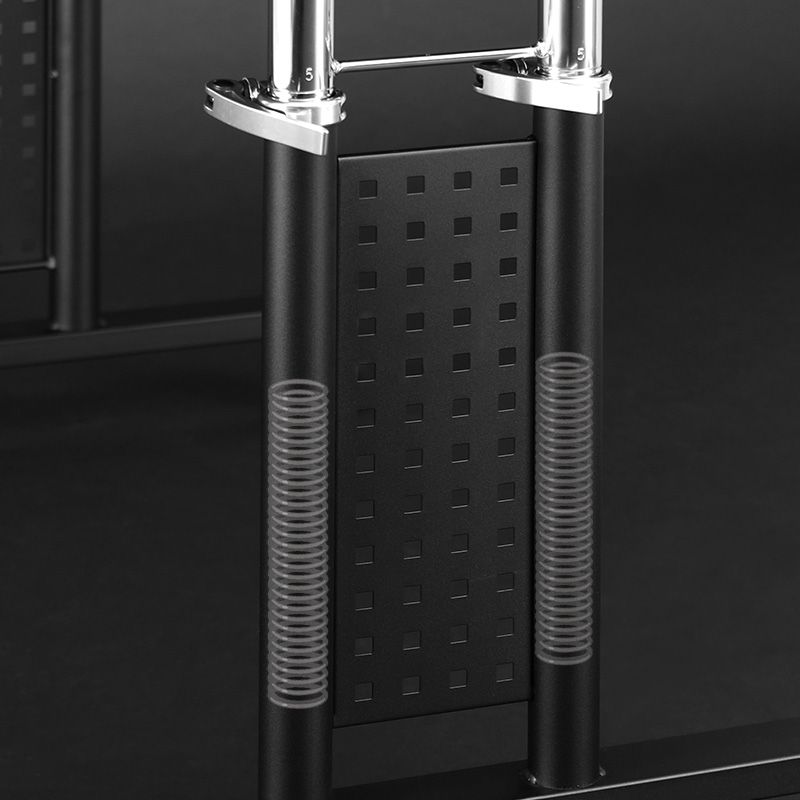 Quick Release Adjustment
We have changed the height adjustment system to a quick release system and increased the weight limit.
Height Scale
There are notches on the legs of the desk, allowing you to keep the tabletop level when adjusted.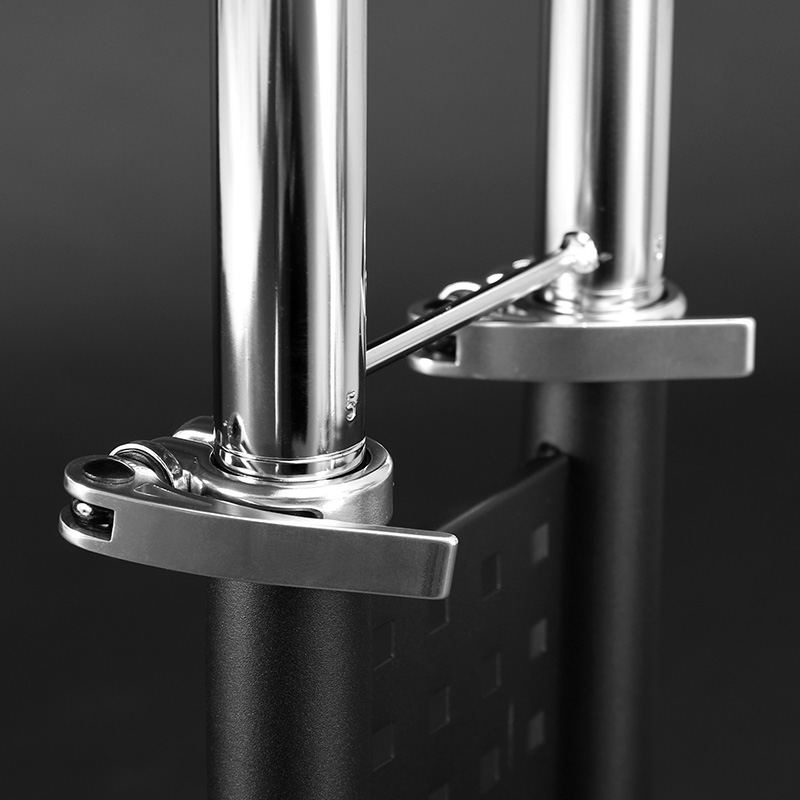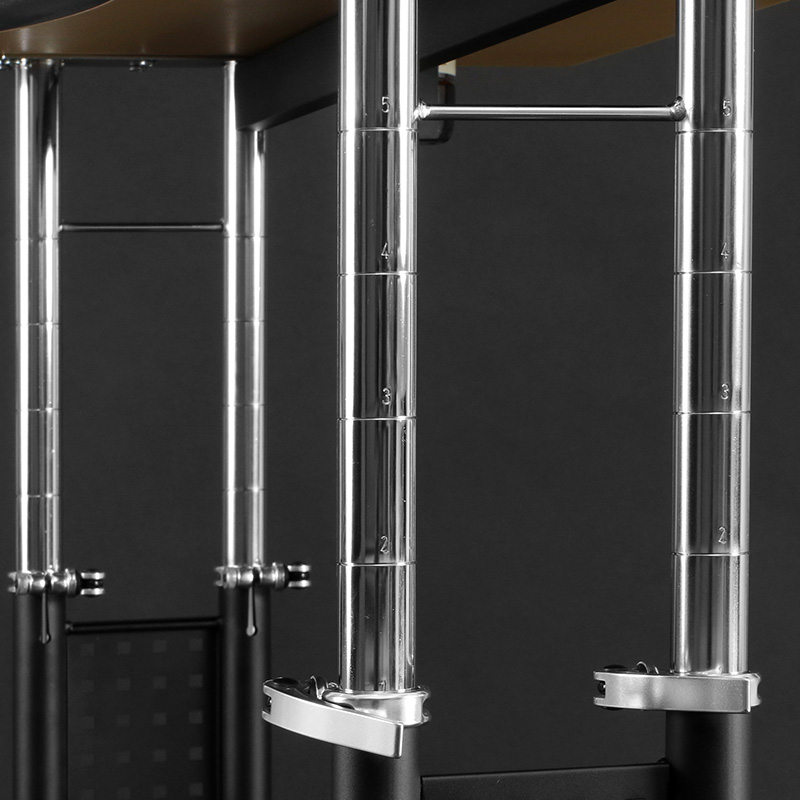 Middle Type
Low Type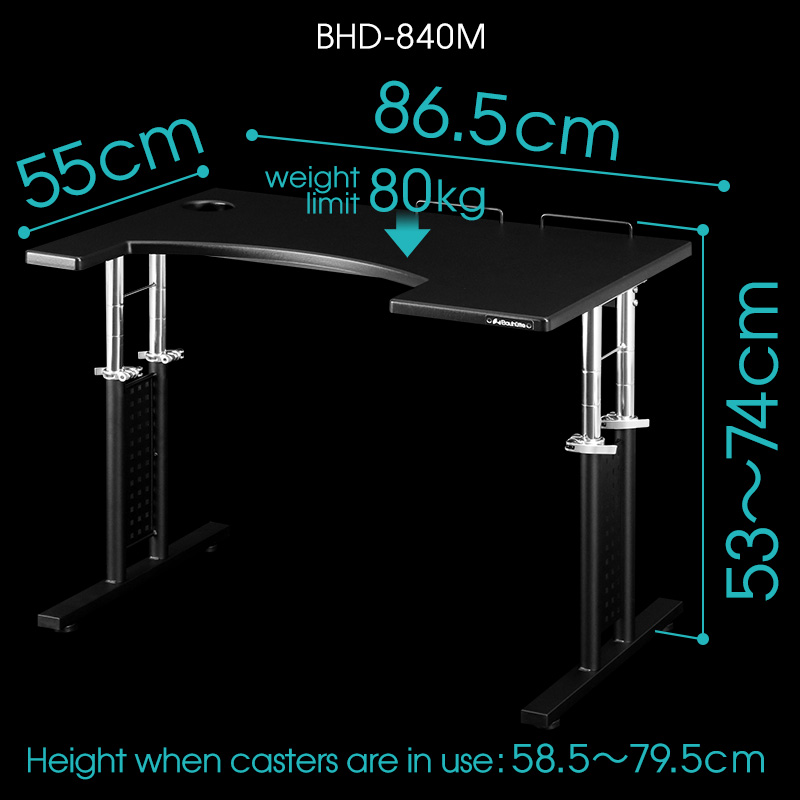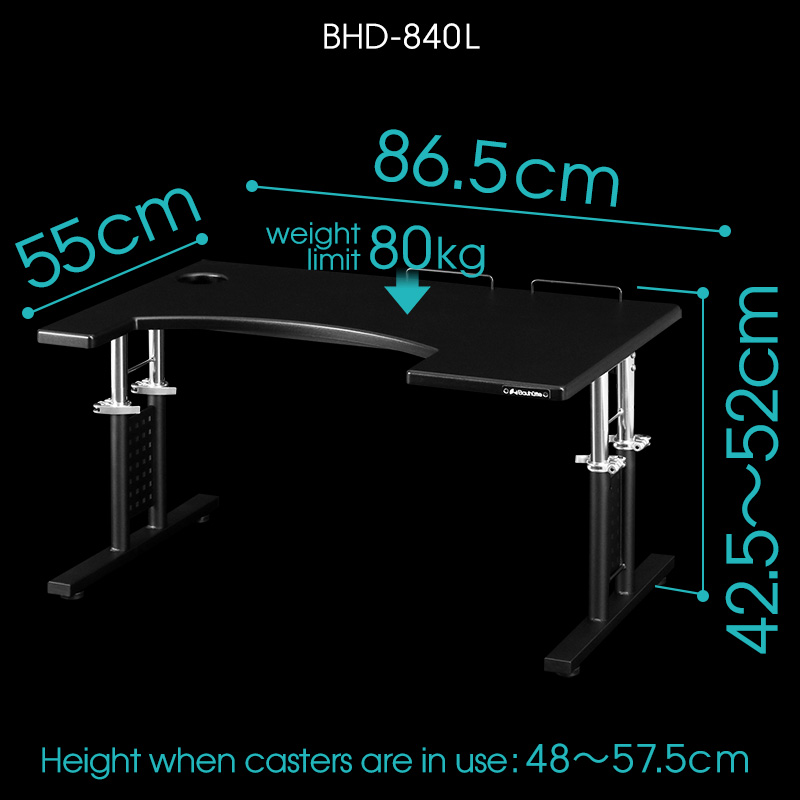 How to Adjust the Height
*The pictures show Gaming Desk HD BHD-1200HD, which uses the same method.
*Because of the springs in the desk legs, please be careful when increasing the height of the tabletop, as it may rise up with more force than expected.
Storage Space Beneath the Desk
We have designed the tabletop of the Cockpit Desk to be compact enough to be stored under our Gaming Desks.
※Desks with 1000 mm and 1200 mm widths can be used in this way.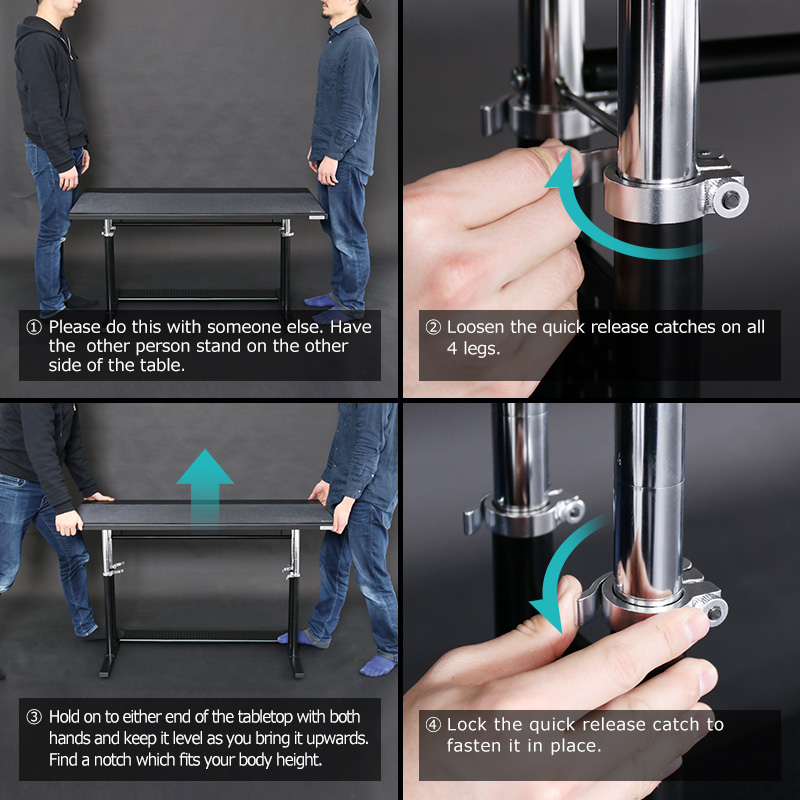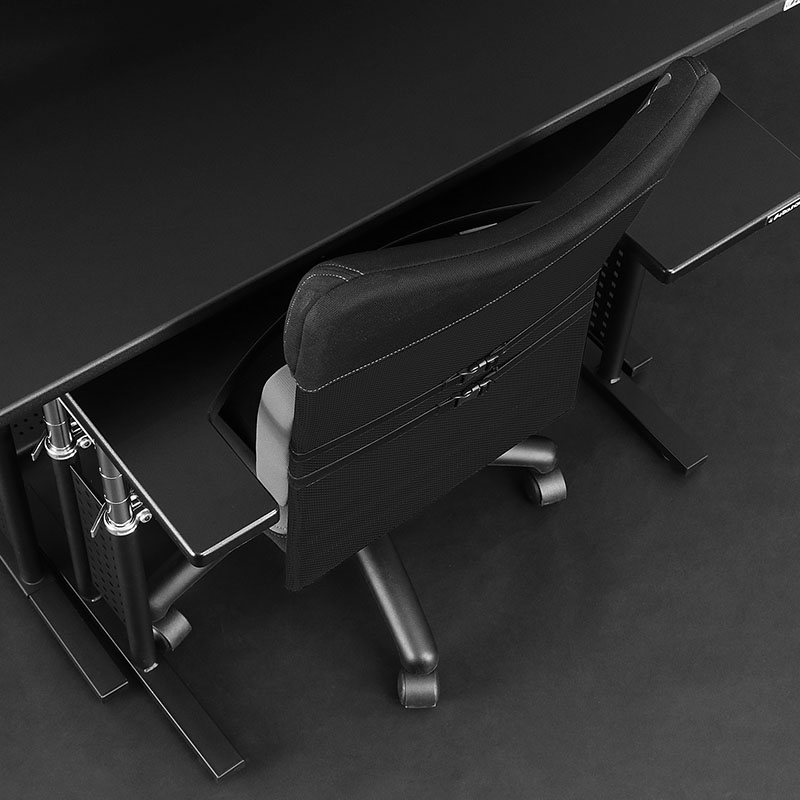 A Tabletop
that's Fitted to Your Body
The concave shape of the tabletop allows you to pull it close to your body. This way, you easily operate your mouse and keyboard while reclining in your gaming chair.
As an Elbow Rest
By resting your elbow and arm on the tabletop, you can have more control over your mouse. Pivoting on your elbow instead of your wrist will also help you have more control over your mouse. As such, we recommend this for FPS gamers who require fine mouse movements in their gaming.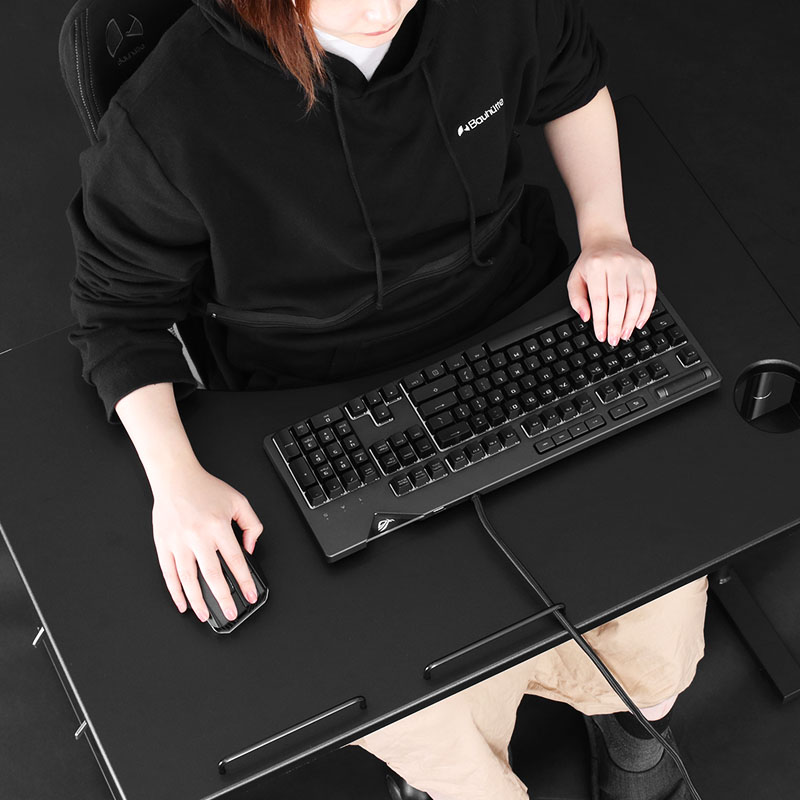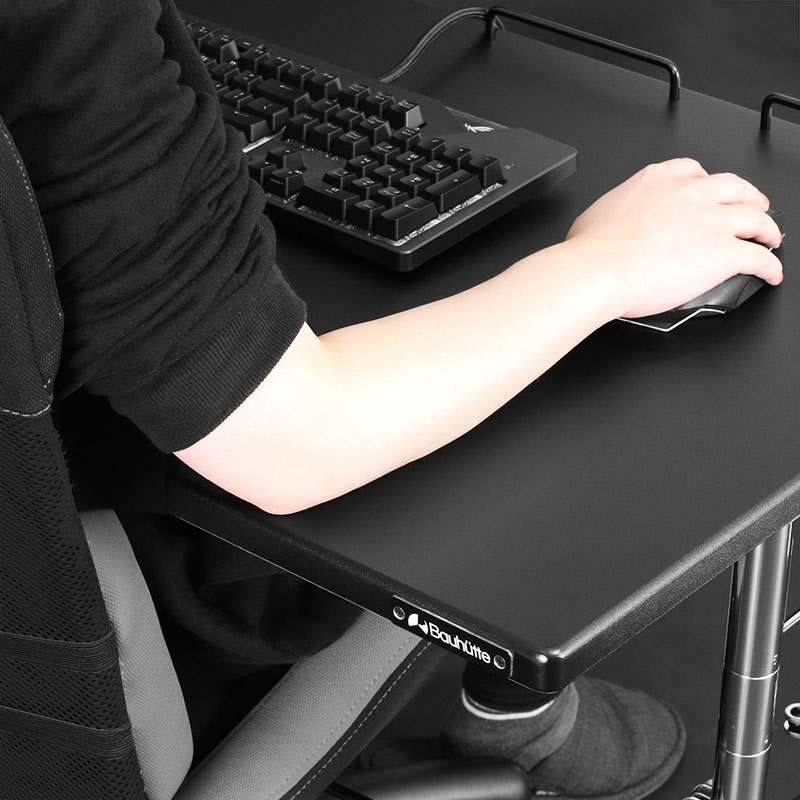 Drink Holder
The desk comes with a drink holder that was made to accommodate 500 ml (17 oz) plastic drink bottles. It minimizes spilling risk and keeps your precious devices safe.
Cable Holder
The cable holder helps you keep your keyboard and mouse cables organized. It also prevents your electronic devices from slipping off the table and onto the ground.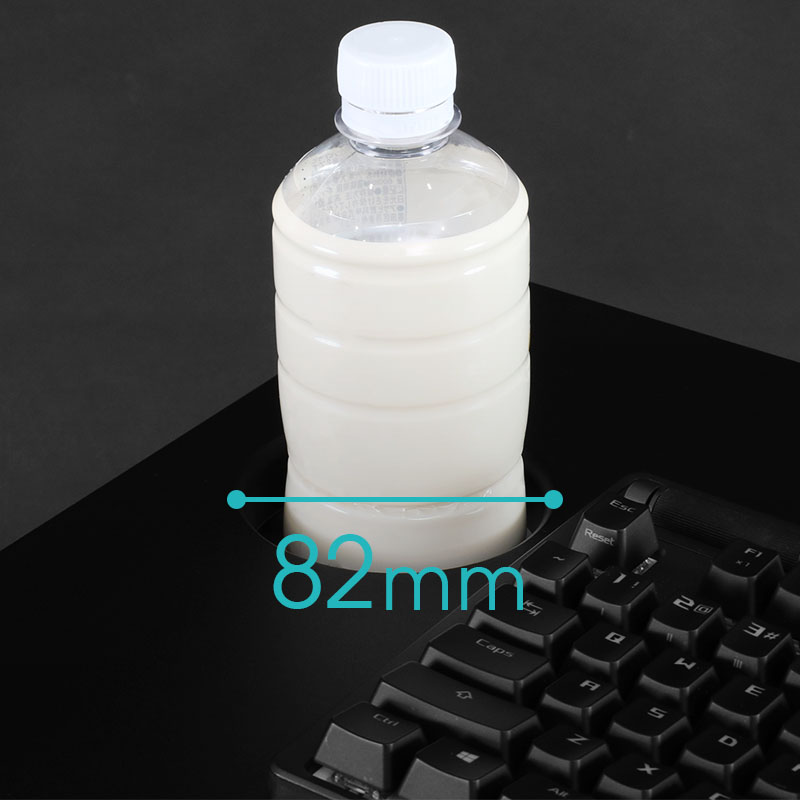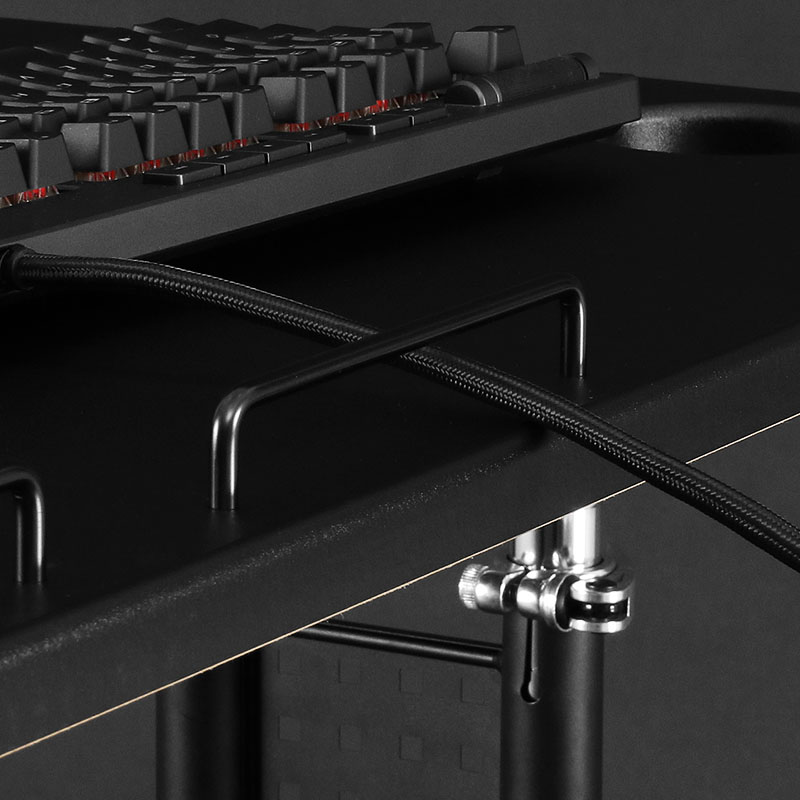 Height Adjustable Screws
/ Ball Casters
The Cockpit Desk comes with screws that can be adjusted to your preferred height that keeps your desk from wobbling. It also comes with lockable ball casters which make it convenient to better position your desk or shift it around.
Reinforced Frame
A reinforced frame has been used to prevent the desk from shaking sideways.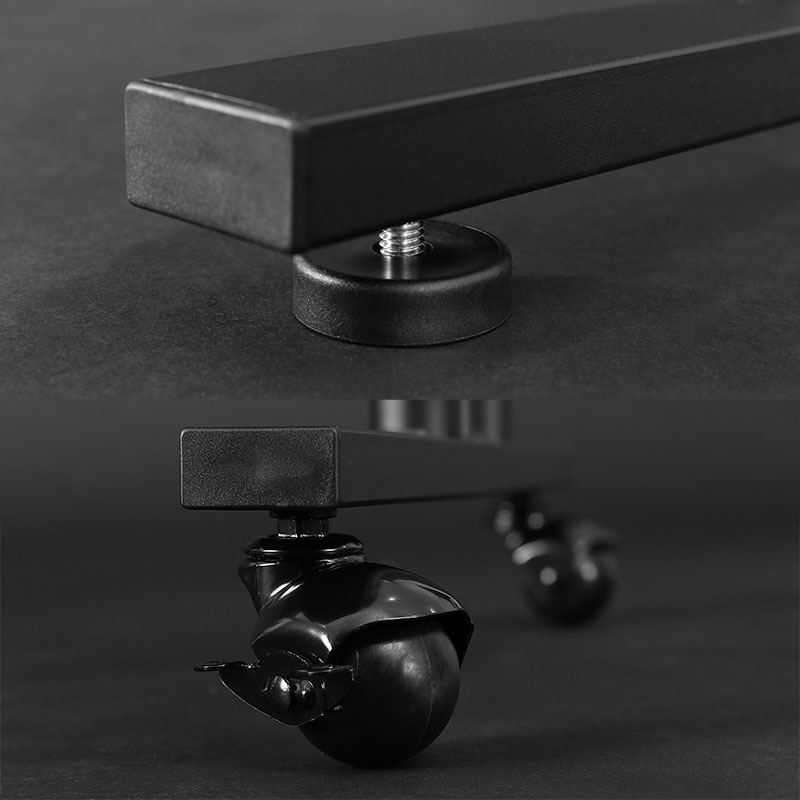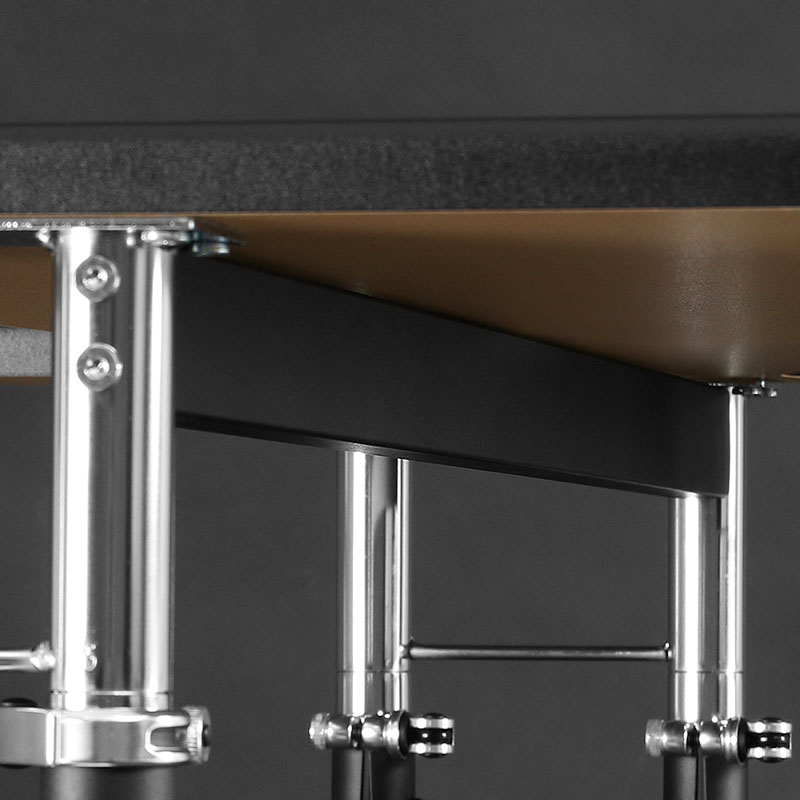 Hanging Bar
With our Hanging Bar (BHP-S100, sold separately), you can hang S-shaped hooks -- among other things -- on it.
Perforated Board
With magnets and zipties, you can attach power stripes and so on to your desk.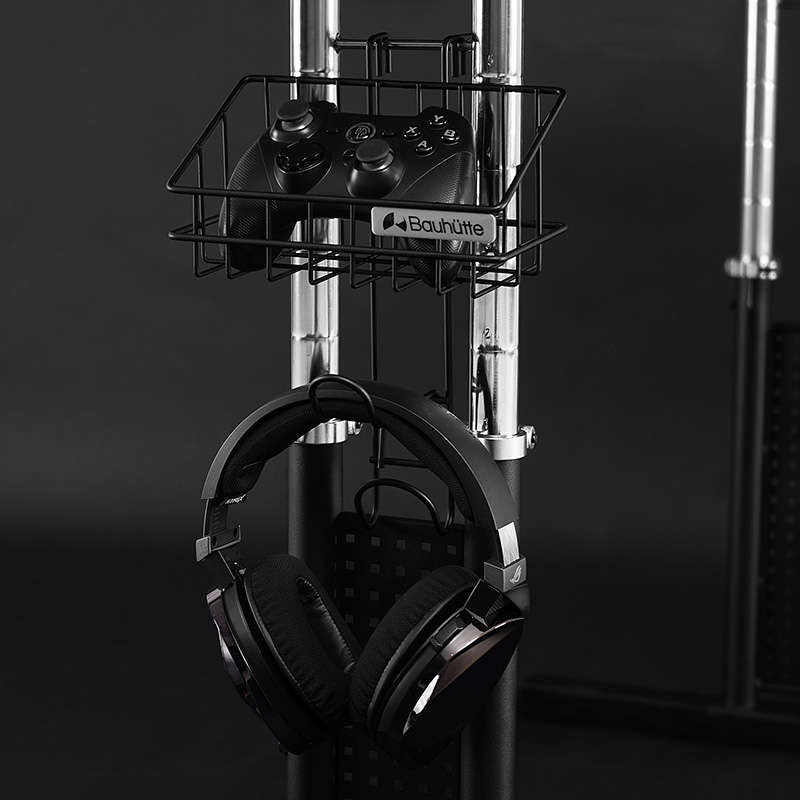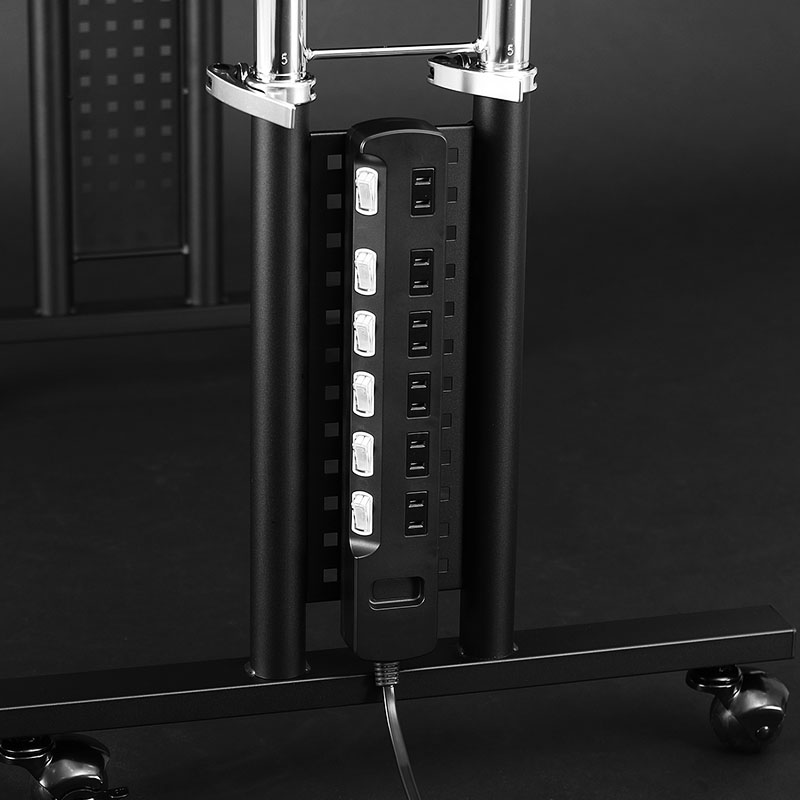 Installing
a Racing Wheel
By shifting your racing wheel from your main desk to the Cockpit desk, you can prevent your movements from shaking the monitor itself. You can place a racing wheel wherever you'd like, making it easier to game and bringing you even closer to the race tracks themselves.
Put It Away
When Not in Use
When you're not using your racing wheel, you can simply shift the Cockpit Desk to the side and it will no longer be in your way. This way, you can ensure that you'll always have space on your main desk for your keyboard.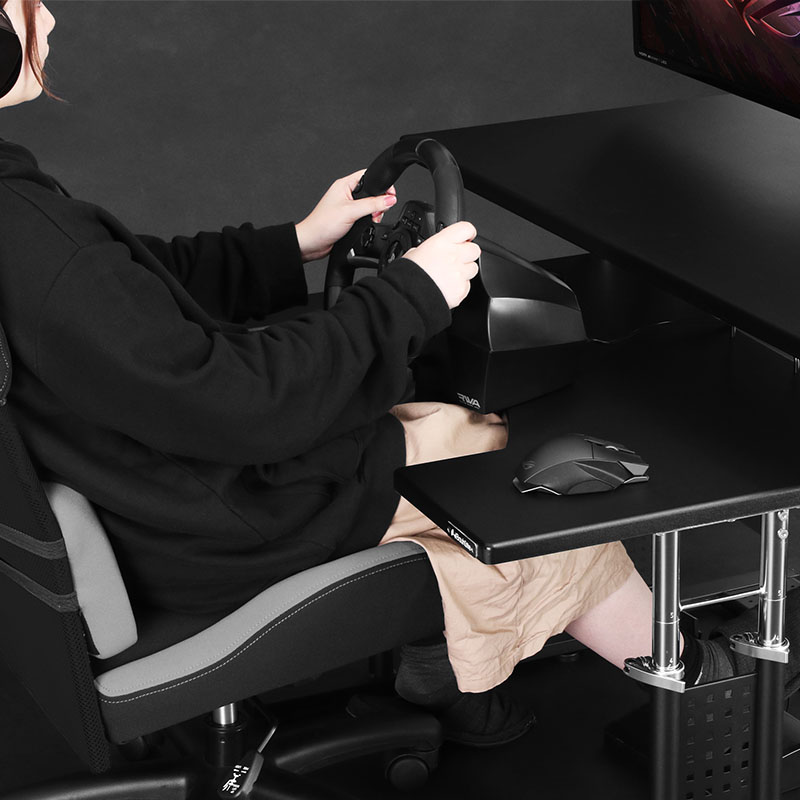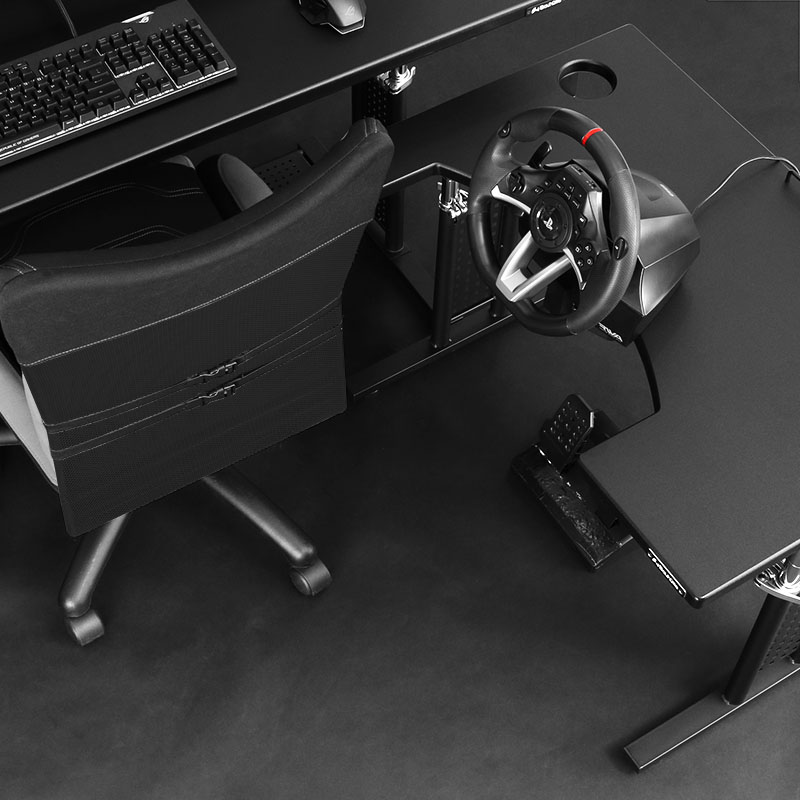 Installing an Arcade Controller
Because the Cockpit Desk allows you to pull it up close to your body, it's perfect for arcade controllers that you'd want close to you when you play on them.
Pair It with Our Monitor Stands
When you pair our Cockpit Desk with one of our Monitor Stands, you can create a compact gaming environment. When paired with the Extension Tower Rack, you don't even need a main desk.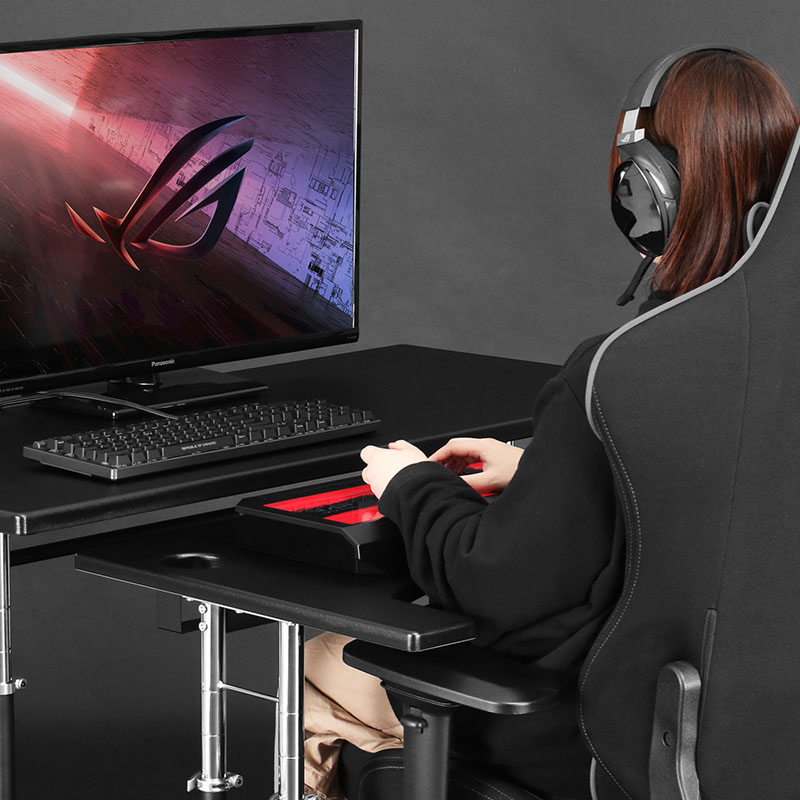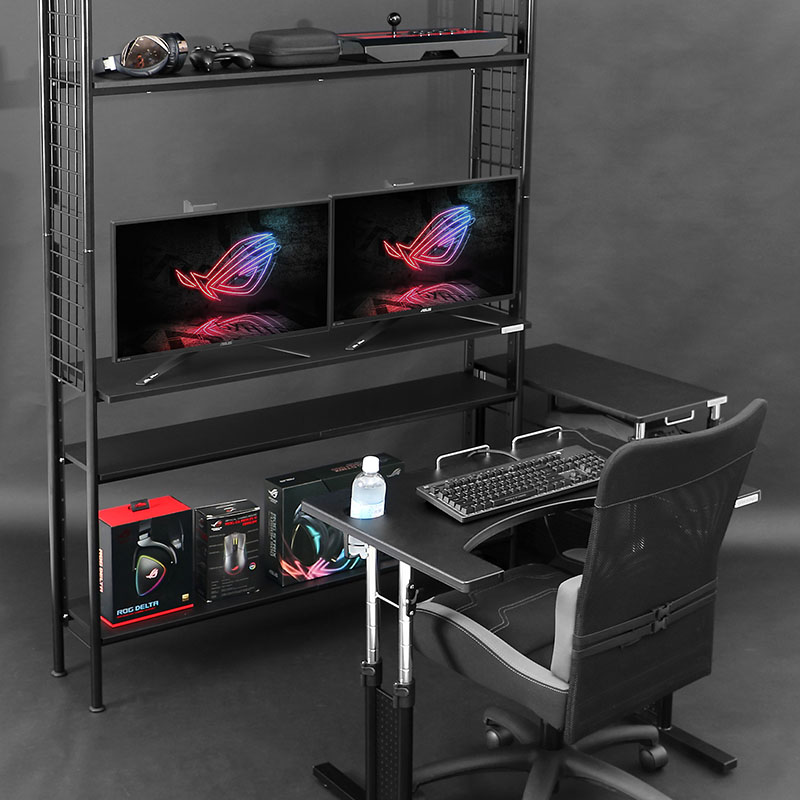 SPEC
Color
Black
Size
BHD-840L : Width 865mm × Depth 550mm × Height 480(480~575)mm※1、Height 425(425~520)mm※2
BHD-840M : Width 865mm × Depth 550mm × Height 585(585~795)mm※1、Height 530(530~740)mm※2
※1 : Using casters
※2:Using fixed feet
Weight
BHD-840L : 10kg
BHD-840M : 10.7kg
Surface Finish
desk legs : epoxy powder coating
Weight Limit
80 kg (176 lbs)
Material of Tabletop Surface
laminated fiberboard(PVC resin)
MSRP
Varied
JAN Code
BHD-840L:4589946146066
BHD-840M:4589946146073
SIZE
*Proof of quality stickers on some products may differ from the above measurements. The measurements on the product page are more accurate than those on your product.
*The sizes written are control sizes. Depending on the individual and the way the product is assembled, measurements might differ slightly.