SERIES
*Click the color buttons to change product colors.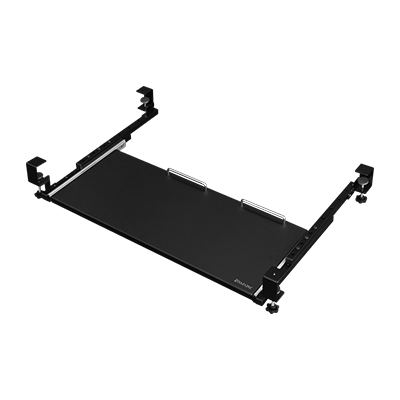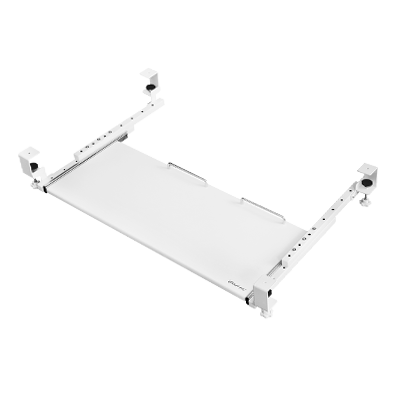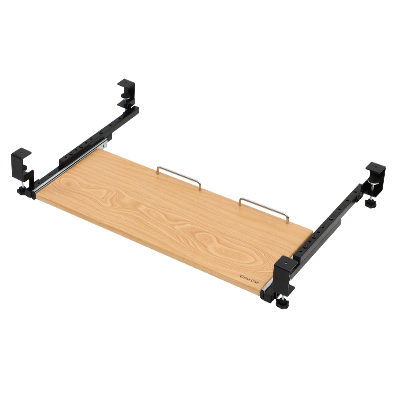 700 mm (27.6")
BHP-K70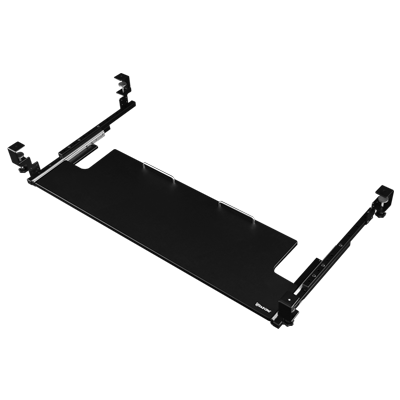 1000 mm (39.4")
BHP-K1000
FEATURES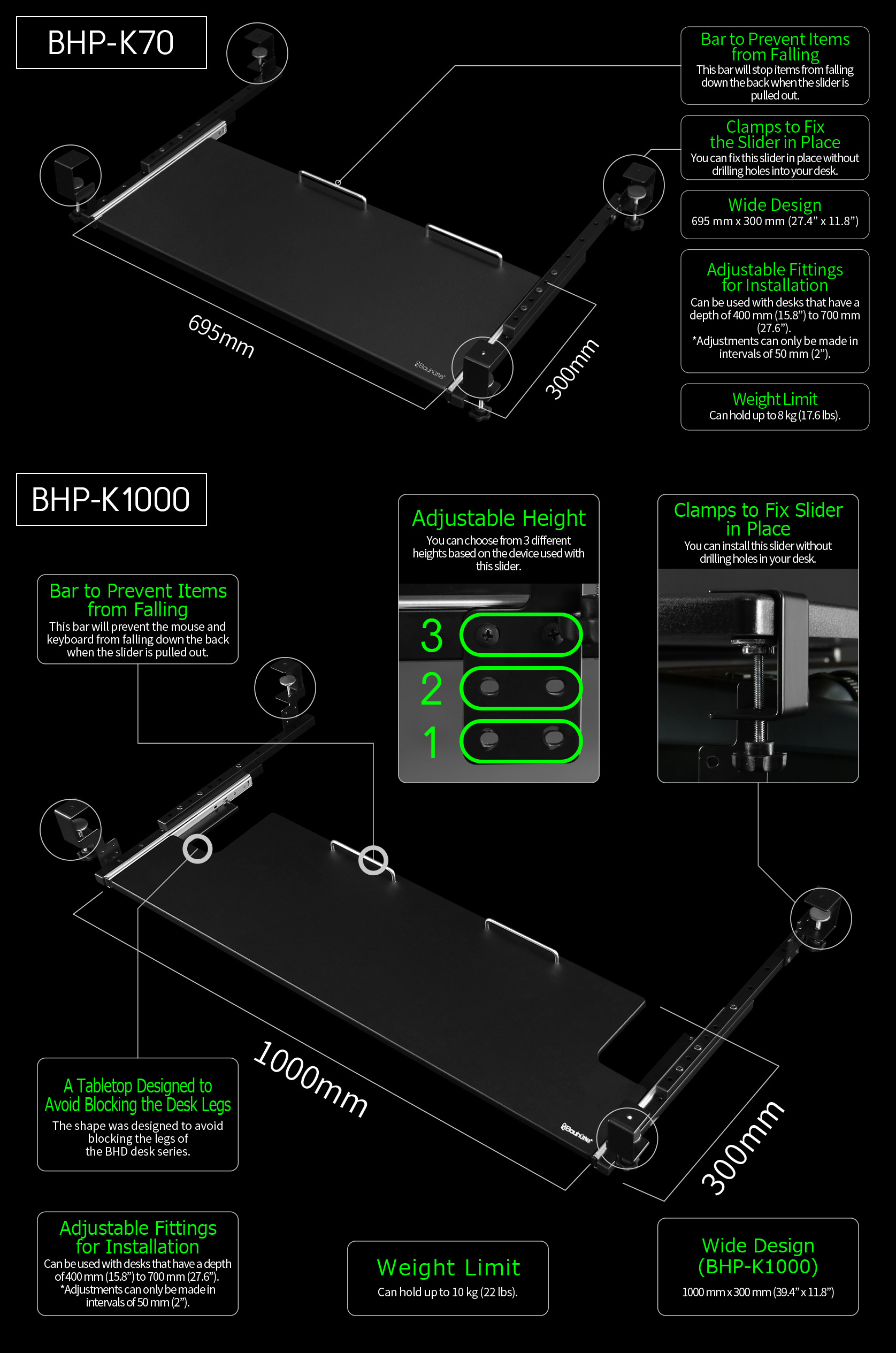 Increase Your Available Desktop Space
The keyboard slider's table top is 69.5 cm (27.4") wide and 30 cm (11.8") deep.
It has a surface area of 2,085 c㎡ (2.2 ft2).
Bauhutte's largest desk (BHD-1200M) has a width of 120 cm (47.2") and depth of 55 cm (21.7").
That makes this slider roughly 31% the size of that tabletop.
By attaching the tabletop to that desk, you can increase your work space by 1.3 times.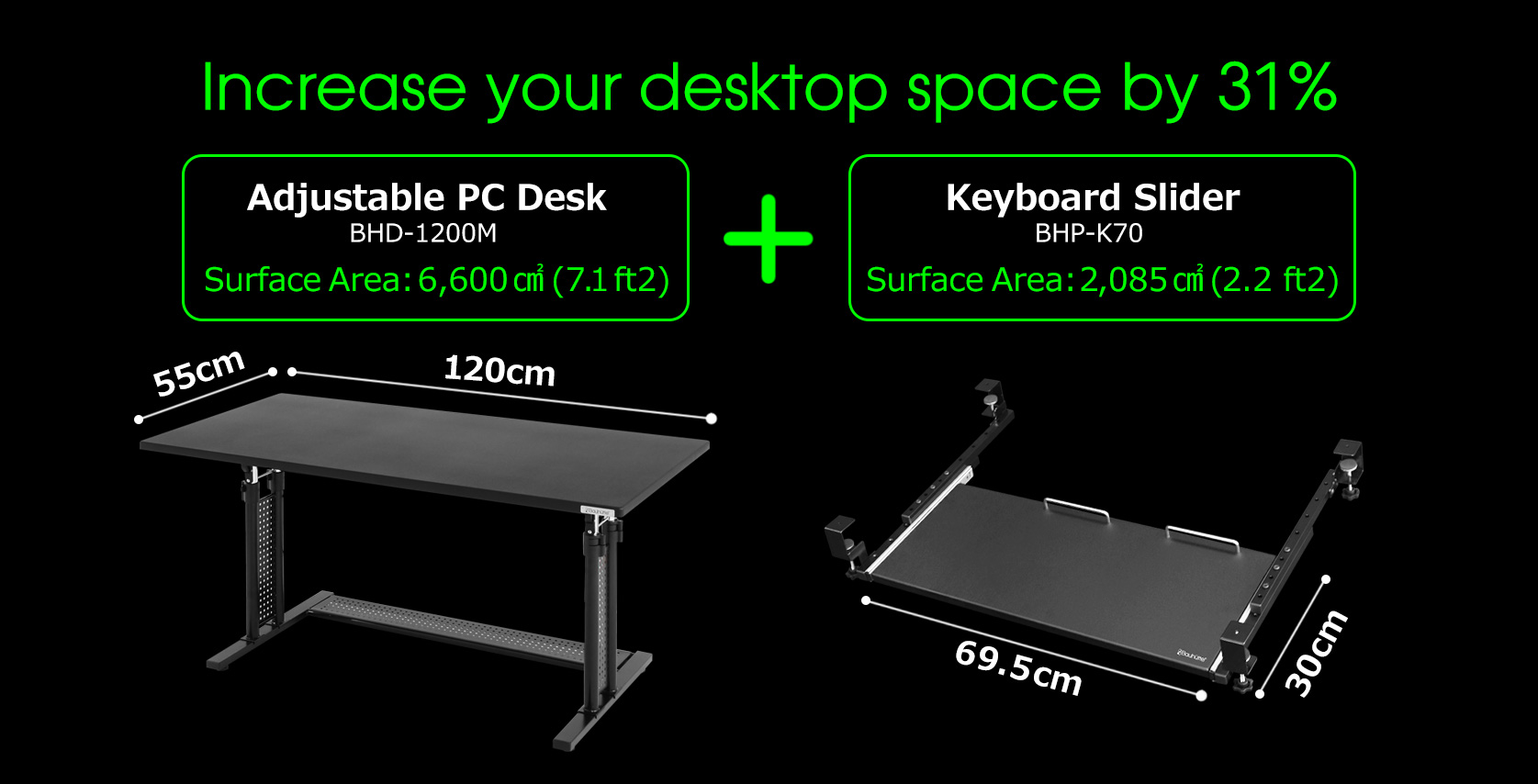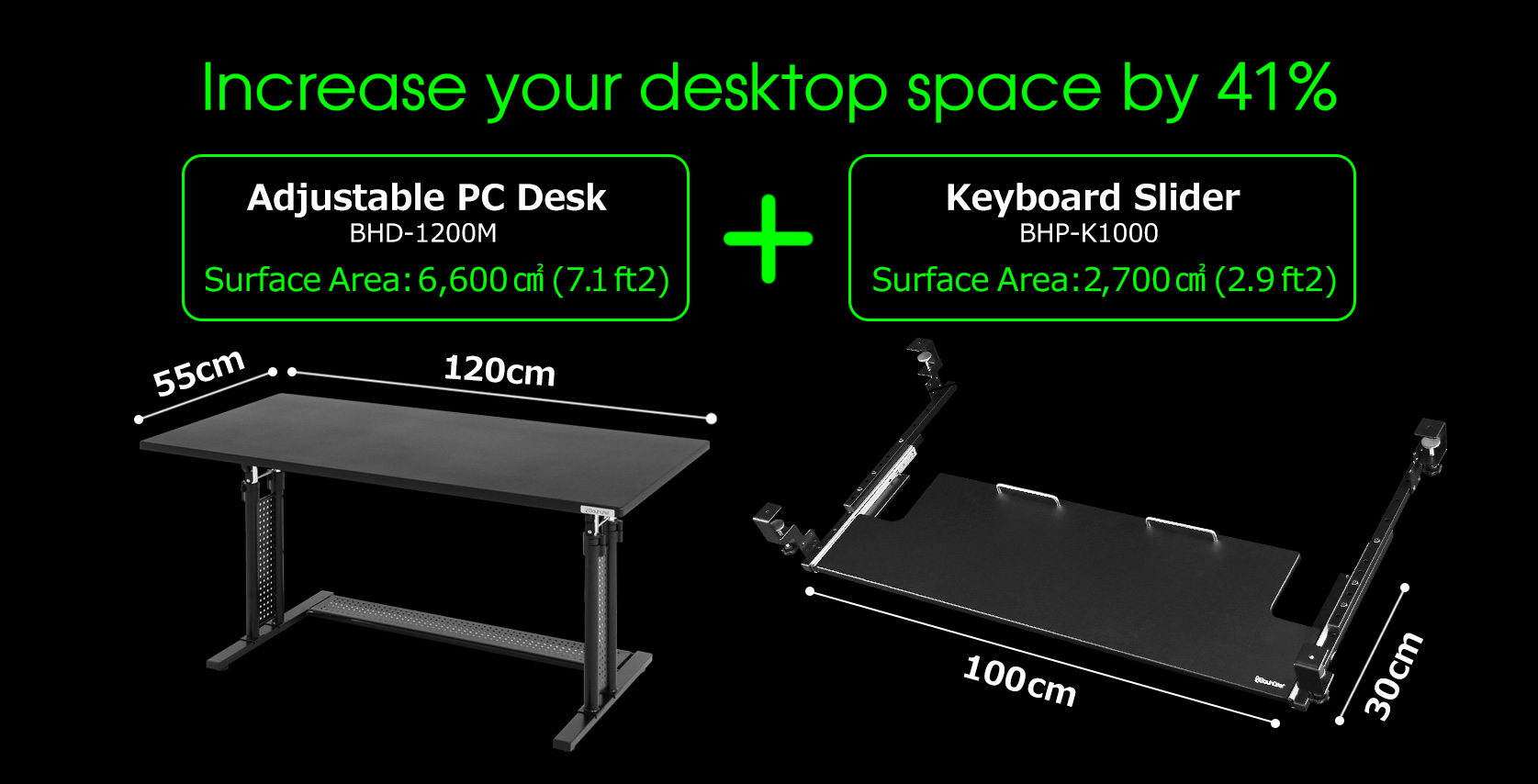 Available in Two Sizes
Comes in 2 sizes: a regular version that is most suitable for regular keyboards (BHP-K70) and a wide version that is suitable for large devices like MIDI keyboards (BHP-K1000).
Colors
Comes in 3 colors: white, perfect for offices, and black or wood that's great for your home.
*The wood color is only available with the BHP-K70 version.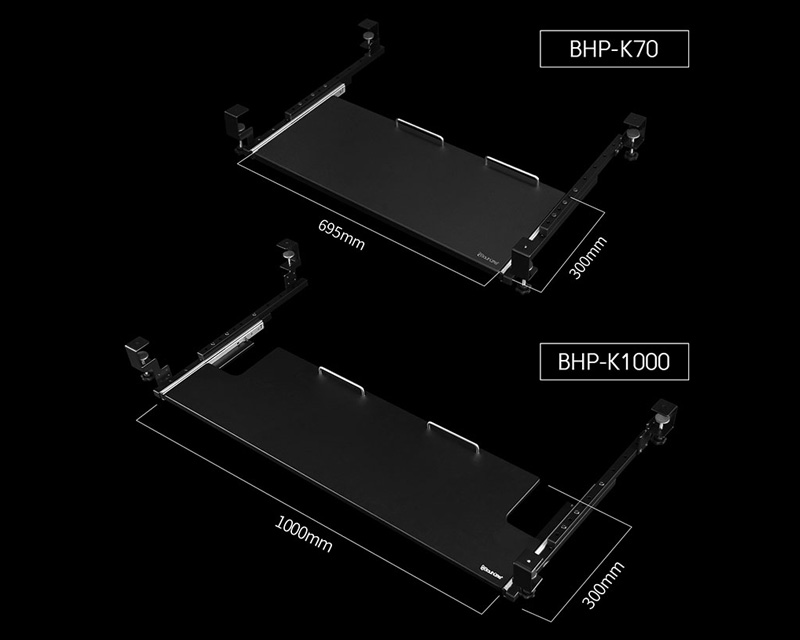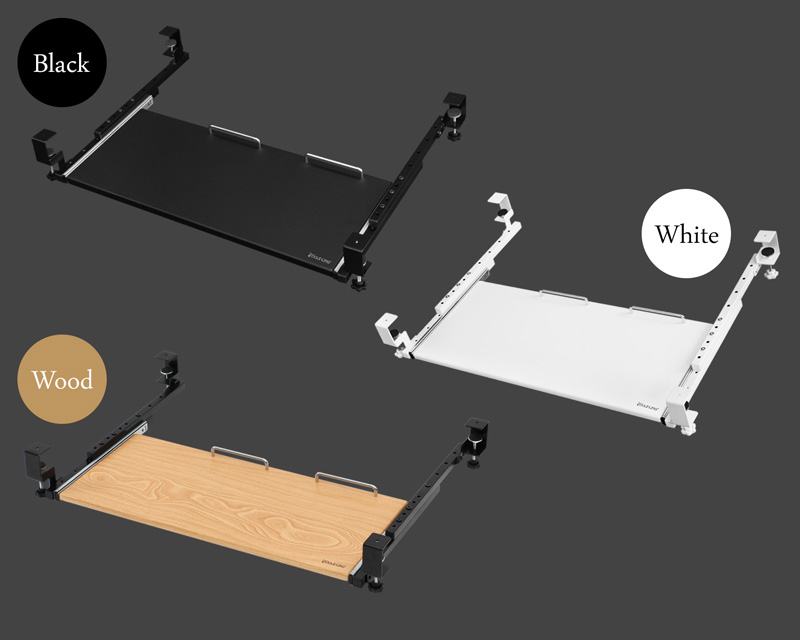 Having 4 Fixed Points Makes It Super Stable
Fixing the keyboard slider at four points gives it great stability. Check it out in this video.
No Screws Required
This slider is attached to your desk using clamps, so it can be fixed in place without drilling any holes in your desk.
*Compatible with desks 1.0 cm (0.4") to 4.5 cm (1.8") thickness. (For both BHP-K70 and BHP-K1000)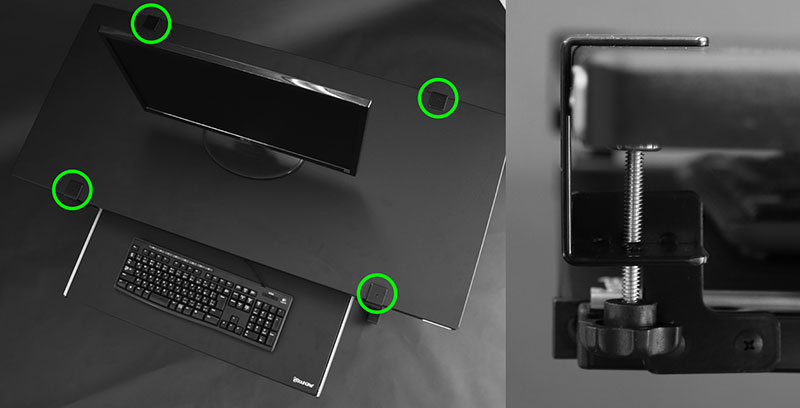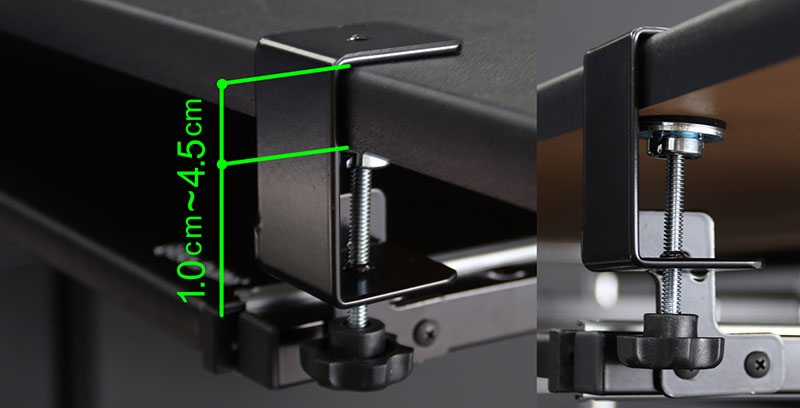 Compatible with Desks 40 cm (15.8") - 70 cm (27.6") Deep
It can be used with desks of this depth.
*It is compatible with desks 40 cm (15.8") - 70 cm (27.6") deep, but it can only be adjusted in intervals of 5 cm (2"). Please be aware that if your desk does not have a depth listed in the following link, you will not be able to install this slider.
Space-Saving
It's a slider, so you can easily push it in when you're not using it. You can create a large work area that doesn't take up too much space even in a small room.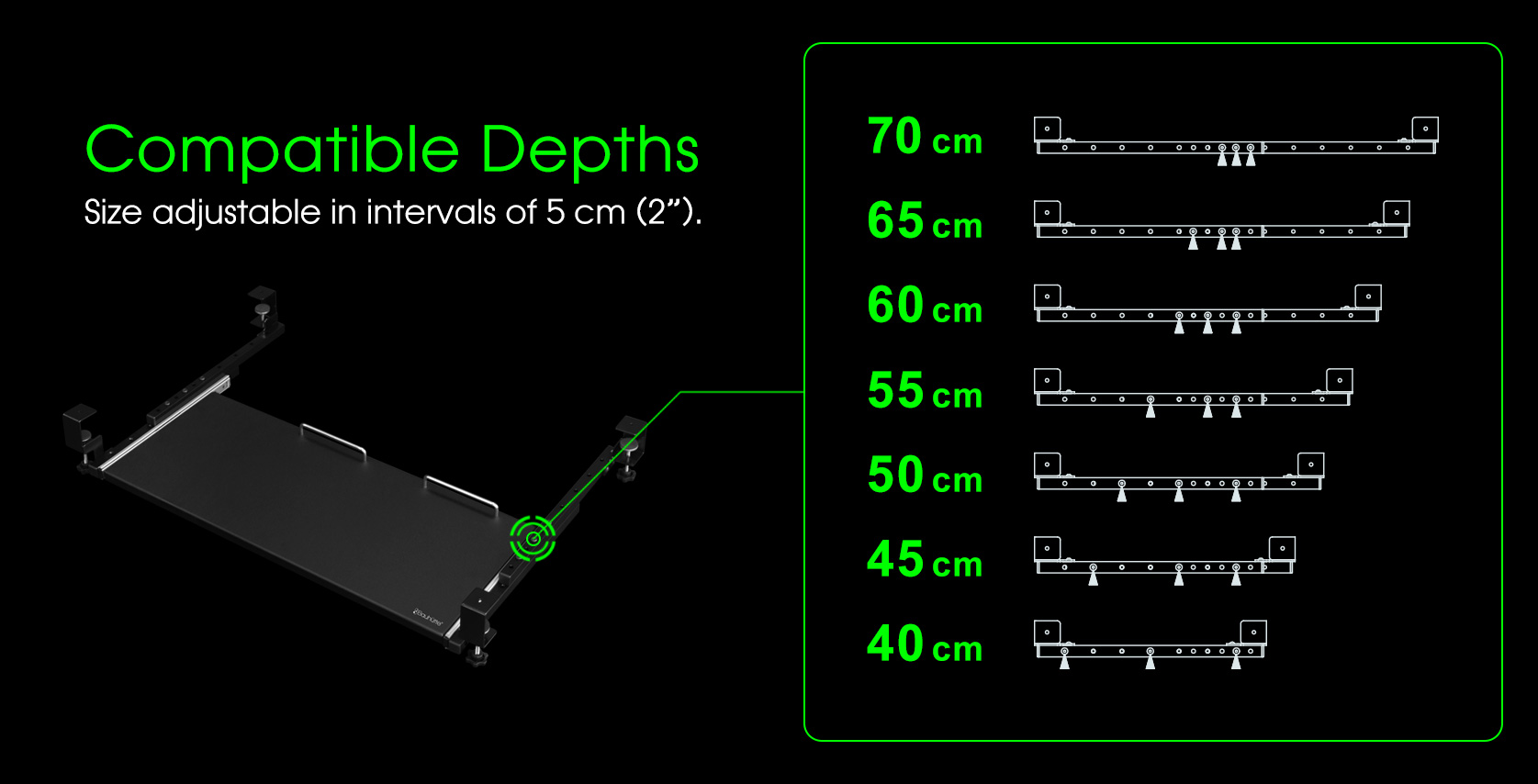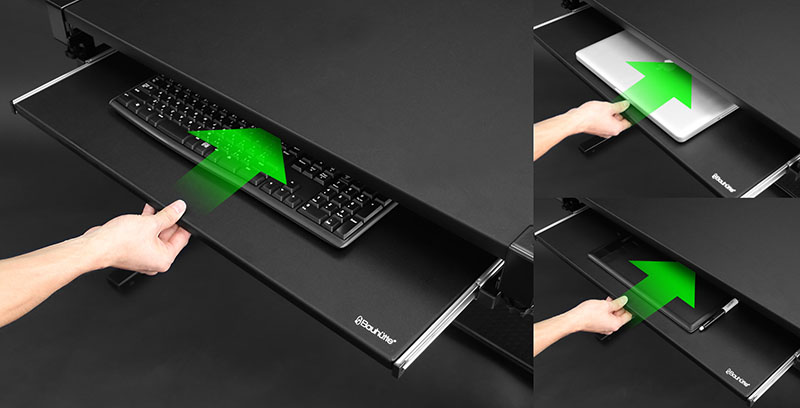 Plenty of Storage
It's designed to be a wide keyboard slider that will allow you to comfortably use a mouse even if it's holding a keyboard. If you're the type of gamer who prefers a low sensitivity mouse, we recommend the wide version for even more space.
*Please check your keyboard size before purchasing the slider.
3 Adjustable Heights

*Only for BHP-K1000
The countertop for the slider can be adjusted between three different heights. Tall devices can be placed on the slider and stored away without getting caught on anything.
*Please check the height of the item you are considering storing beforehand.
*Compatible with desks 1.0 cm (0.4") to 4.5 cm (1.8") wide. Please be aware that the length of the clamps does not change.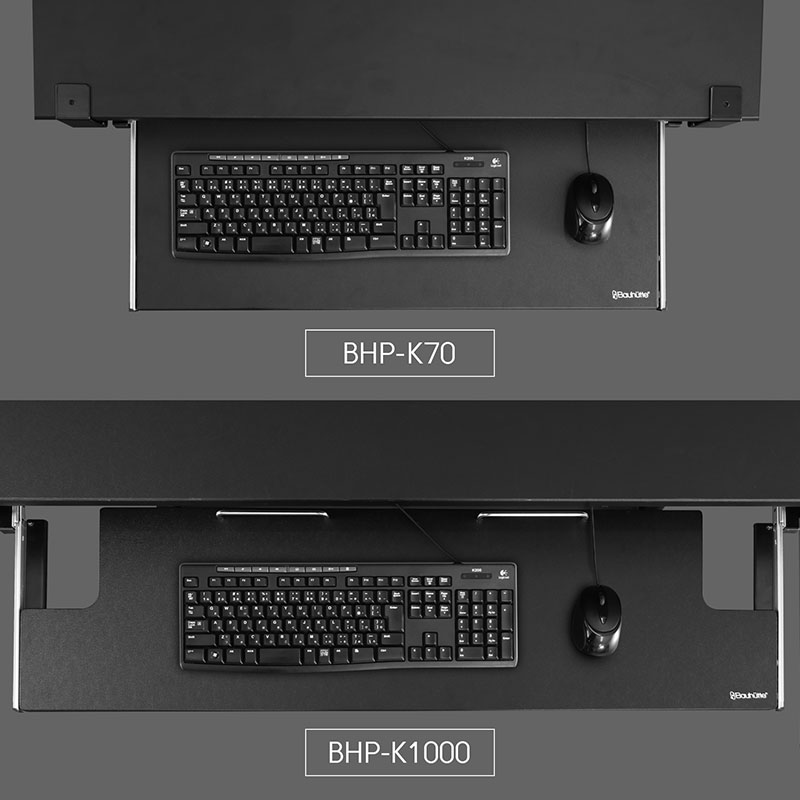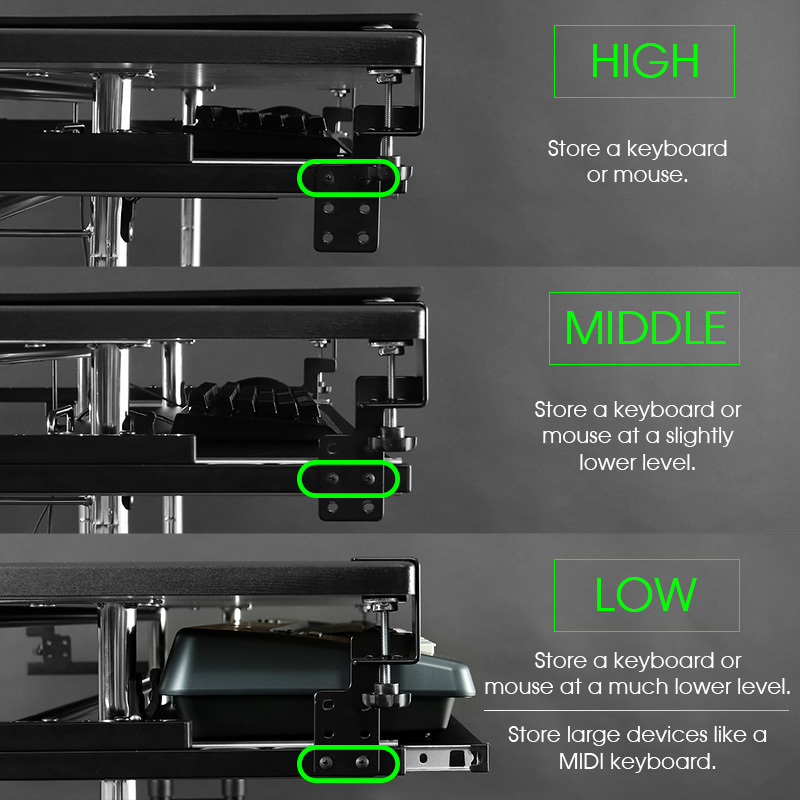 Bar to Prevent Items from Falling
This bar prevents items like your keyboard or mouse from falling. When you pull out or push in the slider, your items won't fall and break.
Weight Limit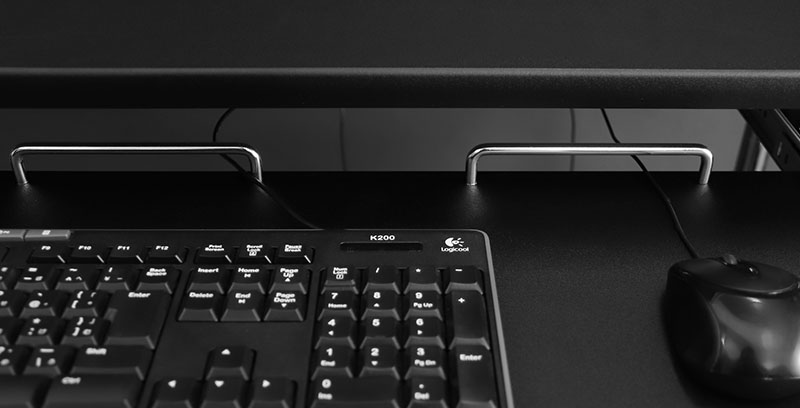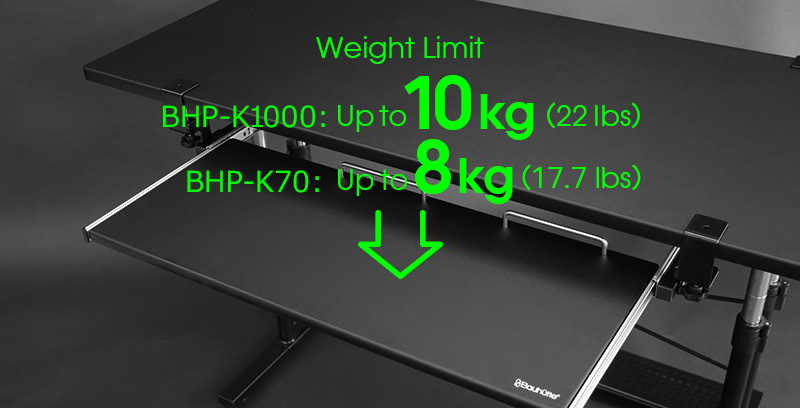 Example for Tablet Use
When you put a drawing tablet on your desk, it takes up the space for your keyboard. By using a keyboard slider, you can keep the tablet on your desktop and put the keyboard away unless you need it.
Example for Desk Work Use
For people who have to refer to a ton of materials on their desk. You can comfortably line up your papers and notes and still use your keyboard without a problem.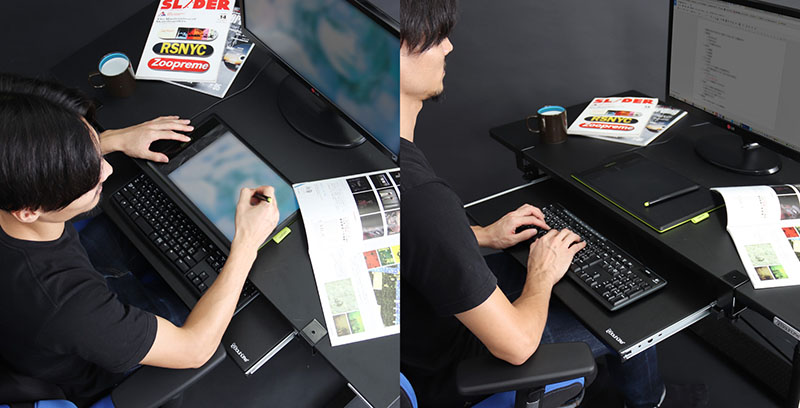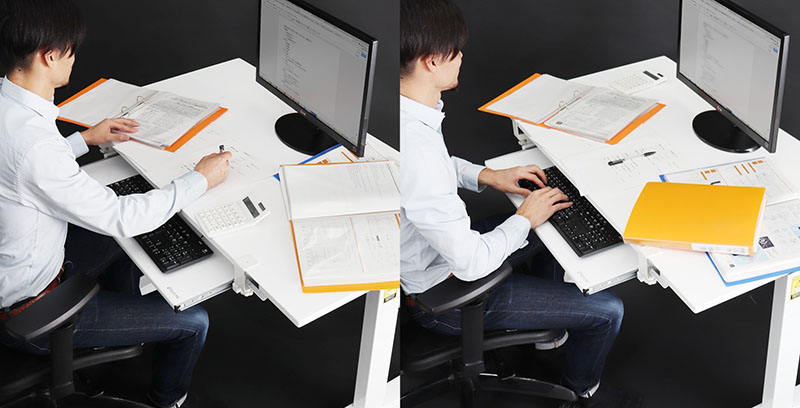 Example for DTM Use
It's very useful for when you want to use both a MIDI and regular keyboard. With the regular version of the slider, you can put your MIDI keyboard in the back and the regular keyboard in front. With the wide version, your MIDI keyboard can be in front of you. Please adjust it based on how you use the devices.
Example of How to Game While Lying Down
A keyboard slider is an important item in the system Bauhutte offers to create an environment where you can game while lying down. You can pull the keyboard close to you as you recline.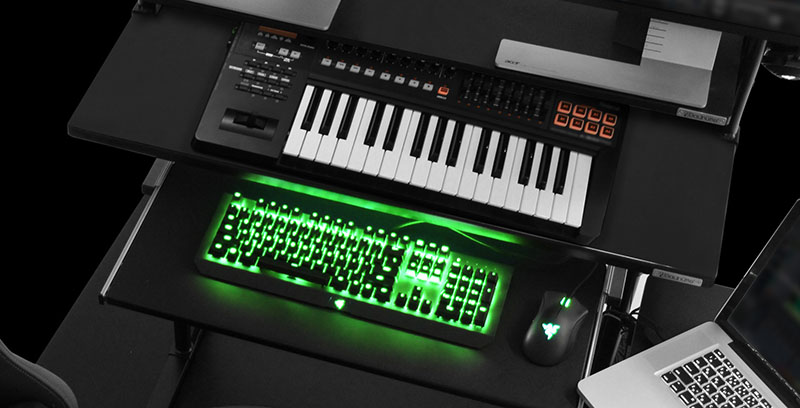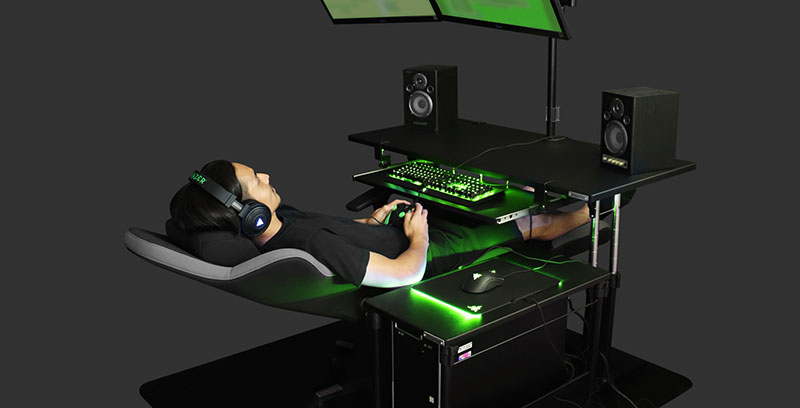 Important Points to Note When Building a Workspace
When you're building a workspace to be able to write or draw at your desk, two important points to note are:
1. The distance between you and the monitor.
2. The height of the desktop.
By keeping these points in mind, you can keep your posture correct and can lessen the chances of back pain, stiff shoulders, and eye fatigue.
The Distance Between Your Eyes and the Monitor
If your monitor is too close to you, it can cause eye fatigue and stiff shoulders. Try to keep your monitor at least 40 cm (15.7") away from you. By using a keyboard slider, you can push the desk 20 - 25 cm (7.9" - 9.8") back, creating more space between you and the monitor.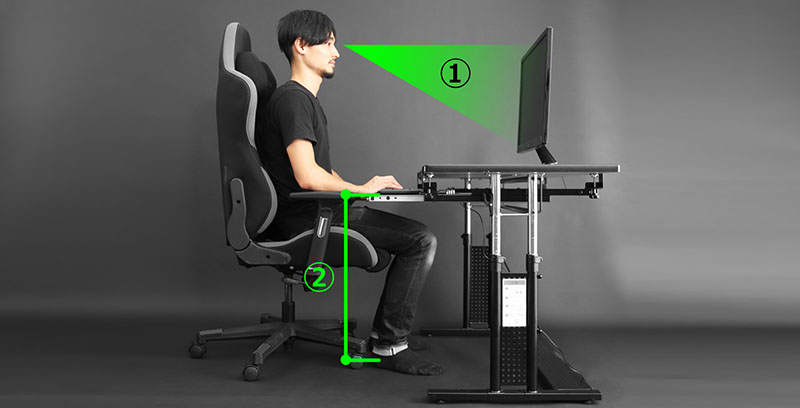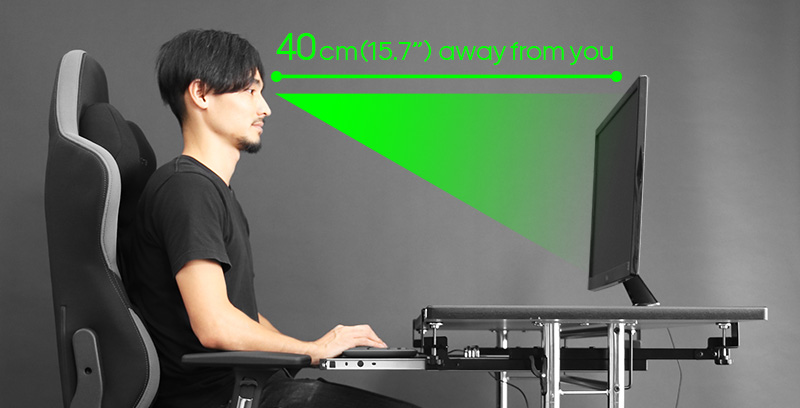 Regarding the Height of the Desktop
The ideal height of the desktop varies based on your height. We recommend that you use an adjustable computer desk and the keyboard slider to create the perfect working environment for you.
The Height of the Desktop When Writing or Using the Keyboard
When you're using the keyboard, it's ideal to have it about 5 cm (2") lower than you would if you were writing. By using a keyboard slider, you'll be able to naturally have the keyboard placed lower than the desk.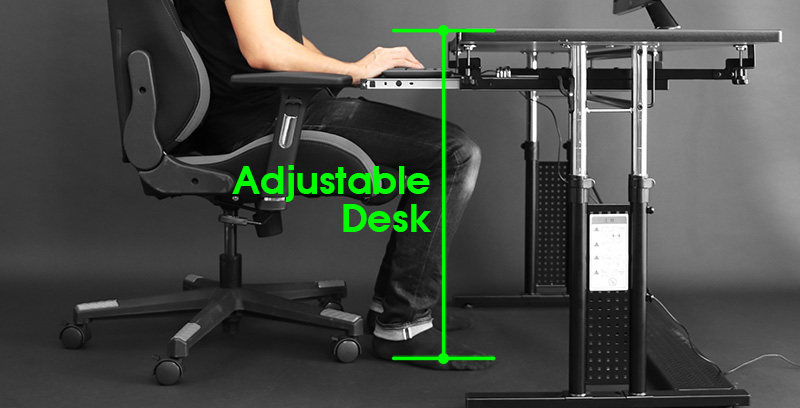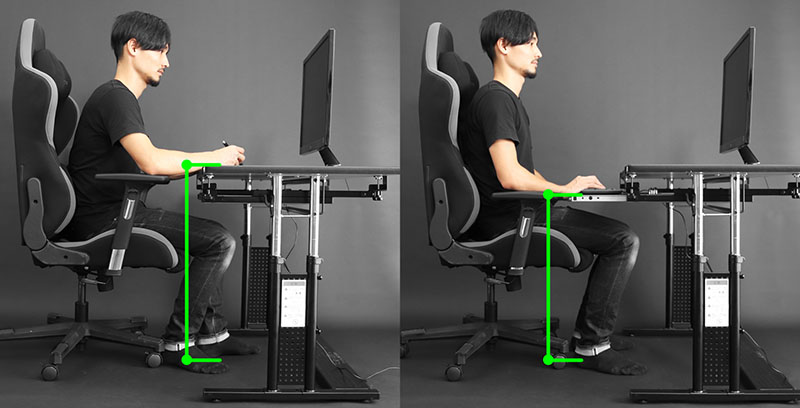 Desks Incompatible with this Keyboard Slider
It's recommended to use this keyboard slider with other Bauhutte products.
If you'd like to use this product with a desk from another company,
please check the following points of caution and
the measurements of your desk first to make your purchase responsibly.
◯ Desks with a Back Panel
This keyboard slider cannot be installed on desks with a back panel
because the 2 clamps and the pipes in the back cannot be fixed in place.
◯ Desks with a Reinforcement Bar in the Way
If there's a reinforcement bar in the back of the desk,
please make sure that it won't get in the way of the slider's pipes.
◯ If the Clamps Can't Be Installed Evenly Due to the Shape of the Desktop
If the desktop is not even where the clamps are meant to be fixed,
then this slider cannot be installed. Here are some examples:
・Desks that have uneven surfaces in the back so wiring can be run through.
・Desks that have an uneven design in the front to go along with the chair position.
SPEC
Color
BK:Black
WH:White
WD:Wood
Size
BHP-K70:Width 841mm × Depth 406mm(406~706) × Height 114mm
BHP-K1000:Width 1150mm × Depth 405mm(405~705) × Height 150mm
Weight
BHP-K70:4.55kg
BHP-K1000:5.30kg
Surface Finish
epoxy powder coating
Weight Limit
BHP-K70:Up to 8 kg (17.7 lbs)
BHP-K1000:Up to 10 kg (22 lbs)
Material of Tabletop Surface
laminated fiberboard(PVC resin)
MSRP
Varied
JAN Code
BHP-K70-BK:4589946138245
BHP-K70-WH:4589946138252
BHP-K70-WD:4589946140903
BHP-K1000-BK:4589946141184
SIZE
*Proof of quality stickers on some products may differ from the above measurements. The measurements on the product page are more accurate than those on your product.
*The sizes written are control sizes. Depending on the individual and the way the product is assembled, measurements might differ slightly.