CONCEPT
Expanding the possibilities of your desk layout with a new function!
Our Desk Rack, that was popular for expanding the space on your desk,
has been levelled up with even more functions!
We received many requests to change the Desk Rack
so that monitor arms can be attached to it, and we have done so.
After revising the thickness and depth of the bottom shelf,
a large monitor can now be placed on it.
Furthermore, the shelves can both be slid away
from or towards you and locked into place.
They can be pushed towards the back of the desk
and extended as much as 12 cm back.
This is the new and improved version of the Desk Rack
that will make your desk even more comfortable to sit at.
SERIES
*Click the color buttons to change product colors.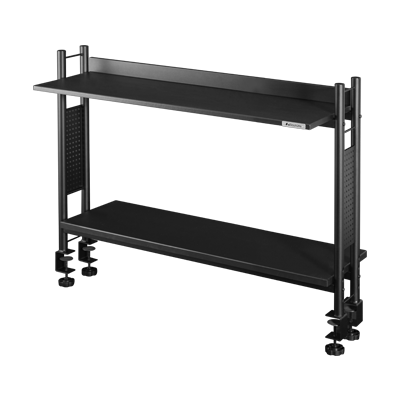 Length:1000mm
BHS-1000HN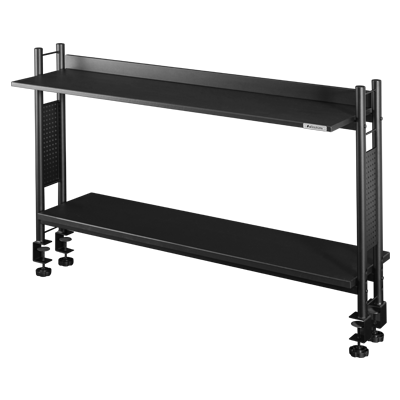 Length:1200mm
BHS-1200HN
FEATURES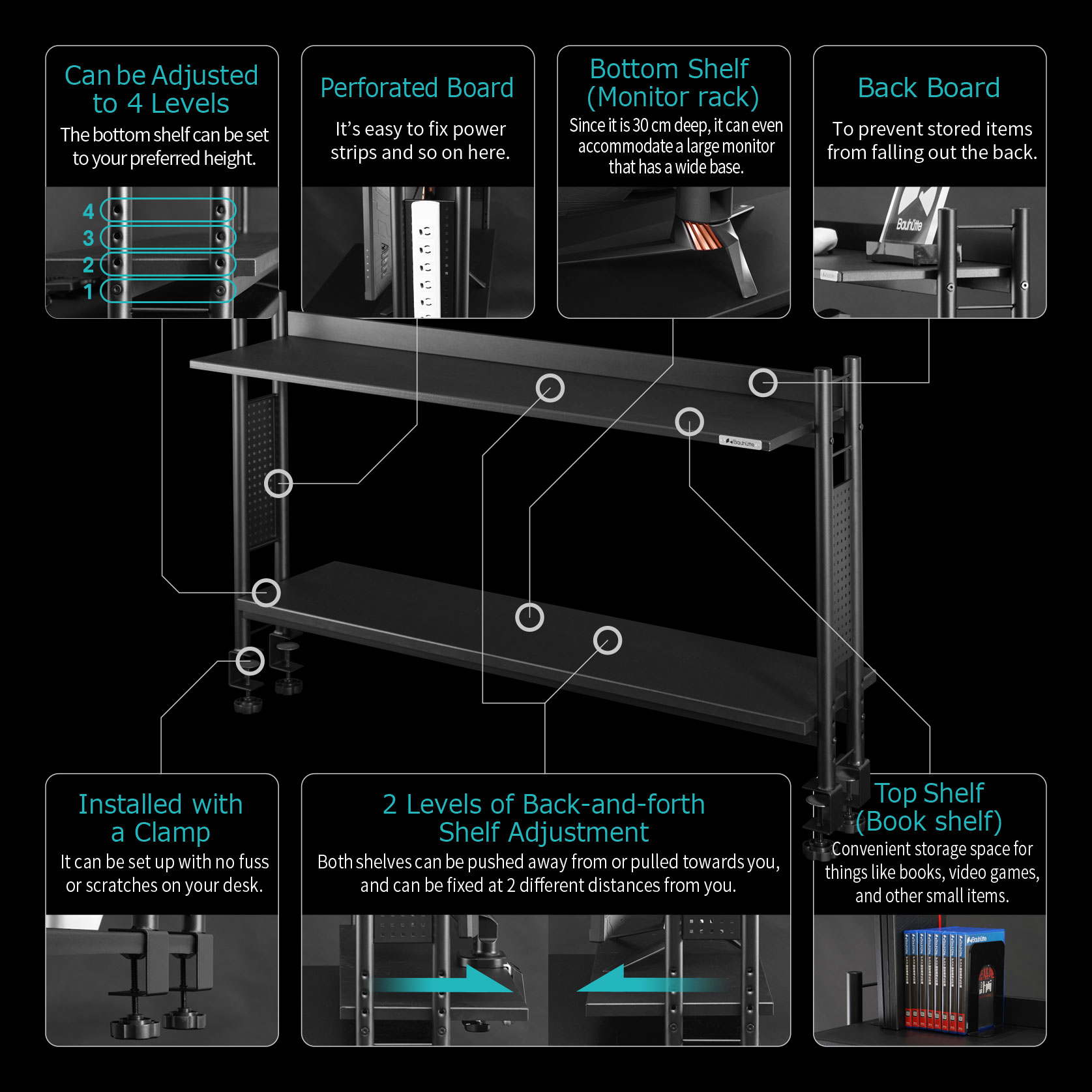 Monitor Arms Can Be Attached
Both shelves can be pushed away from or pulled towards you.
There are 2 levels where you can lock them in to keep them fixed at the ideal distance from you.
Now, you can attach a monitor arm on the bottom shelf when you push it towards the back of the desk and lock it into place.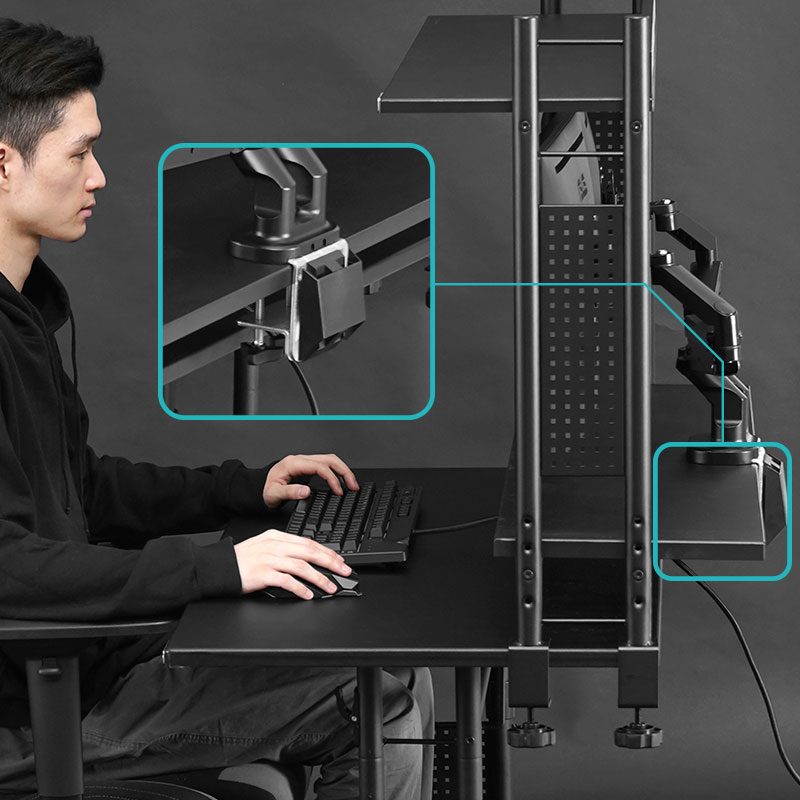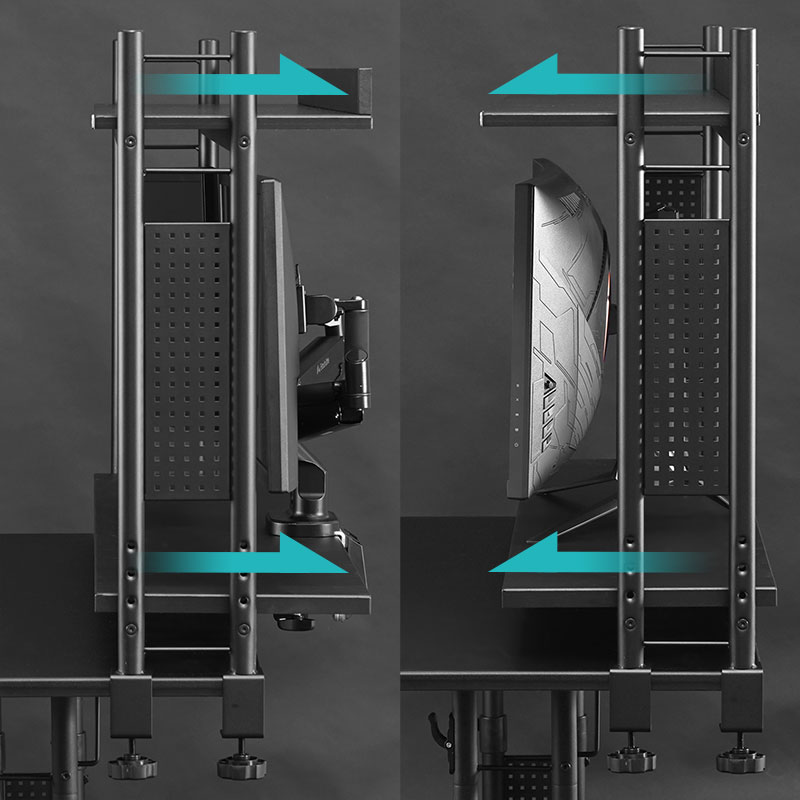 Extends Up to 12 cm from the Back of the Desk
When the bottom shelf is pushed towards the back,
it can be extended up to 12 cm from the back of the desk and locked into place.
It can also hold a large monitor, ensuring sufficient distance between you and the screen.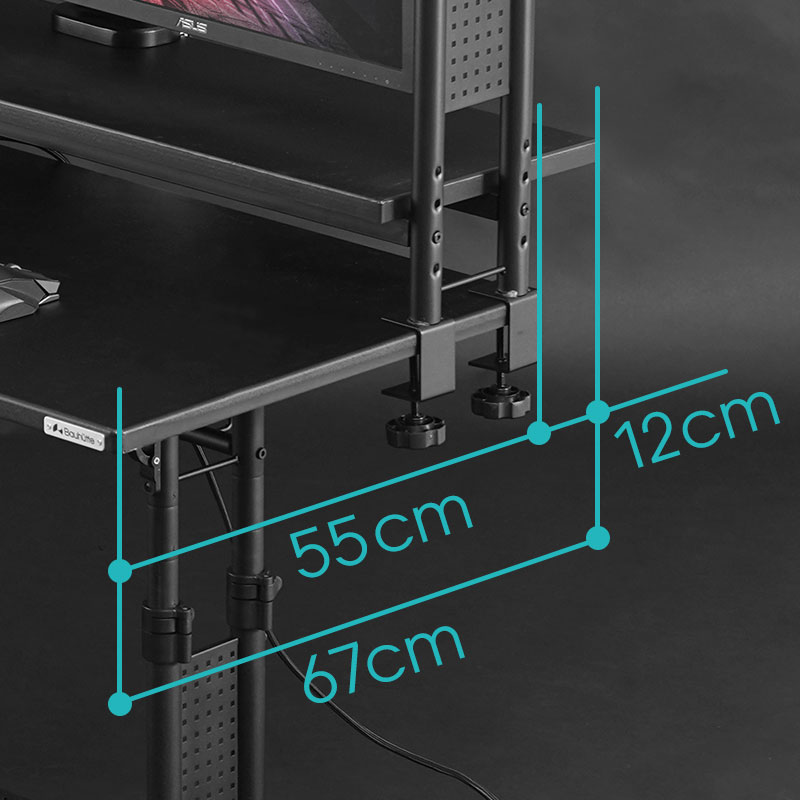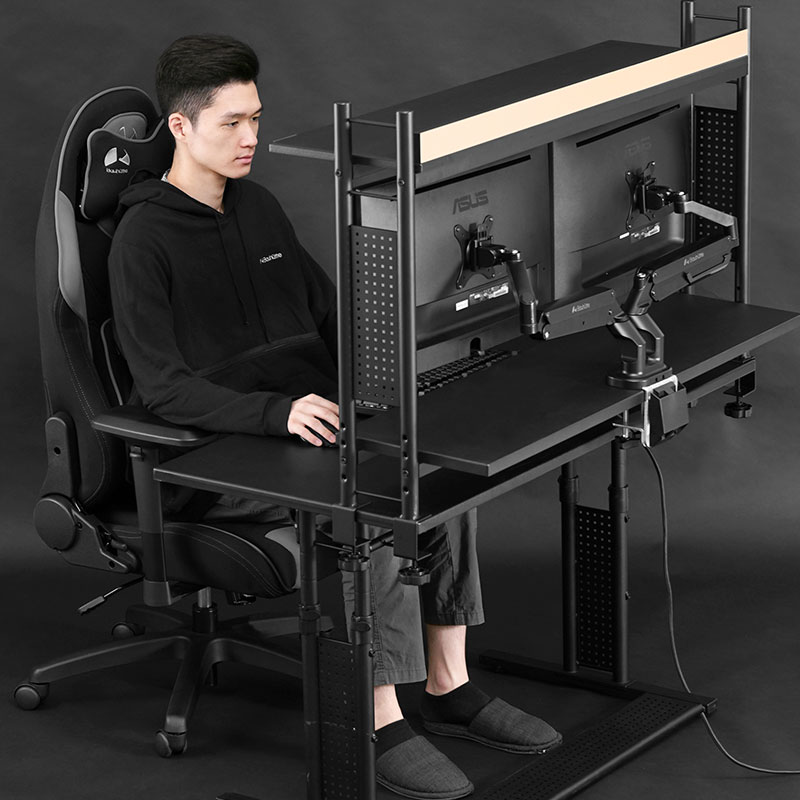 Sample Images with the Displays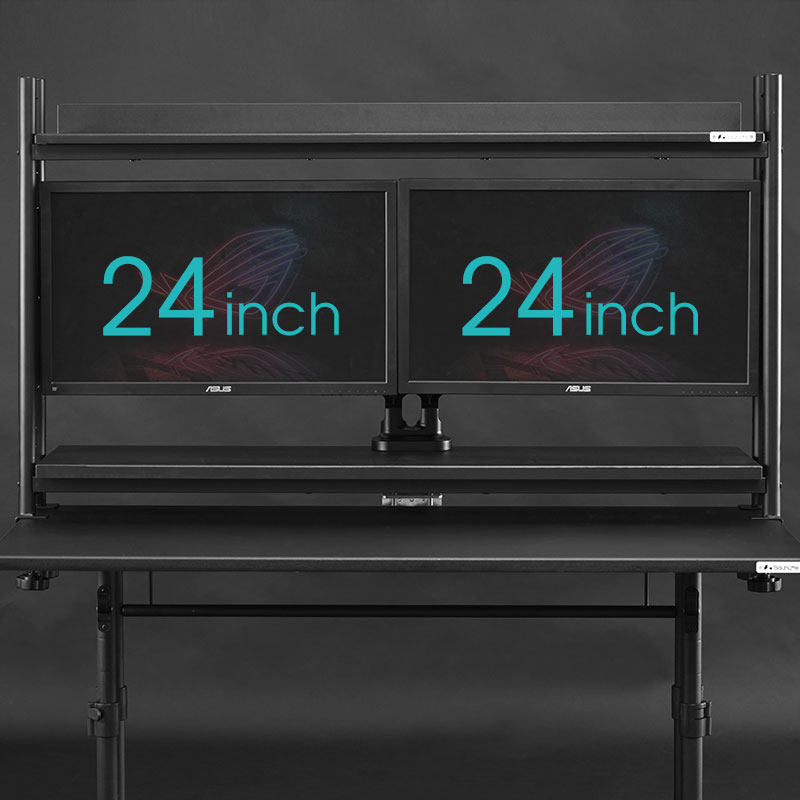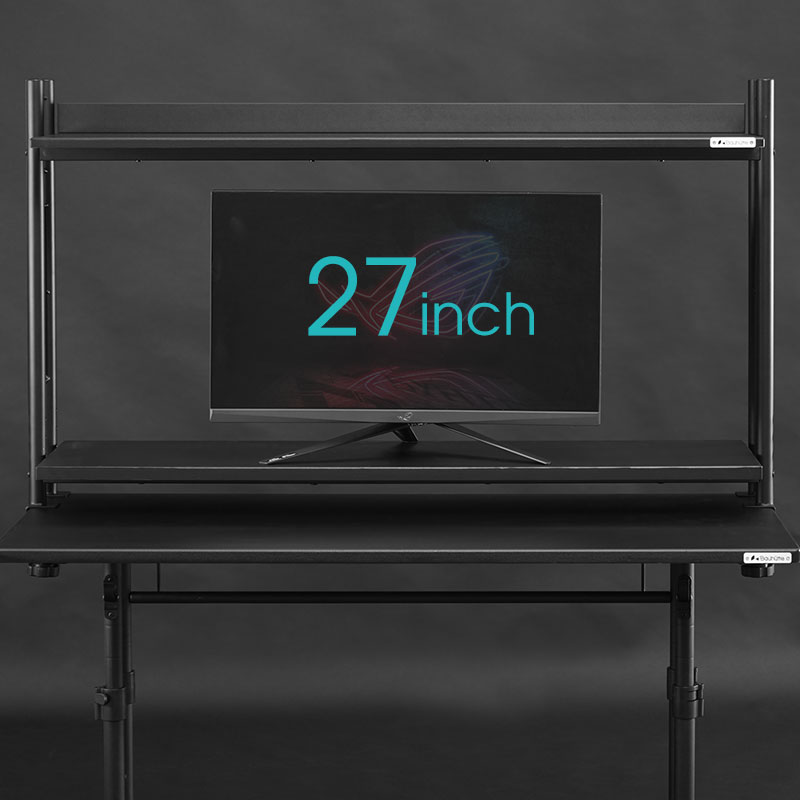 Wide Shelves
For this new version, we have chosen to make the shelves 5 cm deeper than the old version, making each shelf 30 cm deep. This allows a monitor with a large base to sit securely on it.
*Please double-check your monitor size before using it with the Desk Rack.
Strong and Durable Shelves
Revising the thickness of the bottom shelf, we have added 5 mm to this new version. With a durable thickness of 2.5 cm, it's built to withstand even the weight of a large monitor and will not bend.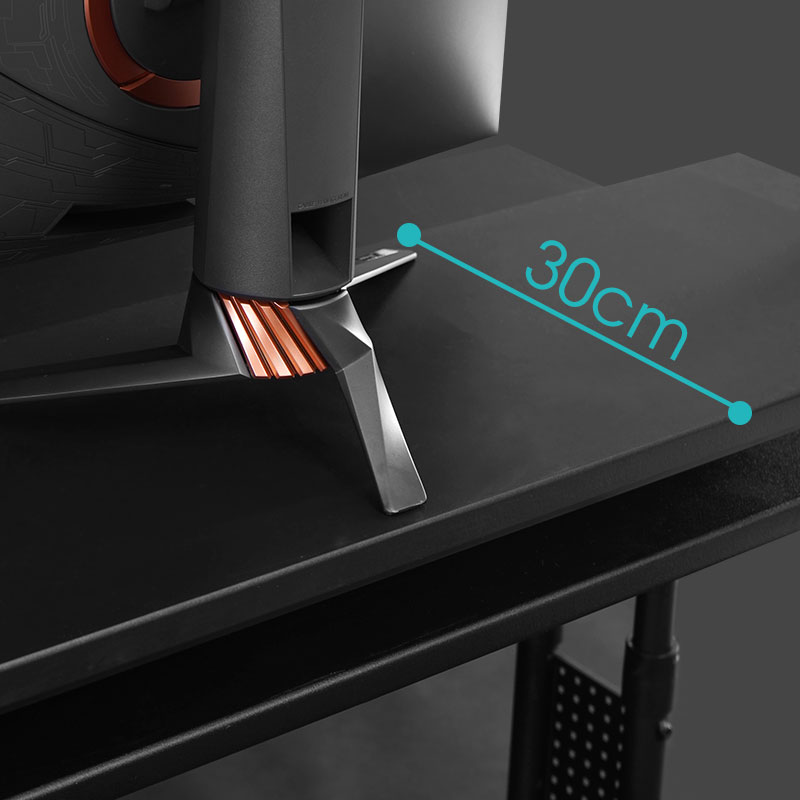 4 Adjustable Levels of Height
The bottom shelf can be adjustable to 4 different levels. Taking into account your own height and desk, you can adjust it to the height that suits you best.
Adjustable Monitor Height
We recommend adjusting your monitor so that your eyes are focusing on the upper part of it when you're sitting up straight and looking straight ahead.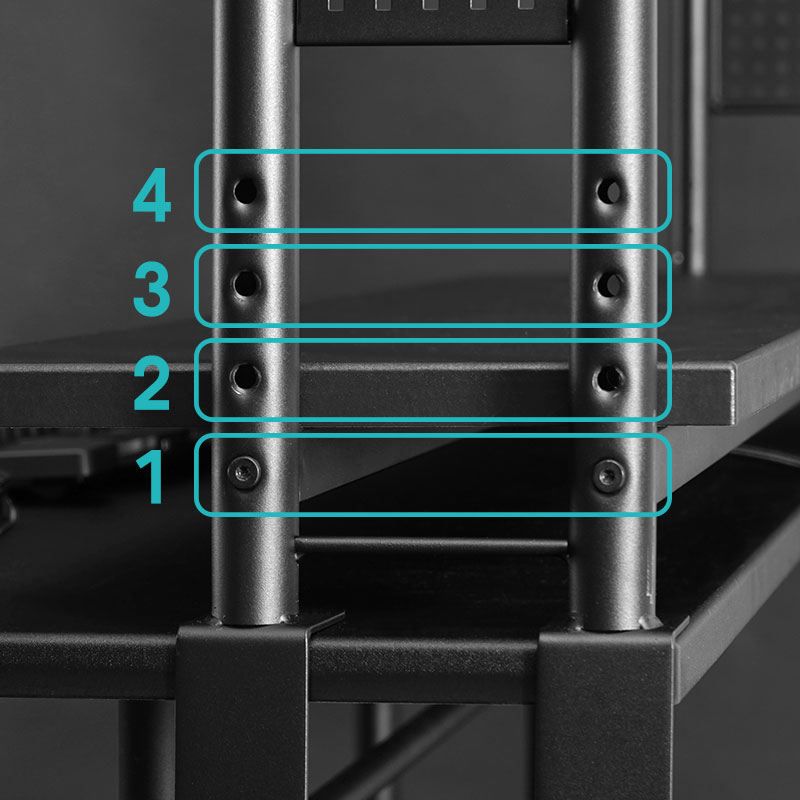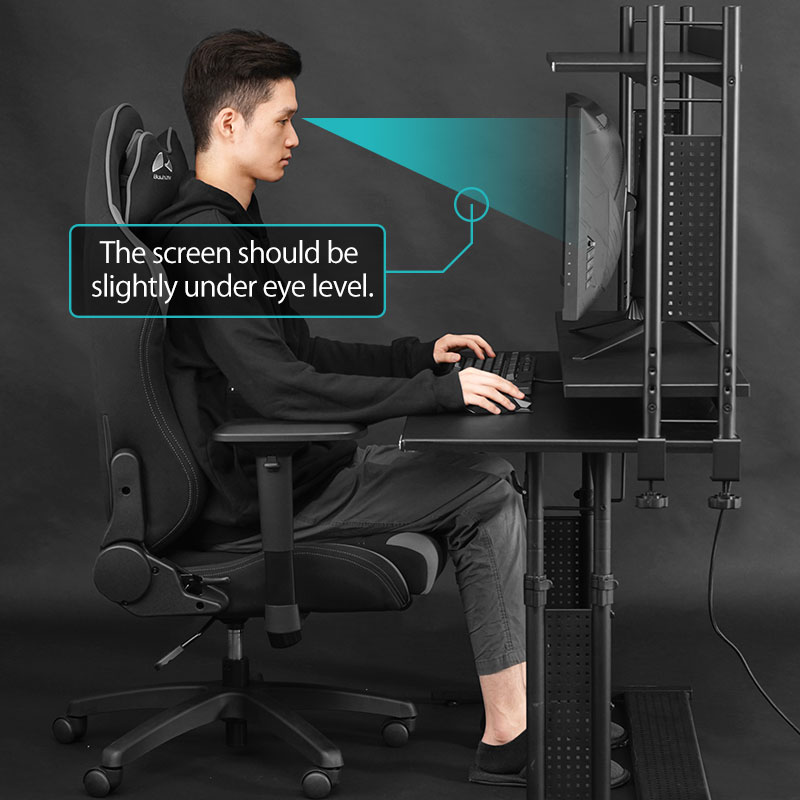 Storage Space for Figures and Video Games
Storage Space for Your Keyboard or Game Consoles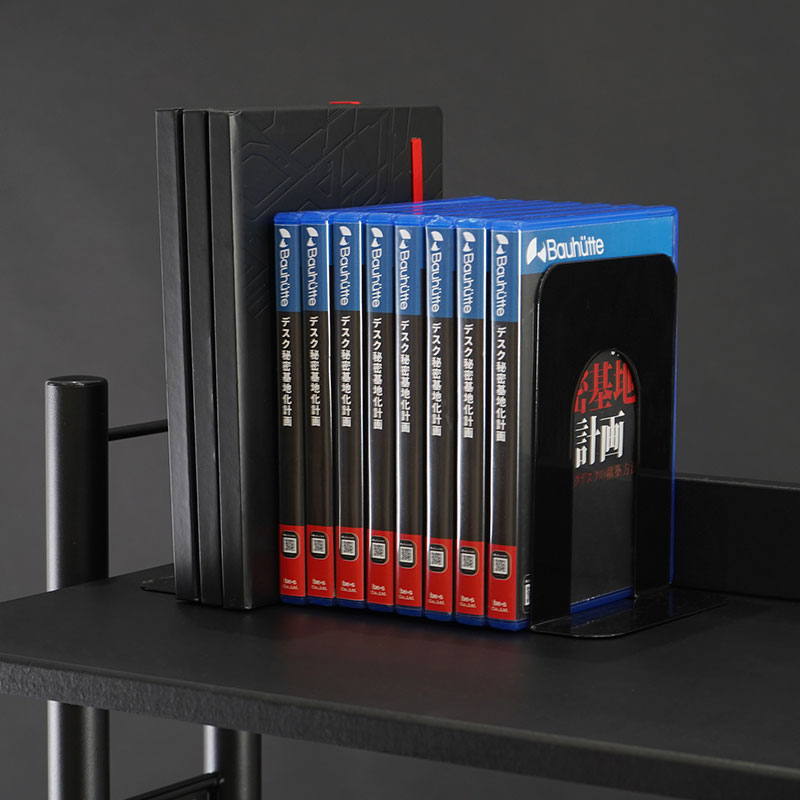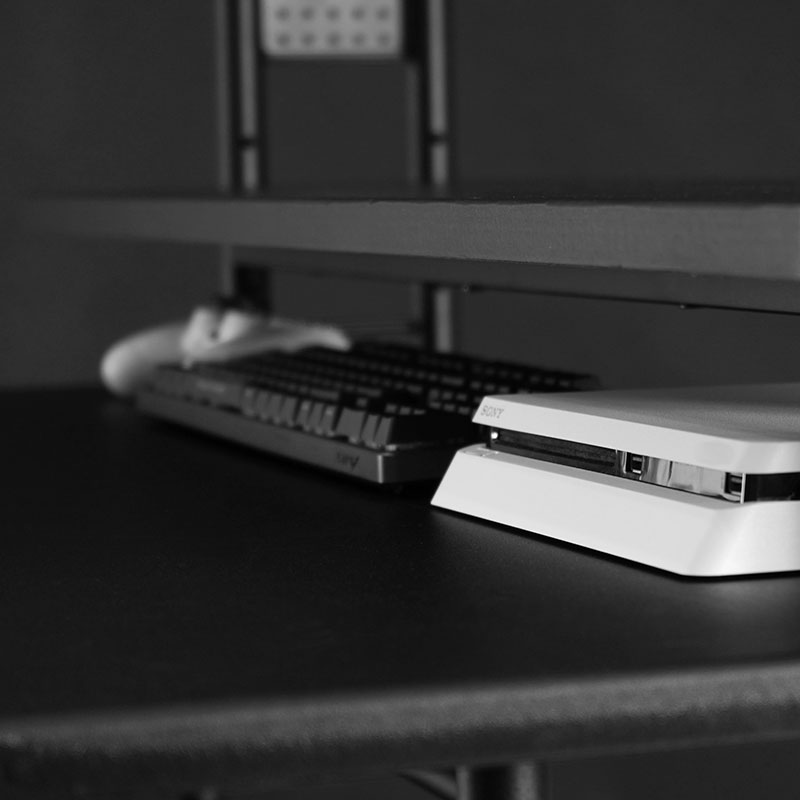 Perforated Board
You can secure things like power strips or routers to this with cable ties. Compared to the first version of the Desk Rack, we have made the perforated board longer so that you can attach a power strip to it easier.
Attaching Without Drilling Holes
With a clamp, you can attach the Desk Rack to your desk without damaging your desk. After reviewing the first model, we have worked towards changing the direction of the clamp so it is now a lot easier to attach it.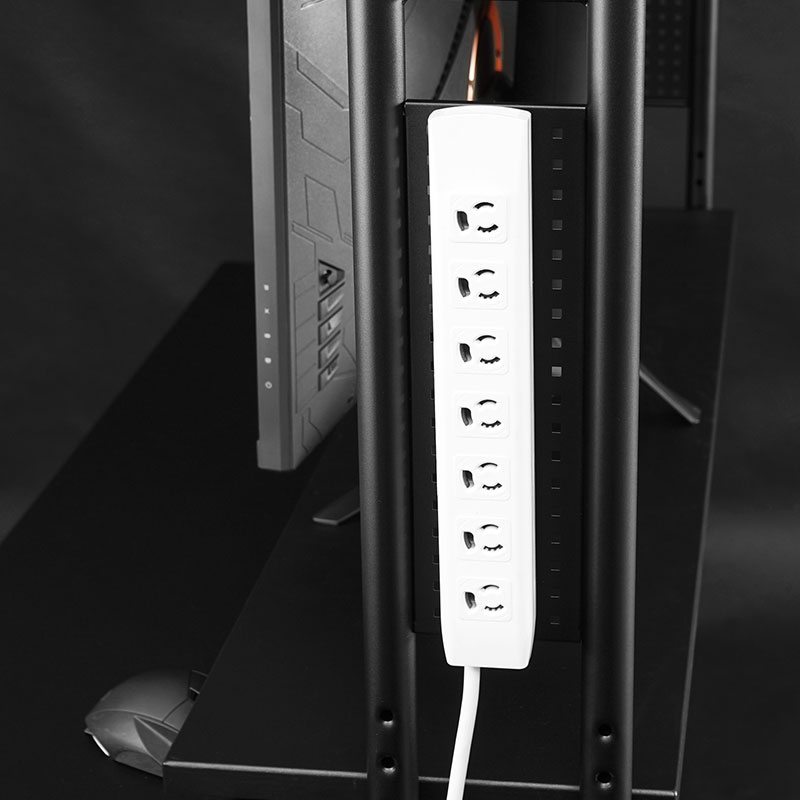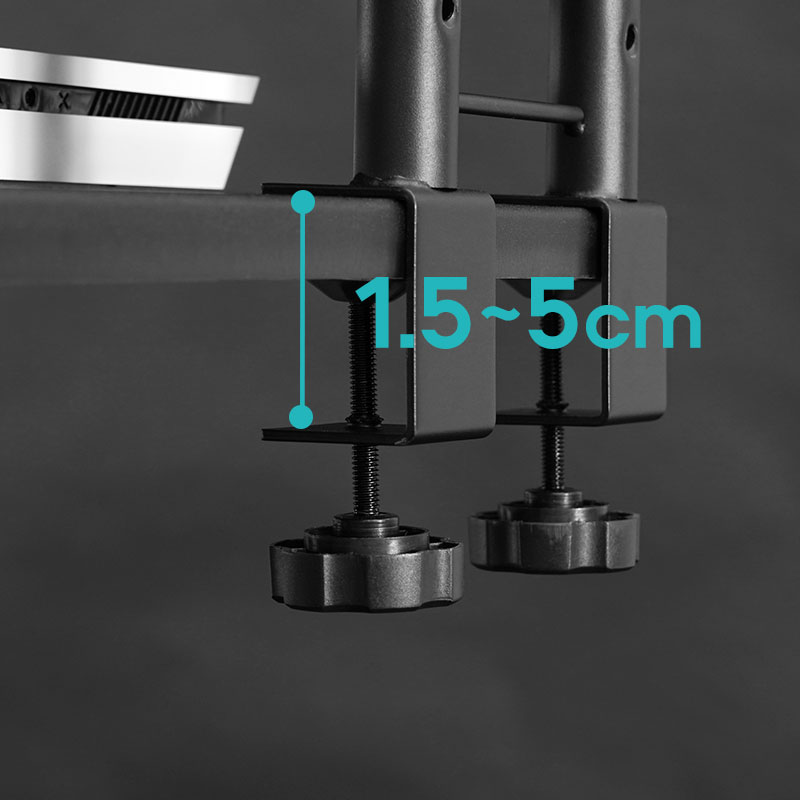 Mounting a Headphone Hanger
You can mount our Headphone Hanger (sold separately), S-shaped hooks and so on to the rack.We recommend storing your controllers and headsets on it.
Weight Limit
The Desk Rack can safely and securely hold a monitor arm and a large monitor. Compared to the first version, this one can hold around 10 kg more.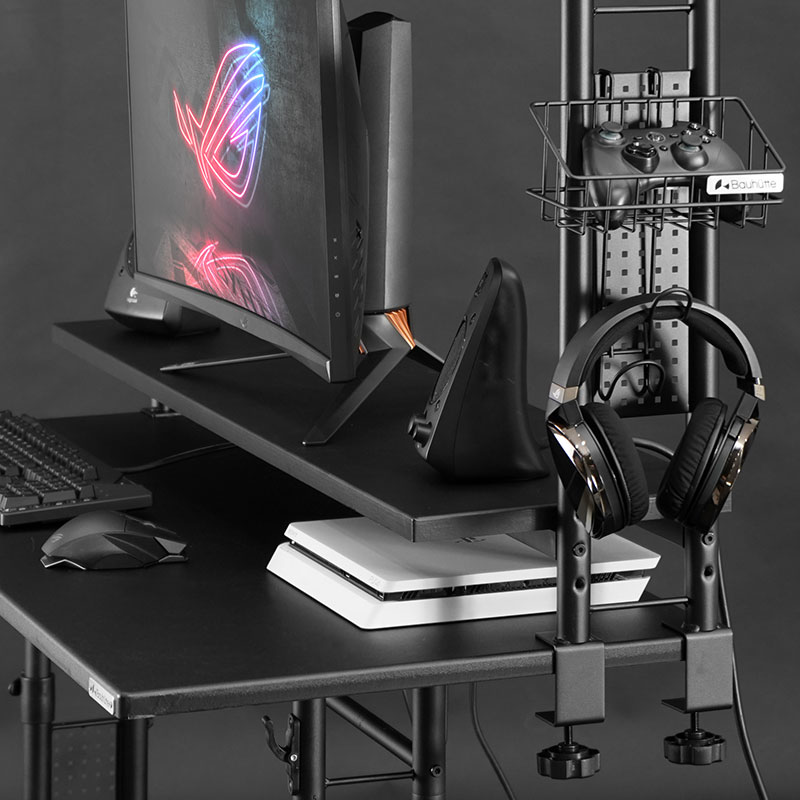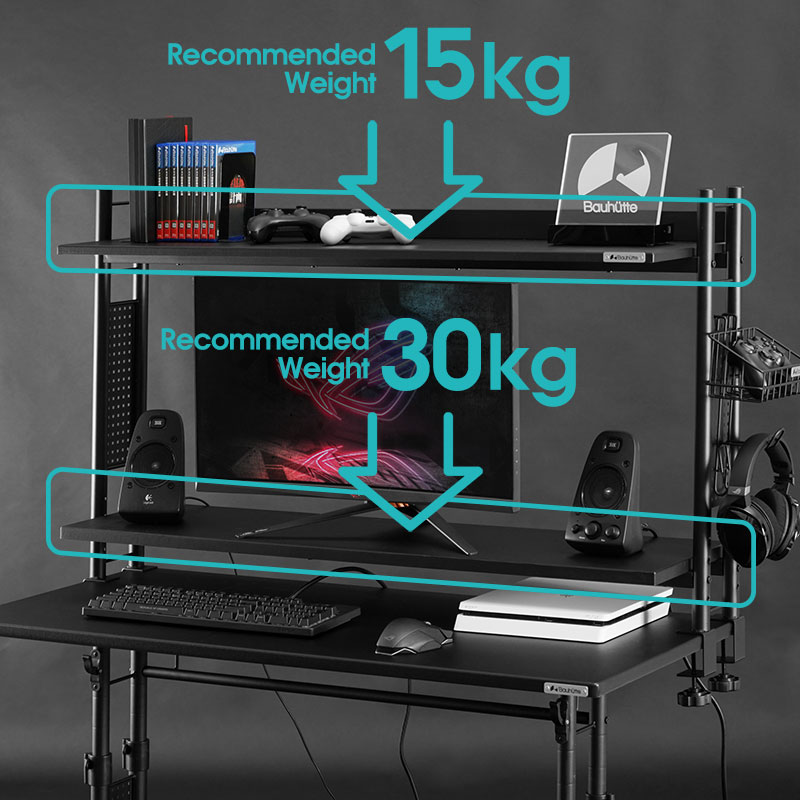 Size
Place Against a Wall
*To prevent your desk from falling over backwards, we recommend setting it against a wall.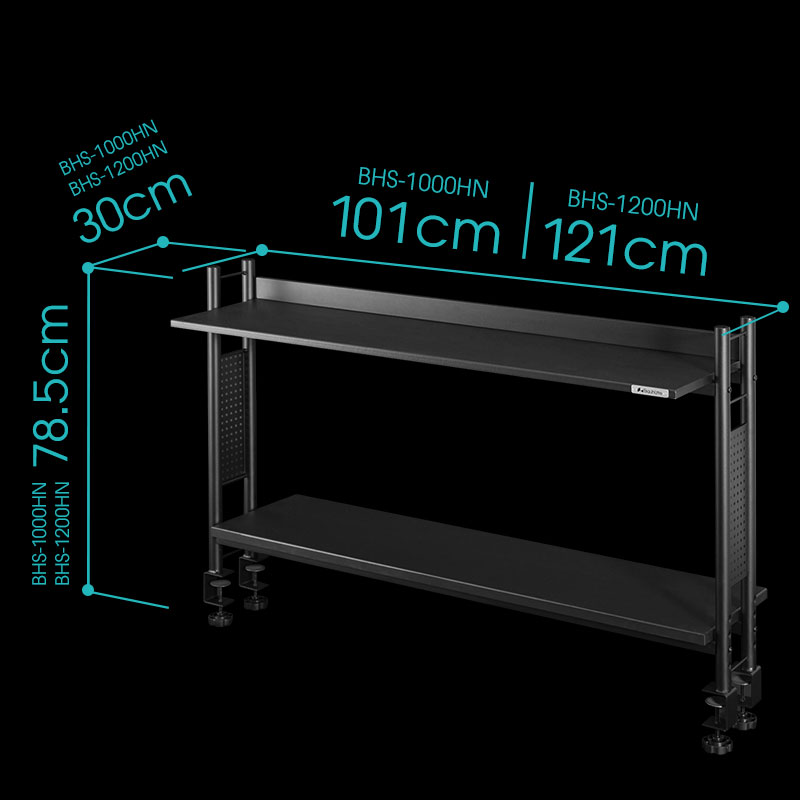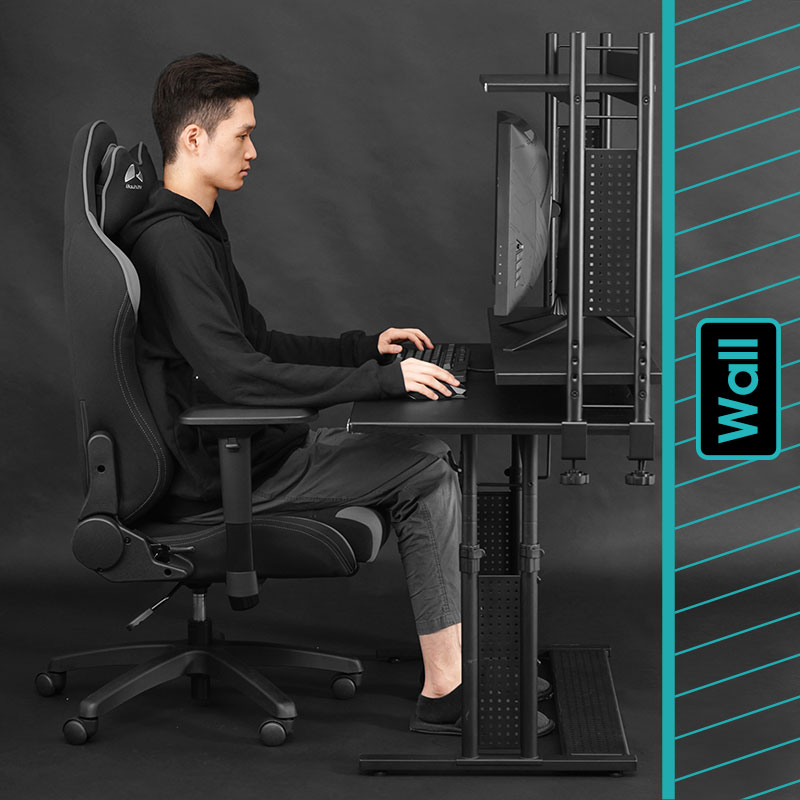 SPEC
Color
black
Size
BHS-1000HN:Width 1010mm × Depth 300mm × Height 785mm
BHS-1200HN:Width 1210mm × Depth 300mm × Height 785mm
Weight
BHS-1000HN:13.4kg
BHS-1200HN:15.4kg
Surface Finish
frame:epoxy powder coating
Weight Limit
lower : Less than 30kg
upper : Less than 15kg
Total : Less than 45kg
corresponding top plate
1.5~5cm
Material of Tabletop Surface
laminated fiberboard(PVC resin)
MSRP
Varied
JAN Code
BHS-1000HN:4589946145168
BHS-1200HN:4589946145151
*Please do not place hot vessels, like heated pots, kettles, or hot mugs, directly on it. This might result in a change in the color or shape of the product. Please lay a pot stand or coaster on the table before placing such items on it.
SIZE
*Proof of quality stickers on some products may differ from the above measurements. The measurements on the product page are more accurate than those on your product.
*The sizes written are control sizes. Depending on the individual and the way the product is assembled, measurements might differ slightly.