CONCEPT
A Shelter to Rescue Your Bottles from Their Packaging
Gamers and heavy internet users are prone to buying drinks in bulk,
but when they arrive, they usually don't fit all at once in the fridge,
so they end up staying in their packaging.
This rack was developed to save those drinks that can't fit in your fridge
from being stuck in plastic or cardboard.
FEATURES
Fits 48 Bottles
You can often buy 500 ml bottles in packs of 24 or 48.
The Slim Bottle Rack is designed to hold 12 bottles per shelf, so you can fit 48 bottles in vertically.
You can also use the very top shelf for seasoning bottles or as an accessories shelf.
If you adjust the spacing of the shelves, you can also store 1.5 or 2 L bottles.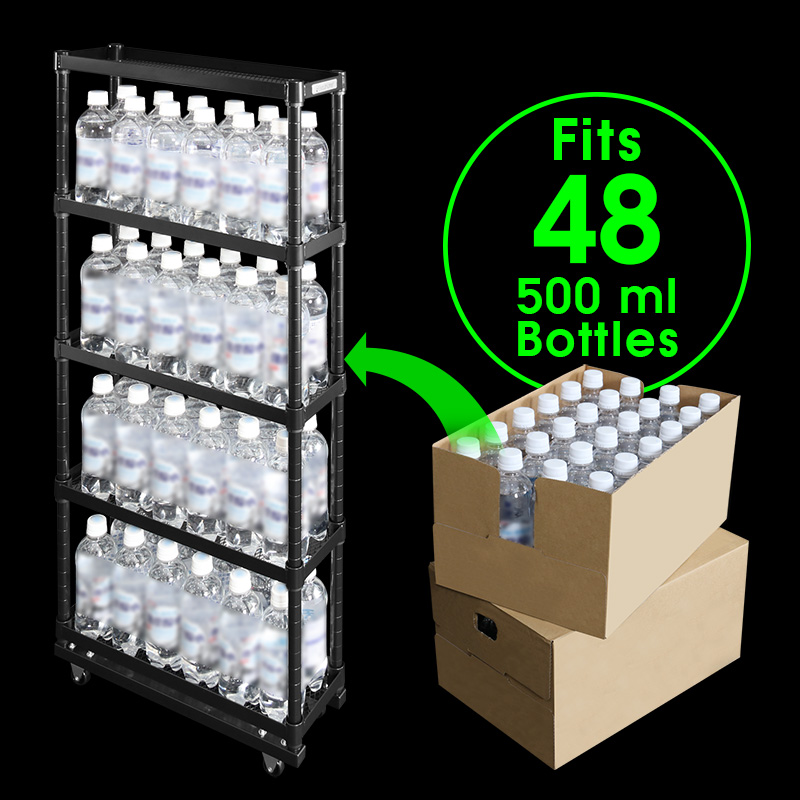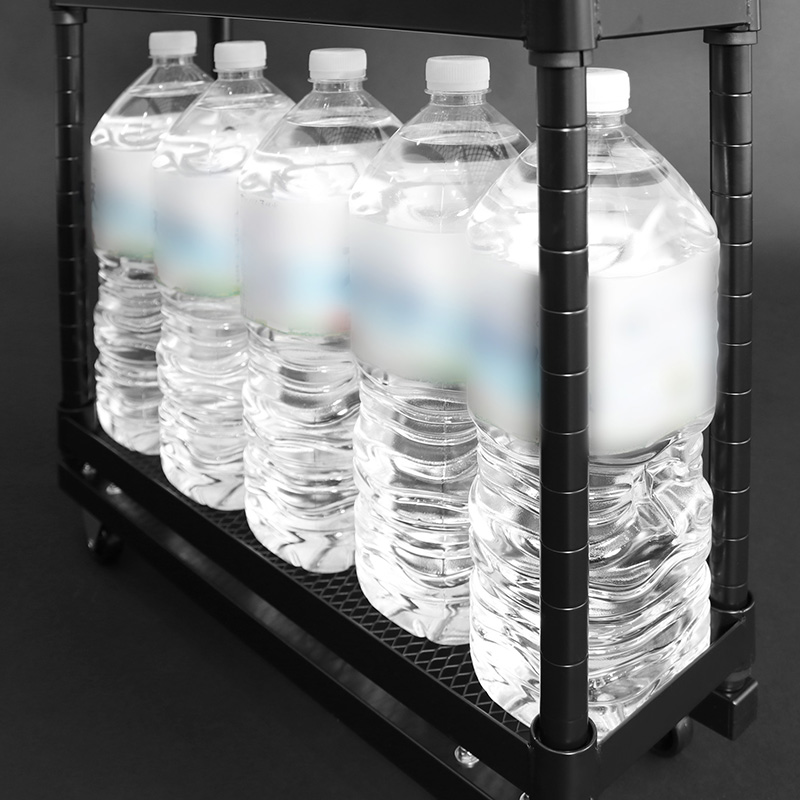 Fits 500 ml Bottles
with No Wasted Space
The Slim Bottle Rack was designed for standard 500 ml bottles. You can store them without wasting any space.
Keep Packaging
Out of Your Room
Don't you often keep your packs of drinks in their packaging? You can get rid of that annoying packaging and increase the space in your room. The Slim Bottle Rack stores bottles in rows so it takes up less space than a pack, allowing for efficient storage.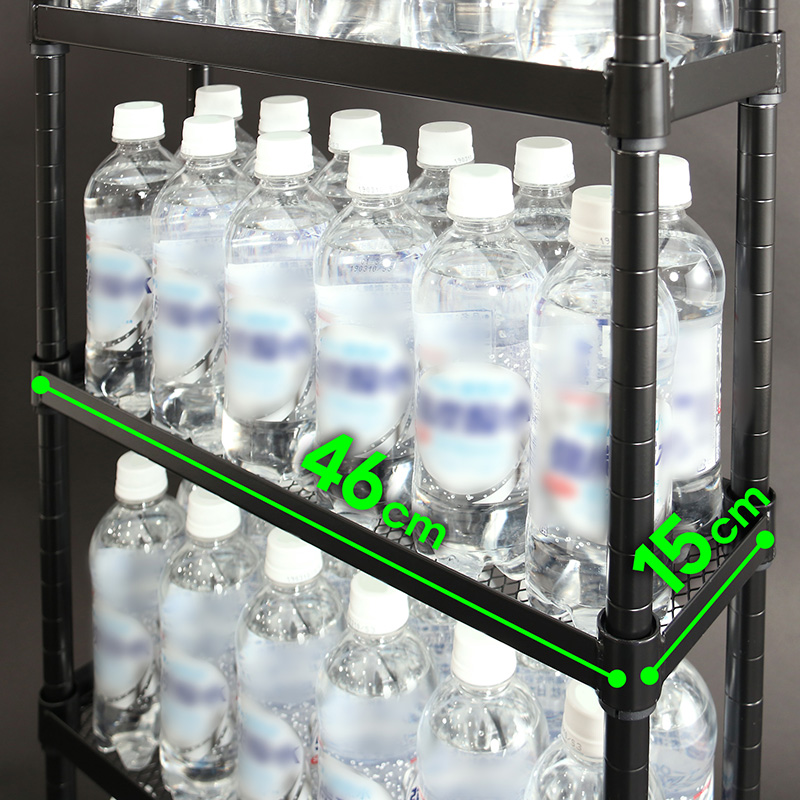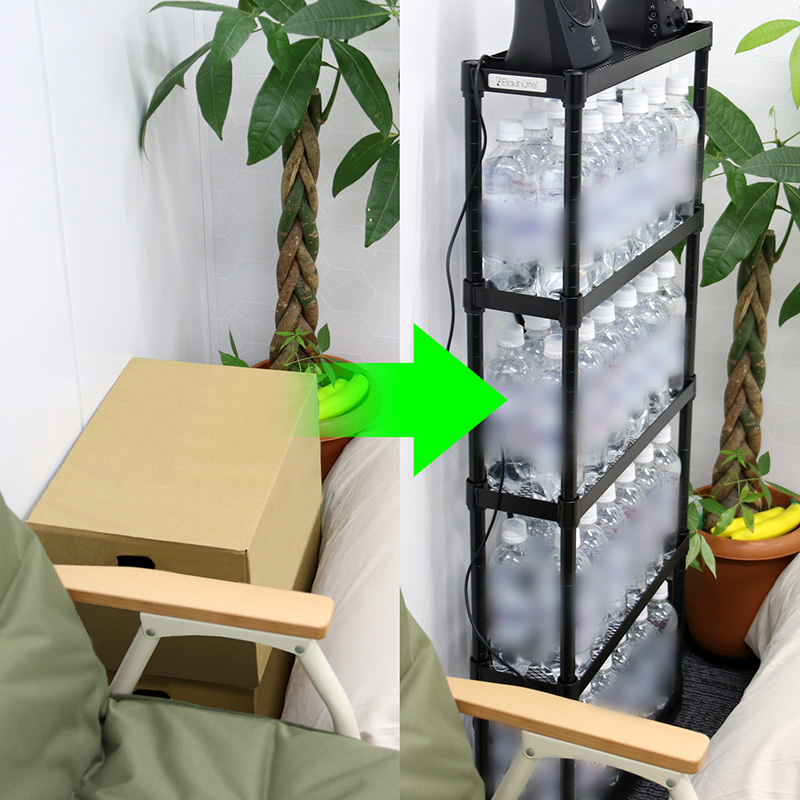 Mesh Shelves to Prevent Dust Buildup
The Slim Bottle Rack uses a fine mesh for the shelves to prevent dust from building up. The mesh is extremely fine compared to regular mesh or perforated shelves, so it prevents dust accumulation as much as possible.
Easy to Pull Out
We designed this product to sit in narrow spaces, so the casters only move back and forth. The casters won't roll from side to side when the rack is pulled out, so it is made to be smooth and stable.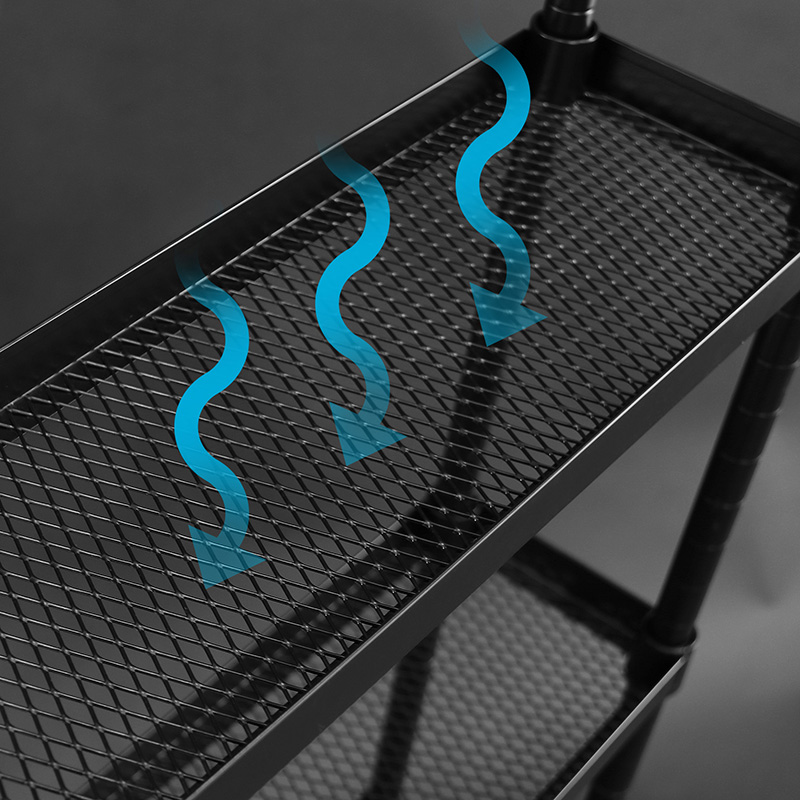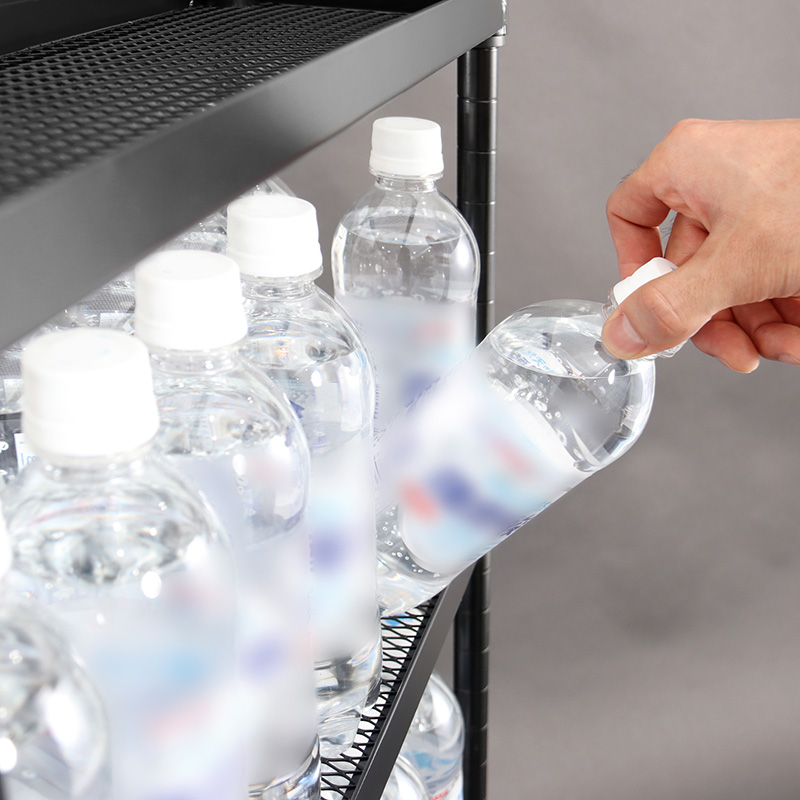 Safe Storage
The Slim Bottle Rack was designed to be put next to a stable piece of furniture. Putting bottles on top may make them fall down easier, so please put the rack near a wall or between heavy pieces of furniture.
Example
This rack can be stored next to a desk or fridge.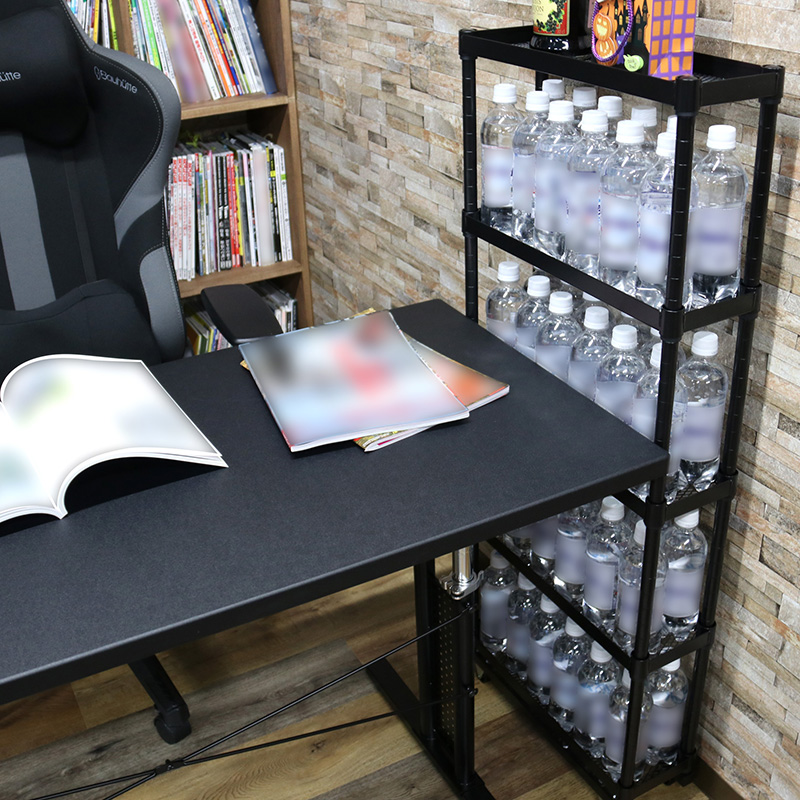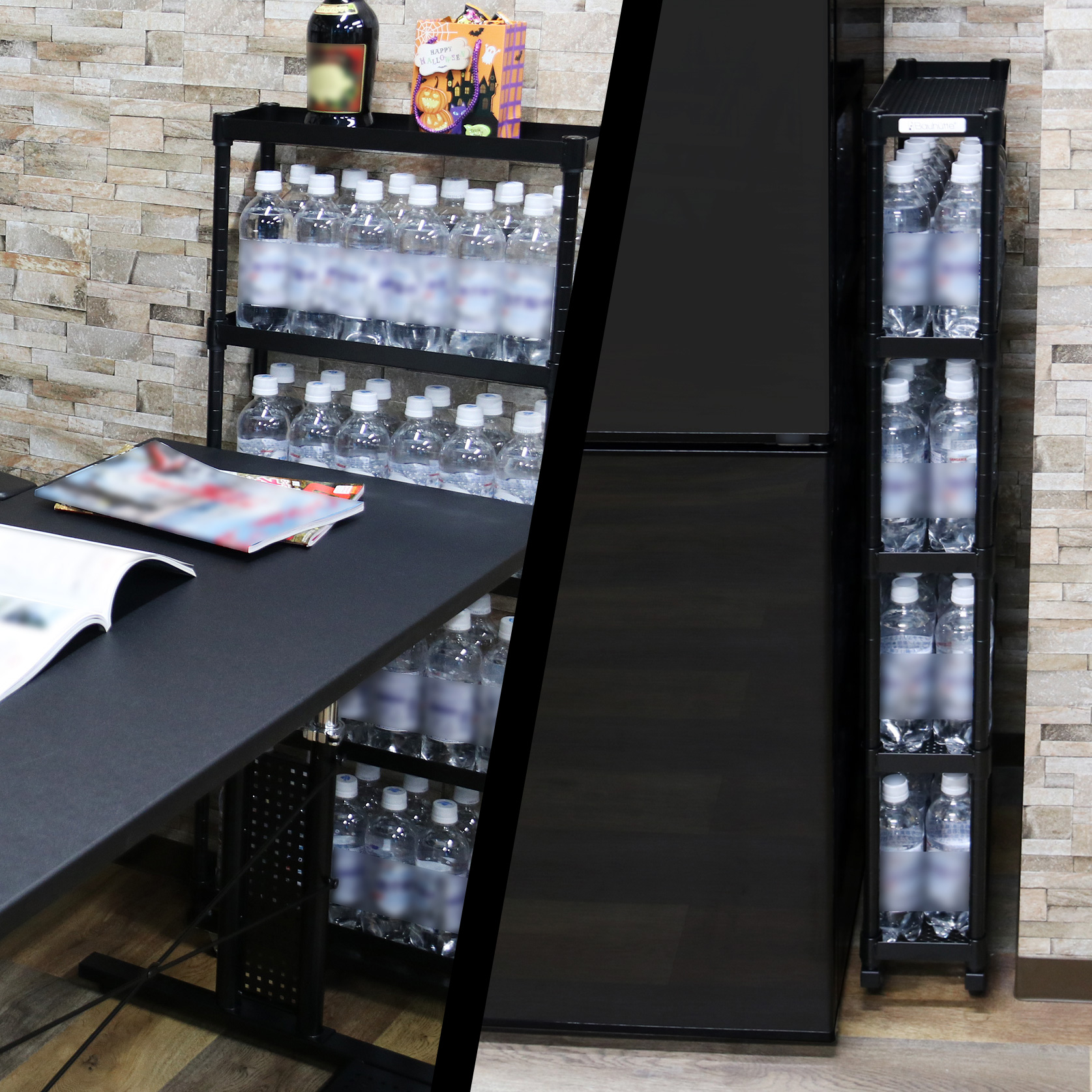 SPEC
Color
Black
Size
Width 150mm × Depth 460mm × Height 1123mm
Weight
5.0kg
Surface Finish
mesh shelf board, pole:epoxy powder coating
Weight Limit
mesh shelf board:20kg each
Total:100kg
Amount Included in Carton
3
Material
mesh shelf board, pole:steel
MSRP
Varied
JAN Code
4589946140798
SIZE
*Proof of quality stickers on some products may differ from the above measurements. The measurements on the product page are more accurate than those on your product.
*The sizes written are control sizes. Depending on the individual and the way the product is assembled, measurements might differ slightly.