CONCEPT
Enhance the Sound
Around Your Desk
Among the many gaming devices in existence,
many people find speakers to be one of the most difficult to handle.
① They're surprisingly large and heavy, and take up a lot of space.
② If you don't put them in the right place, you lose the intensity of the sound.
③ Putting the subwoofer on the floor can lead to noise complaints from neighbors.
In order to smoothly solve these problems,
we've come up with a Bauhutte-style Adjustable Speaker Stand (BHS-250/400SP-BK)
with plenty of functions.
FEATURES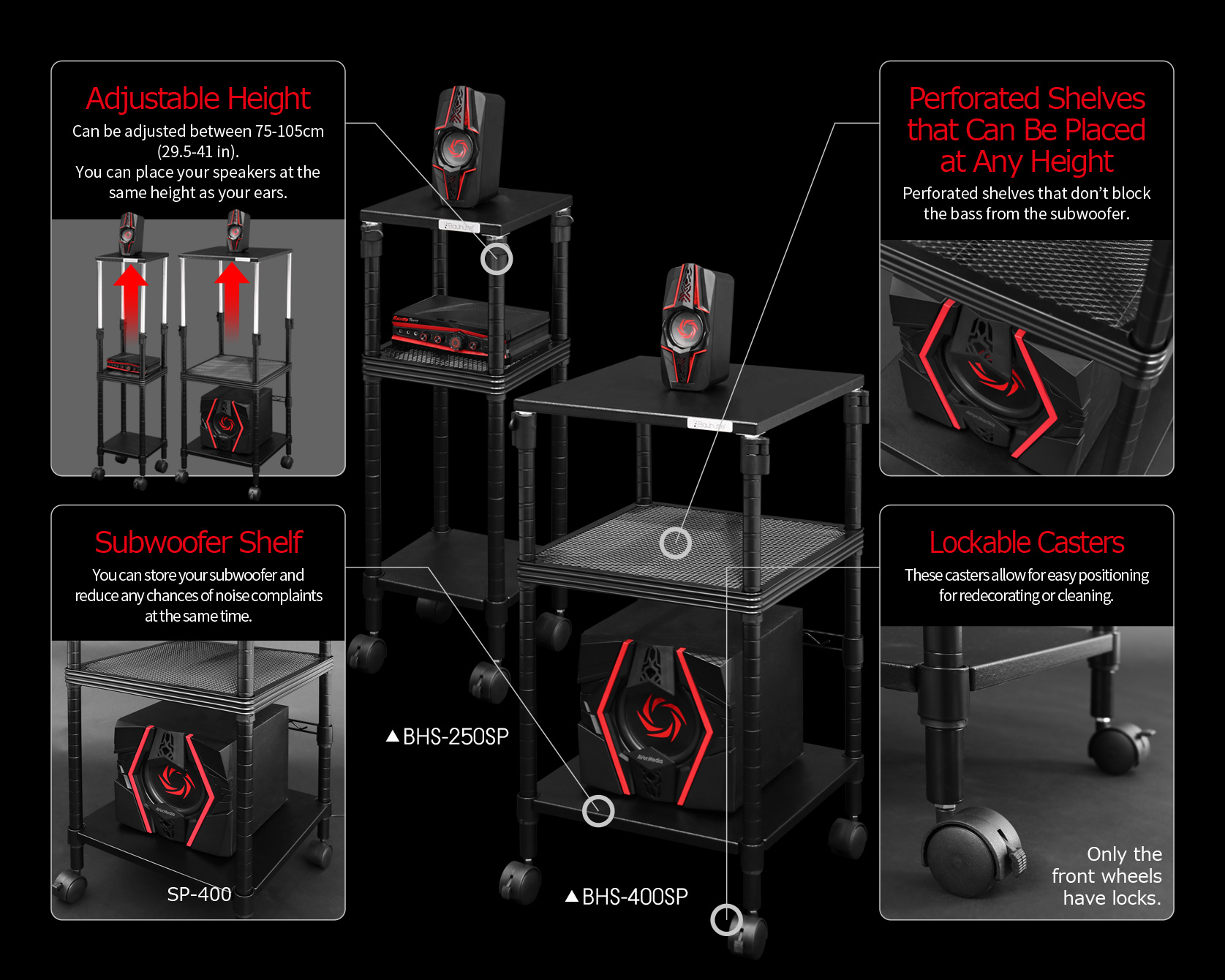 What are
gaming speakers?
Gaming speakers light up gaudily with LED lights and are designed with specs that specialize in gaming sounds, so they improve your gaming setup both functionally and aesthetically. Just like other gaming devices, they're bigger than regular computer speakers and tend to be more expensive, so you'll want to place them in an appropriate location.
Place Speakers
at the Height of Your Ears
By being able to adjust the height of the stand, you can place your speakers at the same height as your ears so the sounds of the game sound vivid.
*The stand can be adjusted between 75-105 cm (29.5-41 in) from the floor.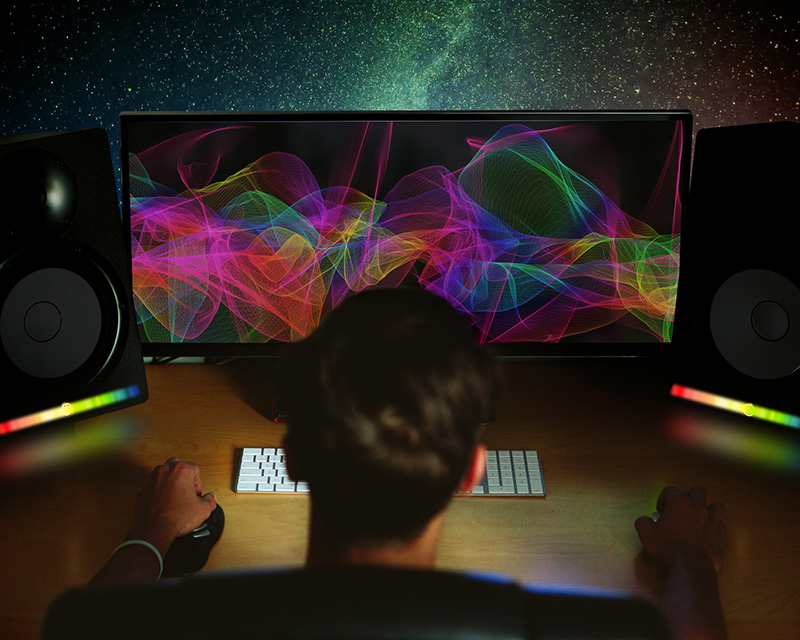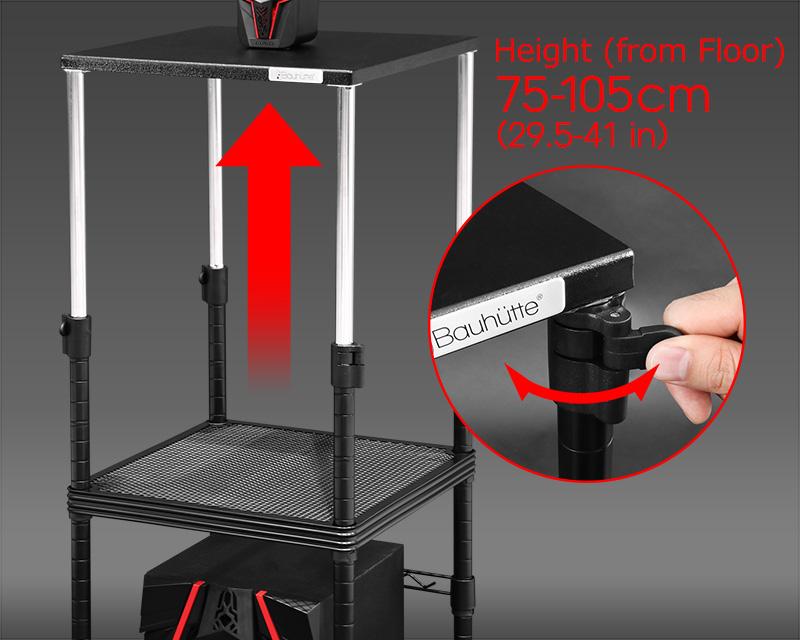 A Gamer's Speaker
Problem
Many gamers put their speakers on top of their desks, but by doing that, they run into these problems:
① You don't get to hear the speaker's true quality of sound.
② You reduce the usable space on your desk.
Thus, this is not recommended.
Find
the Sweet Spot
It is important to make an equilateral triangle between you and the left and right speaker when setting up gaming speakers. By adjusting the speakers to the height of your ears and creating an equilateral triangle, you'll be able to discover the sweet spot where you can enjoy the best sound your speakers can make.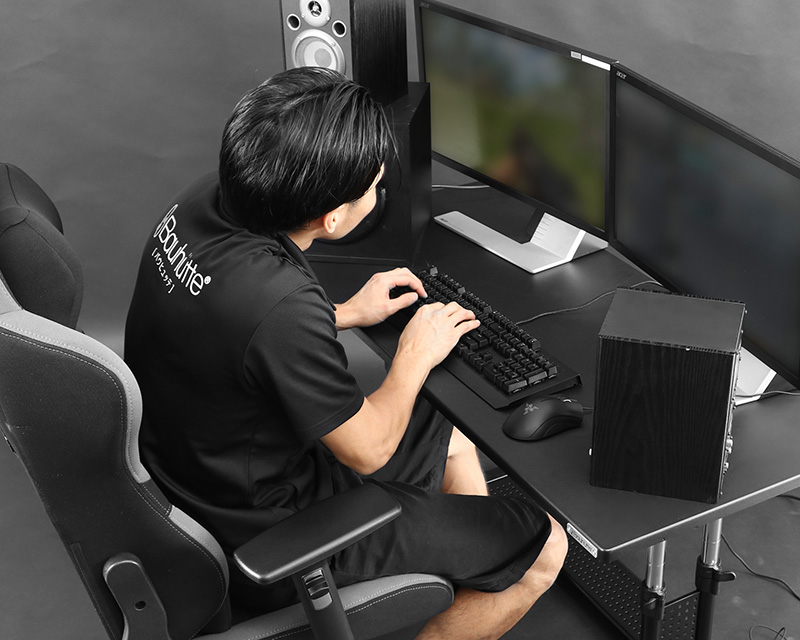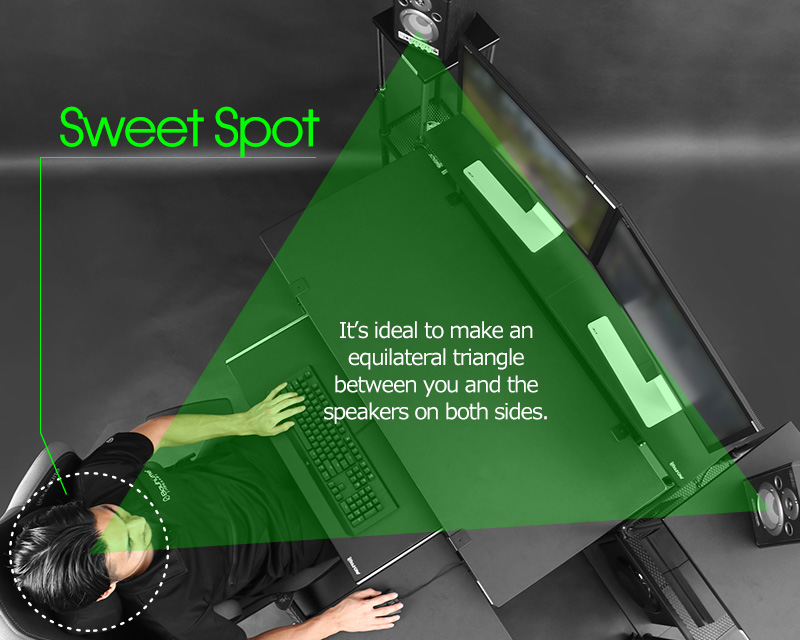 If You Can't Make
an Equilateral Triangle,
then Go For
an Isosceles Triangle
There are probably a lot of people who can't make a nice equilateral triangle because of the space in their rooms. In that case, try to go for an isosceles triangle instead. As long as the distance and angles between the two speakers are equal from your position, you'll be able to maintain balanced sound.
Store
a Subwoofer
Subwoofers are needed for intense bass sounds, but they're large and heavy, so they are troublesome to own. The Adjustable Speaker Stand BHS-400SP has a bottom shelf specifically to place a subwoofer at your feet, so it doesn't take up space above your desk and reduces the potential of noise complaints from neighbors on floors below you.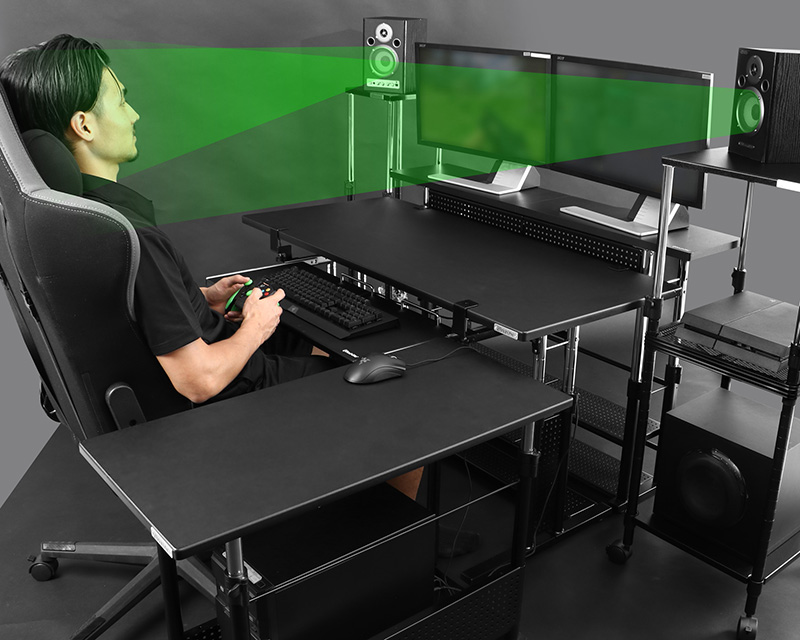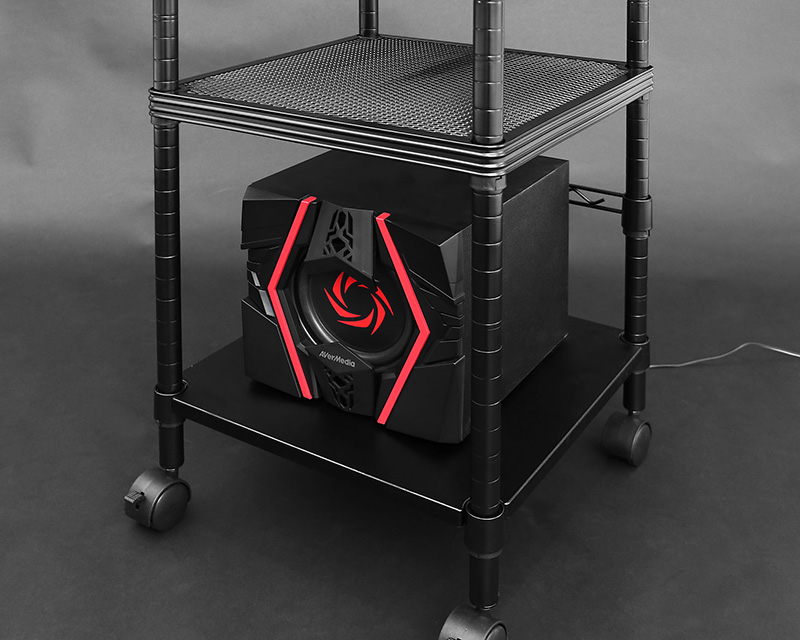 Store
a Control Box
You can place the control box for the speakers on the perforated shelves below the top shelf. This is recommended to store gaming consoles.
Perforated Shelves that
Can Be Placed at Any Height
The second shelf has fine perforations to prevent blocking the sound coming from the subwoofer like a solid shelf would. You can fix this shelf at any height you desire, so please adjust it to match the items or devices you want to store.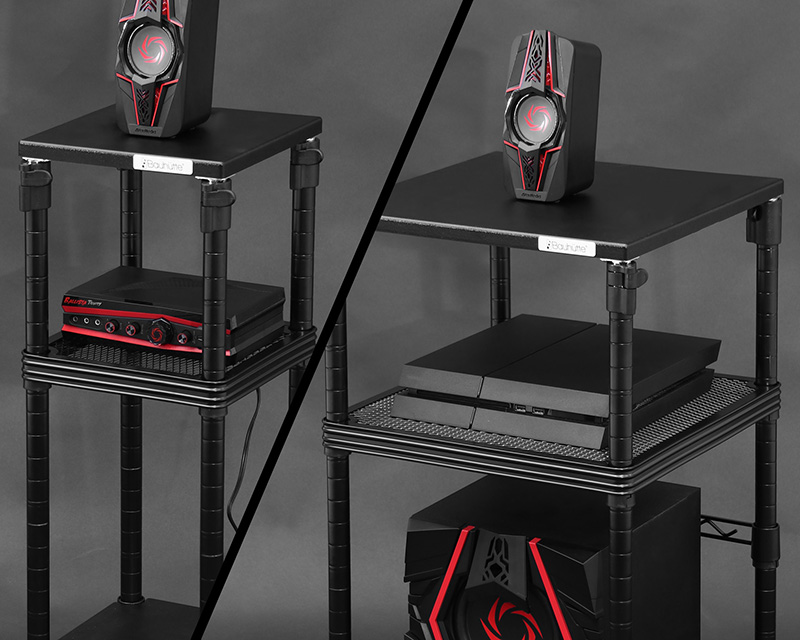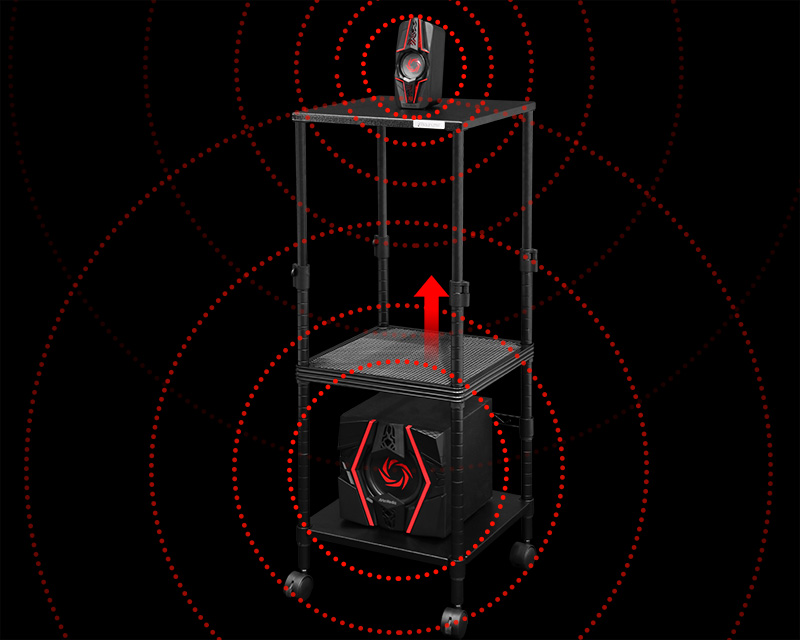 Speaker Sizes that
Can Be Stored
You can store small-to-medium-sized gaming speakers that are meant for desktops on this stand. Since the middle shelf can be adjusted to any height, you can also adjust it to match your storage needs.
Weight-Bearing
Top Shelf
Even if the speakers are within the right weight that the stand can handle, based on their shape or positioning, they may be prone to falling. Please check the balance of the entire stand before using it.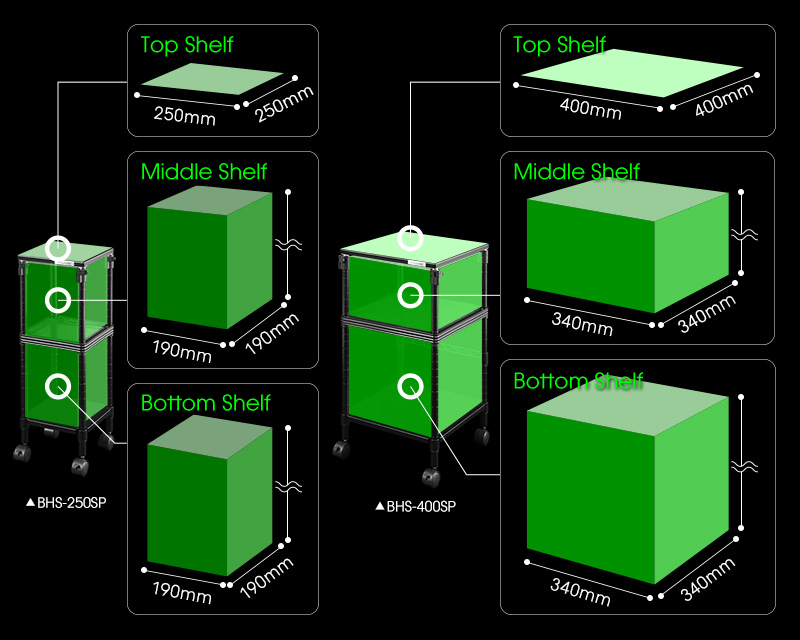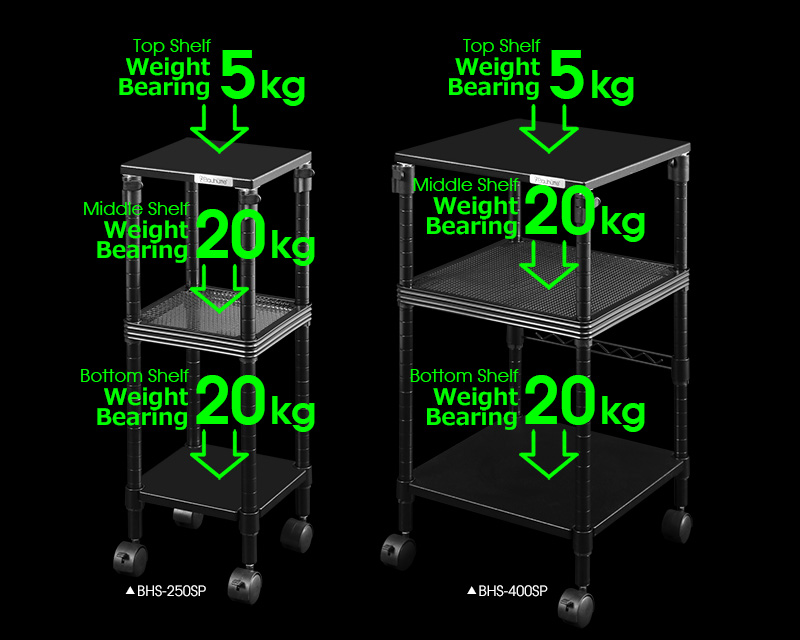 A 34% Increase in
Space Using the Top Shelf
When used with the gaming desk
BHD-1200M
, you can increase the space of the top shelf by 34%. For people who put their gaming speakers on their desk, this makes it easier to economize more space.
The Top Shelf
Matches Our Desks
The top shelf uses the same materials and R* finishing as our Adjustable Computer Desk series, so you can match your furniture.
*The rounded corners of the top shelf.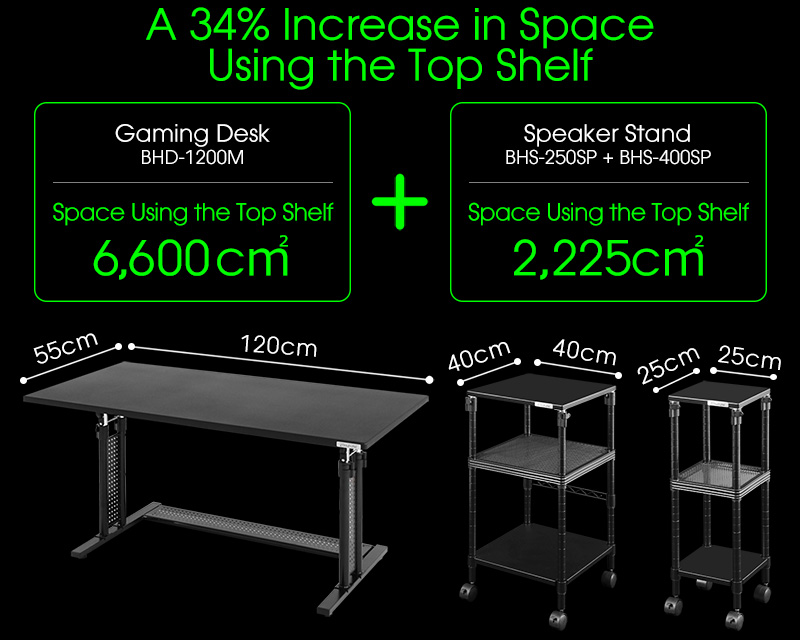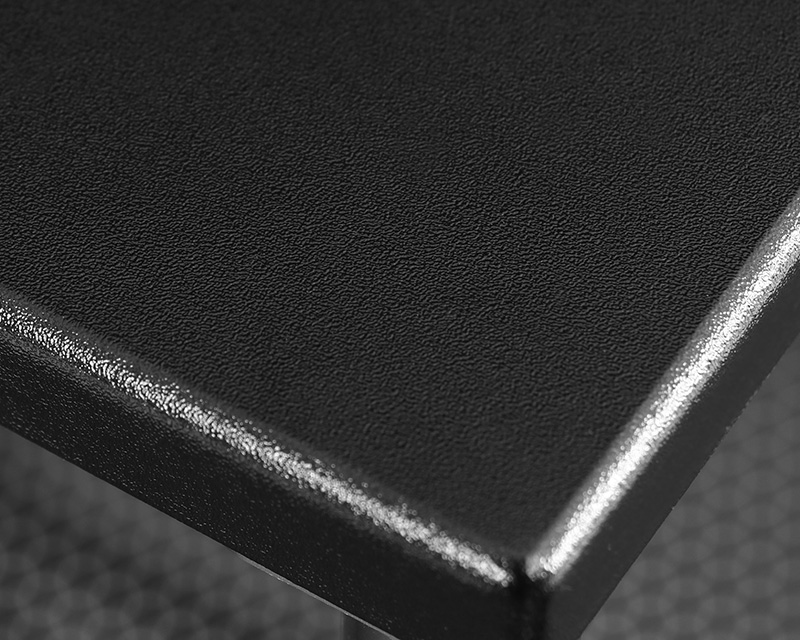 Casters with Stoppers
The stand has casters so you can easily move it to reorganize your speakers or to clean.
Gamers' Big Hill
By adjusting the tops of different furniture to various heights in this layout, you can bring out the performances of each device to their fullest.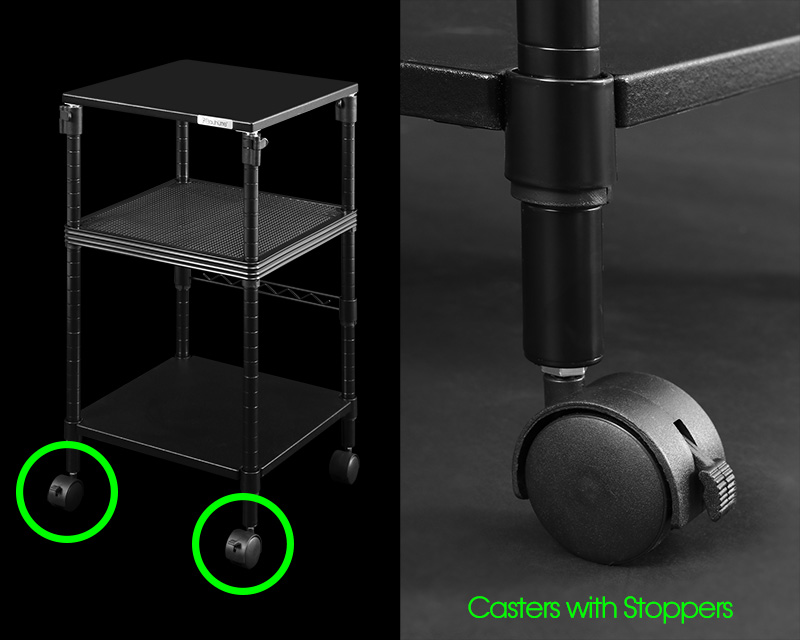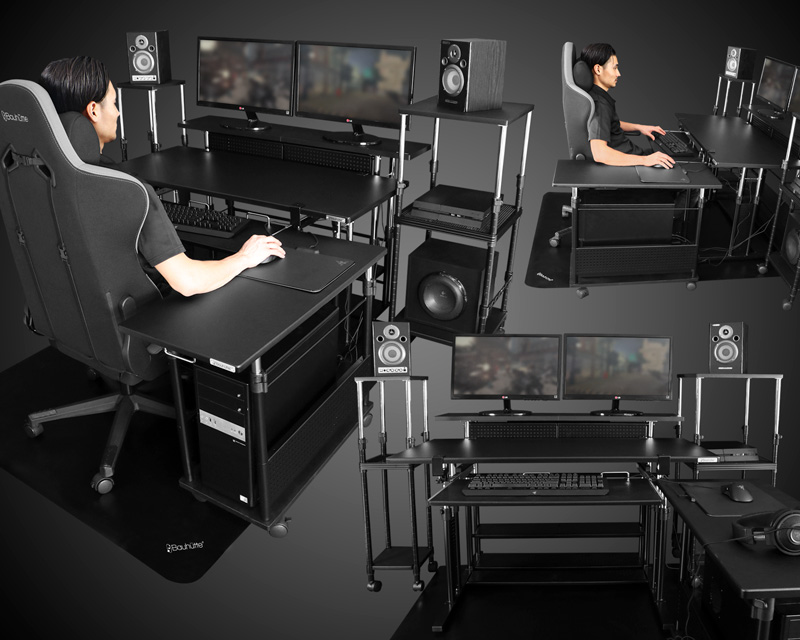 SPEC
Color
Black
Size
BHS-250SP:Width 250mm × Depth 250mm × Height 750mm(750~1050mm)
BHS-400SP:Width 400mm × Depth 400mm × Height 750mm(750~1050mm)
Weight
BHS-250SP:5.0kg
BHS-400SP:8.4kg
Surface Finish
mesh shelf board, pole : epoxy powder coating
Weight Limit
mesh shelf board, bottom shelf : 20kg each
top shelf : 5kg
total weight limit : 45kg
Surface Finish
mesh shelf board, pole : epoxy powder coating
Material
mesh shelf board, pole : steel
top shelf, bottom shelf : MDF
MSRP
Varied
JAN Code
BHS-250SP-BK:4589946140354
BHS-400SP-BK:4589946140347
SIZE
*Proof of quality stickers on some products may differ from the above measurements. The measurements on the product page are more accurate than those on your product.
*The sizes written are control sizes. Depending on the individual and the way the product is assembled, measurements might differ slightly.