CONCEPT
It's All for Your Game Consoles
We have created this rack specially for the sake of users
with multiple non-portable gaming consoles.
When you place your gaming consoles vertically,
depending on where you put them, there might be a risk of them falling over.
With this Game Console Rack, you can store them horizontally.
The shelves are perforated and made from steel so even if you lay your consoles flat,
the heat from them will disperse easily and they won't overheat.
There is more than enough storage space across the 4 shelves.
The bottom 2 shelves can be pulled out so they're perfect for retro game consoles
that require cartridges to be changed between games.
COLOR TYPE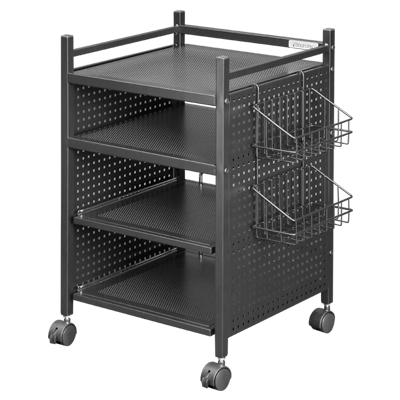 Black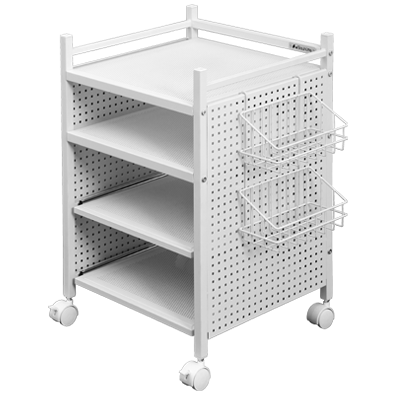 White
FEATURES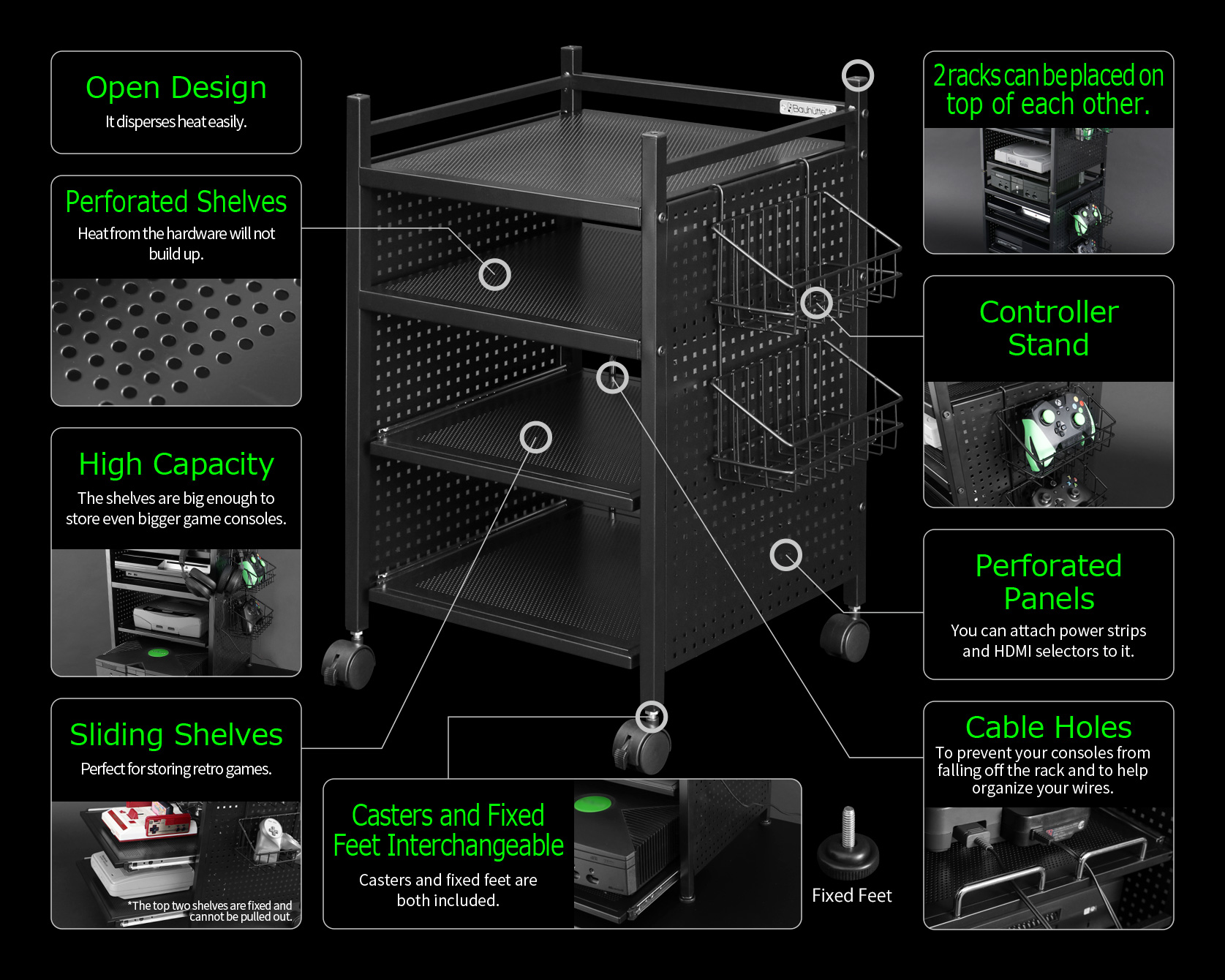 Designed Specially for Game Consoles
3 Reasons We Recommend Storing Your Game Consoles in the Game Console Storage Rack.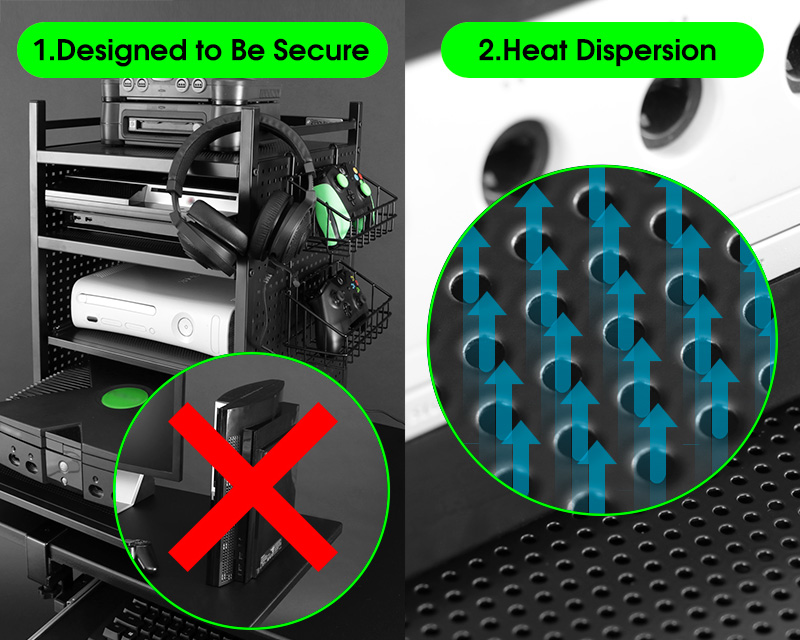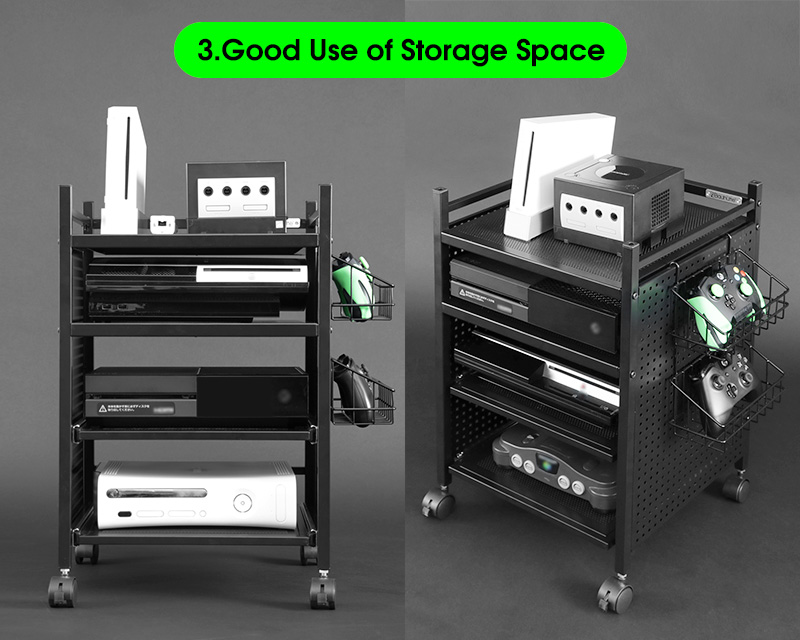 Sliders
The bottom 2 shelves can be pulled out like drawers. They're perfect for game consoles that have lids or require cartridges to be changed between games. In those cases, you can easily pull the shelf out and switch your cartridges out without taking your entire console off the shelf.
Perforated Shelves
All the shelves have been made using perforated steel panels. This is so that the heat from your gaming consoles will disperse easily and they won't overheat.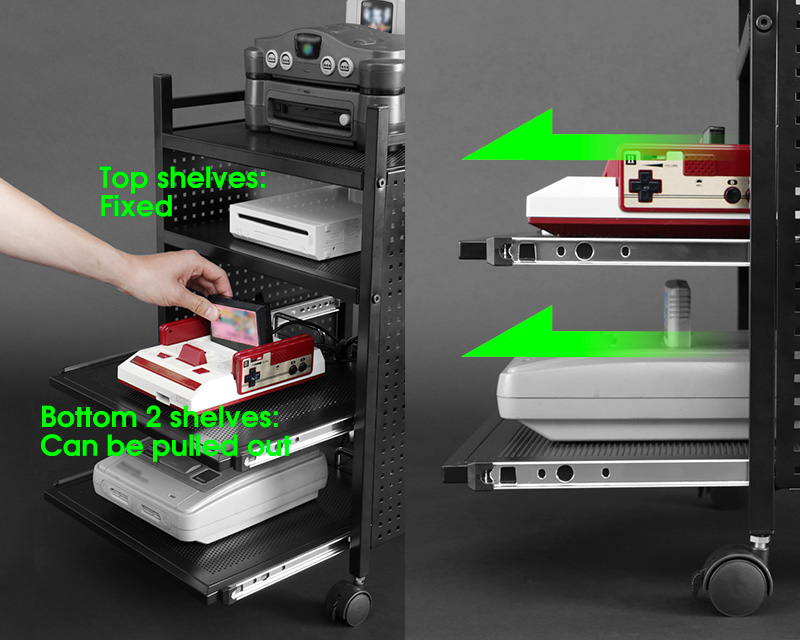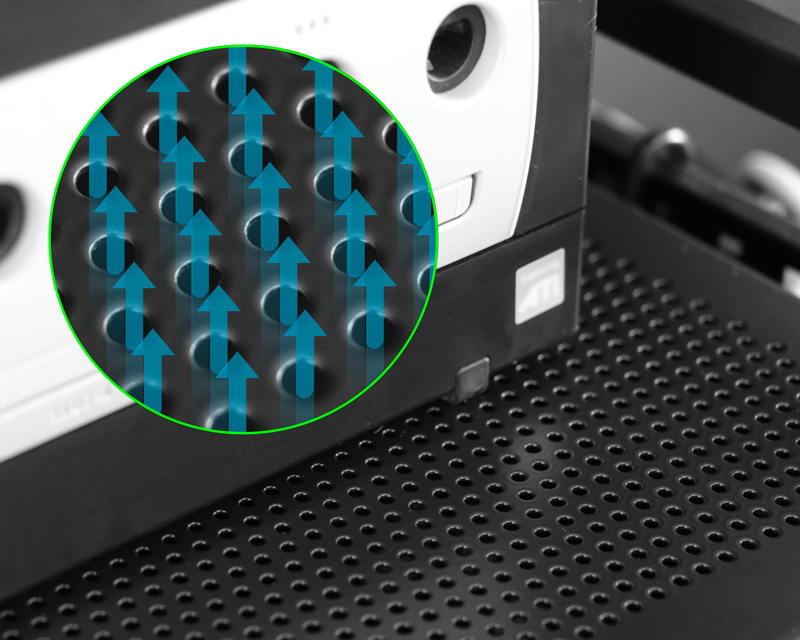 Open Design
Compared to storage racks with doors, the Gaming Console Rack is designed not to allow heat build-up. Additionally, it helps with organizing the wires from the consoles.
Reduces Dust Build-Up
We have built the rack a little higher from the ground as lifting it even a couple of centimeters from the floor can help to prevent dust from entering the rack and building up on your gaming consoles. The lower shelf can be placed up to 10 cm from the floor.
*When casters are attached.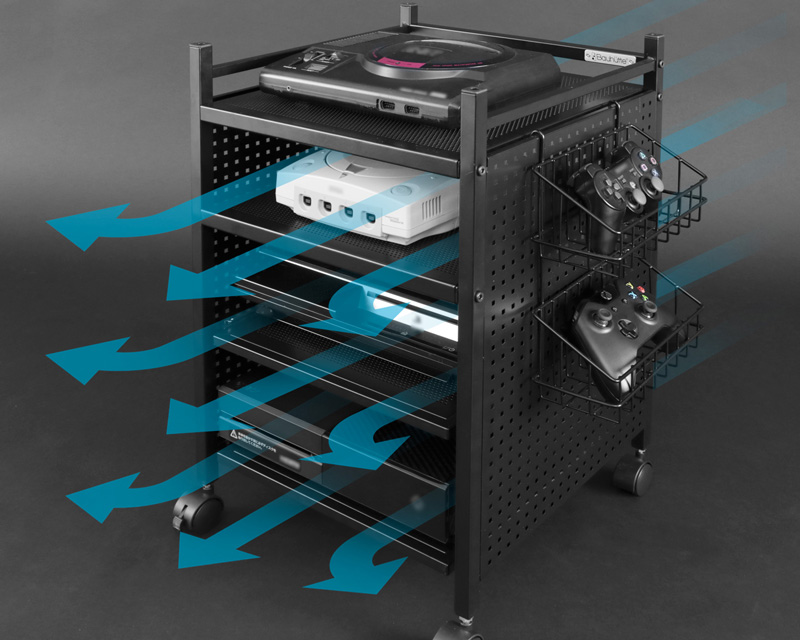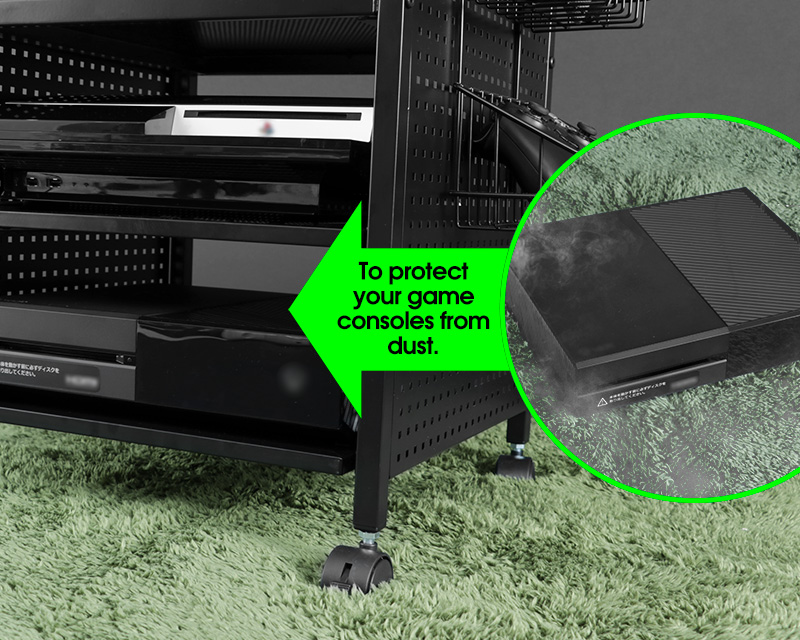 Perforated Sides
The sides of the rack are perforated. This allows power strips and HDMI selectors to be easily fixed to them with zip ties.
Cable Holes
You can thread your power or image and audio cables through to help organize your wires. Additionally, they also prevent your consoles from falling off the rack and breaking when you slide the shelves out.
*The top two levels do not have cable holes.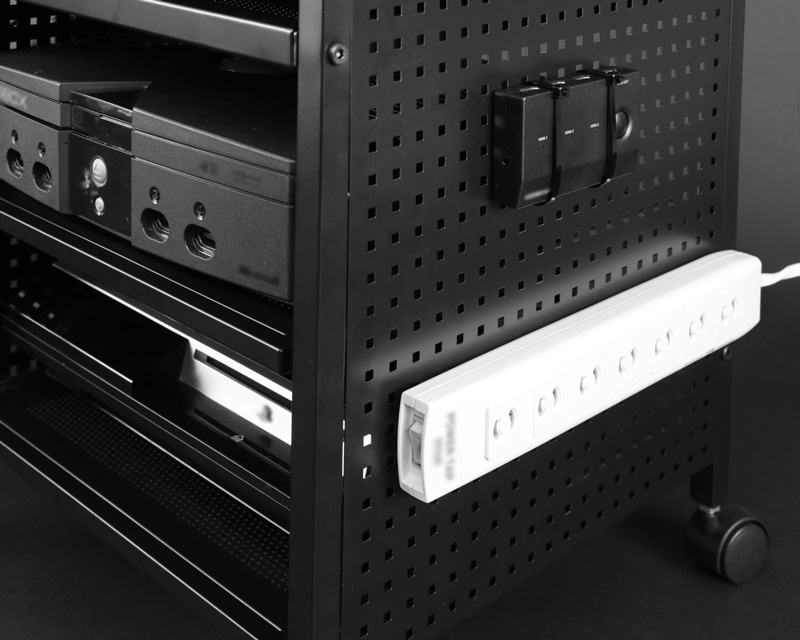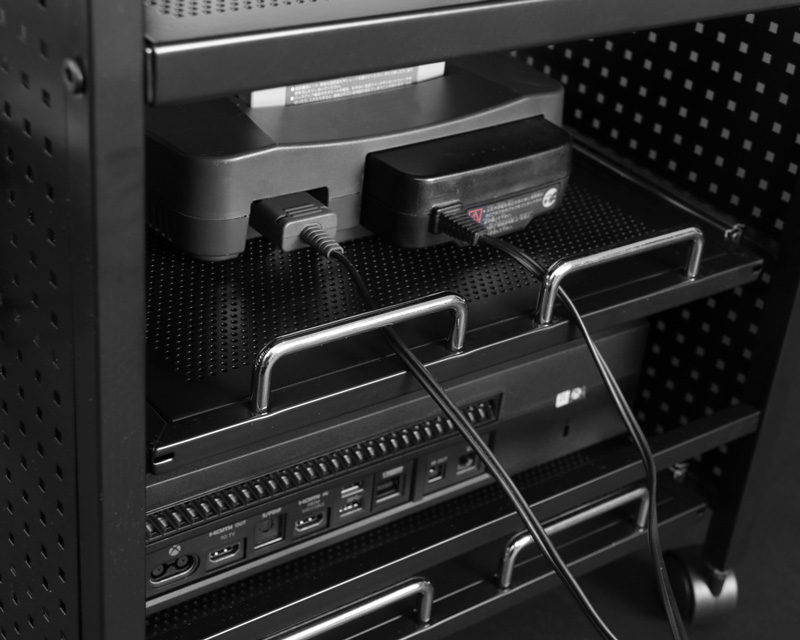 Controller Stand
This can hold 2 controllers.
Safety Bars
They prevent controllers and gaming devices that you've stored on the top of the rack from falling off.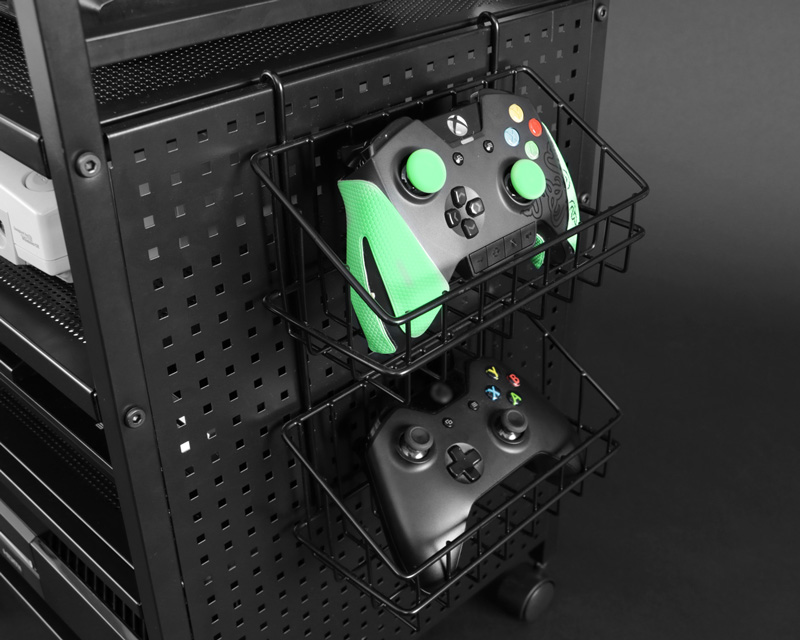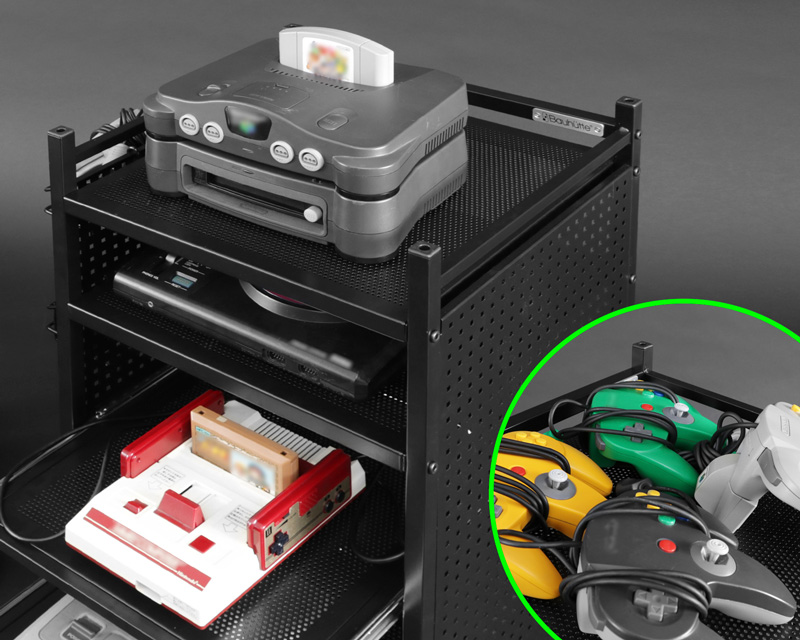 Interchangeable Feet (Casters)
This is perfect for the living room gamer. Since there are a lot of retro consoles that have very short cables, you can push the rack to each player whose turn it is to play to make it convenient for you.
Interchangeable Feet (Fixed Feet)
They're convenient for keeping the rack still. With the fixed feet, you can place it securely in your ideal spot.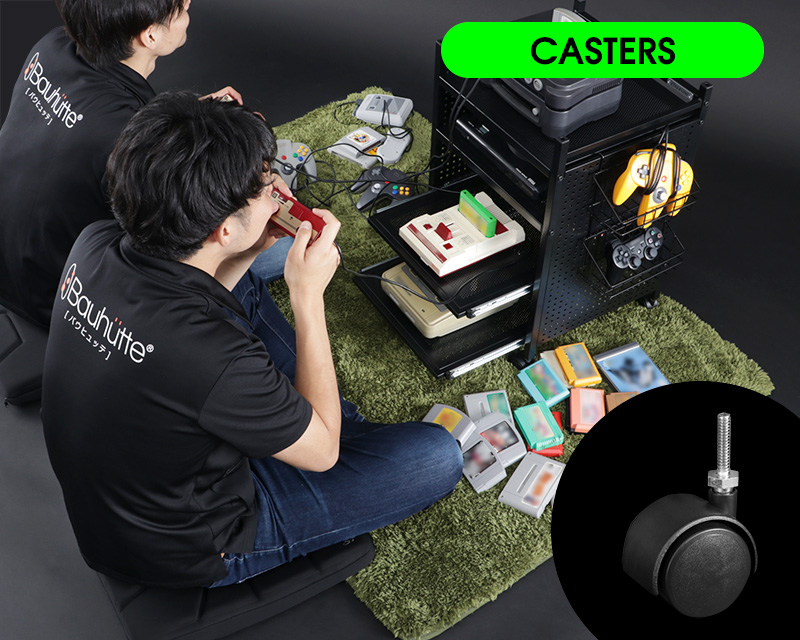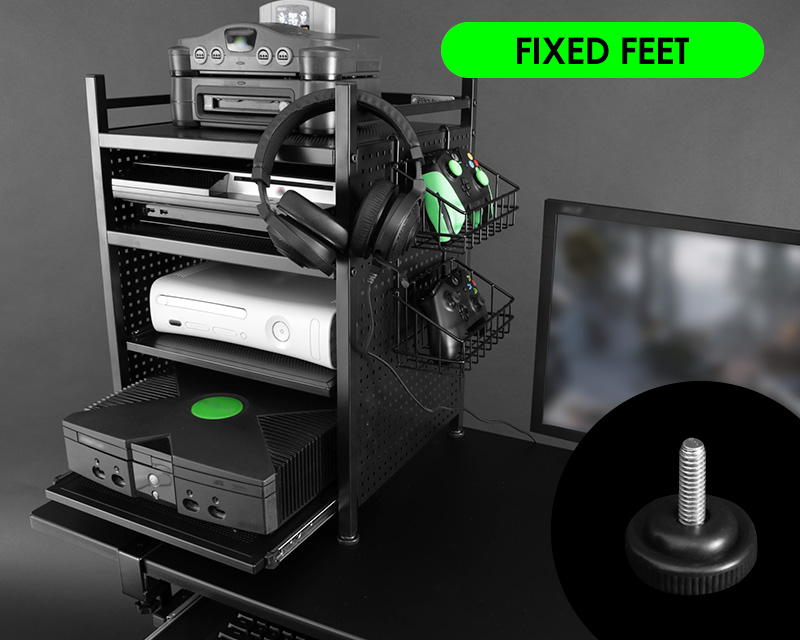 Storage Size
This rack has been designed to fit roughly all kinds of non-portable gaming consoles.
*Some gaming consoles cannot be stored, so please check the measurements before purchase.
Joining 2 Racks
Using the attachment bolts, up two 2 Storage Racks can be vertically attached together. When 2 racks are joined together, you will have 8 shelves available for game console storage.
*In order to link 2 racks together, 2 racks have to be purchased.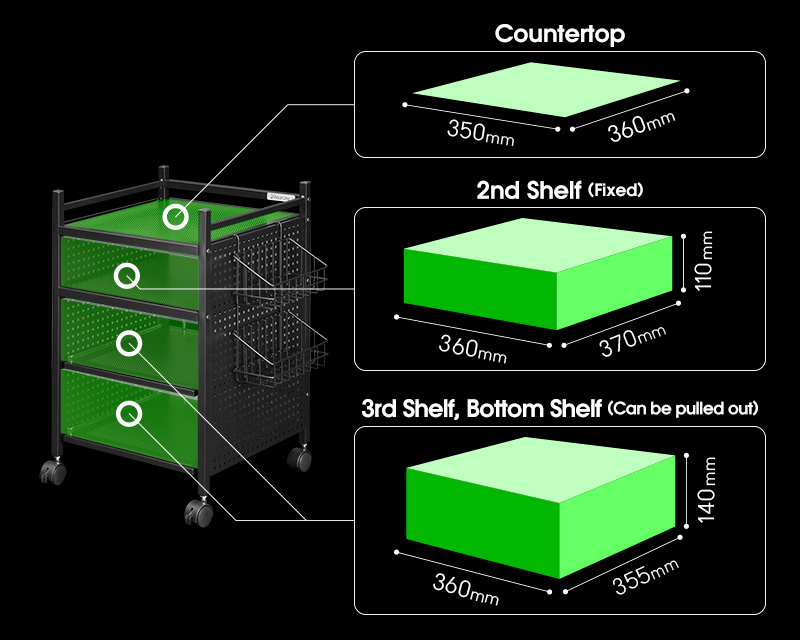 SPEC
Color
BK:black
WH:white
Size
Width 396mm × Depth 370mm × Height 615mm (With casters)
*Without Controller Stand
Weight
8.5kg
Components
Main Body of Rack:steel
Fixed Feet, castor:PP / polypropylene
Weight Limit
Whole Rack:Less than 40kg
Perforated Shelves・Sliding Shelves:Less than 7kg each
Controller Stand:Less than3kg
MSRP
Varied
JAN Code
BHS-380G-BK:4589946139846
BHS-380G-WH:4589946143393
SIZE
*Proof of quality stickers on some products may differ from the above measurements. The measurements on the product page are more accurate than those on your product.
*The sizes written are control sizes. Depending on the individual and the way the product is assembled, measurements might differ slightly.