CONCEPT
Set Up a Charging Station Beside Your Pillow!
"I want to play games on my phone right up until I go to sleep."
"I want to charge my tablet and laptop at the same time."
We developed a convenient table for self-indulgent gamers
who love their bed so they can have a source of electricity nearby.
The long top has space to line up smartphones and other devices,
and the perforated panel can be used to fix surge protectors in place.
This bedside charging station will support your efficient,
self-indulgent lifestyle.
FEATURES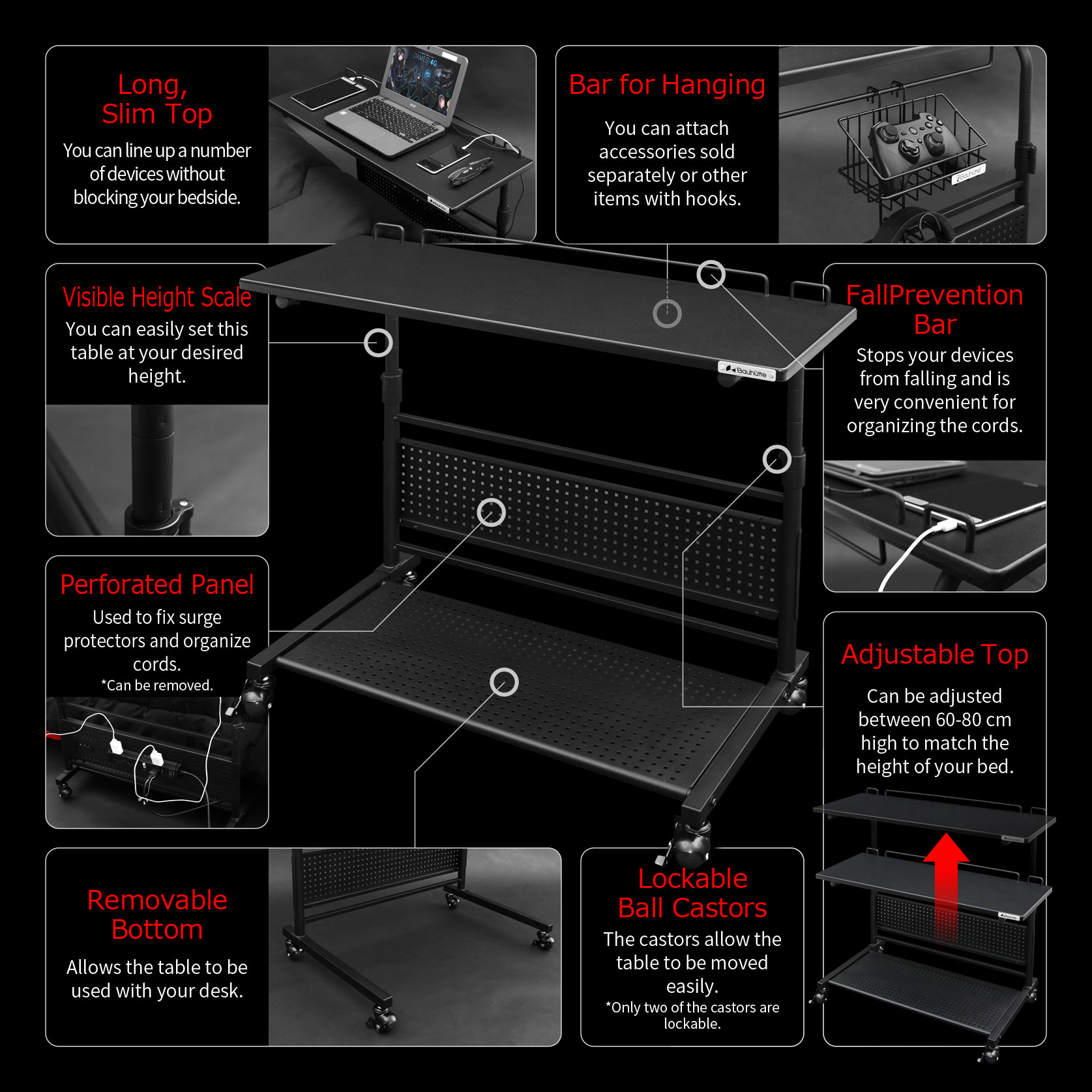 Turn It into a Charging Station for Your Smartphone and Tablet
Smartphone, tablet, portable gaming console, laptop…
You can charge all the devices you'd like to use while chilling in bed.
You can fix surge protectors in place using the perforated panel to create a charging station
that you can access even when you're in bed.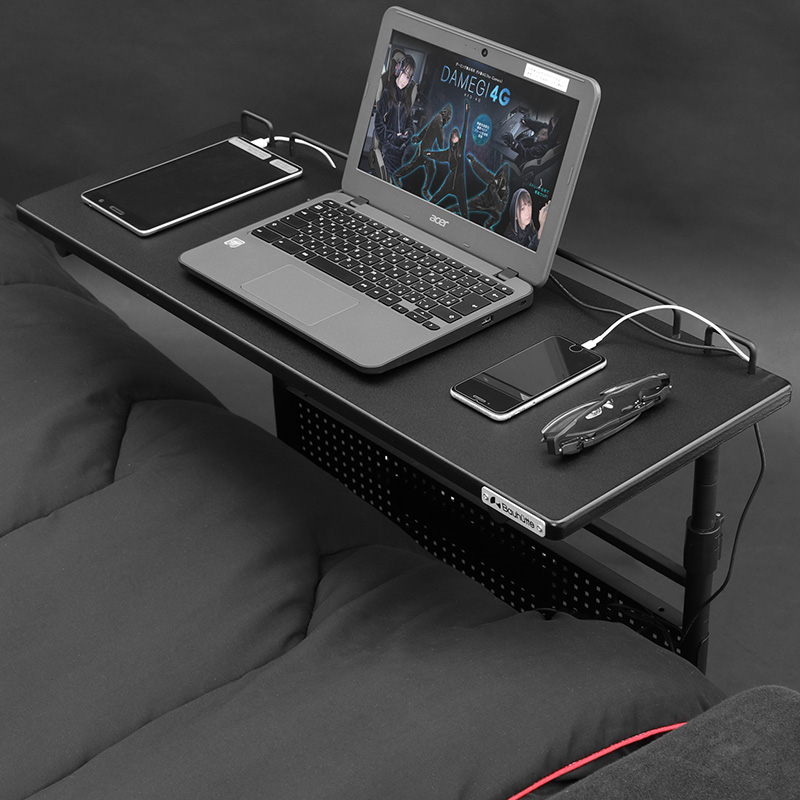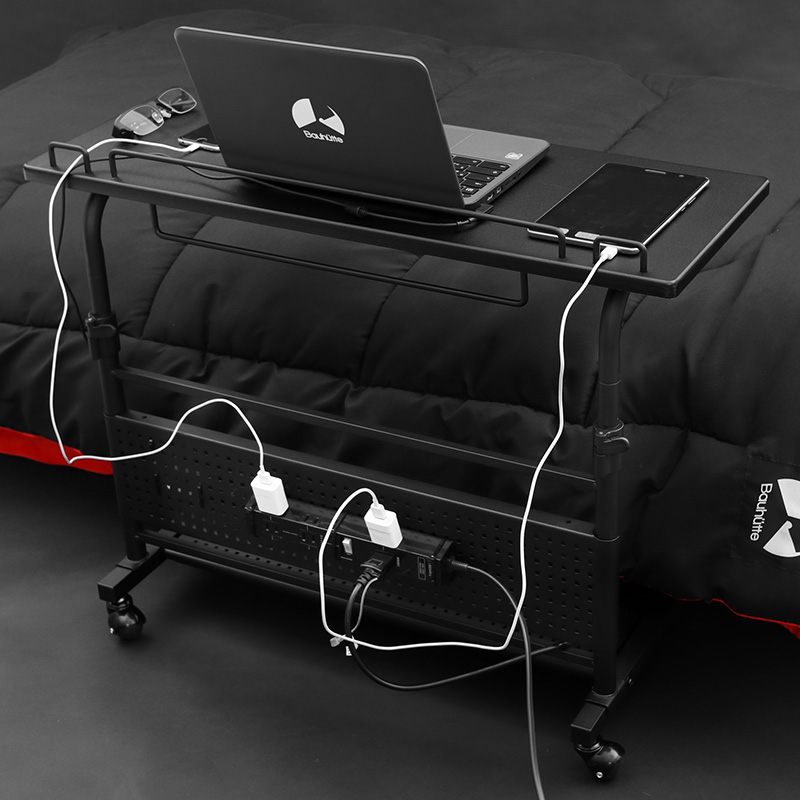 Adjust the Height to Match Your Bed
You can adjust the height of the table so it stands between 60-80 cm tall.
You can adjust it to match the height of your bed or to whatever height makes it easy for you to use.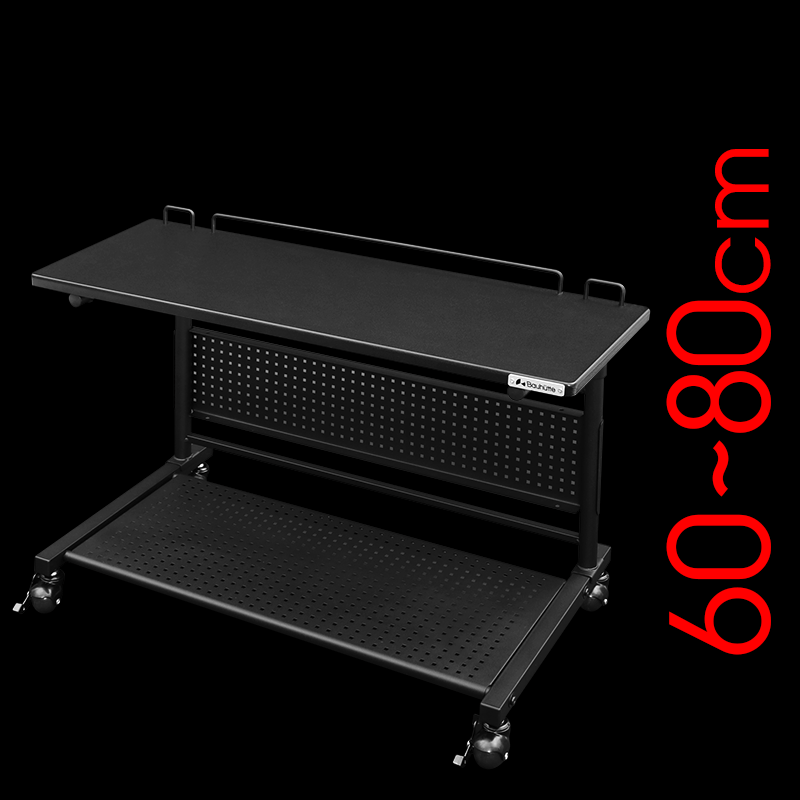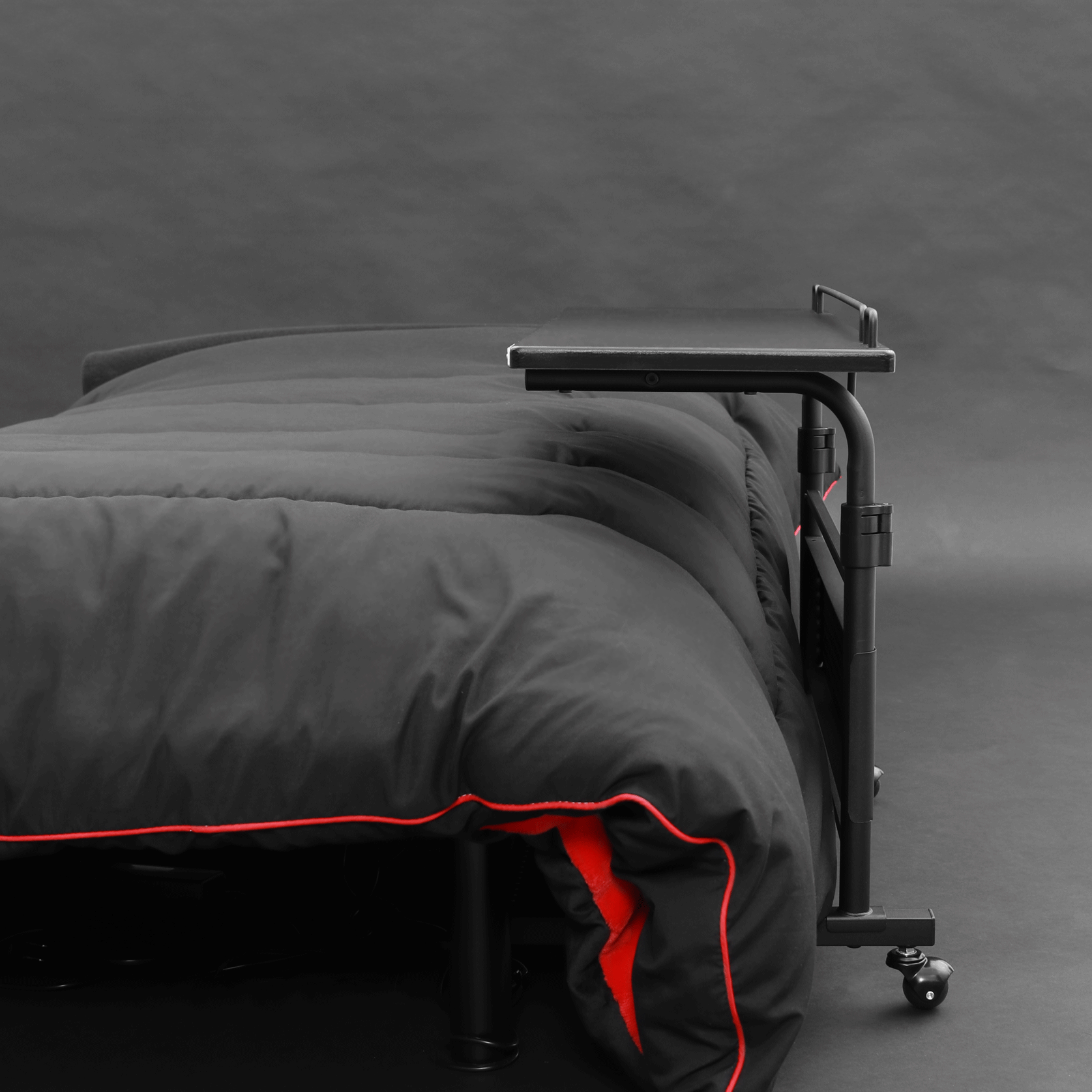 A Long, Slim Top
The top of the table is slim at only 30 cm wide so it doesn't block your bedside.
It's 80 cm long so you can line up multiple devices on it.
You can place all the items you need nearby next to your pillow so your bed can stay neat.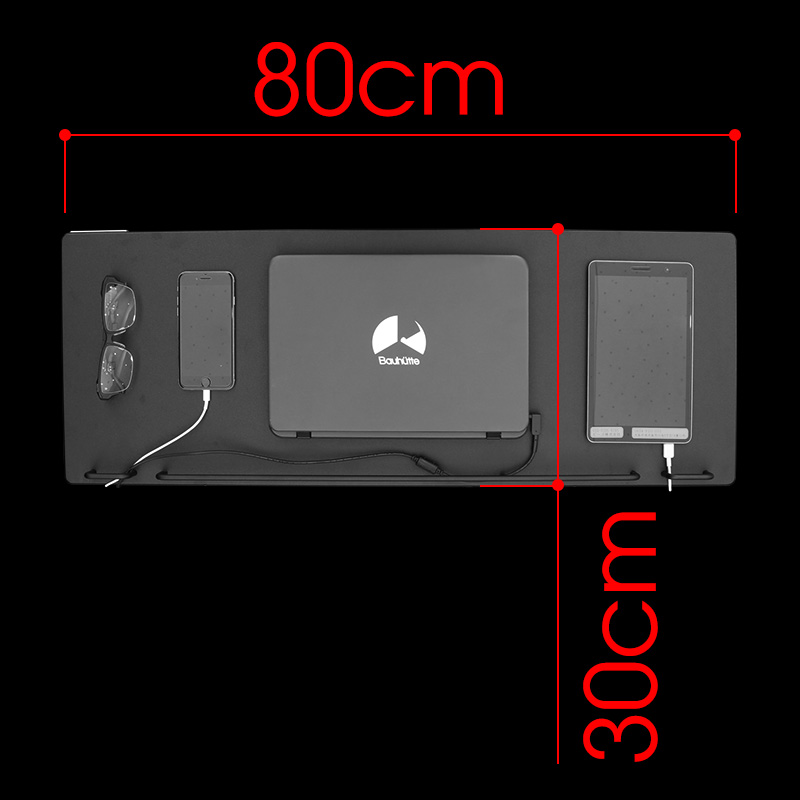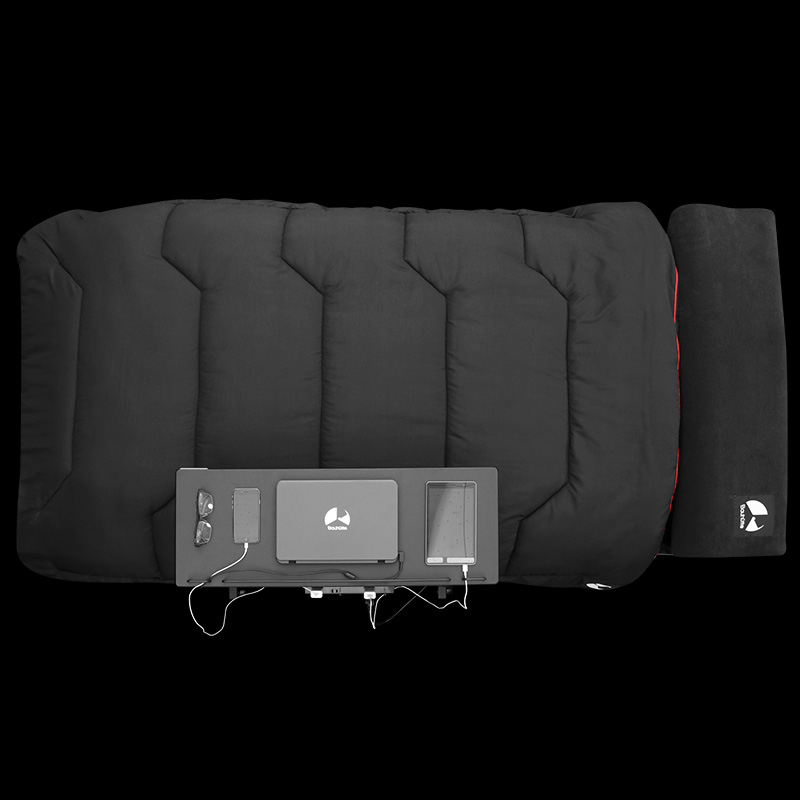 Live Your Life from Your Bed
You can construct a comfortable environment around your bed where you can charge your devices.
Use the Long Side Table to charge your devices,
the Energy Wagon to charge yourself with calories,
and your bed to charge yourself through sleep.
Aim to become a perpetual motion machine that completes most factors of your lifestyle from your bed.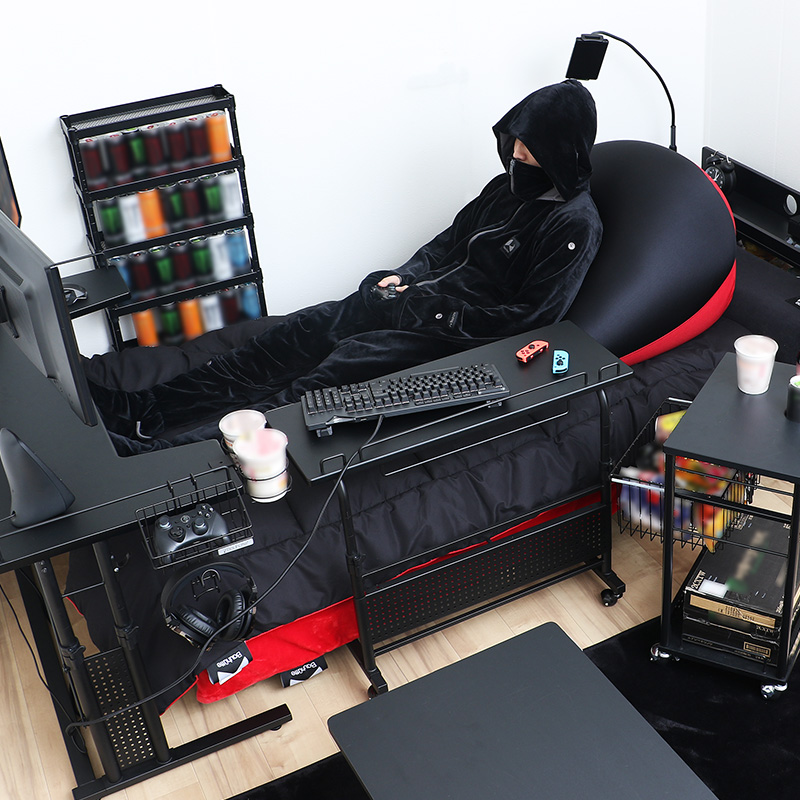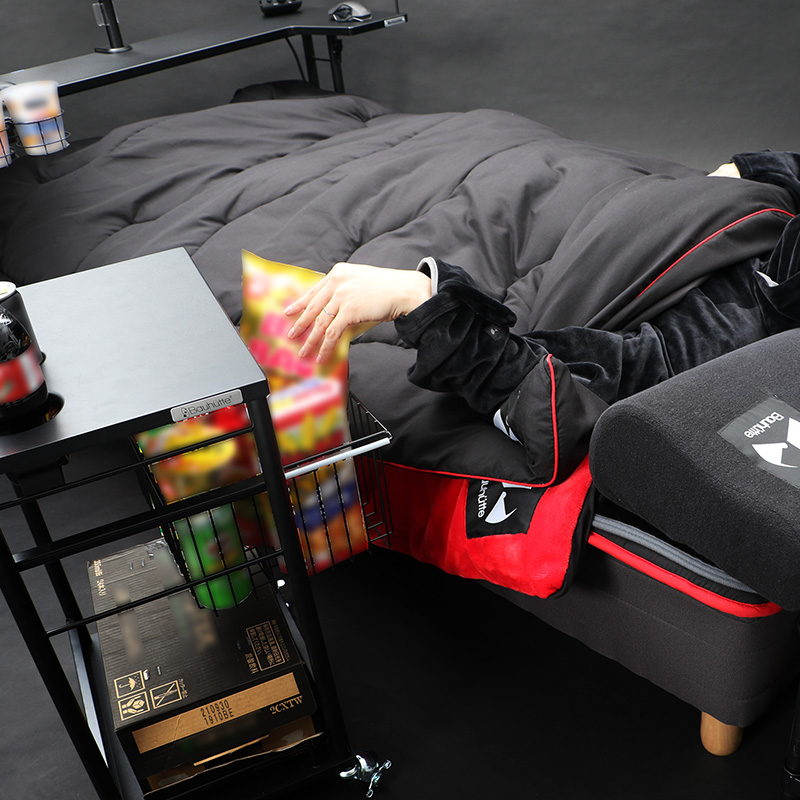 As a Secondary Table for Your Gaming Desk
It's also a very convenient secondary table to have next to your main desk.
The slim size makes it perfect as an add-on. You can easily create an L-shaped desk with it.
You can remove the bottom so it doesn't get in the way of your chair's legs.
*Even if you remove the bottom, it does not affect how much weight it can bear.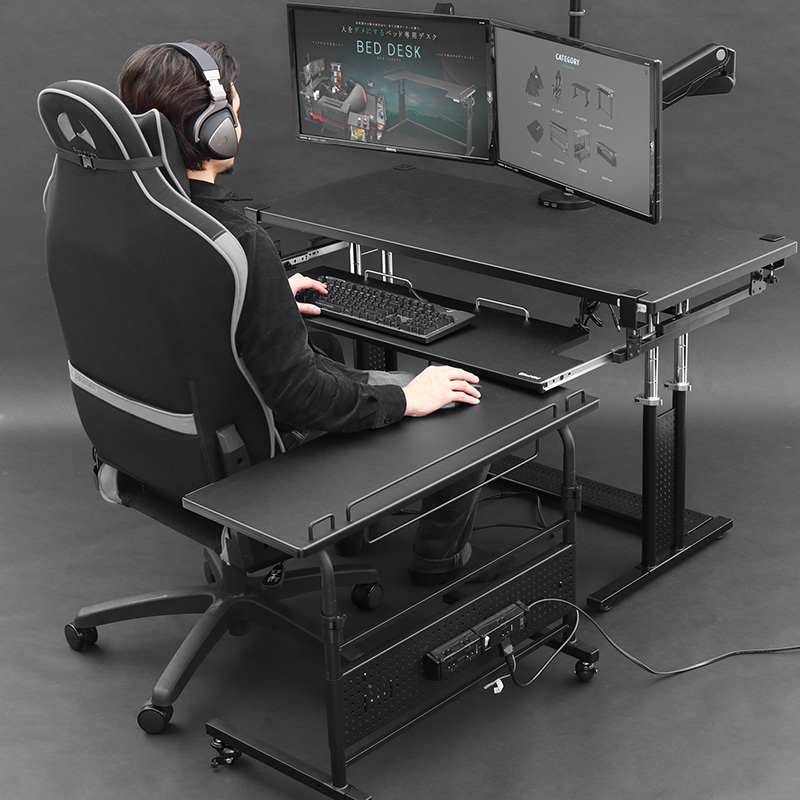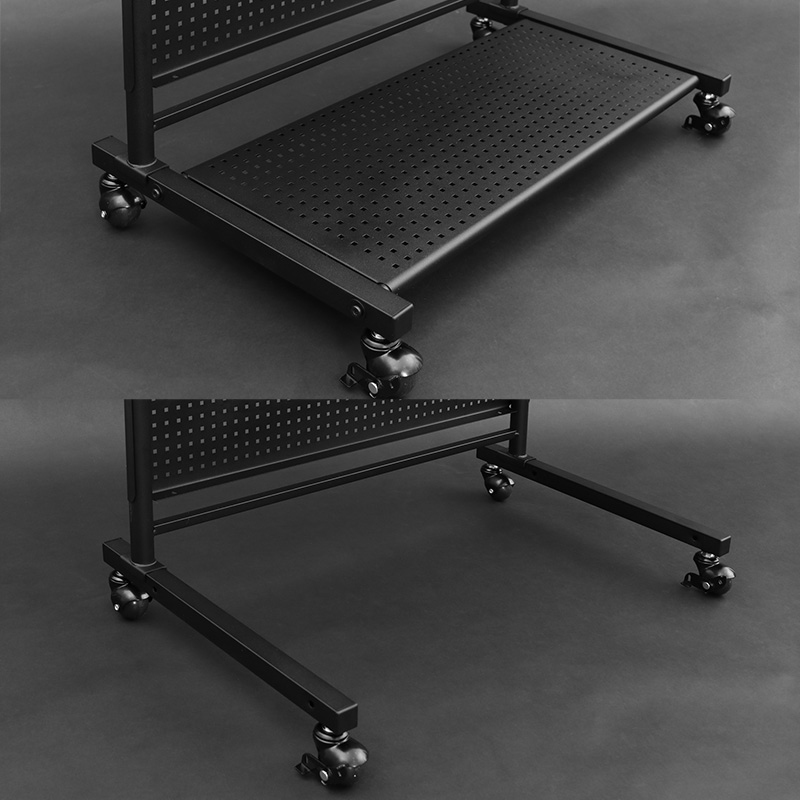 Visible Height Scale
There are notches that make it easy to adjust the height. You can adjust both sides to be level.
Use It at Your Sofa
The table can be set to a low height so it's great to use with your sofa.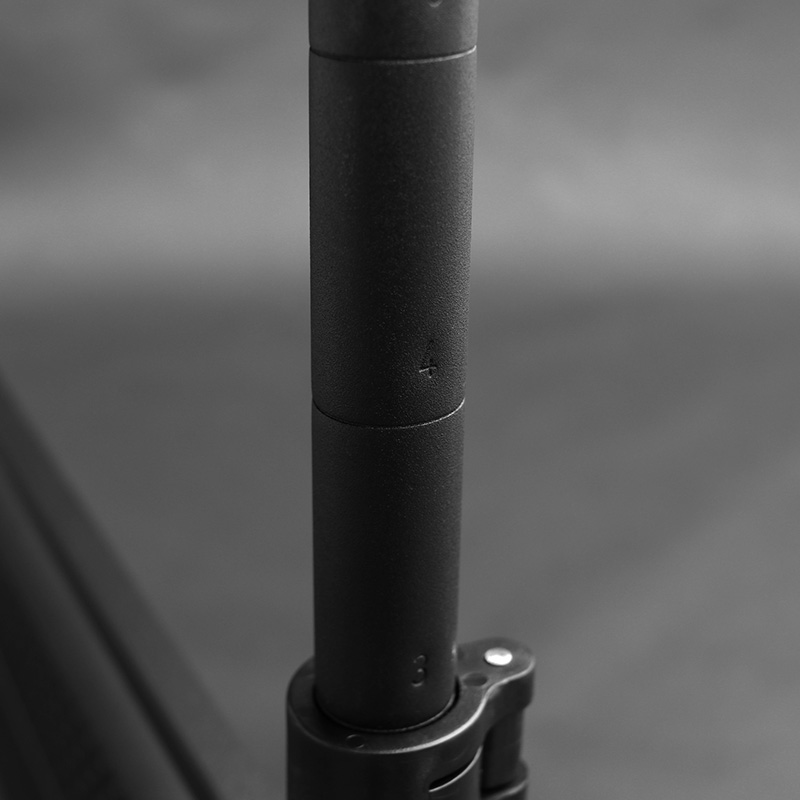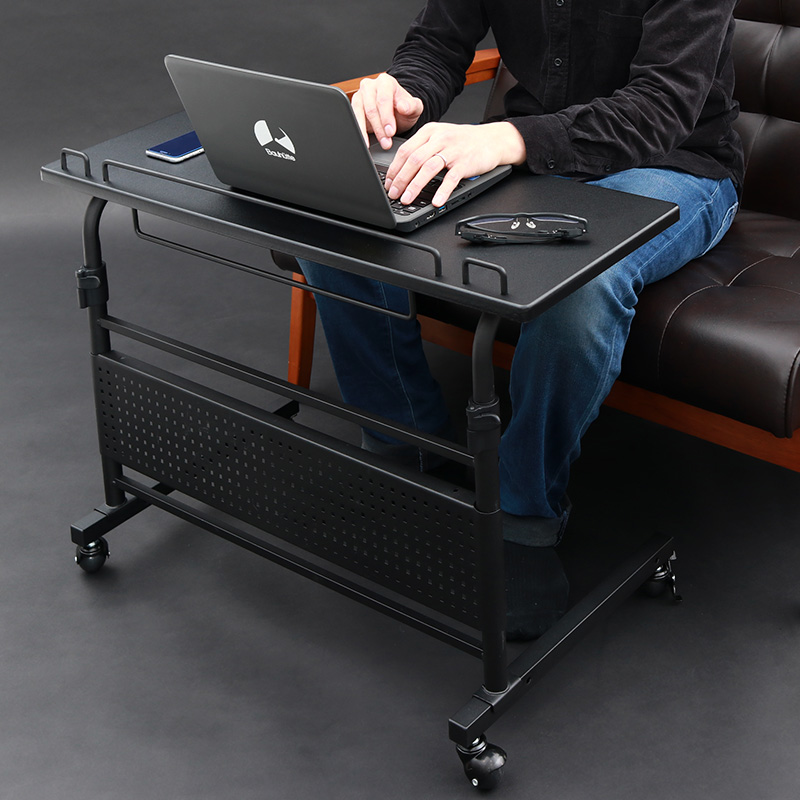 Fall Prevention Bar (Cable Hole)
It prevents devices from falling and can also be used as a cable hole.
Hanging Bar
You can hang things like hooks or our Headphone Hanger (sold separately).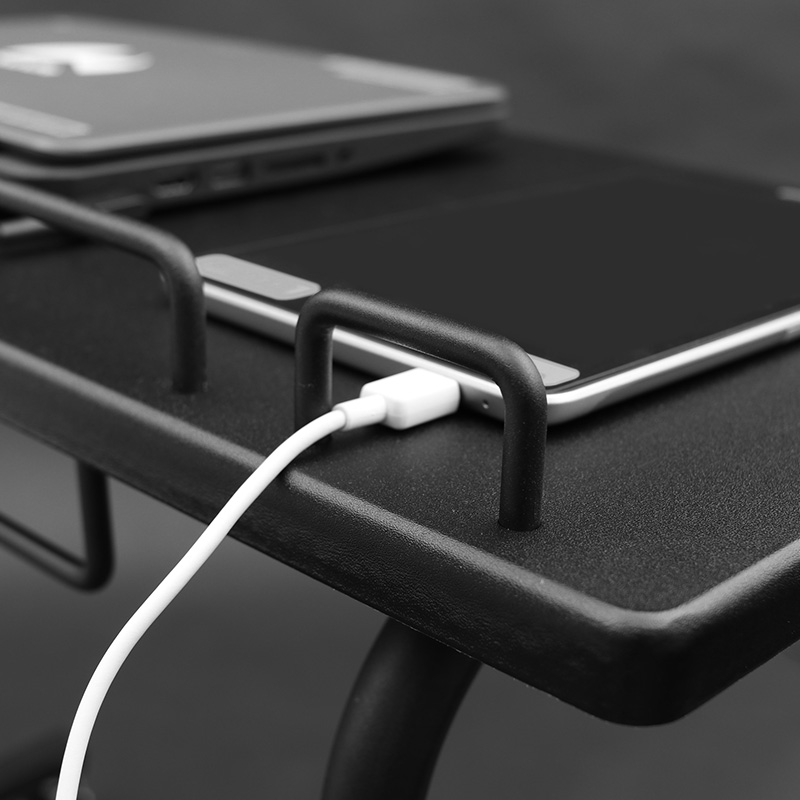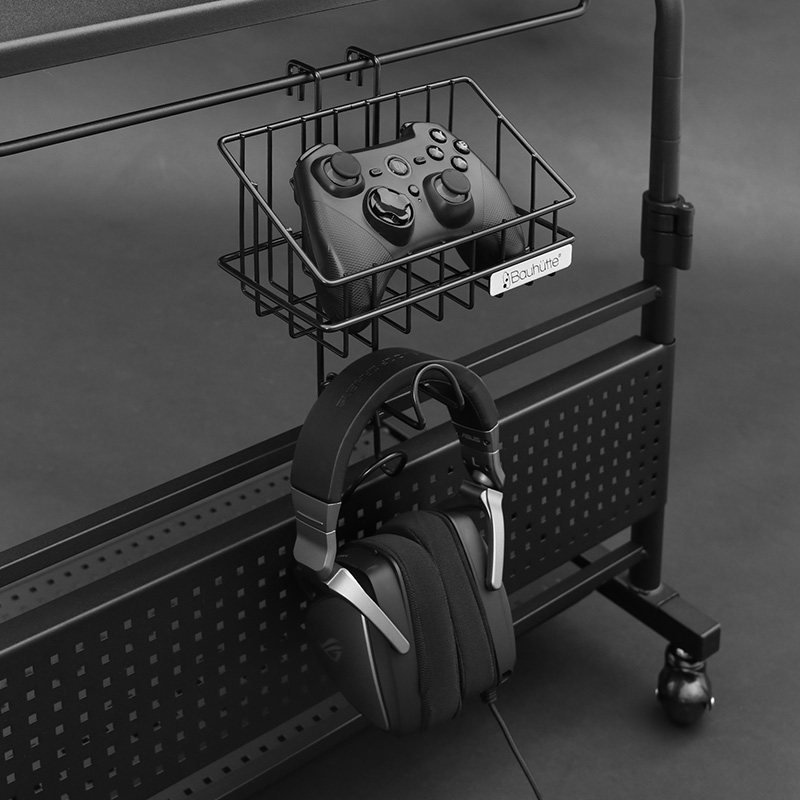 Removable Back Panel
Just like the bottom, you can freely remove or attach the perforated back panel.
Easy to Move
It uses lockable ball castors to make repositioning and cleaning easy.
*Only 2 of the 4 castors have locks.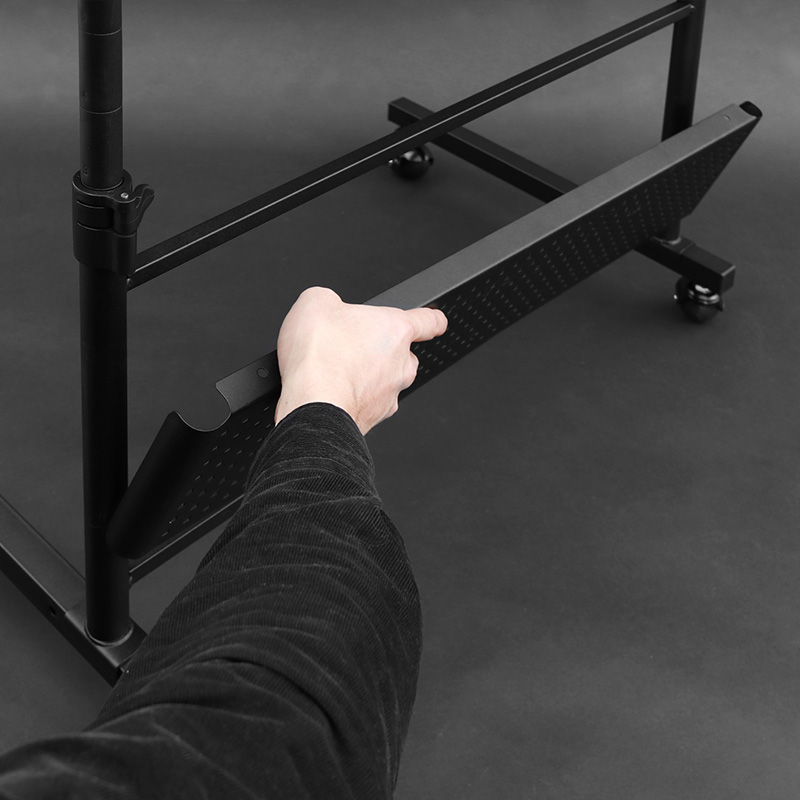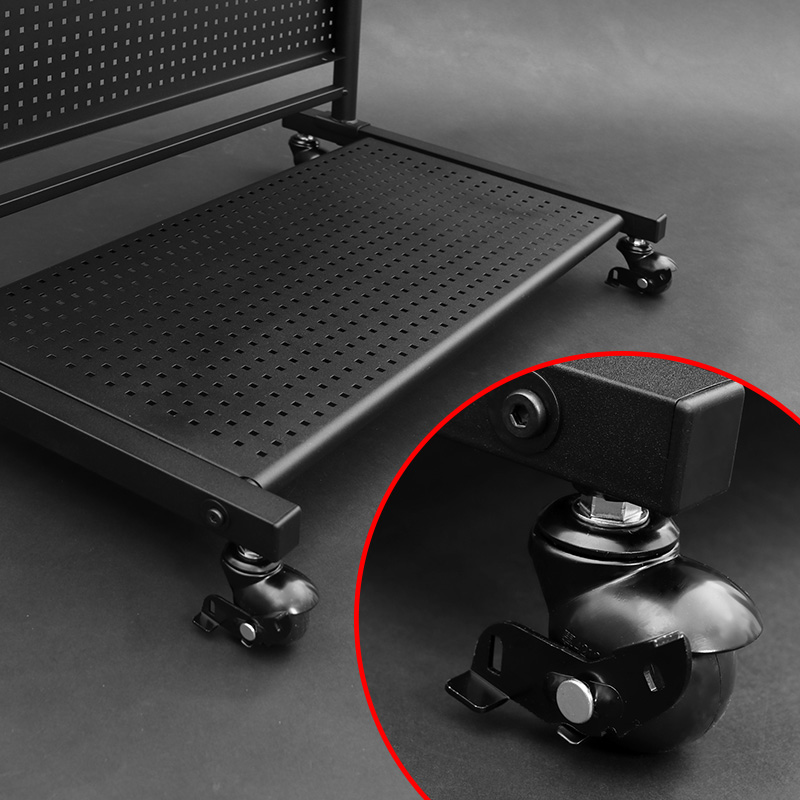 Made to be Highly Stable
The bottom is bigger than the top to make it as stable as possible.
Use to Place Many Items!
It's very convenient to keep a lot of your smaller items -- like glasses, remote controls, and alarm clocks -- near your bed. If you have many items, we recommend combining it with our Adjustable Headboard.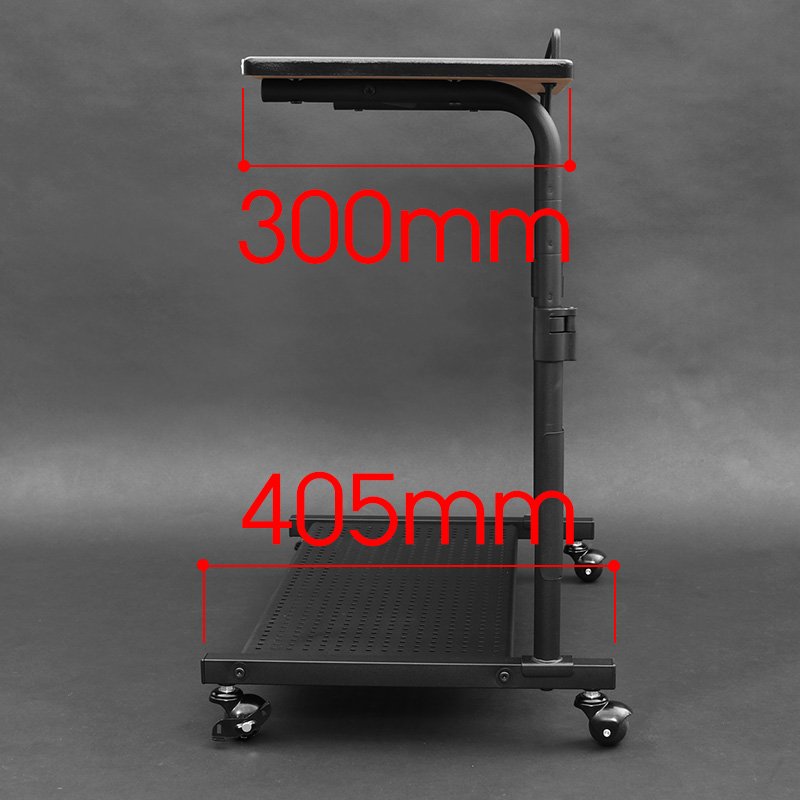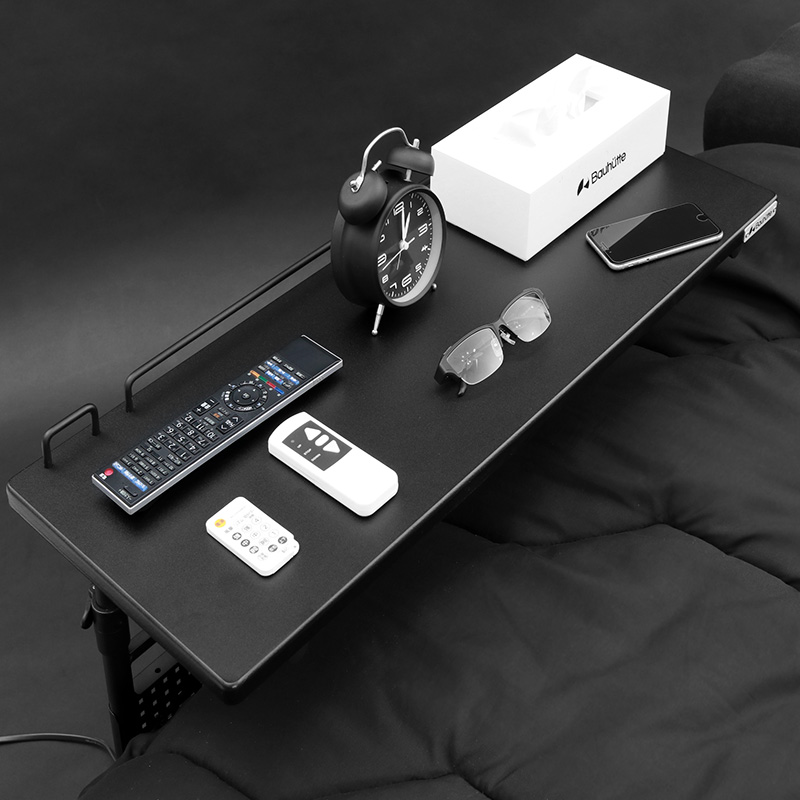 Load Bearing
Cautions
Please be aware that if you gather the majority of the weight above the stoppers, they will become less secure and the top may slip down or will no longer be fixed.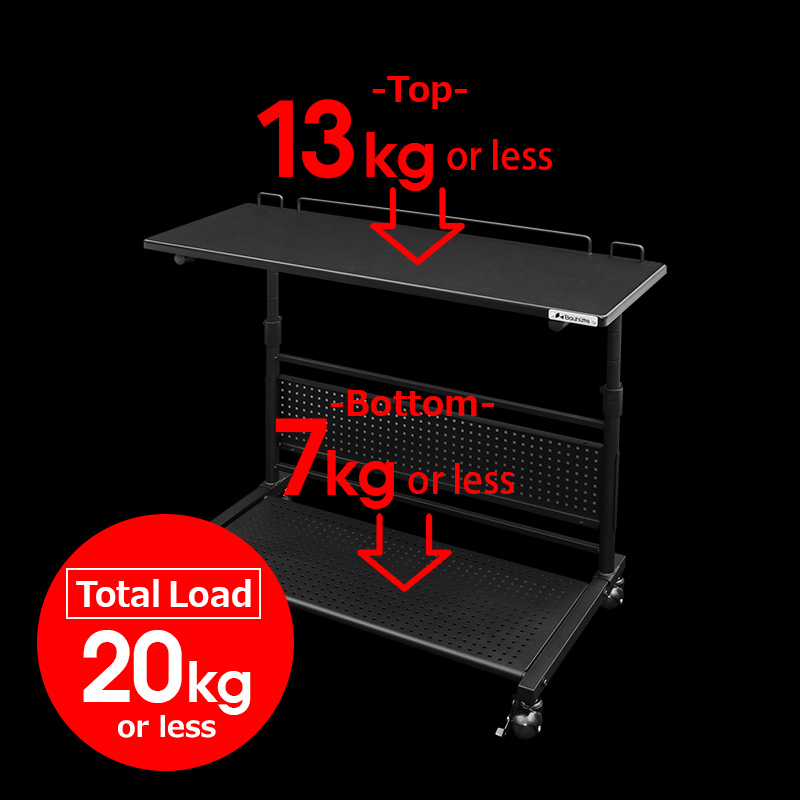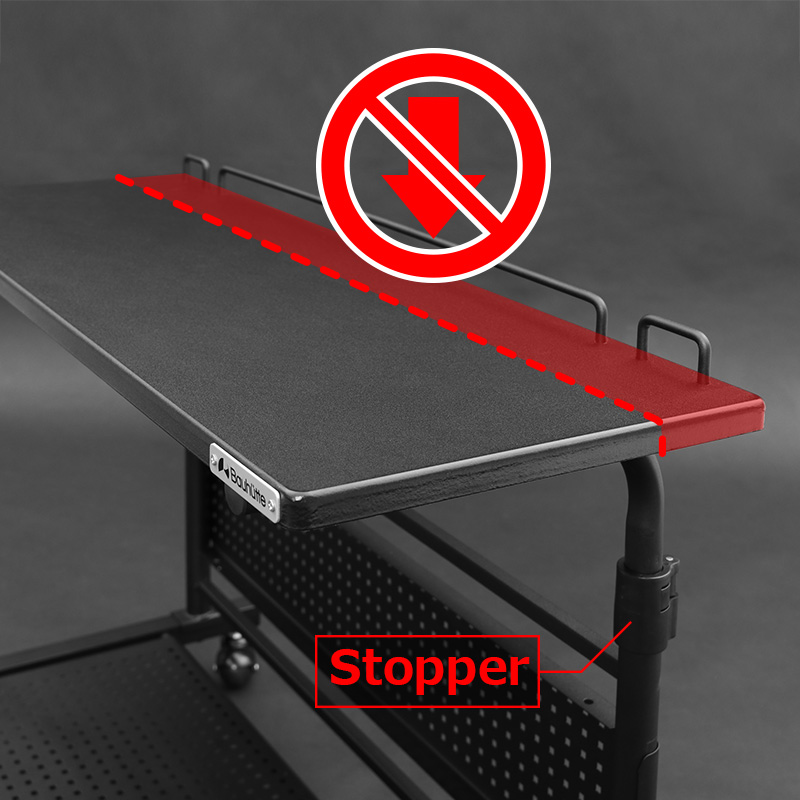 Gaming bed
Perfectly Compact for Use at Your Sofa!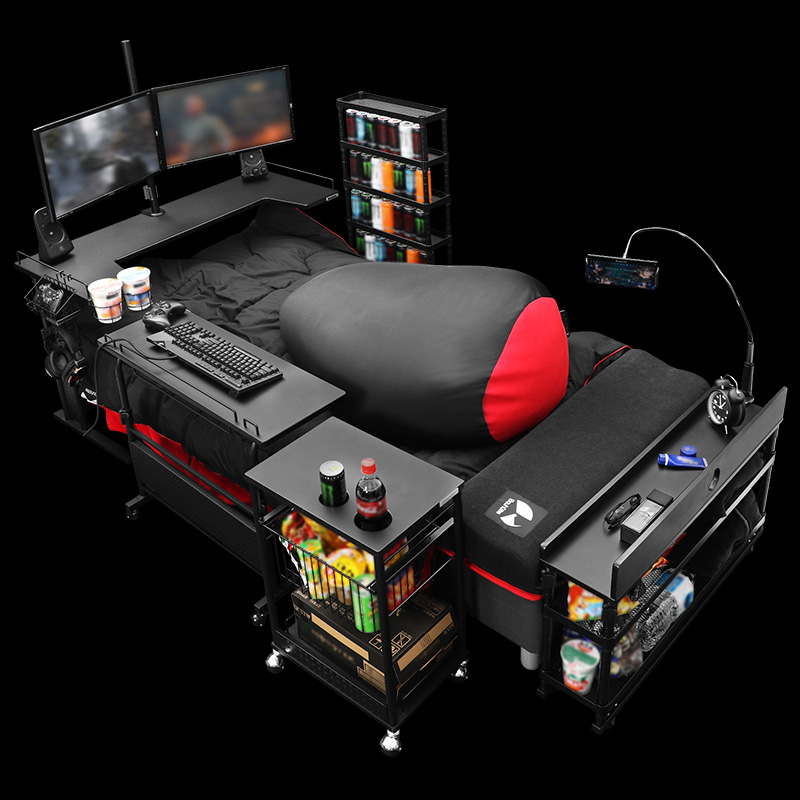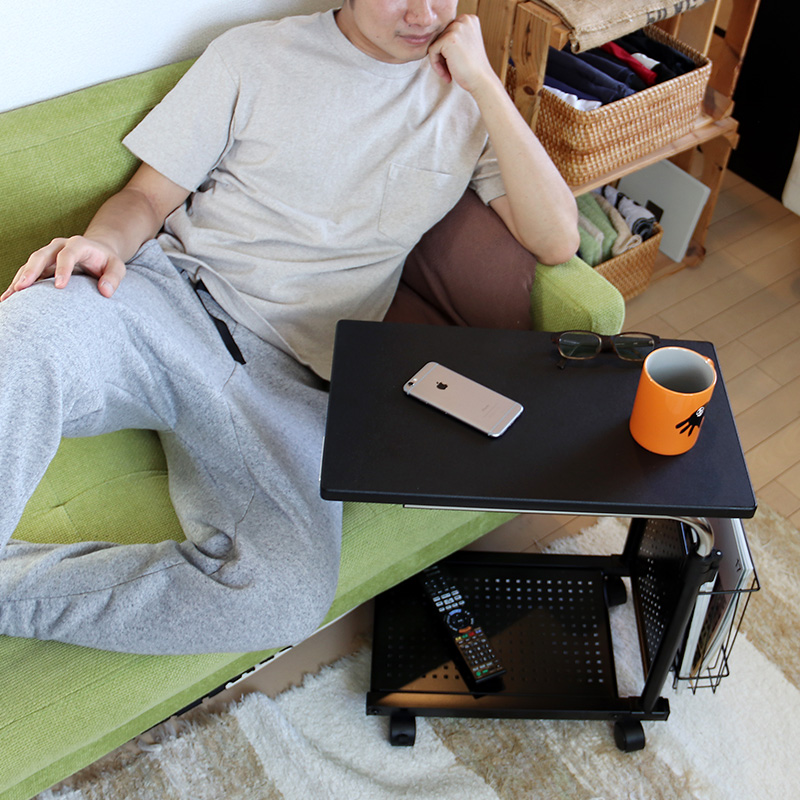 SPEC
| | |
| --- | --- |
| Color | black |
| Size | Width 800 mm × Depth 410 mm × Height 600 mm(600~800 mm) |
| Weight | 7.8kg |
| Surface Finish | desk legs:epoxy powder coating |
| Weight Limit | Total Weight Limit:20kg or less each(Top Panel:13kg or less each、Bottom plate:7kg or less each) |
| Material of Tabletop Surface | laminated fiberboard (PVC resin) |
| MSRP | Varied |
| JAN Code | 4589946143515 |
Please do not place hot vessels, like heated pots, kettles, or hot mugs, directly on it. This might result in a change in the color or shape of the product. Please lay a pot stand or coaster on the table before placing such items on it.
SIZE
*Proof of quality stickers on some products may differ from the above measurements. The measurements on the product page are more accurate than those on your product.
*The sizes written are control sizes. Depending on the individual and the way the product is assembled, measurements might differ slightly.