CONCEPT
Enclose yourself with the tent and cut yourself off from distactions.
Build an environment where you can concentrate and immerse yourself.
The Desk Tent is a pop-up tent
that allows you to turn your desk into a private room of your own.
You can physically shut out your surroundings and guarantee your personal space.
This is, of course, perfect for gamers who want deep immersion in their games,
but is also often purchased by people who require environments
where they can concentrate, like creators, students studying for entrance exams,
and people working from home.
This is one of Bauhutte's best-selling items,
having sold 15,000 units since it first went on sale in 2014.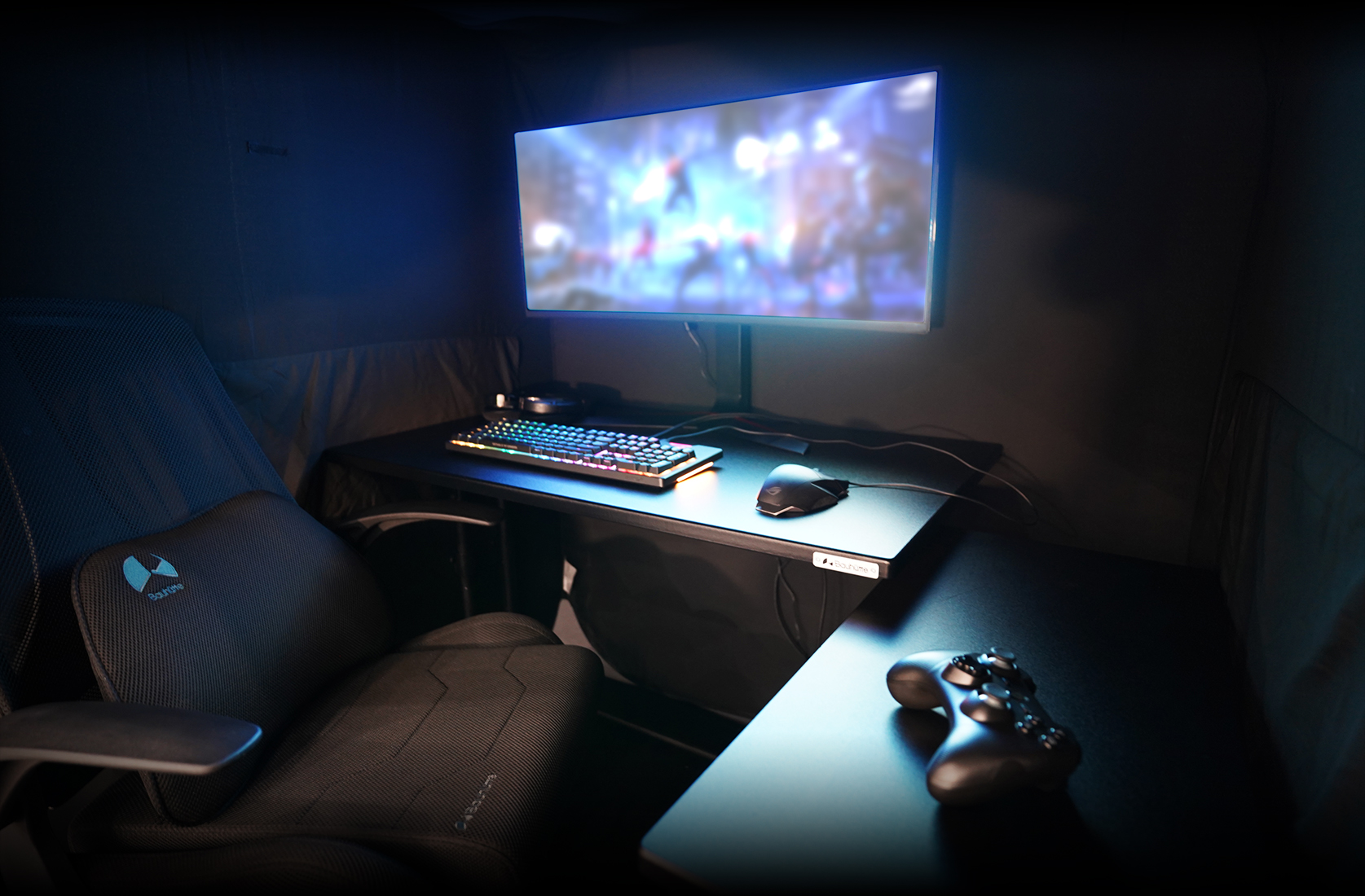 FEATURES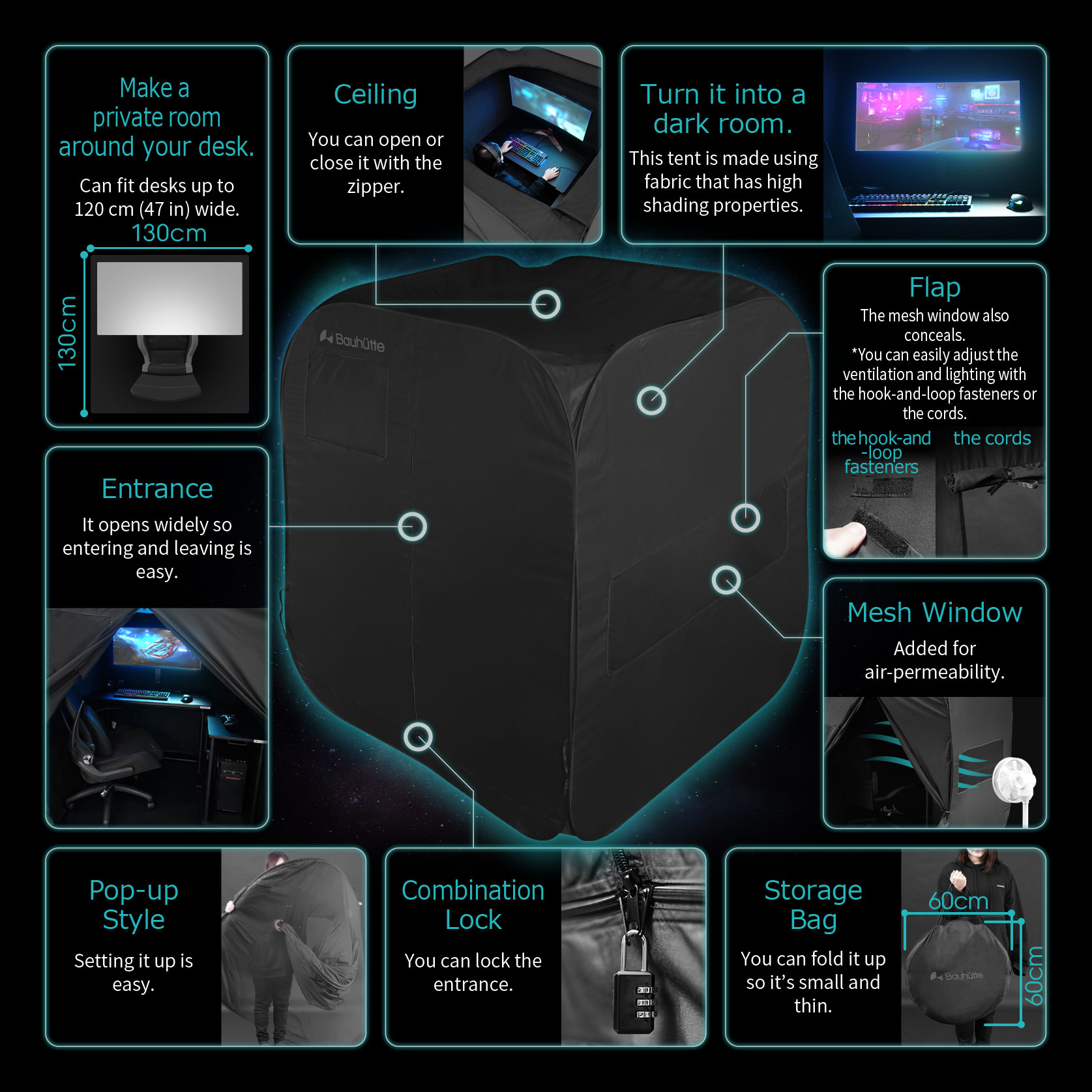 Turn your desk into a private room.
By surrounding your desk with a tent, you can create a private room inside another room.
By physically creating an isolated space, you can build an environment that makes it easy to
focus solely on your display.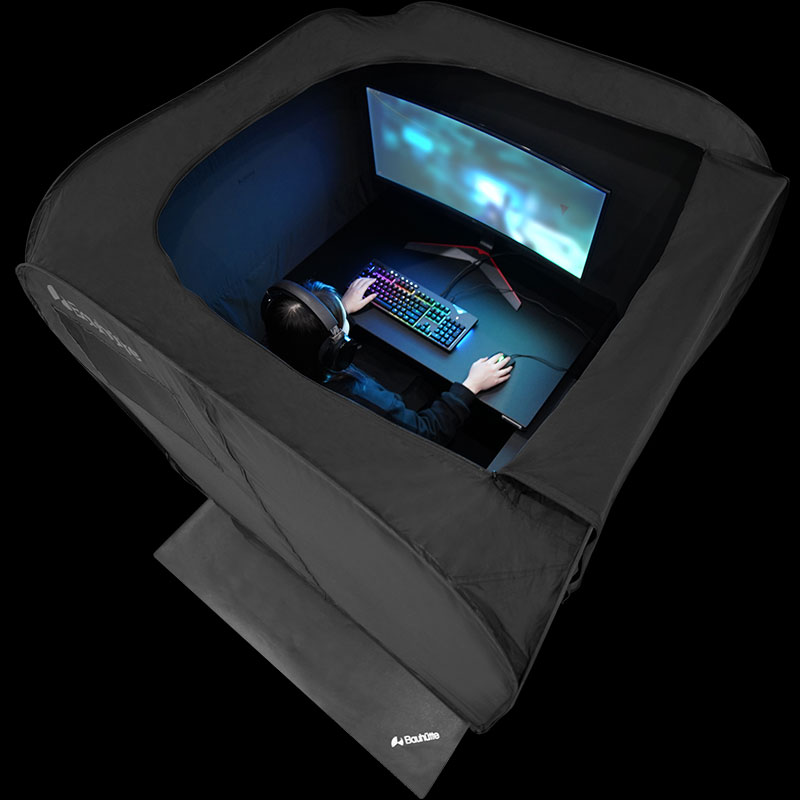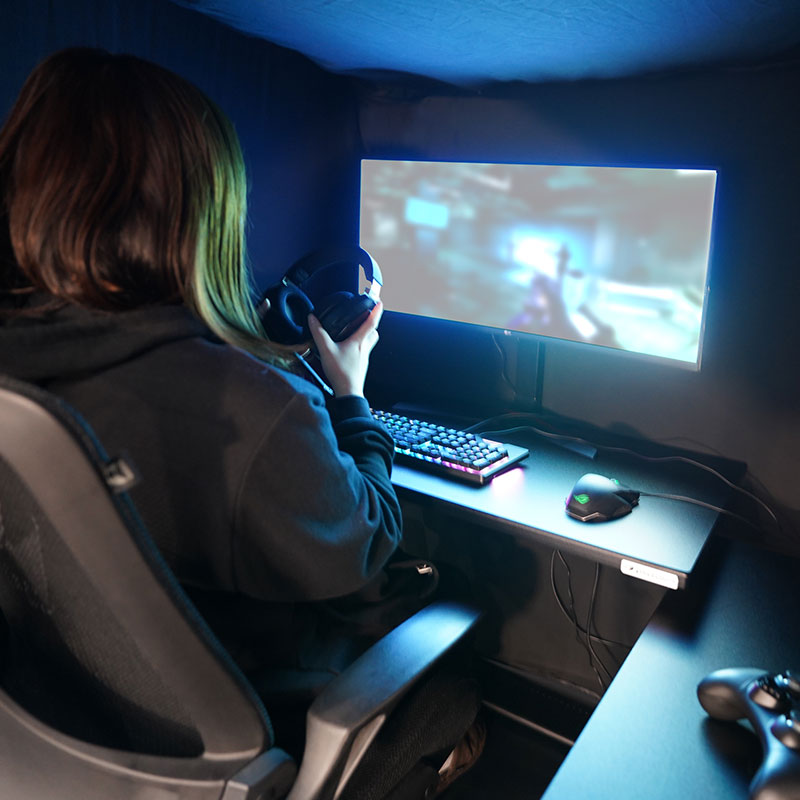 Create a Closed Space
The Desk Tent is perfect for people who feel most comfortable in confined, dim spaces.
You don't have to worry about whatever's behind you. You can relax and focus on your tasks.
By guaranteeing your personal space that no one can enter,
you can immerse yourself in your game or work.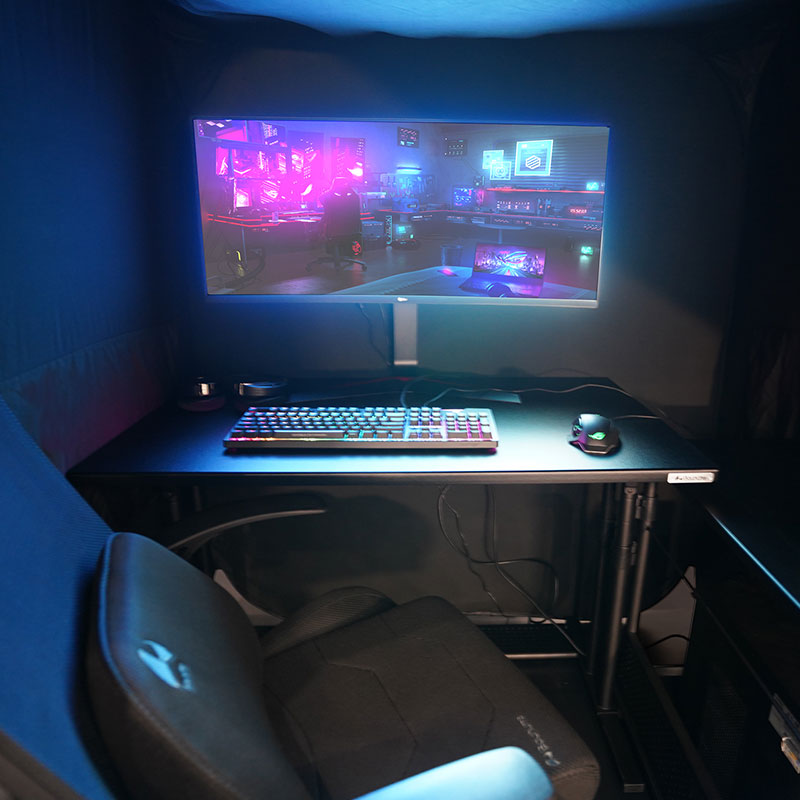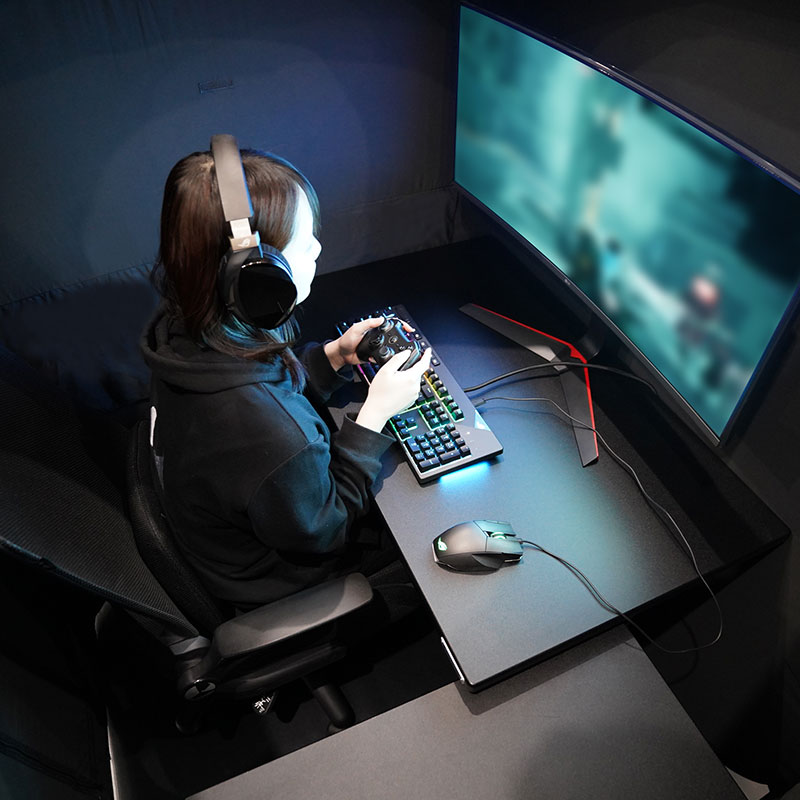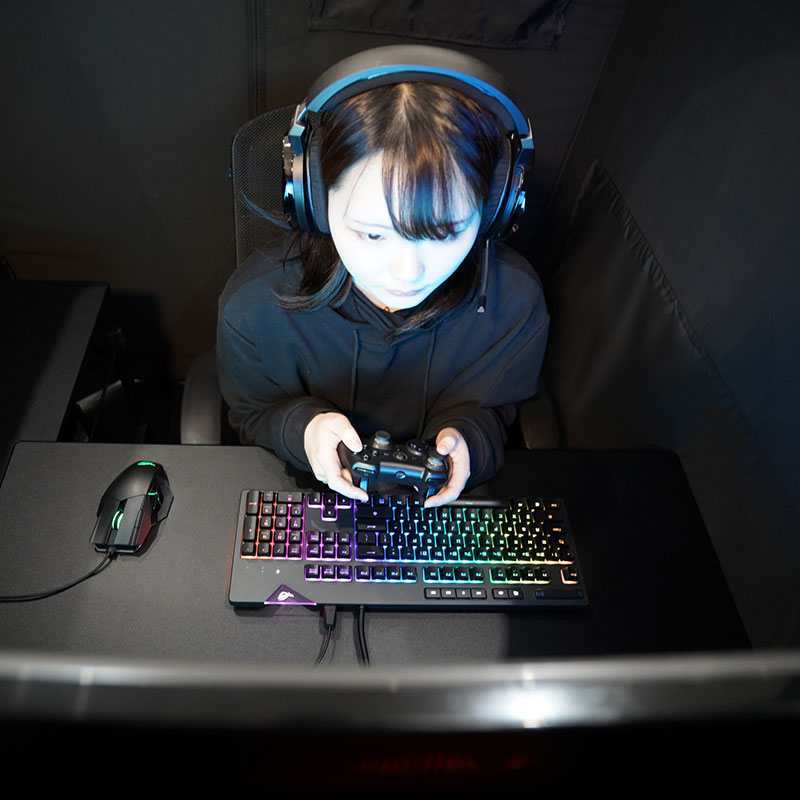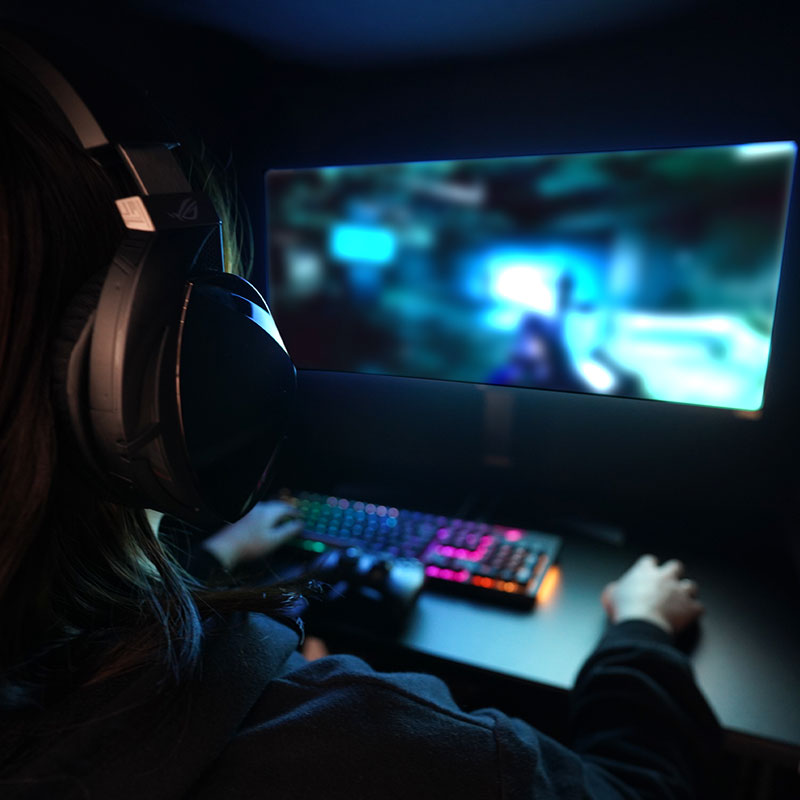 Dark Room Effect
The tent is made with fabric that has high shading properties, so you can use it to create a simple dark room.
The tent will prevent the room's lighting from reflecting on the monitor.
Unlike a shading hood for the monitor, the tent doesn't obstruct your field of vision.
This tent is recommended for creators who are particular about using accurate colors in their work.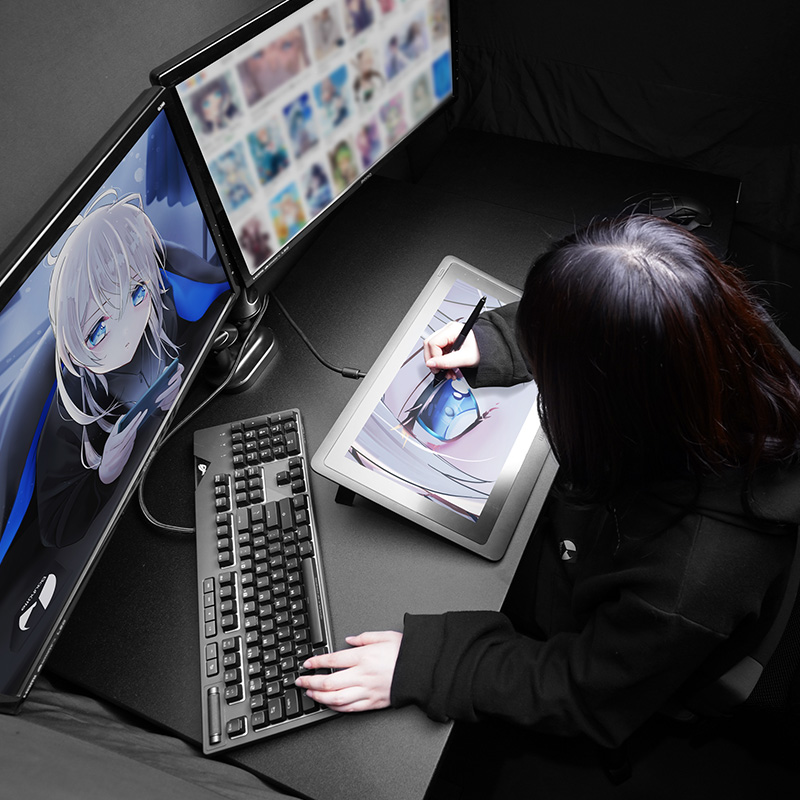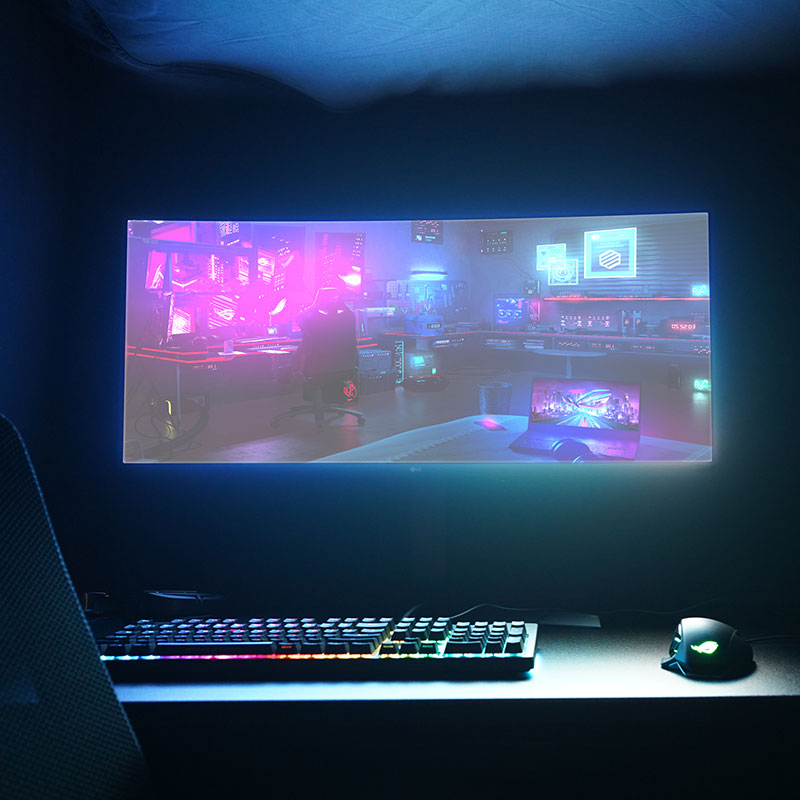 Ventilation Inside the Desk Tent
You can freely open and close the entrance,
ceiling, and mesh window so you can ventilate the inside of the tent.
You can open up the ceiling of the tent to take advantage of a ceiling fan circulating the air,
or open up the flap of the mesh window to improve ventilation.
You can adjust the openings to maintain your ideal temperature or environment.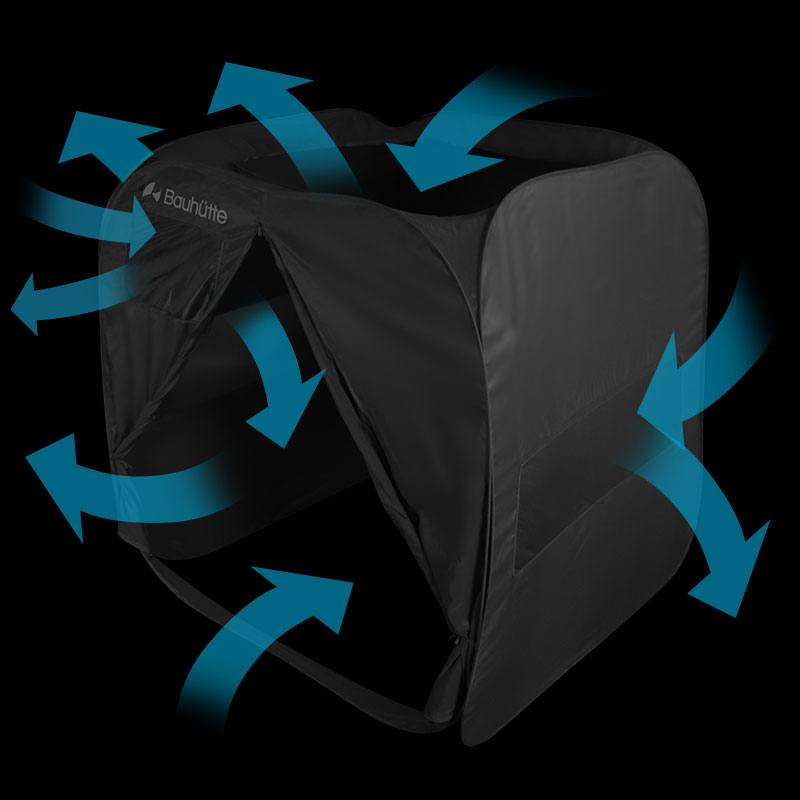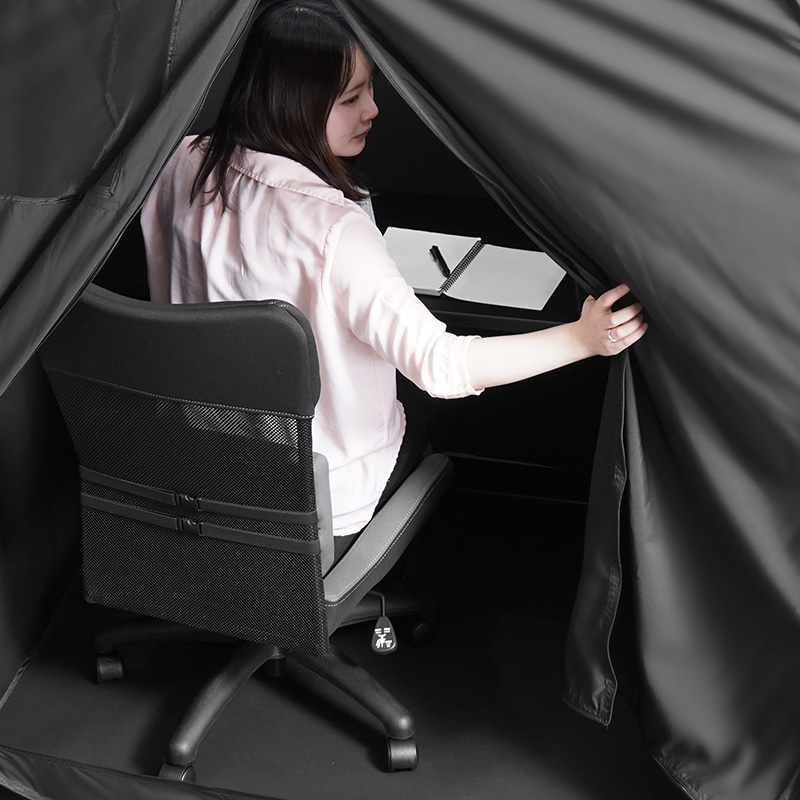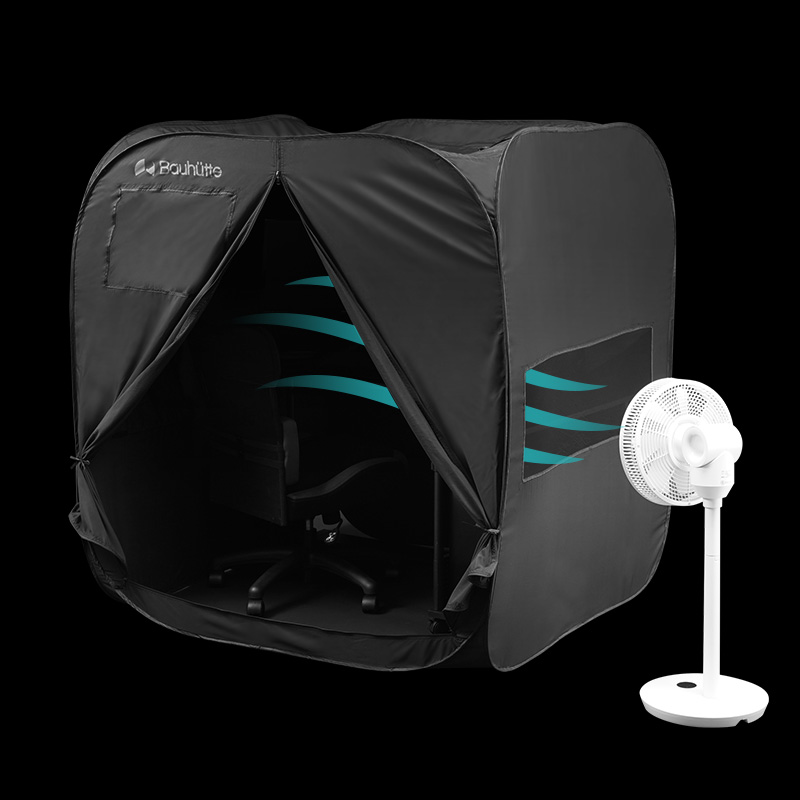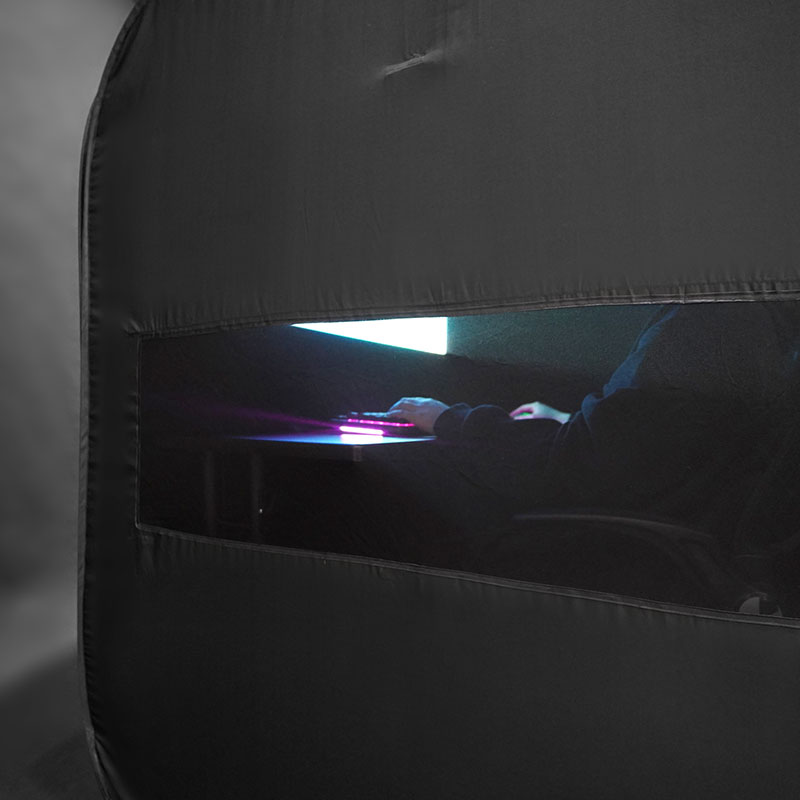 Lighting Adjustment
By opening the ceiling, entrance, or the mesh window,
you can adjust the lighting inside the Desk Tent.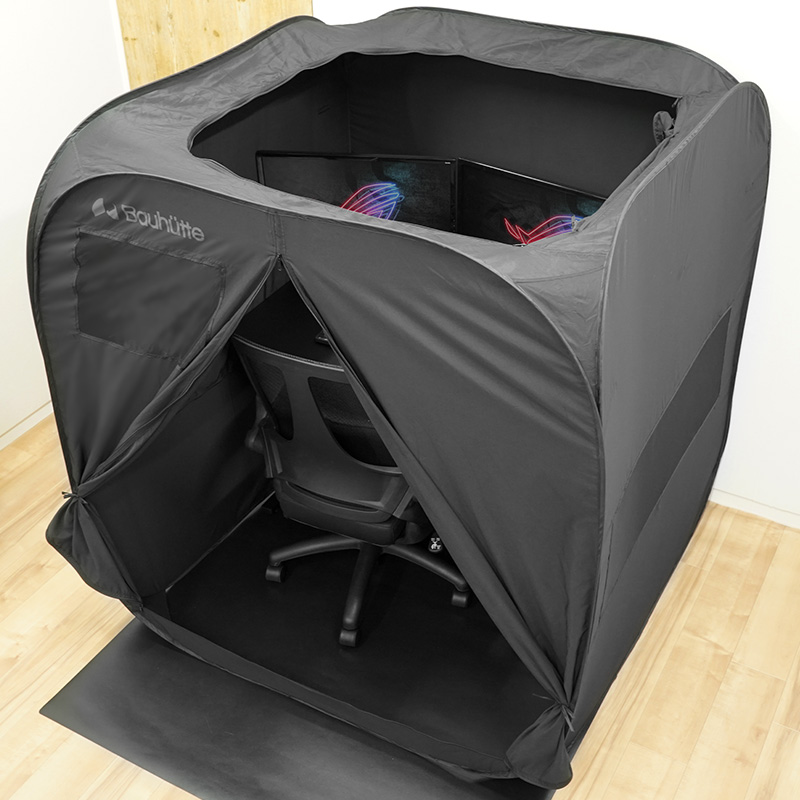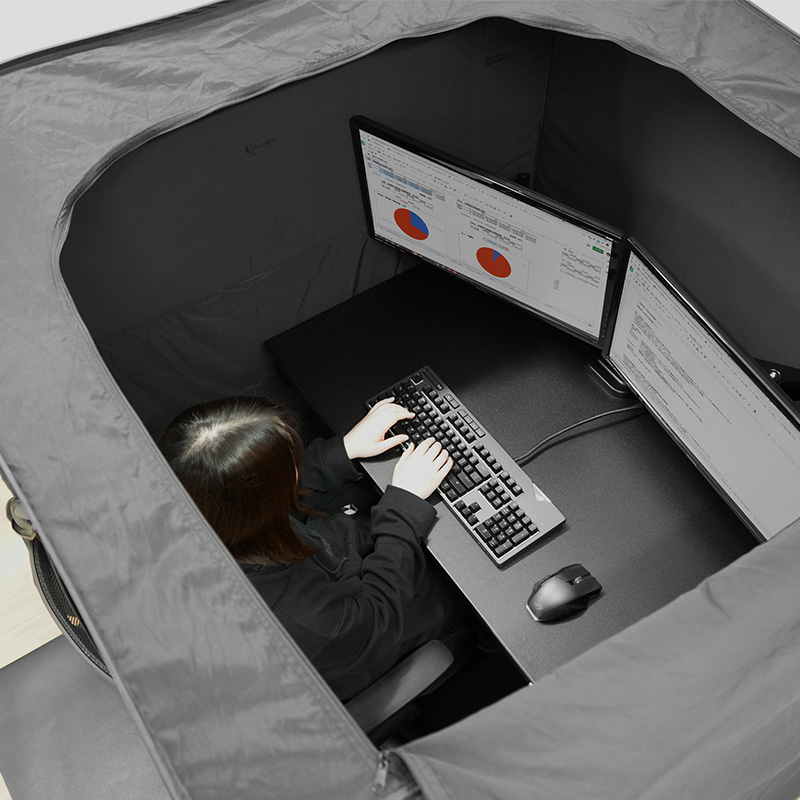 A Wide Entrance
We made multiple improvements to the entrance in pursuit of making it easier to enter and leave, as well as to make the tent sturdier.
In the end, we decided to make the entrance an upside-down T-shape.
You can zip the Desk Tent closed from either inside or outside.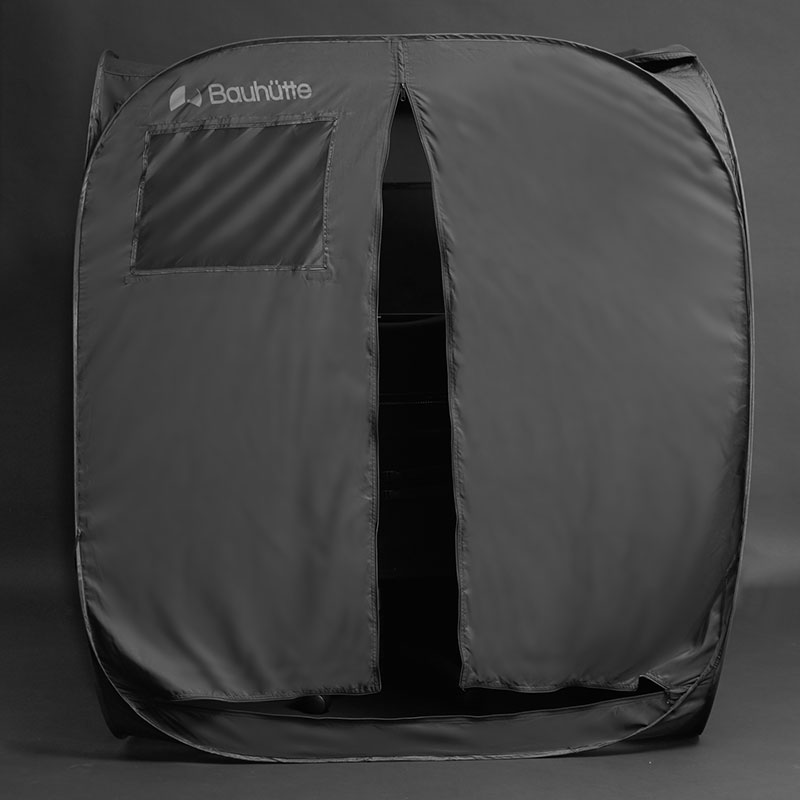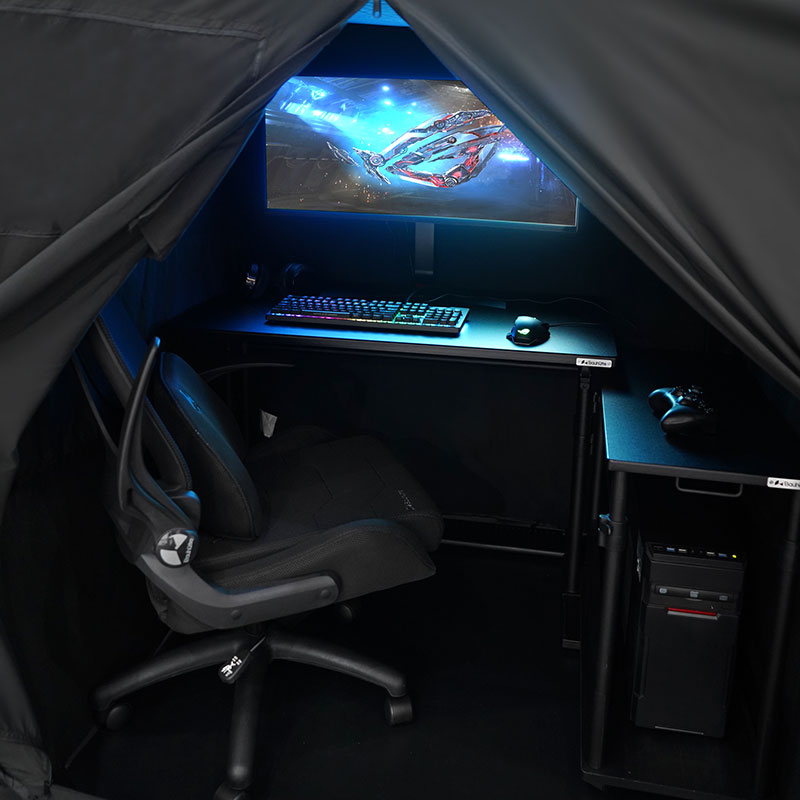 Flap
Each window has a privacy flap.
You can close it using the hook-and-loop fasteners or cords,
so it's easy to adjust it for ventilation or lighting purposes.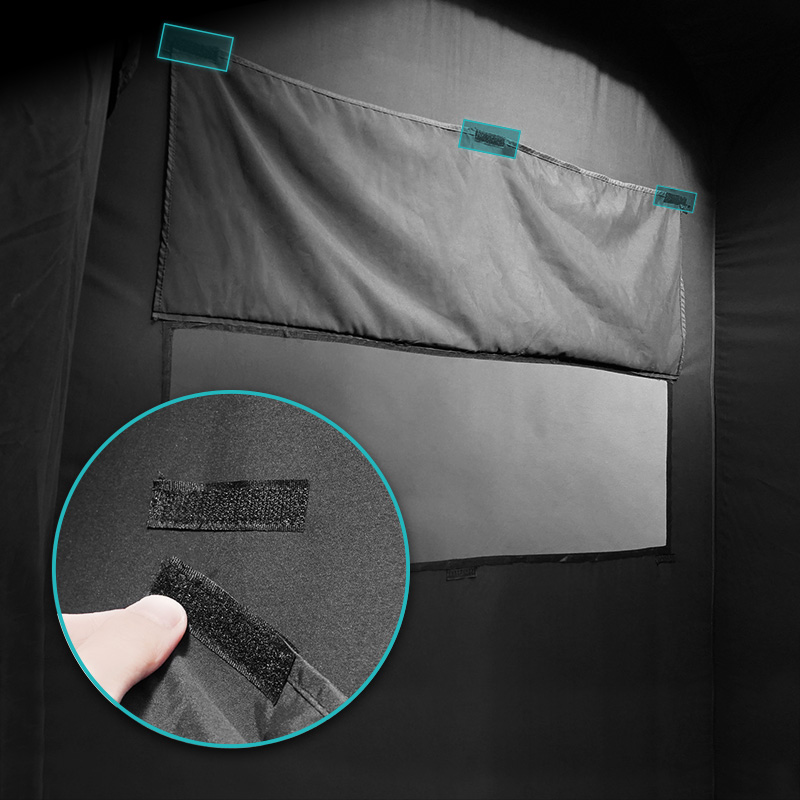 Easy Installation and Compact for Storage Purposes
There's no annoying assembly required, as this tent is a pop-up style tent that opens up right away.
You simply put it over your desk like a hat and installation is complete!
When you're not using it, it folds up to be small and narrow,
so you can put it inside the included storage bag to be put away.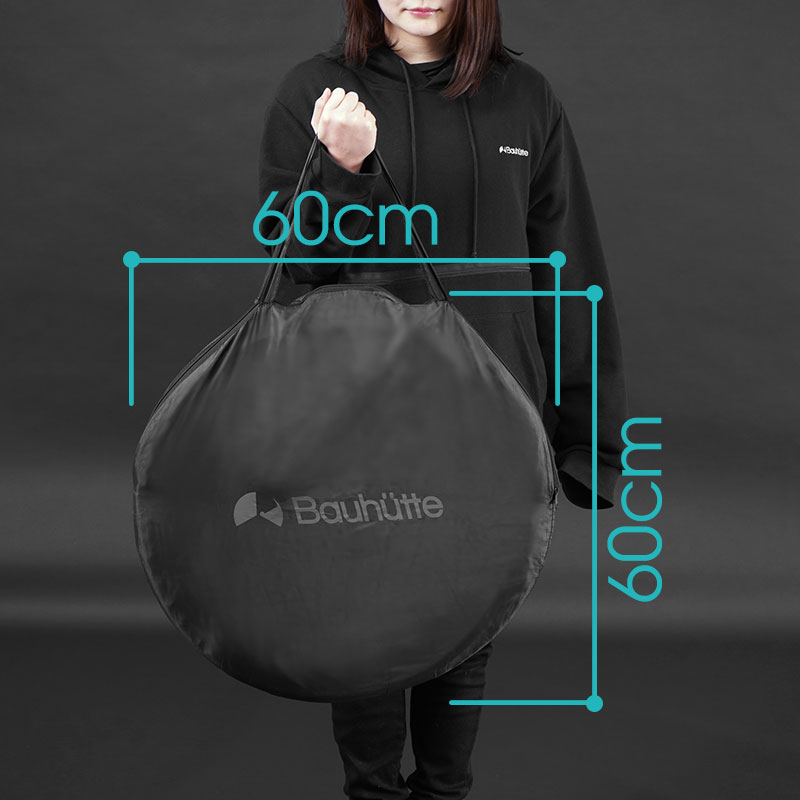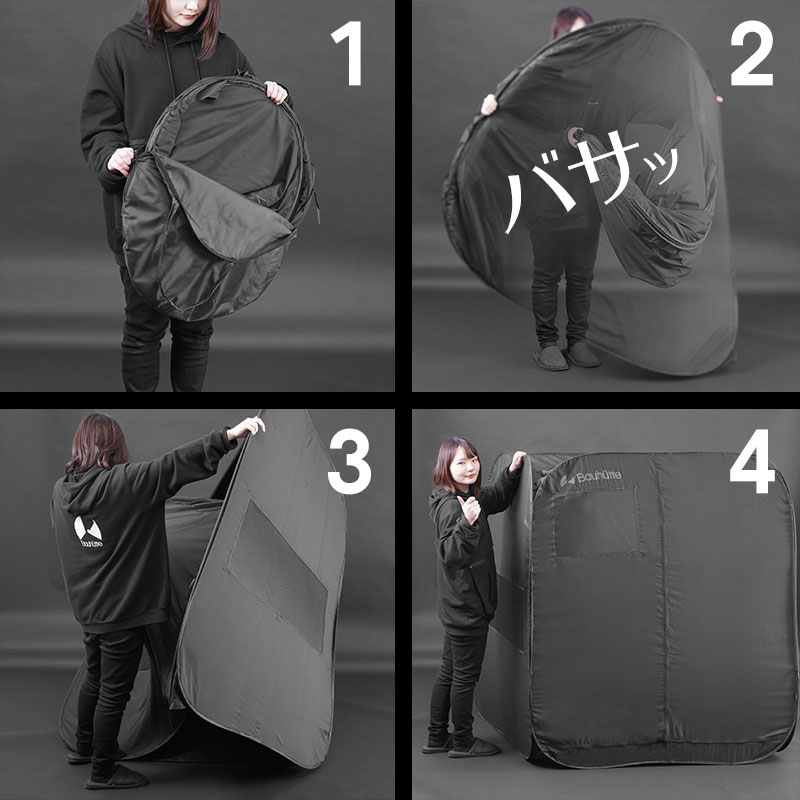 For Your Gaming Desk
This is perfect for gamers who completely immerse themselves in the world of their game.
It truly creates a secret hideout that becomes your unique gaming space.
With the dark room effect, it really sets off the lighting of your gaming device.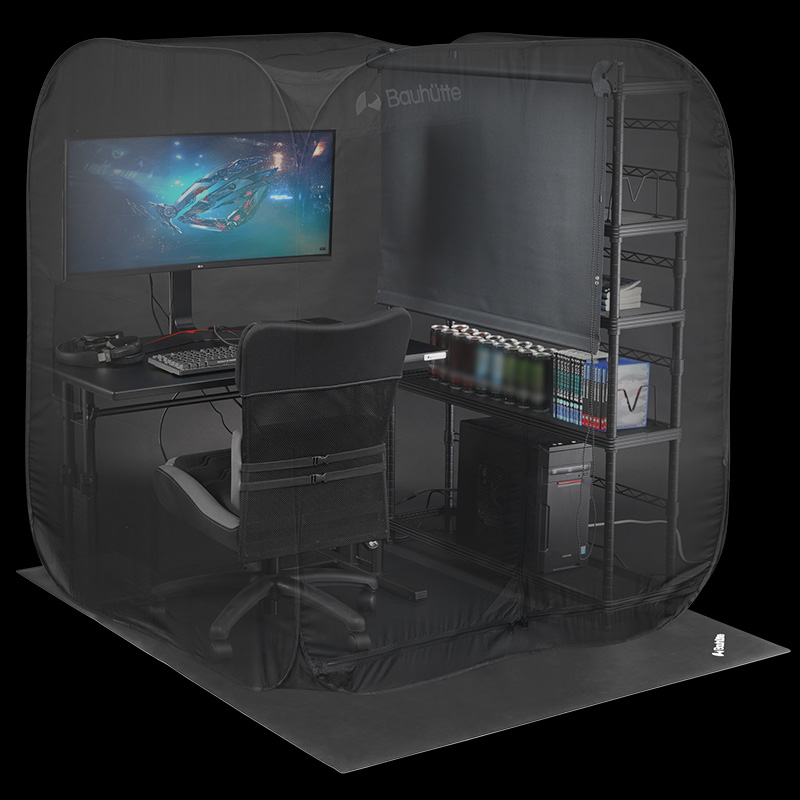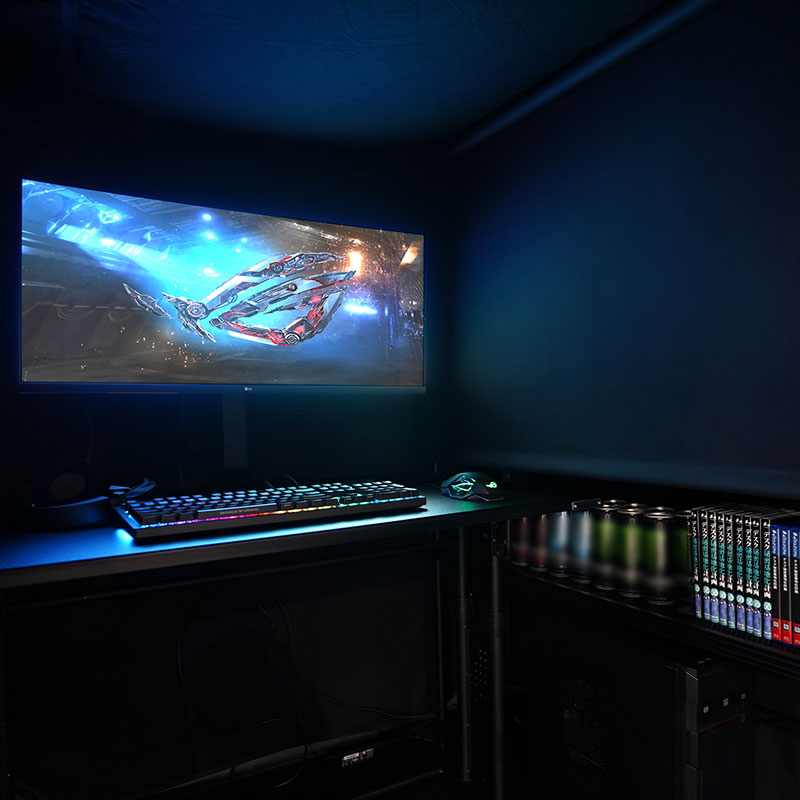 For Studying
Some students complain that they can't focus on their studies in their room because they
end up reaching for comic books or video games instead.
With the Desk Tent, you can shut yourself in there only with your studying tools,
so you can build a space that will prevent distractions.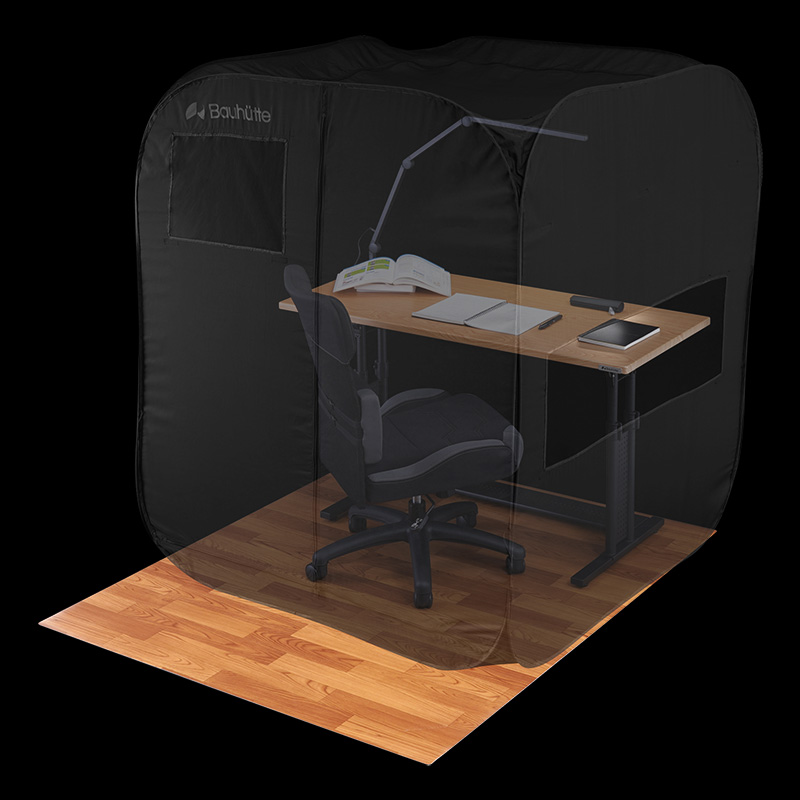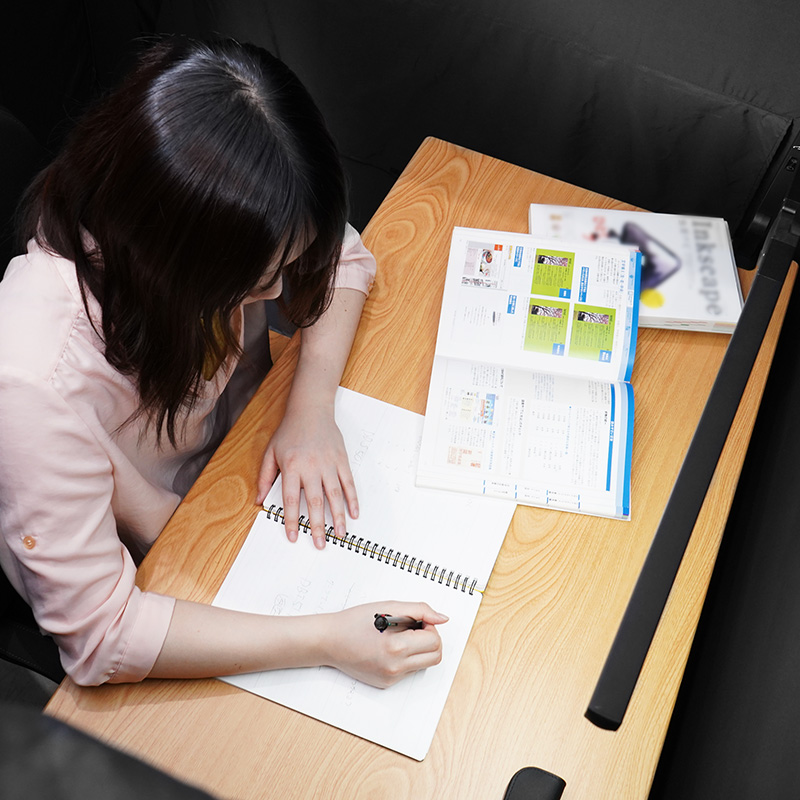 For Remote Work
It's often hard for people who work remotely to separate their living spaces from their work spaces.
You can build your own work space in a corner of your living room.
This is perfect for people who don't want their rooms to be revealed during online meetings
or for people who handle very sensitive or private information.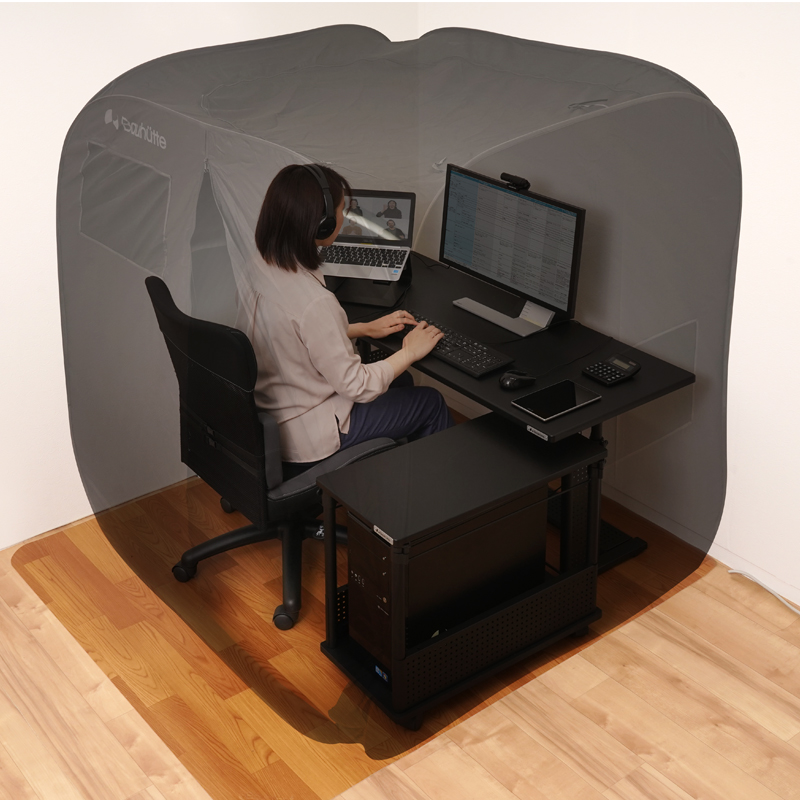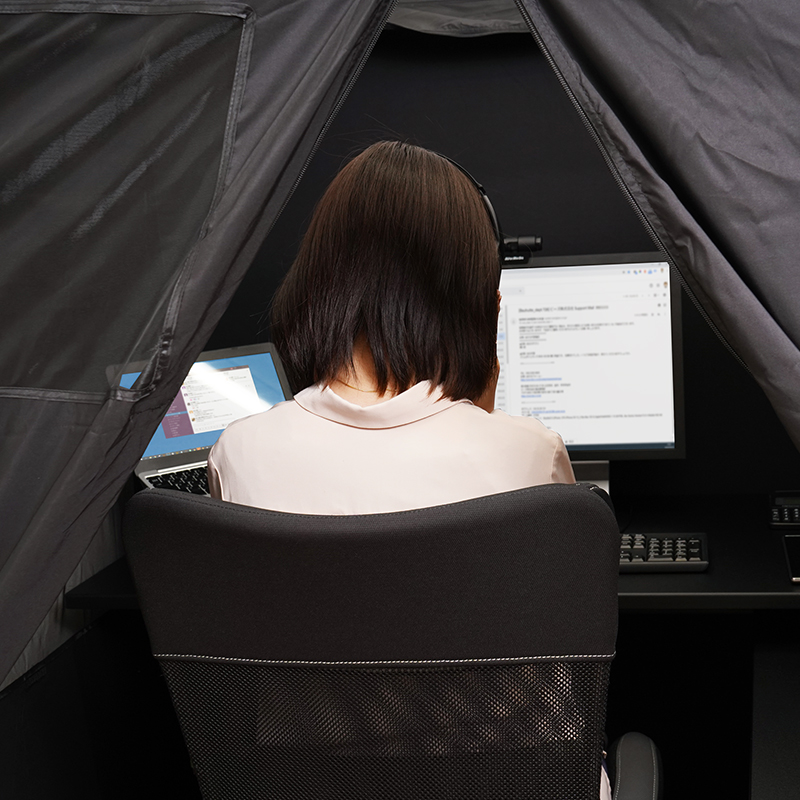 For Creators' Work Spaces
This is perfect for creators such as illustrators, comic book artists, video editors,
You can build a space that allows you to see the colors on your monitor without relying on the lighting in your room.
It's also a way to prevent people from coming into your room and seeing your work.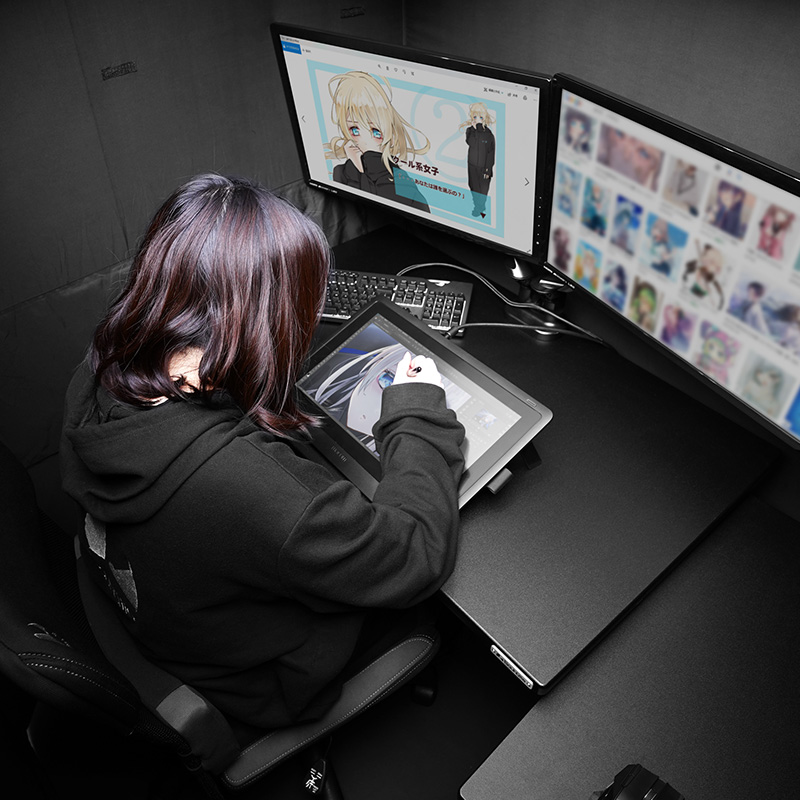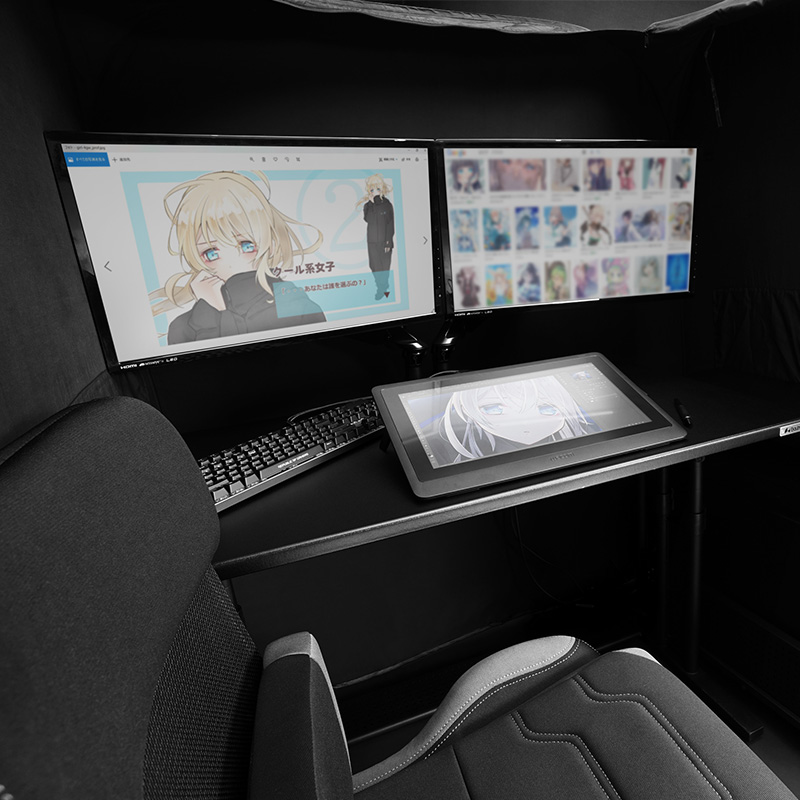 Guaranteed Shading
We performed lighting tests to see just how much light comes in from outside the tent.
We shined a 30,000 lux light on the tent, but inside, the meter still read 0.
This is dark enough that you can't read printed type in here.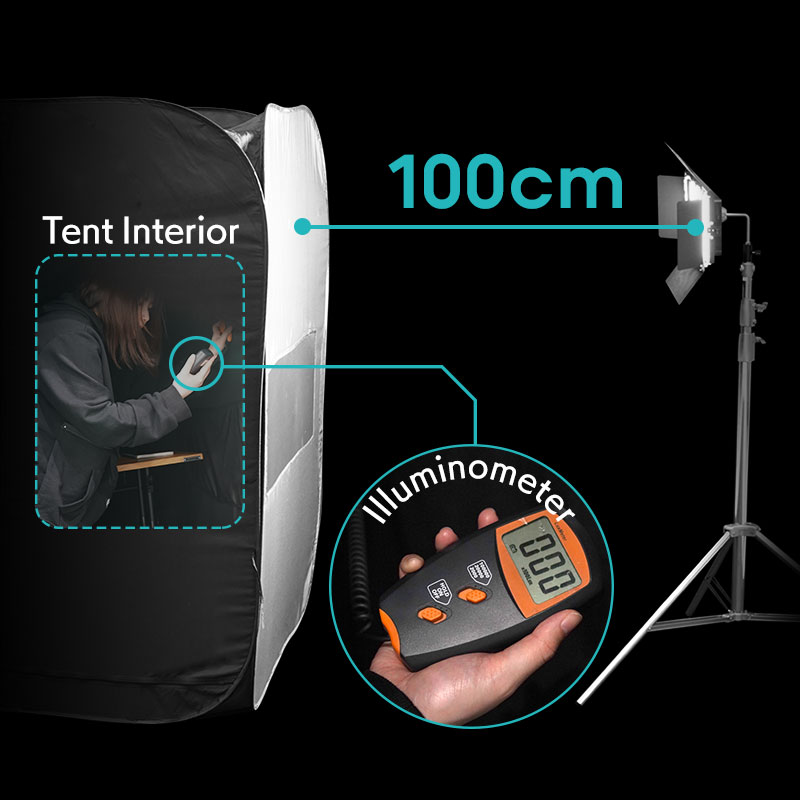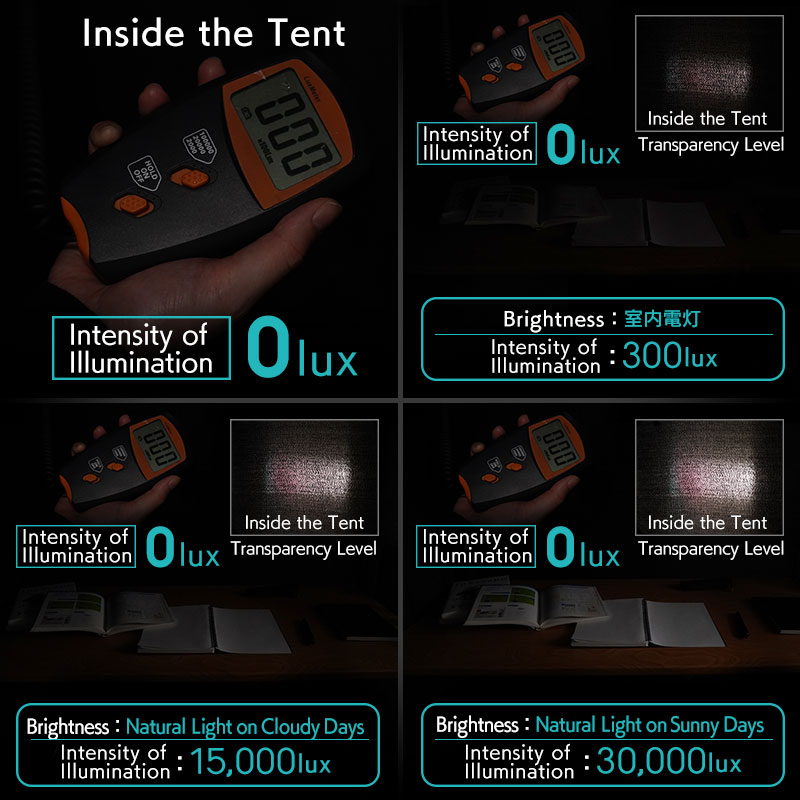 Includes a Combination Lock
The tent includes a combination lock so you can protect your privacy.
By hanging the lock from the pull tab and locking the zipper,
you can make sure the entrance won't be easy to open.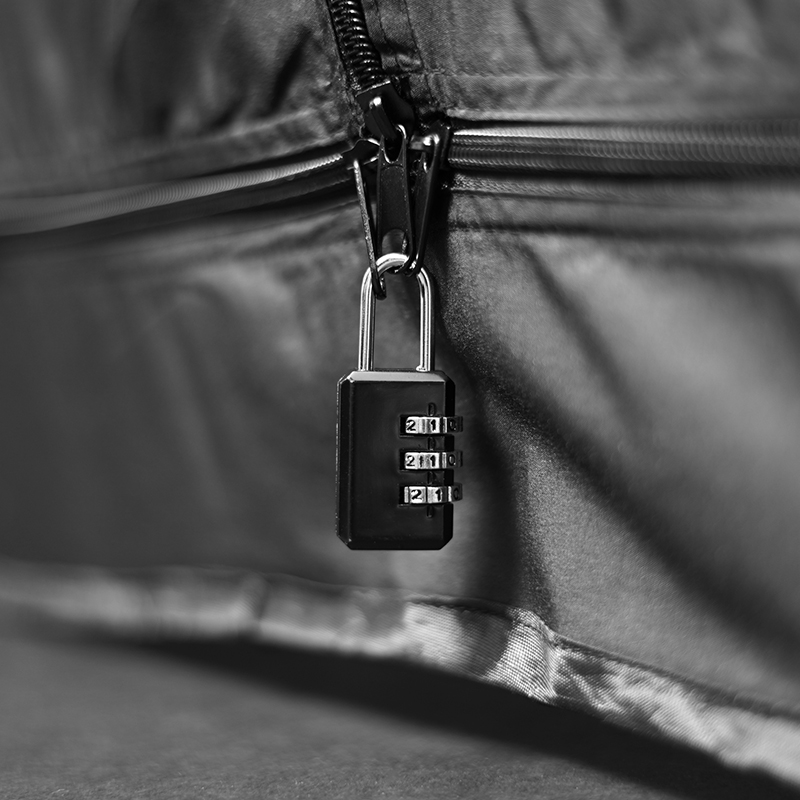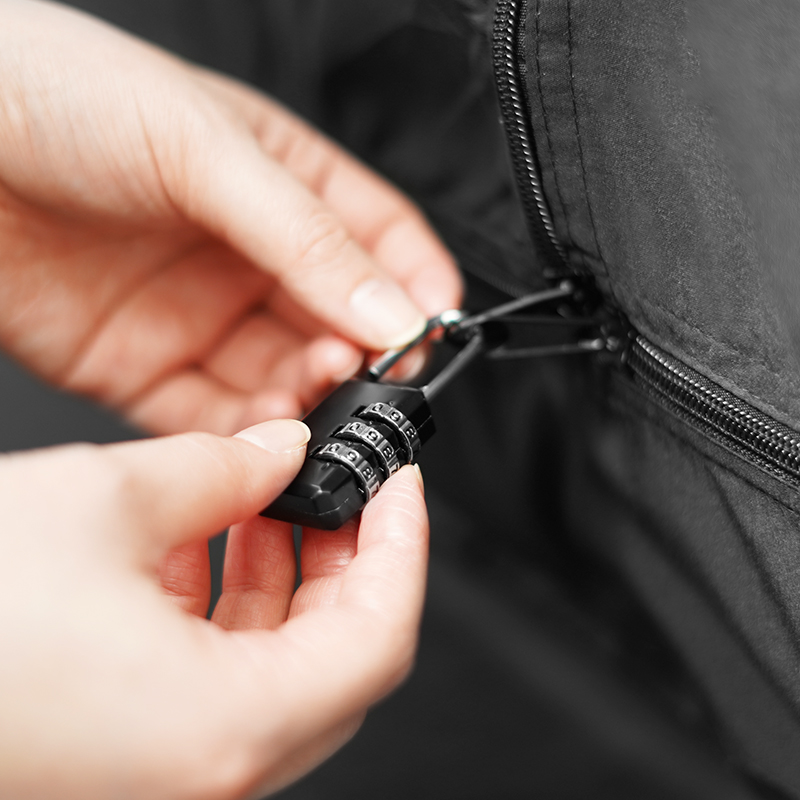 Mesh Window
There are three mesh windows in the tent: the entrance and one on either side. The windows on the sides are at a slightly lower position so your face or monitor won't be seen from outside.
Cord Slots
The corners of the bottom of the tent are made so cords can pass through them. You can use this tent even if you're not close to an outlet. You can comfortably enjoy using your devices with nicely organized wiring.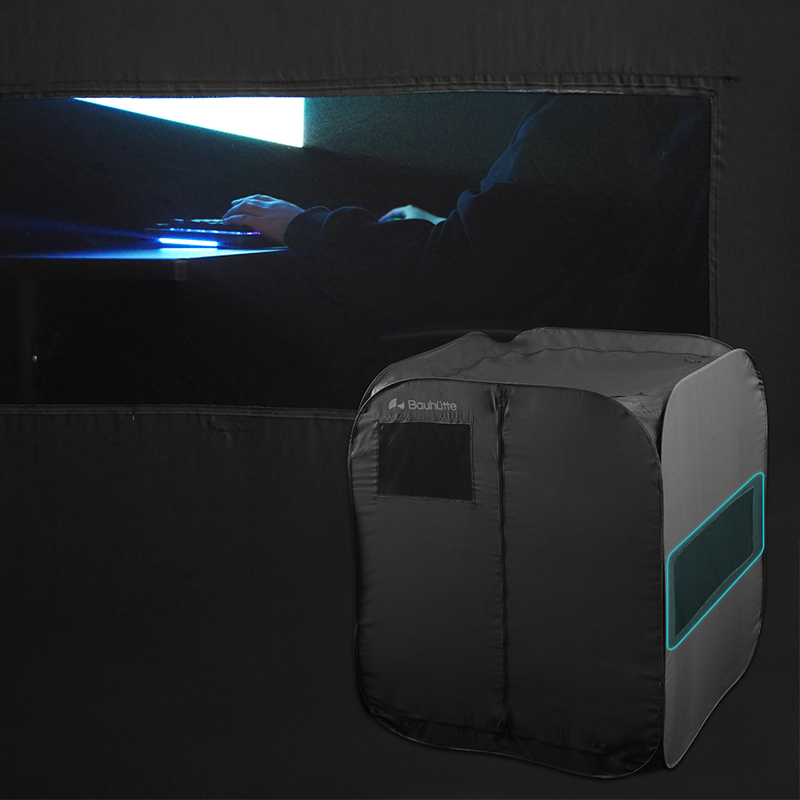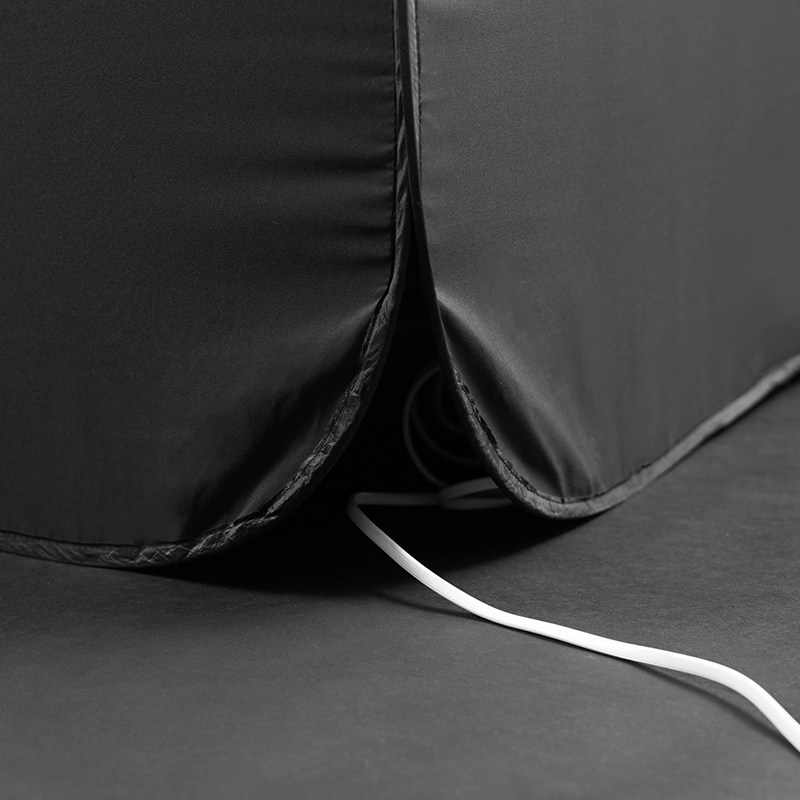 Example
The History of the Desk Tent
The Desk Tent is one of our long-sellers and has been improved since our first model that originally went on sale in 2014.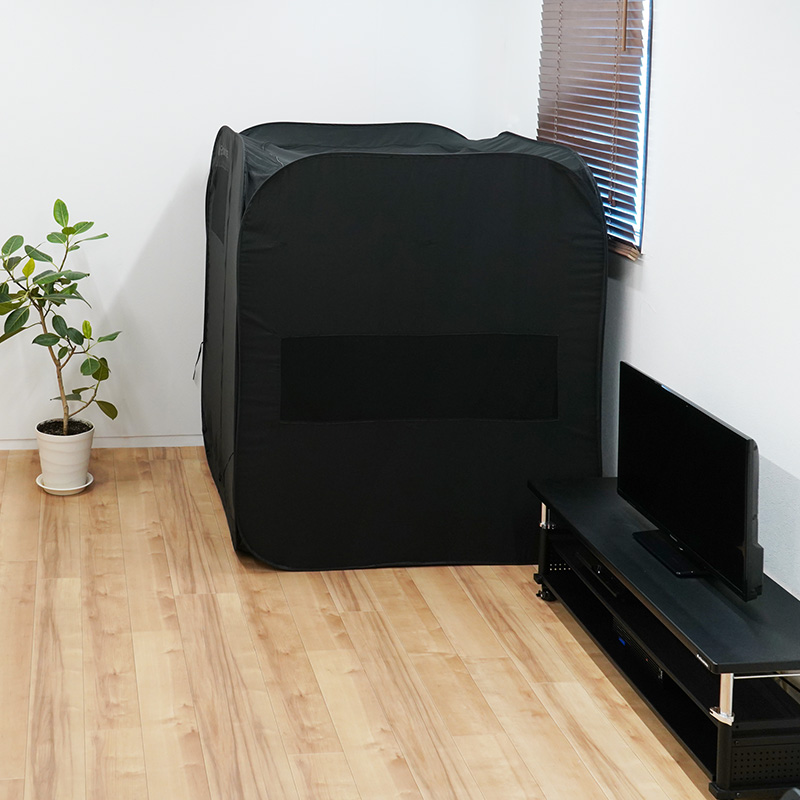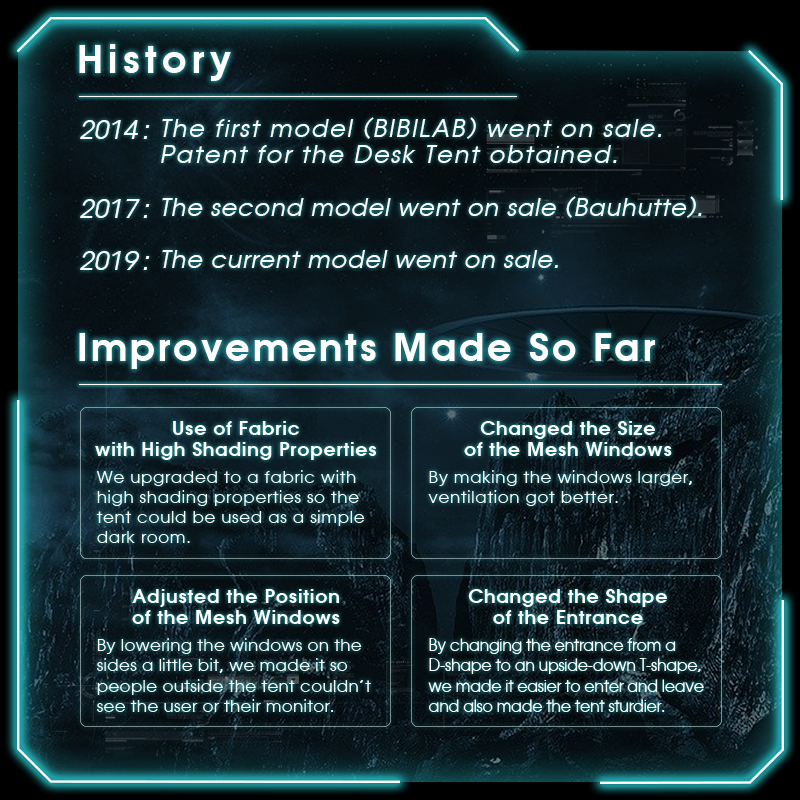 Perfectly Compatible with Bauhutte's Desk Series
The Desk Tent is sized to perfectly fit any item in Bauhutte's gaming desk series. Desks up to 120 cm (47 in) can fit inside.
Screen Rack
We recommend installing a Screen Rack inside the Desk Tent for maximum storage space inside the tent. The shelves can be hidden so you can easily store items in there while still maintaining a neat space.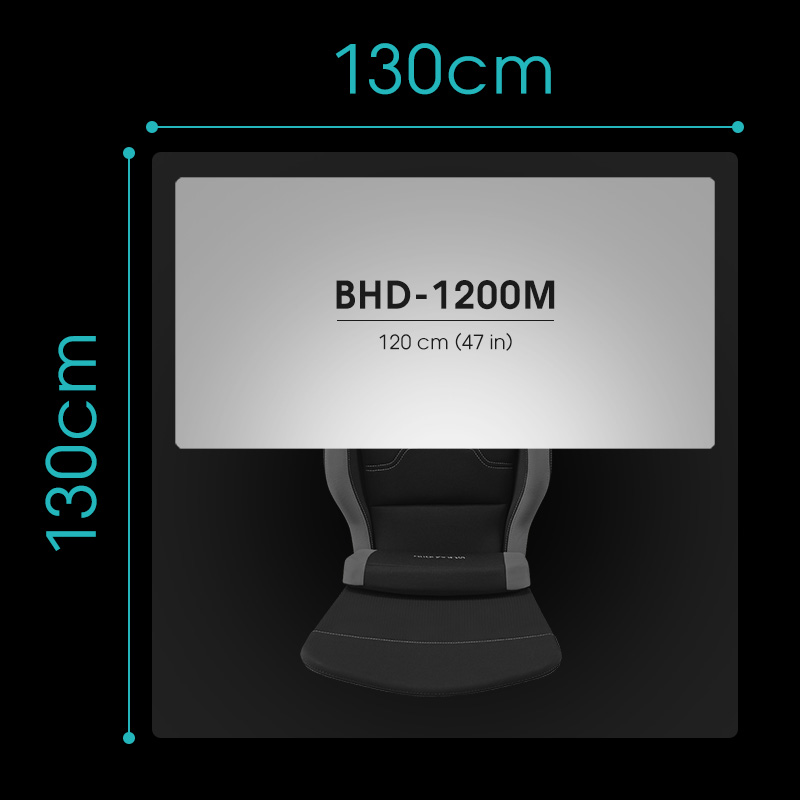 How to Fold the Desk Tent
SPEC
Color
Black
Size
Width 1300mm × Depth 1300mm × Height 1500mm
(Storage: Width 600mm × Depth 600mm × Height 300mm)
Weight
2.85kg
Components
Material:polyester 100%
Wire:steel
MSRP
Varied
JAN Code
4589946142648
SIZE
*The sizes written are control sizes. Depending on the individual and the way the product is assembled, measurements might differ slightly.