CONCEPT
With the Changing Times Comes a Collaboration:
Gaming Furniture x Remote Work
Do you find yourself working at your desk for long hours?
Focusing on that commonality between business person and gamer,
we have come up with a gaming chair that's perfect for your work area.
Designed for Heavy Gamers
We have used a thick mold polyurethane cushion
so you can sit comfortably for long periods of time.
Also, we have also reconsidered the flashy designs of gaming chairs
and made this chair's design simple.
This way, it'll look perfectly at home
whether it is in your bedroom or your home office.
If you're looking to create a comfortable environment for remote work,
this is definitely a must-have!
FEATURES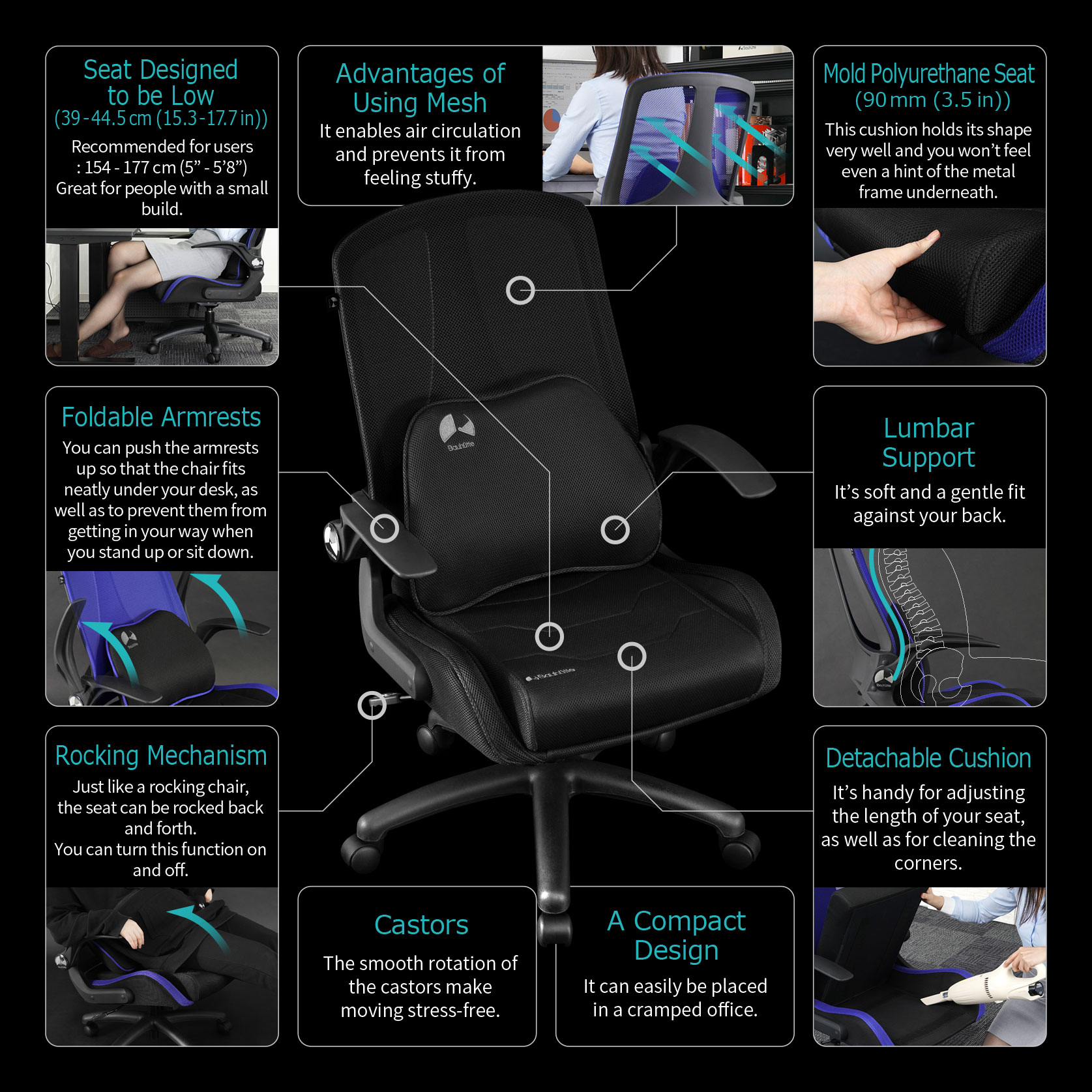 Gaming Furniture x Remote Work
Gaming furniture that was made for heavy gamers that face their computer screens for
nearly 10 hours a day is also perfect for those who sit at their home desk for long periods of
time each day. When you bring gaming furniture into your work environment, you'll be able to
construct a more comfortable remote work set-up that allows for better focus.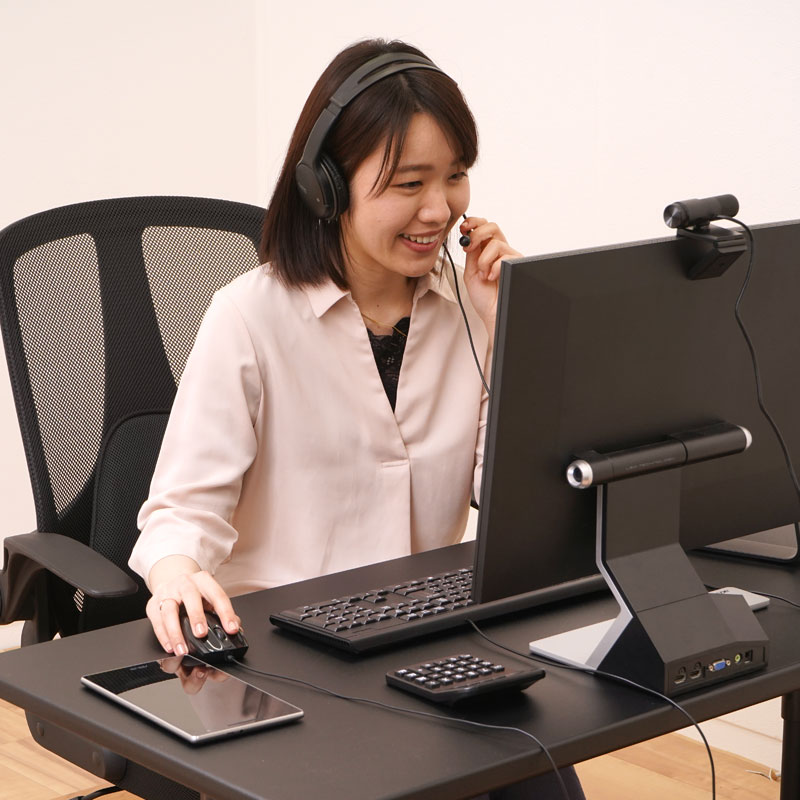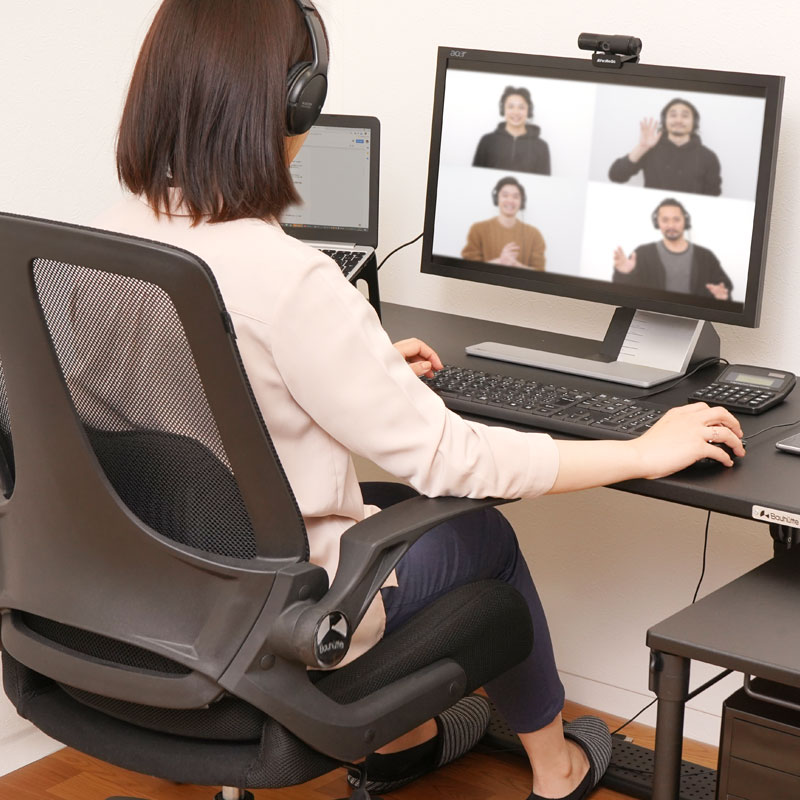 A Simple Design that will Fit Right into Your Home and Office
The usual flashy designs of gaming chairs is always the thing that prevents workplaces from
introducing them to the office. As such, we've reviewed the forms and colors of our chairs
and come up with a simpler design that would not look out of place in your home or office.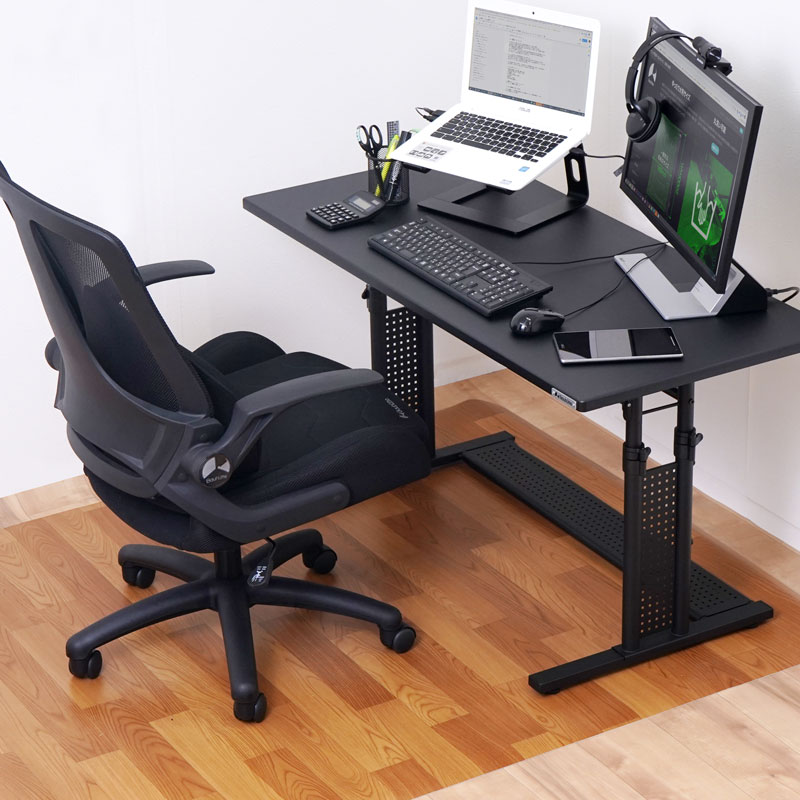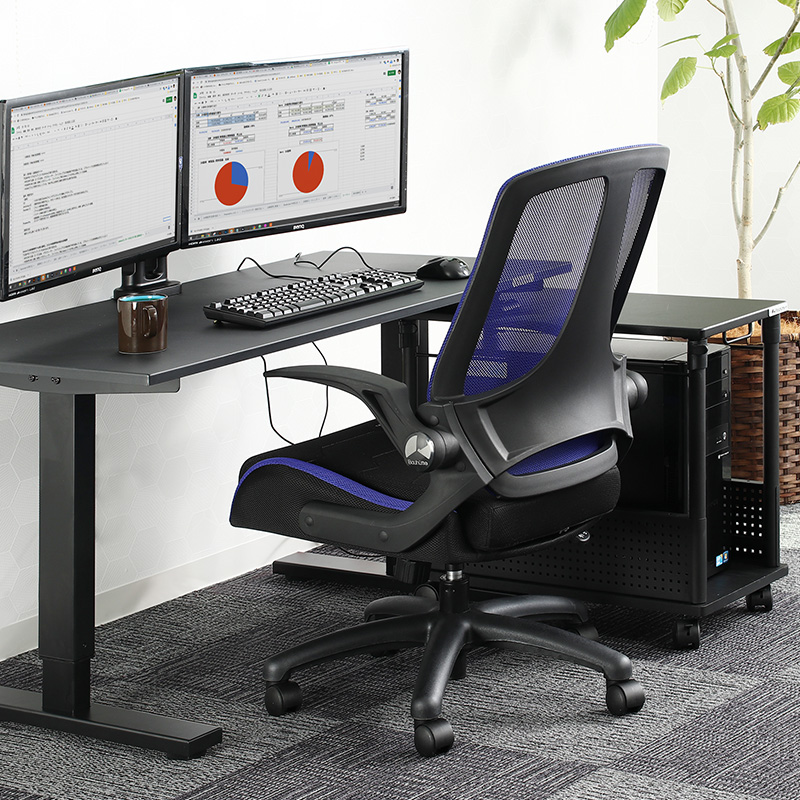 Foldable Armrests
Chair armrests provide support for desk work in many ways. We have made the armrests
foldable so that they're not in the way when you stand up or sit down. You can also fold them
up so that the chair can be pushed neatly under the desk while it's not in use.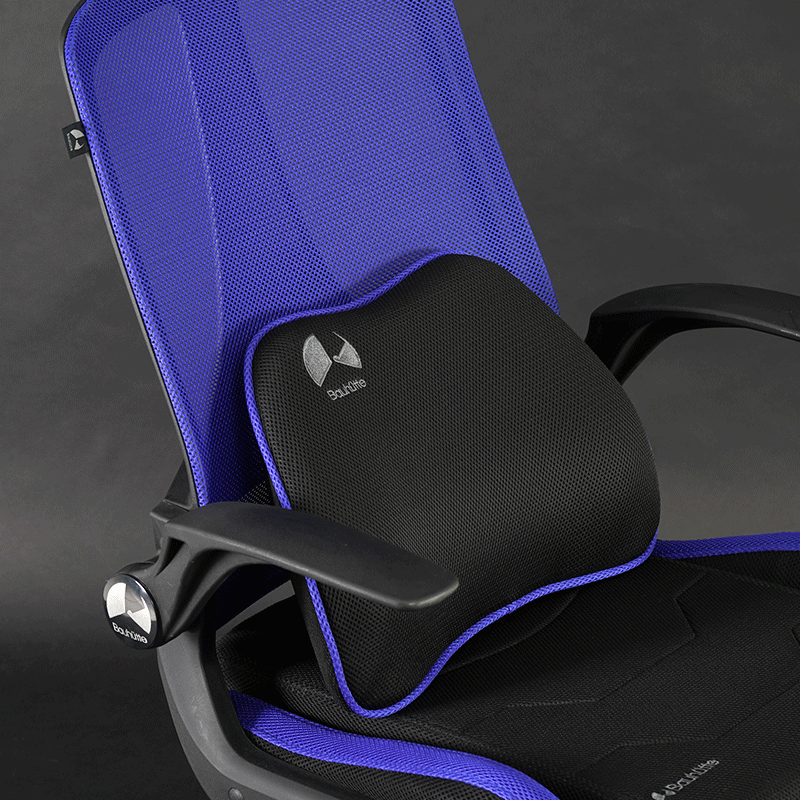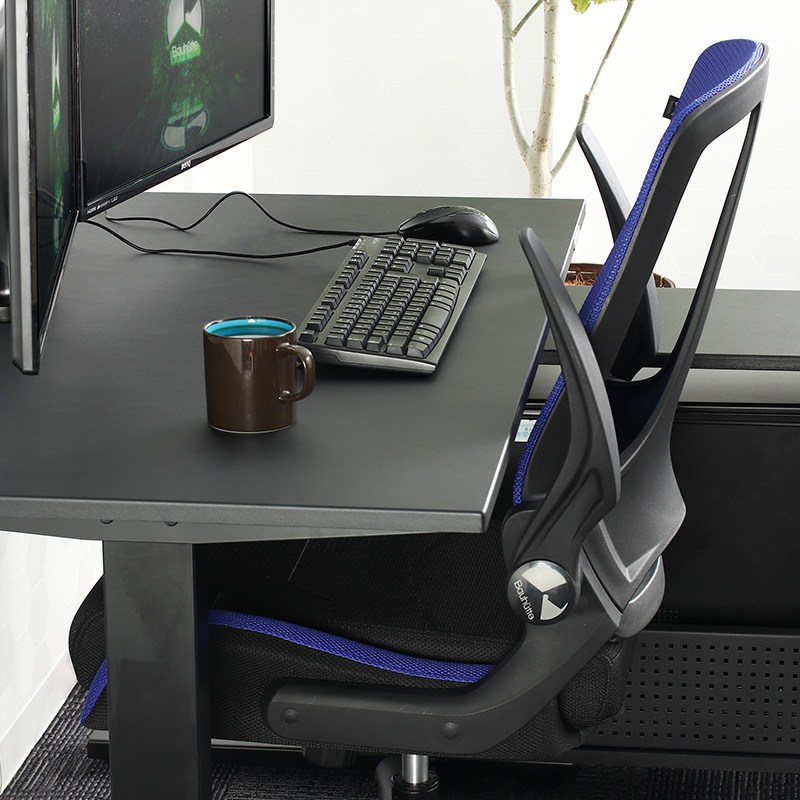 Gaming Seat
We've made a Gaming Seat that is easy to sit on for long hours without getting sore. Using a
highly dense material called mold polyurethane, the seat keeps its shape well and has
excellent elasticity, so you won't feel even a hint of the metal frame underneath.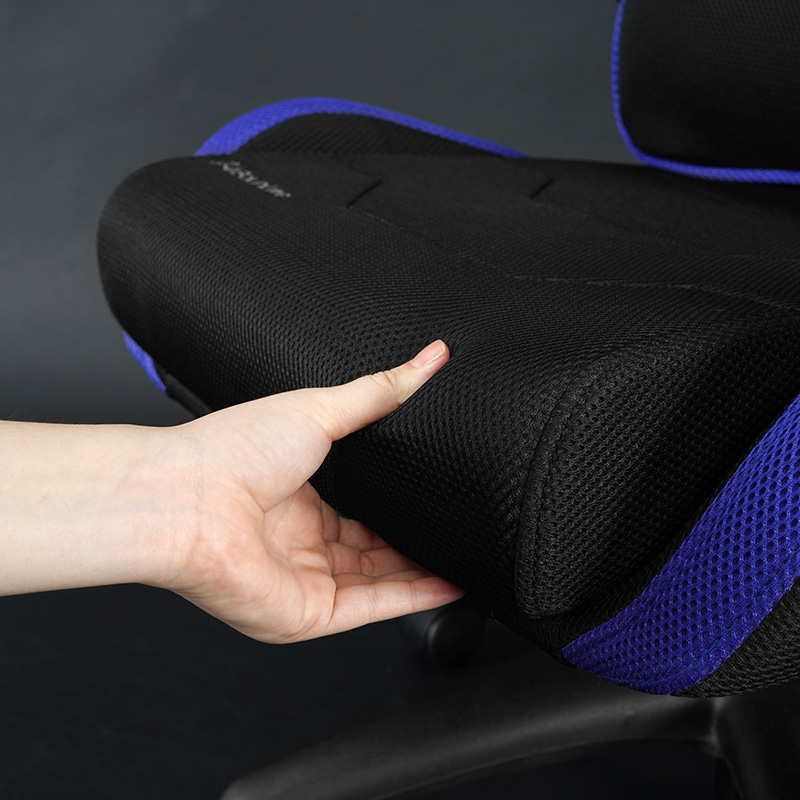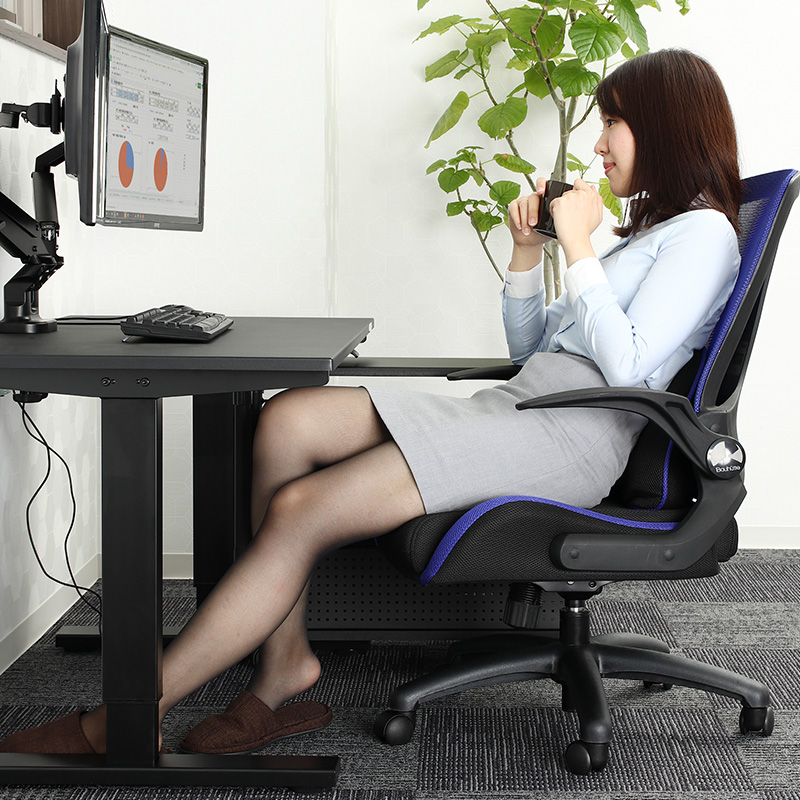 Lumbar Support
The chair's back cushion has been made to fit the shape of the chair, and it follows the
natural S curve of your back in order to support it. As the back of the chair is big enough to
lean your entire back against, you can trust it to support your body.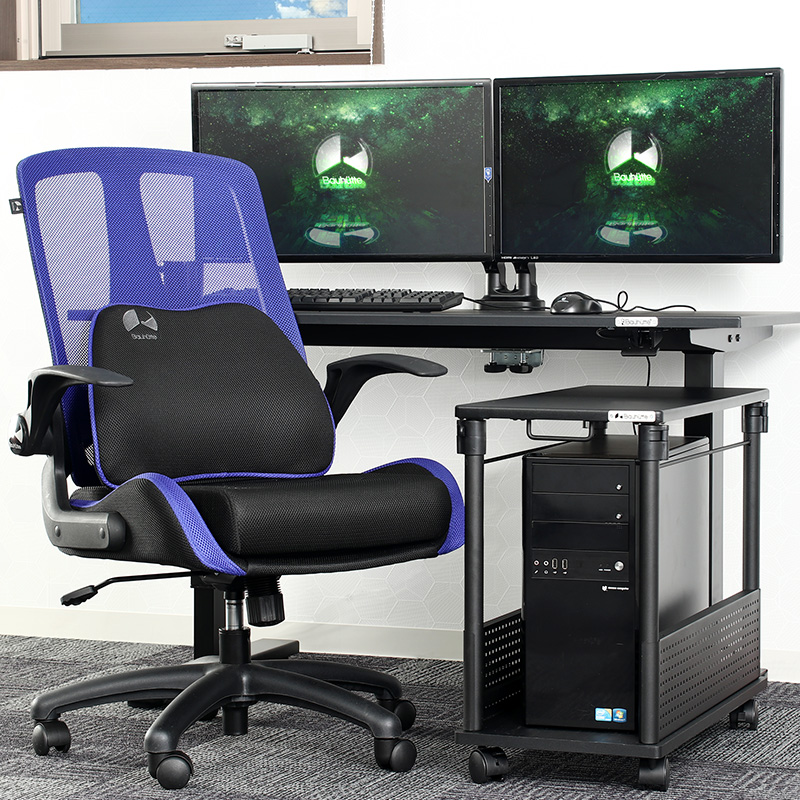 A Seat Height that Caters Towards People of a Smaller Build
We've made sure that the height of the seat is low enough for people of a smaller build.
Being able to sit with your feet flat on the ground is more efficient as it helps prevent edema
and increases concentration. With our Adjustable PC Desk (sold separately), you can create
a more comfortable work space.
Recommended for users: 154 - 177 cm / 5" - 5'8"
*The recommended height range was calculated while keeping in mind how much the cushion will depress when sat on.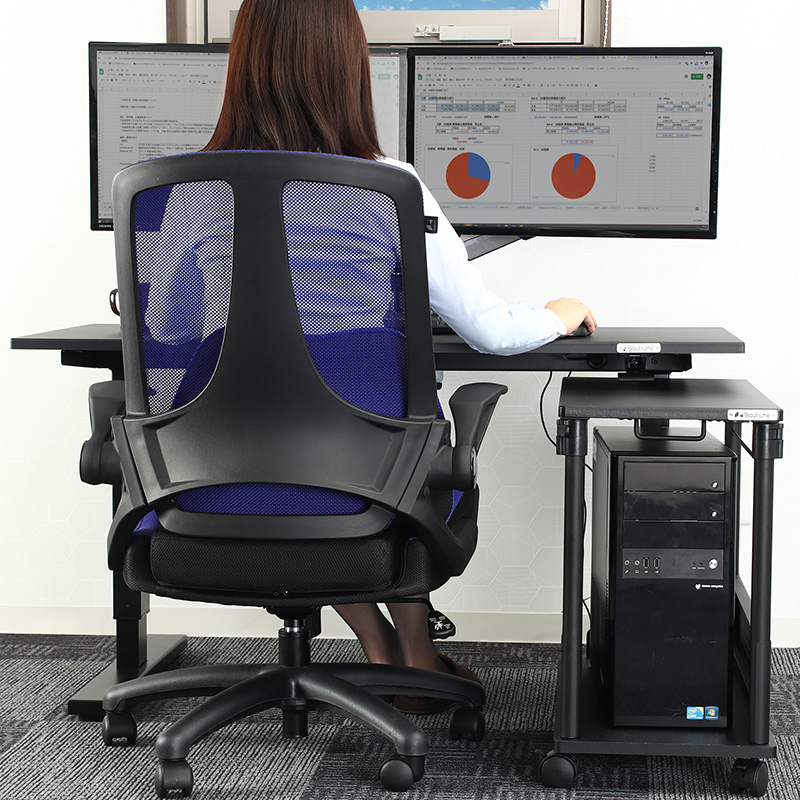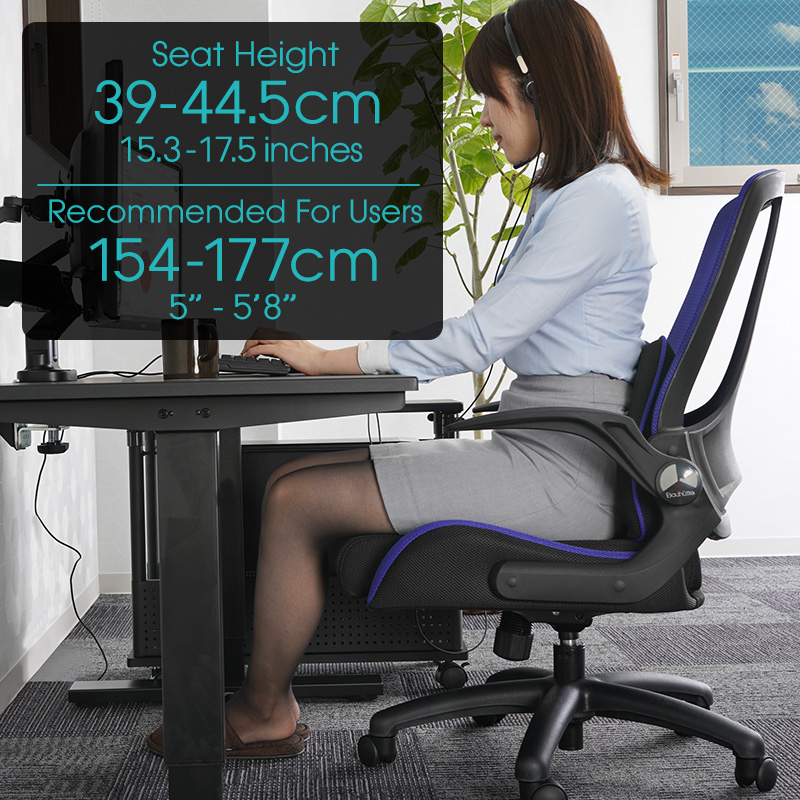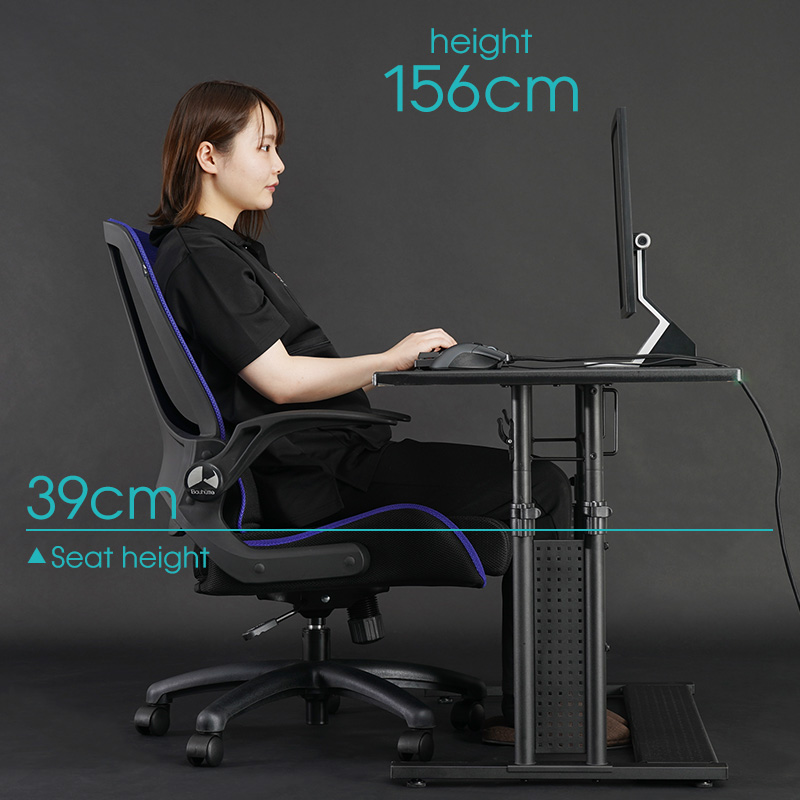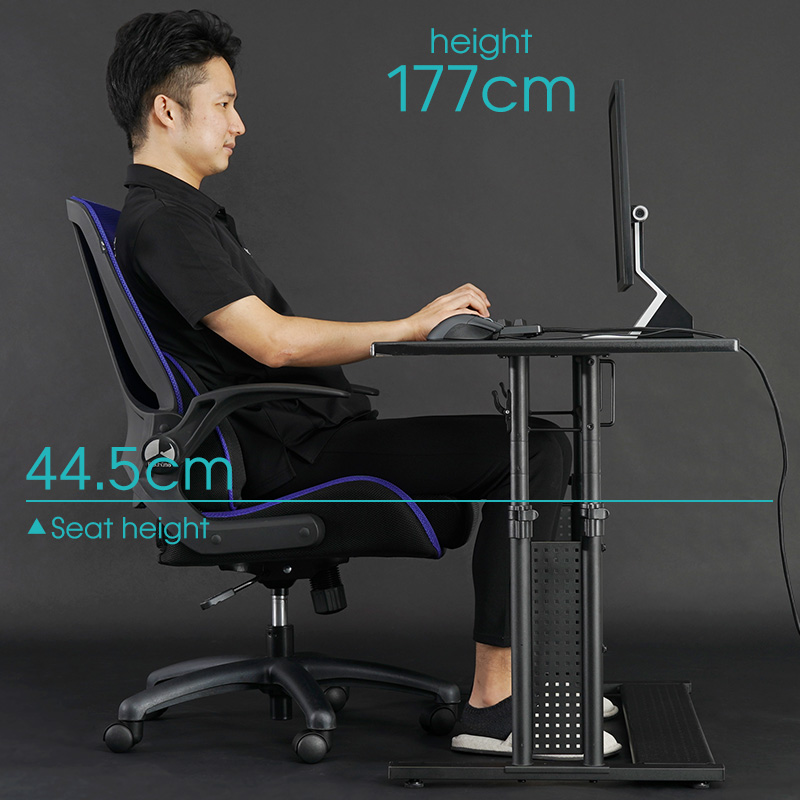 Made with Mesh And Has Great Air Circulation
We've used mesh material which has excellent air circulation. With it, you won't feel stuffy
even if you're sitting on the chair for long periods of time, and you'll be able to work
comfortably and efficiently.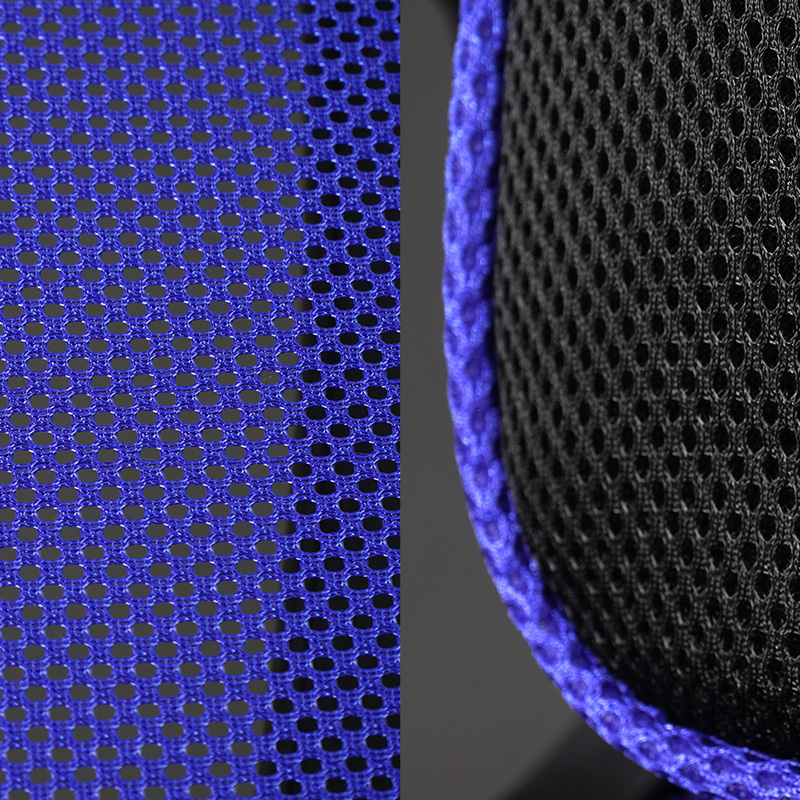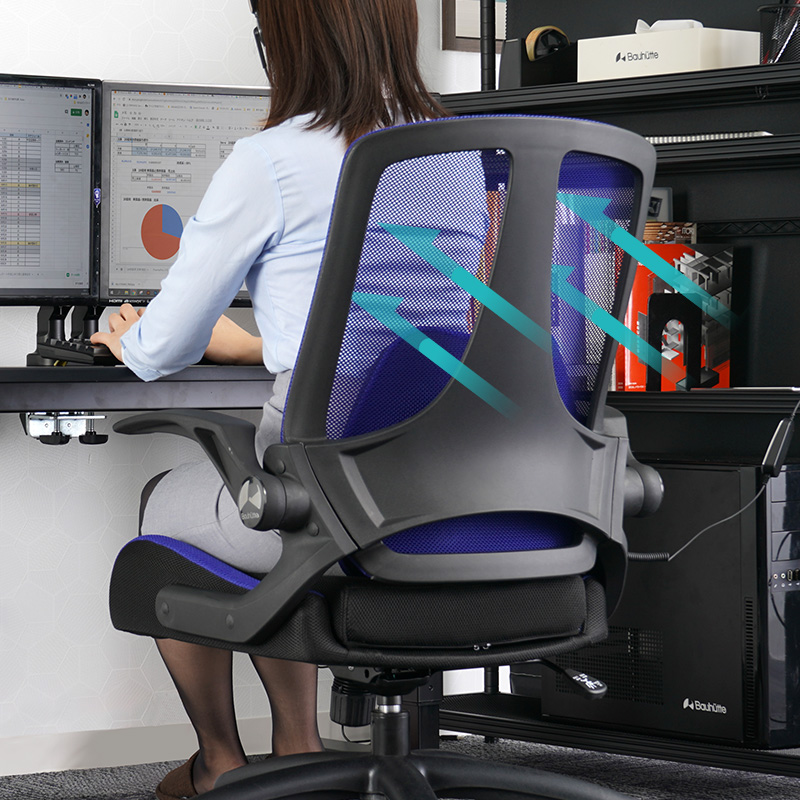 Detachable Cushion
The seat cushion is attached by Velcro and can be detached.
This way, you can easily adjust the length of the seat as well as conveniently clean up any garbage that might have built up in the corners.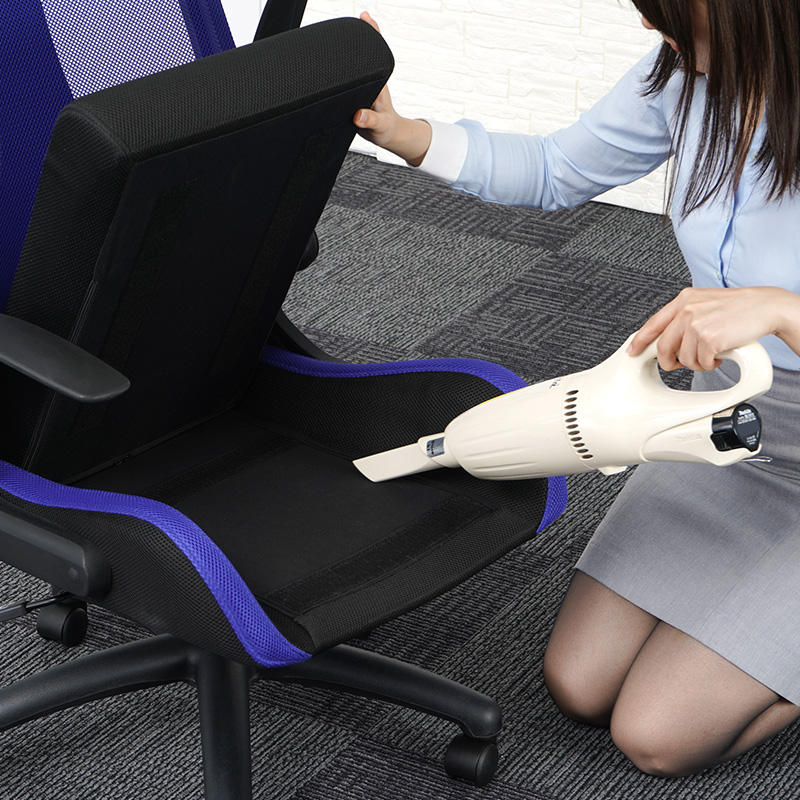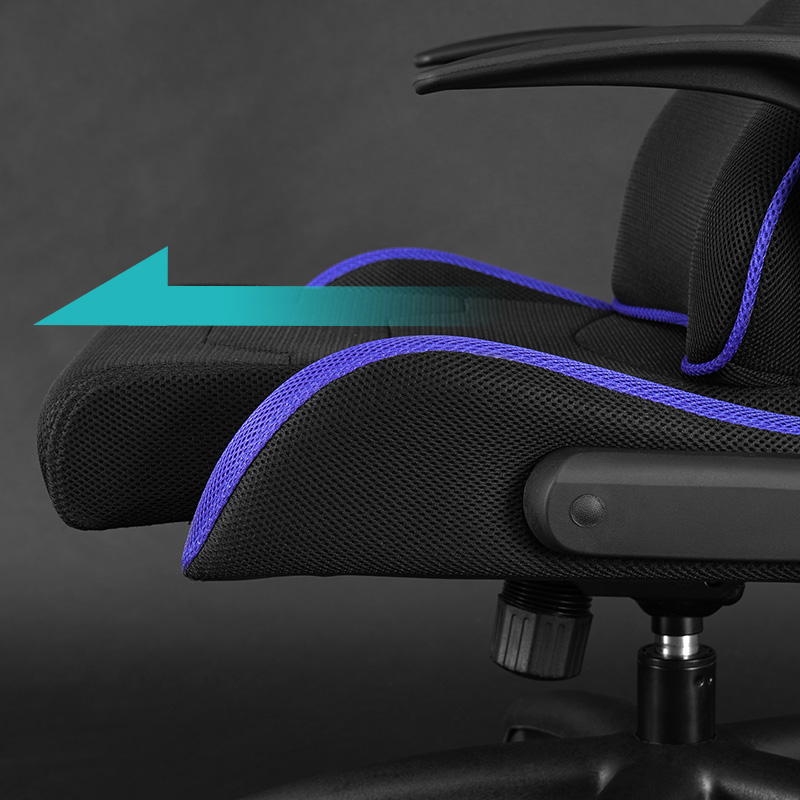 Light-Weight and Compact
We've made the chair to be light-weight and compact so it fits easily in small homes and offices.
Small Base
The base of the chair is small so that it doesn't get caught up in the legs of your desk, so you can move it around easily.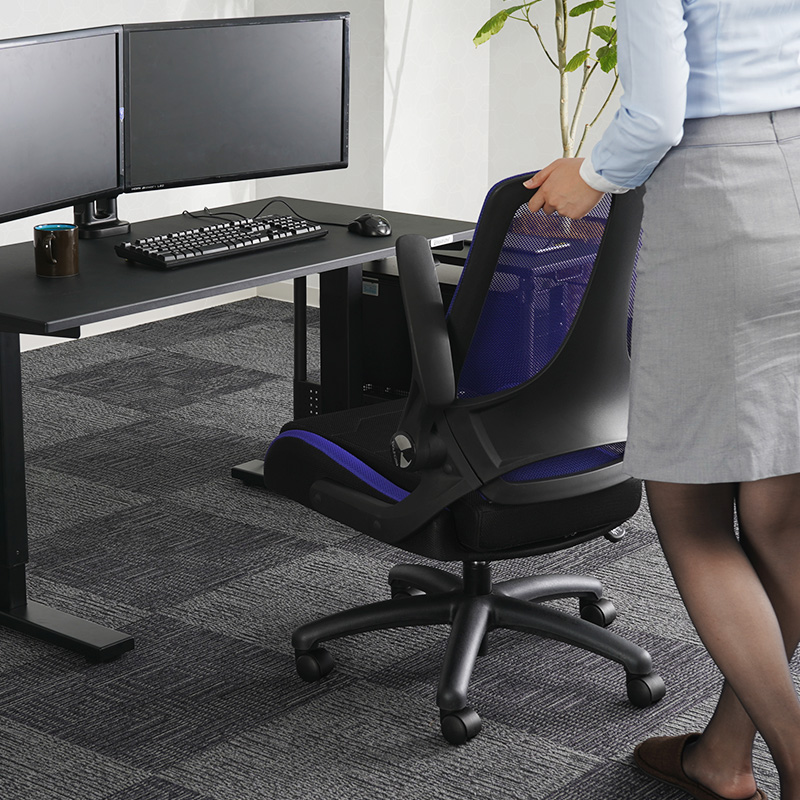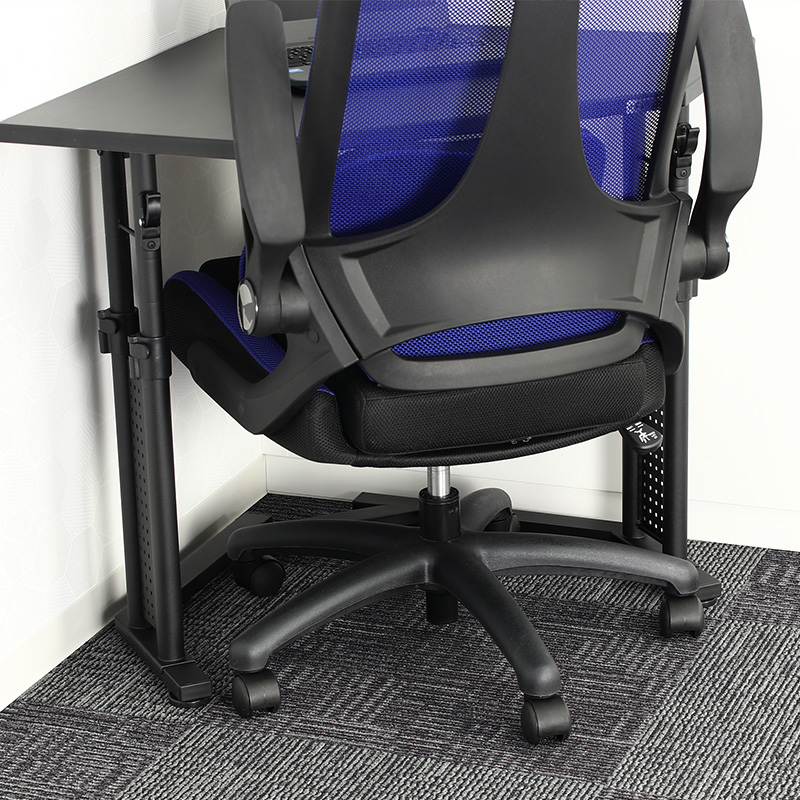 Rocking Mechanism
Just like a rocking chair, the seat can be rocked back and forth. You can turn this function on and off.
*For more details about this mechanism, please check the manual that comes with the chair.
Castors
The smooth rotation of the castors make moving the chair stress-free.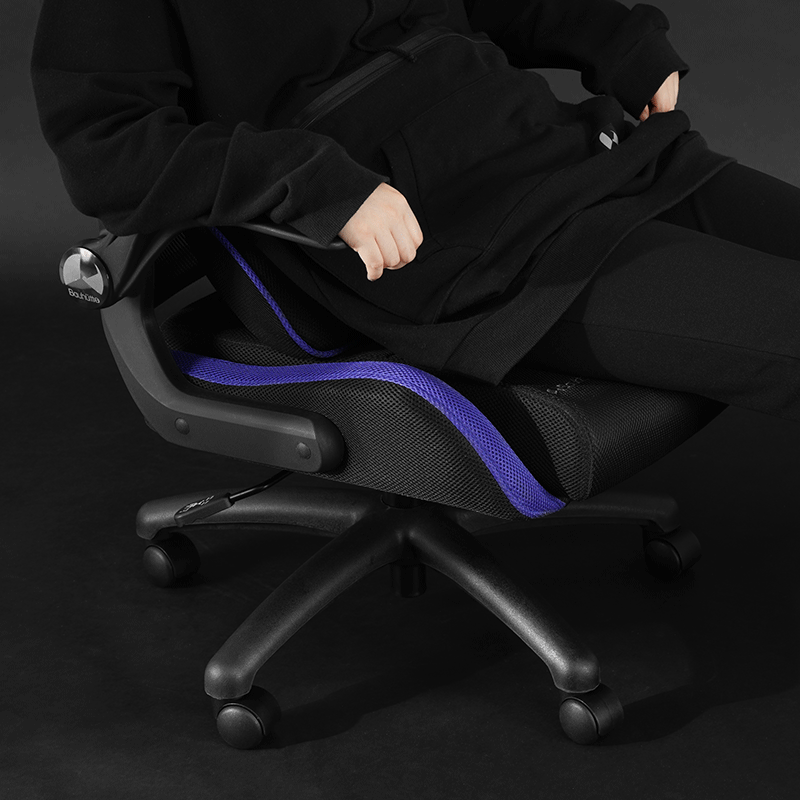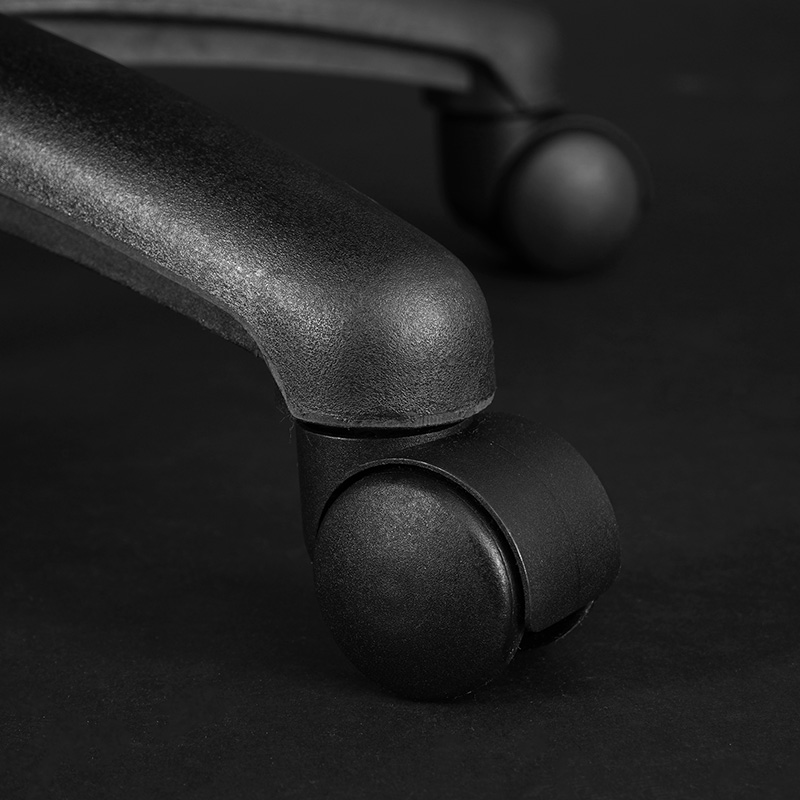 Can be Used with a Gaming Cushion
With our Gaming Cushion (sold separately), you'll be able to increase the thickness of the seat, making it possible for taller users to sit comfortably in it as well.
Chair Mat
To protect your floor from scratches, we recommend using a chair mat as well.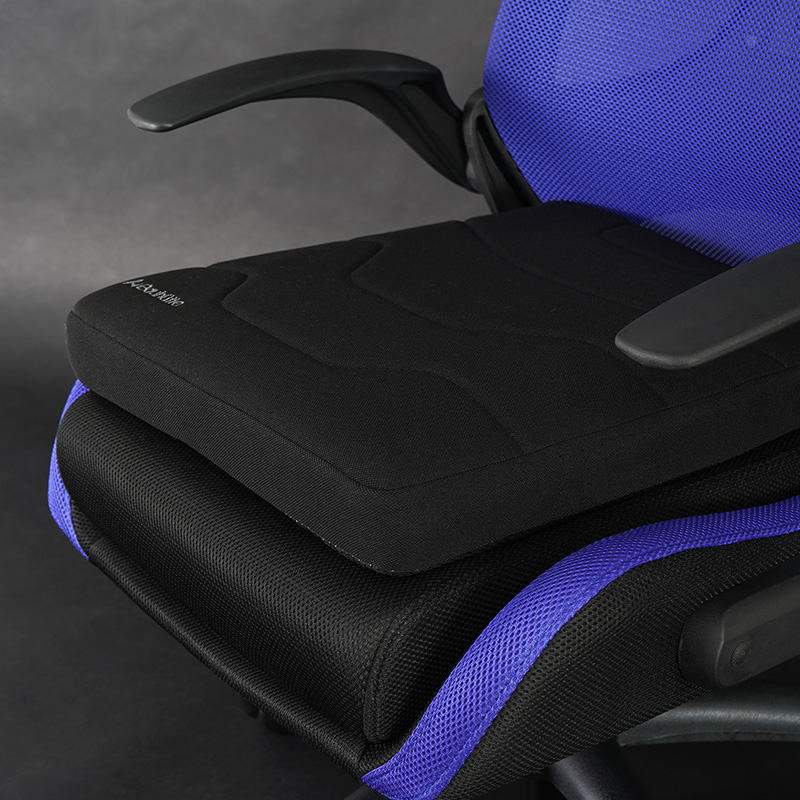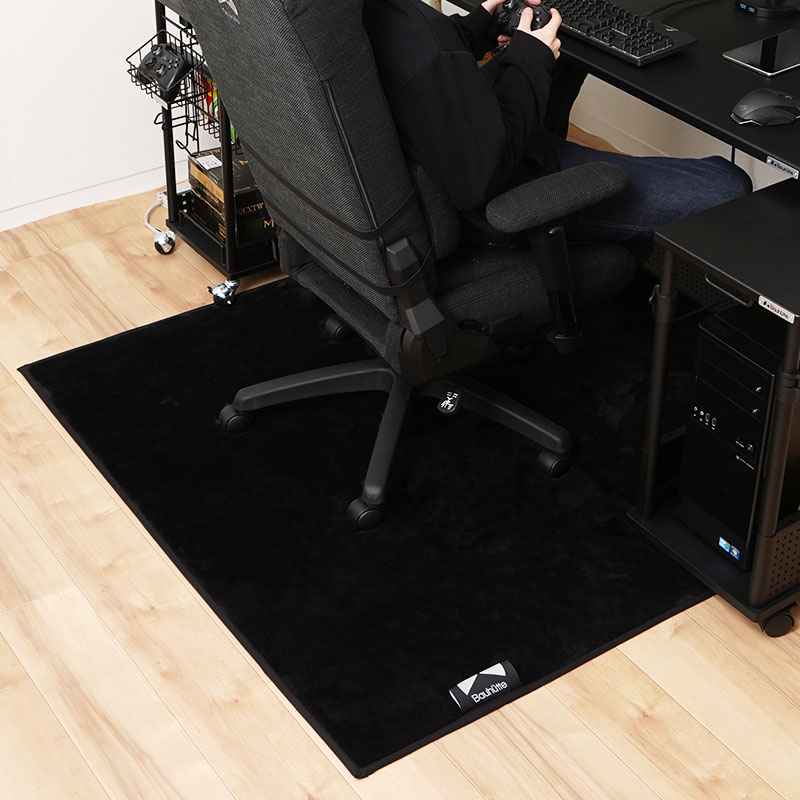 Adjustable PC Desk
This desk can be adjusted to suit your height. We recommend using this in a set with the Gaming Mesh Chair.
Let's Make Sure that Our Desks are Suited to Our Bodies!
Different bodies need different desk heights. Using the following guide, please check what is best suited to yours.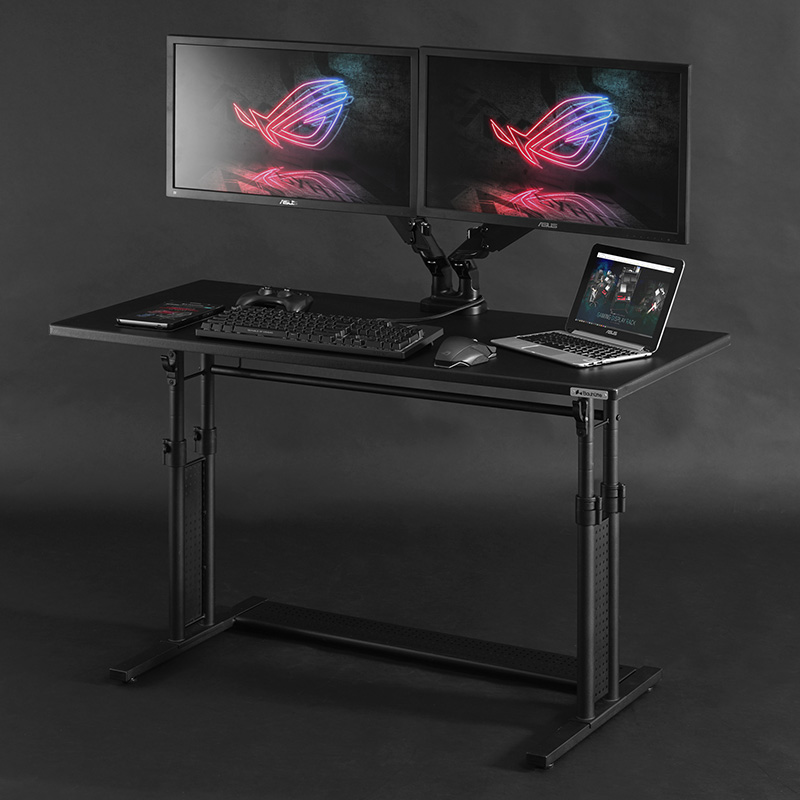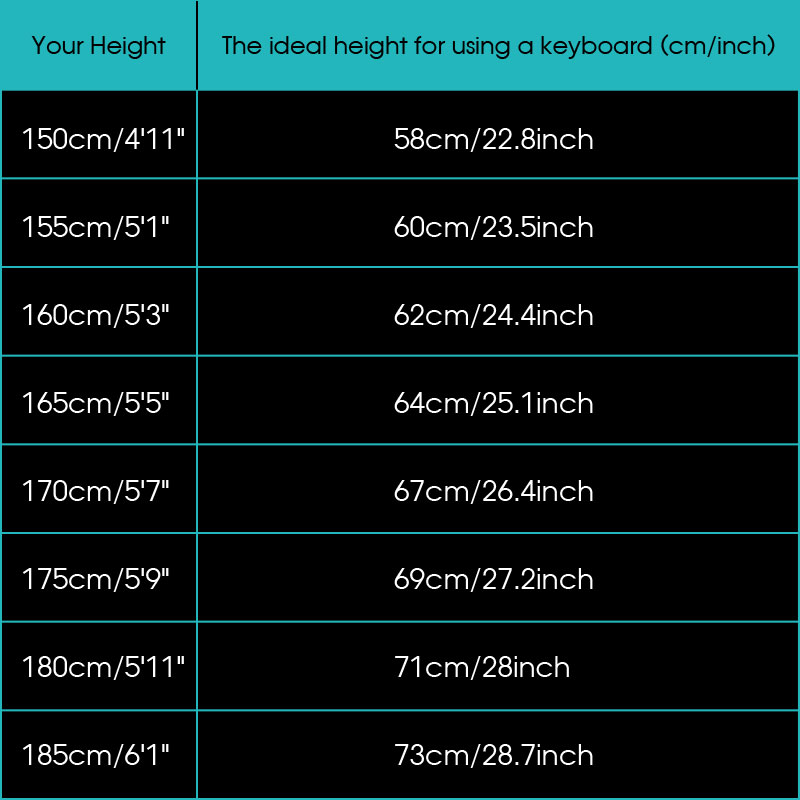 SPEC
Color
BK:Black
RD:Red
BU:Blue
GN:Green
Size
Width 675mm × Depth 680mm × Height 925mm(925~980mm)
height of the seat:390mm~445mm
*The height from the floor to the middle front edge of the seat.
Weight
about 14.7kg
Components
back of a chair:PP / polypropylene
base:metal frame (steel) / plywood
armrest:PP / polypropylene
chair legs:nylon
metal part of the seat:metal (steel)
gas cylinder:metal (steel)
Surface Finish
metal part of the seat:acrylic resin powder coating
Weight Limit
100kg
Cover Material
back of a chair, base:polyester
Cushion Material
urethane foam
MSRP
Varied
JAN Code
G-130-BK:4589946146455
G-130-RD:4589946146479
G-130-BU:4589946146462
G-130-GN:4589946146486
SIZE
*The heights of the armrests are measured from the ground.
*The sizes displayed are control values. Some differences will occur depending on each product and how the product is put together.
*The height of the seat is the distance from the ground to the middle of the seat.
*The length of the seat displayed consists of the area that can be sat on.
*Some products have labels displaying different measurements from this page. Please note that the sizes on this page are the accurate ones.