COLOR TYPE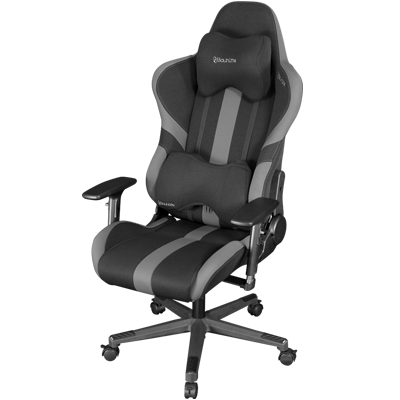 Black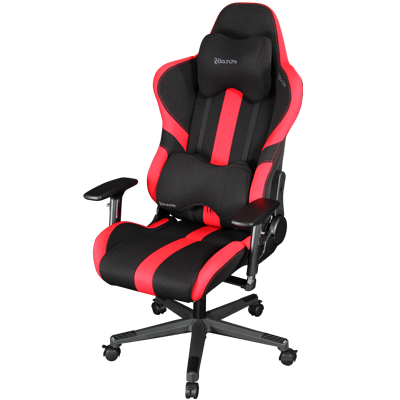 Red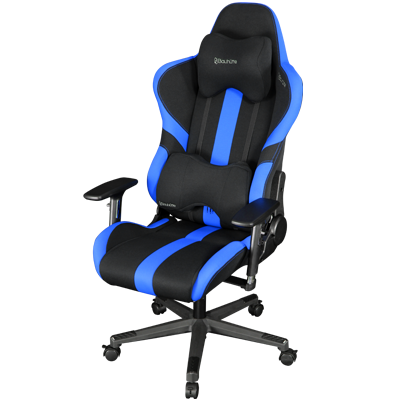 Blue
FEATURES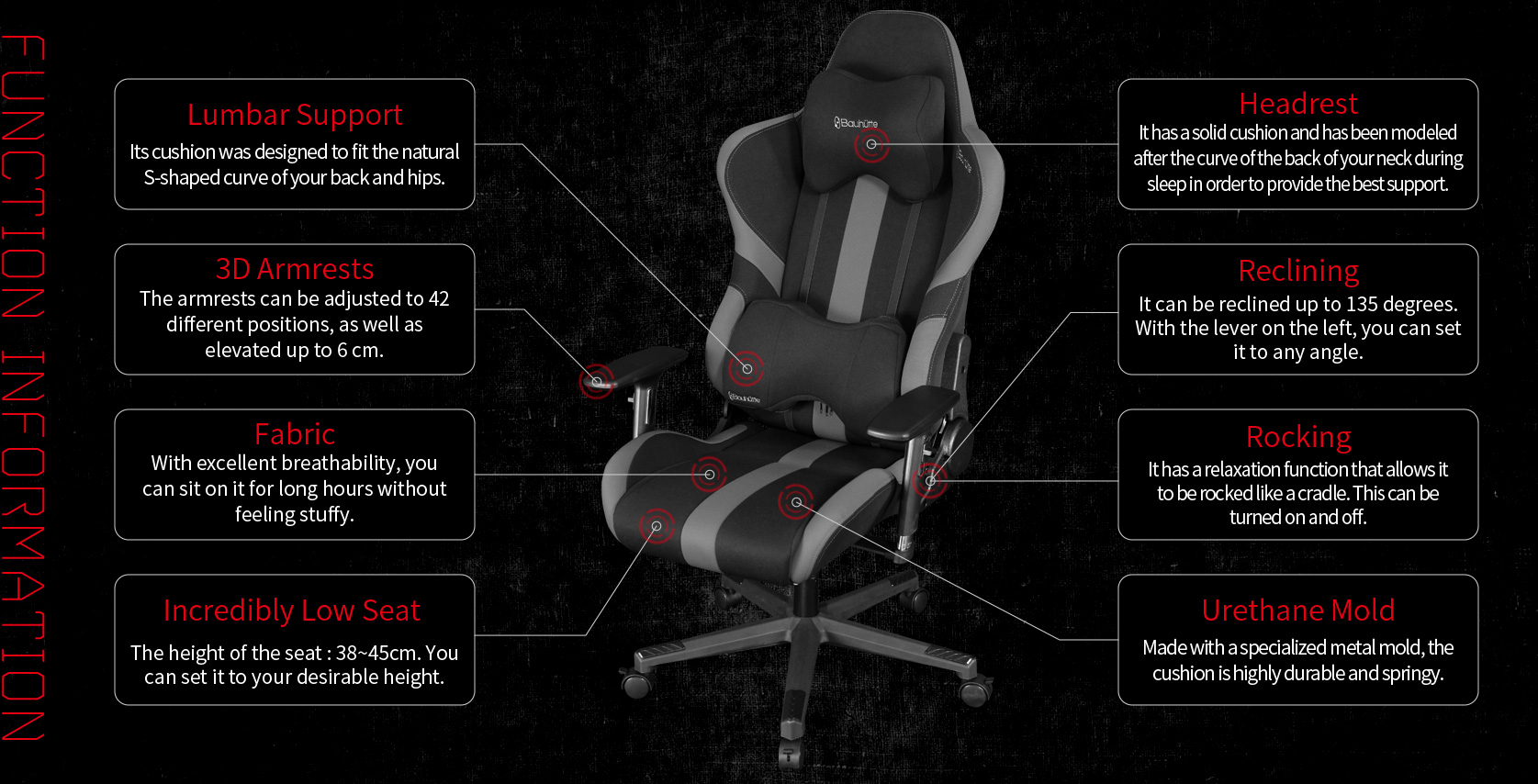 Solid Gaming Cushion
The dip in the center of the cushion provides this chair's unique lumbar support.
With the swells on both sides, the chair was designed so that
the sides of your body will be held securely in place to ensure proper posture.
Improvements from Past Cushions
・A specialised metal mold and high-density molded urethane was used. This cushion is durable, springy, and will retain its shape for a long time.
・It was designed with 3D and based on the shape of the human body, resulting in an outstanding fit.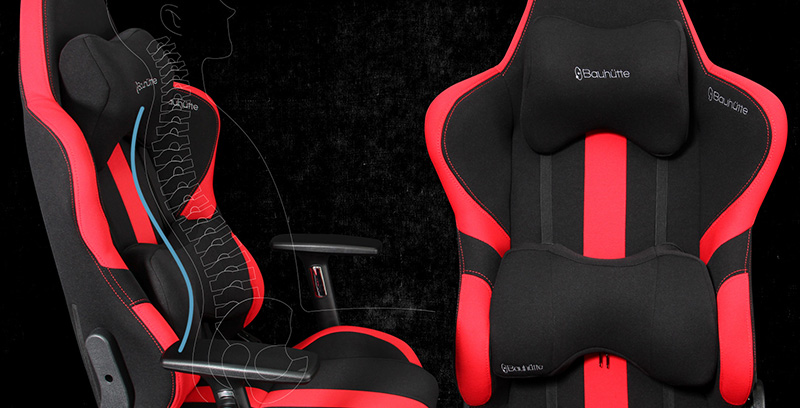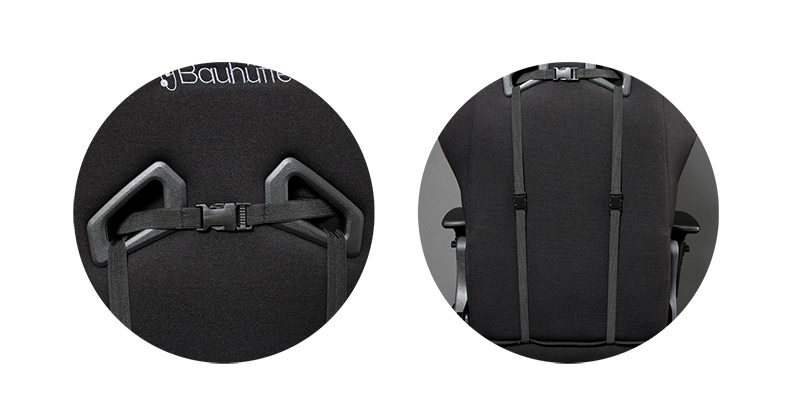 3D Armrests
These high performance armrests can be adjusted to precise preferences and
can be moved forward or backwards, left or right, and up or down.
They can be adjusted to 42 different positions as well as elevated up to 6 cm,
taking into account all the postures and positions that gamers tend to take while playing different kinds of games.
This is especially perfect for gamers who are particular about their mouse and keyboard setup.
*Forwards and backwards slider: 7 levels, Left and right adjustments: 3 levels, Height adjustments: Any height within a range of 6 cm, Socket for mounting: 2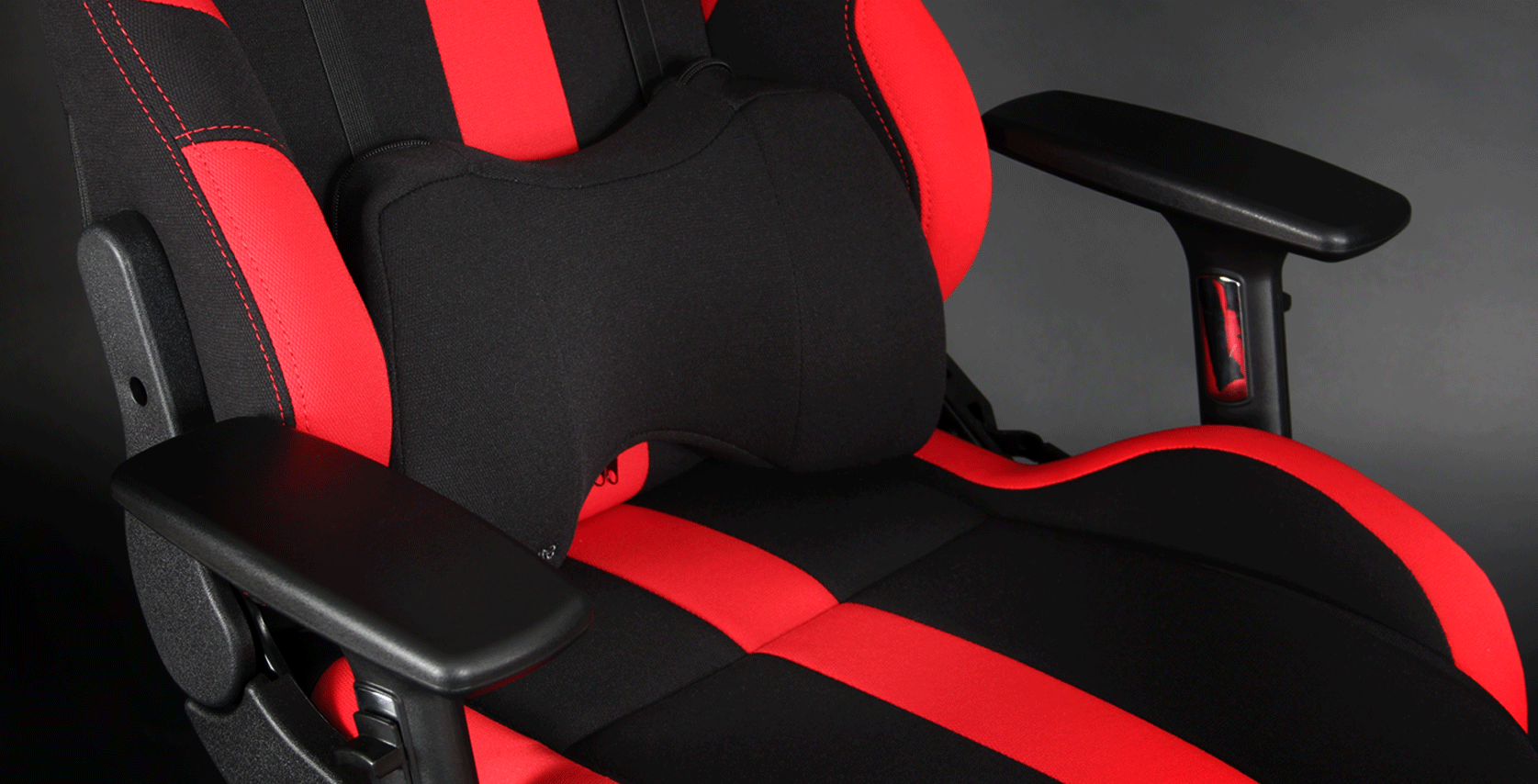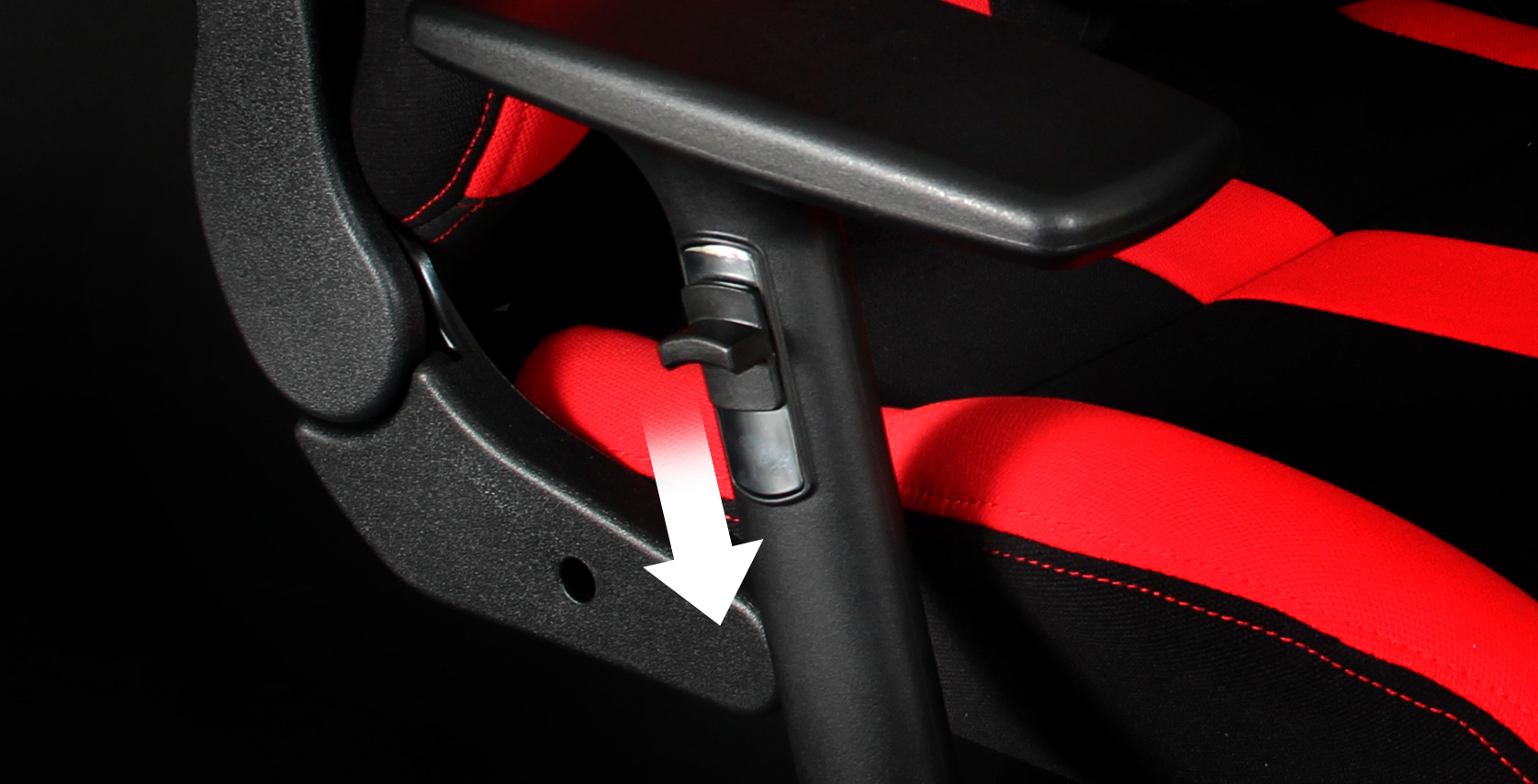 Detachable Armrest
The positions of both armrests can be switched, allowing them to be placed further or closer to your body so you can choose between a pattern that allows you to lean forward and one that allows you to lean backwards. Everyone has their own natural posture when gaming. We recommend using the forward leaning setting while playing aggressive games like FPSs where you'll naturally bend forwards. For games that require the use of controllers like RPGs, we recommend using the backwards leaning setting.
Headrest
It is shaped to fit against the curve of the back of your neck. It is mainly for supporting your neck when your chair is reclined far back and helps make it easy to keep your eyes on the screen while you're lying back.
*If you prefer to game while the back of your chair is almost vertical, you can also detach the headrest to make it more comfortable.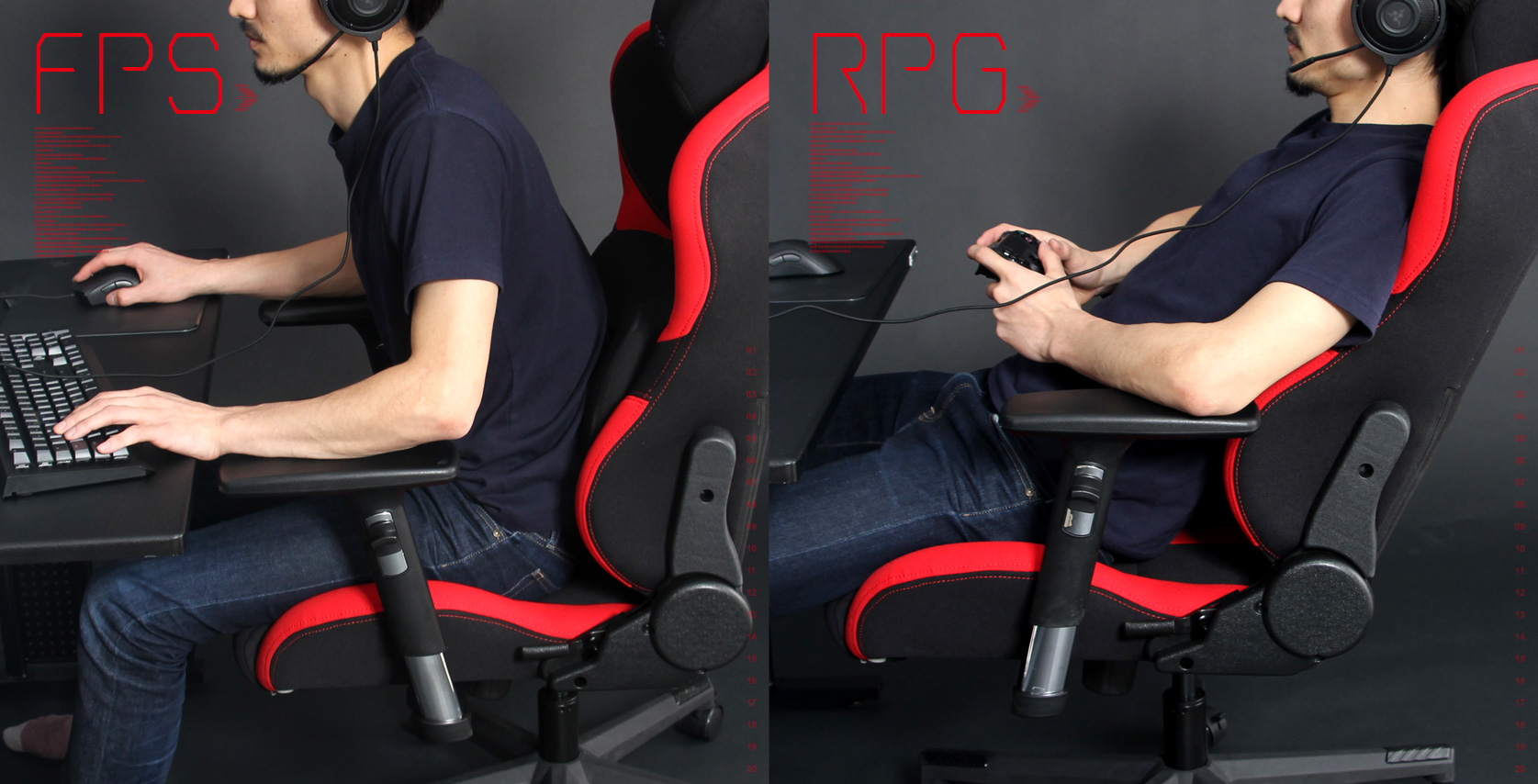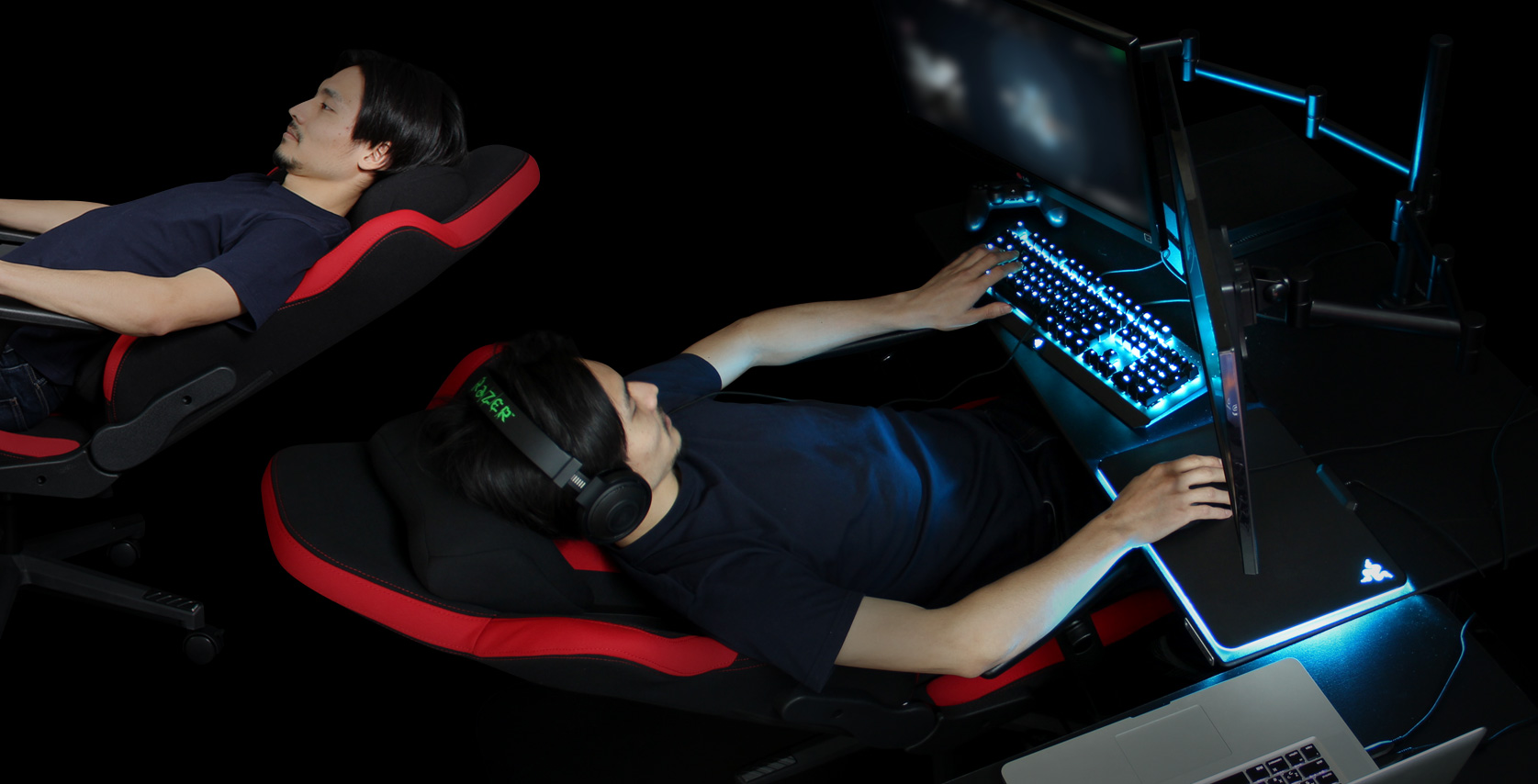 Cover
The lumbar support and headrest covers can be removed using the fasteners.
Reclining
With the lever, the back can be easily reclined to any angle (up to 135 degrees). You can use it while taking a break or even use it with the Gaming Desk in order to create an environment where you can do work while lying on your back.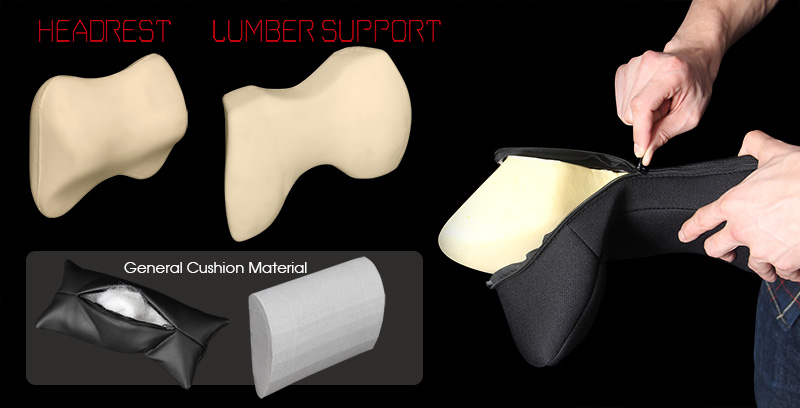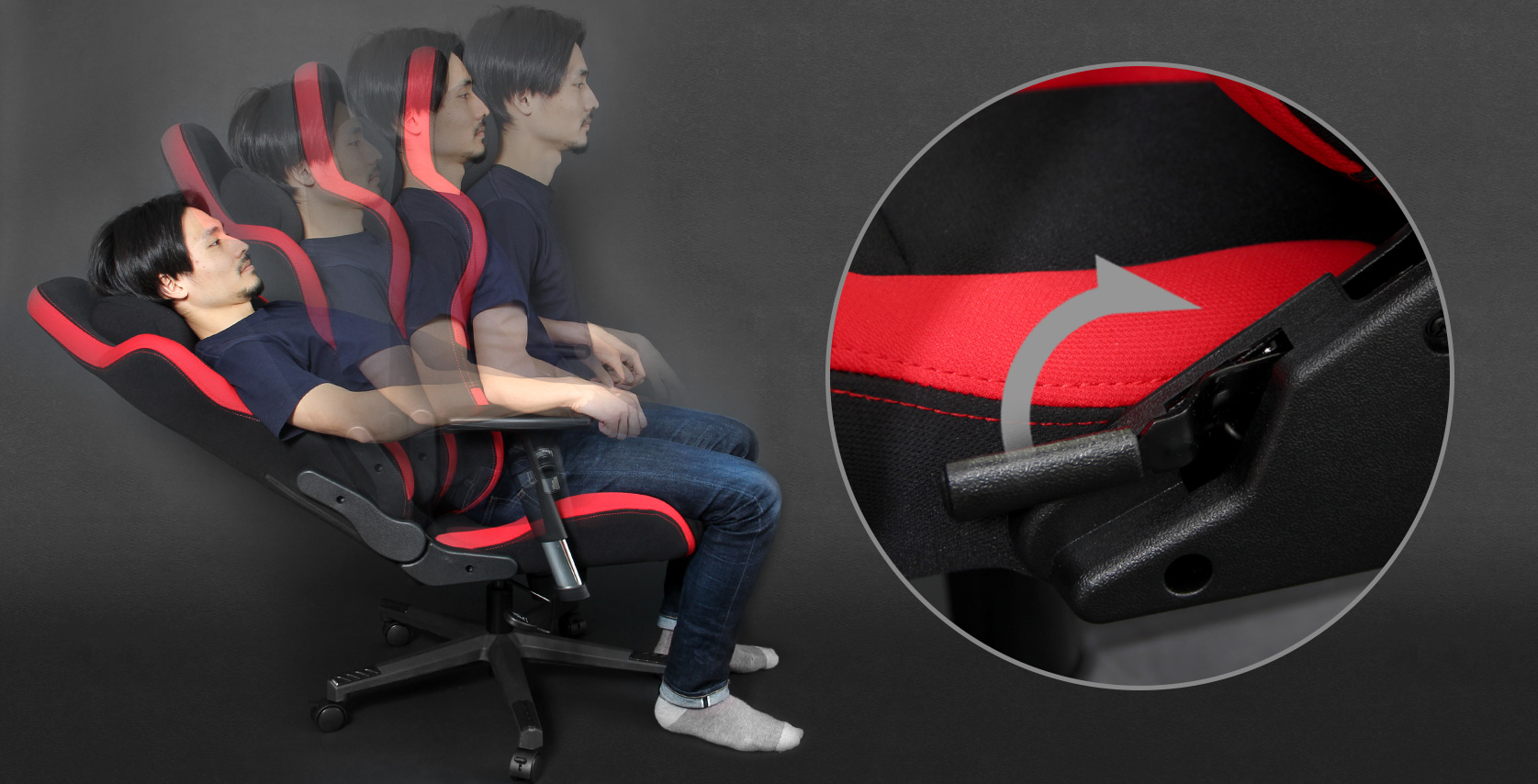 Game While Lying Down
With the Ottoman, you can game while lying on your back.
Seat Area
*RS-950RR / LOC-950RR have the same seat size.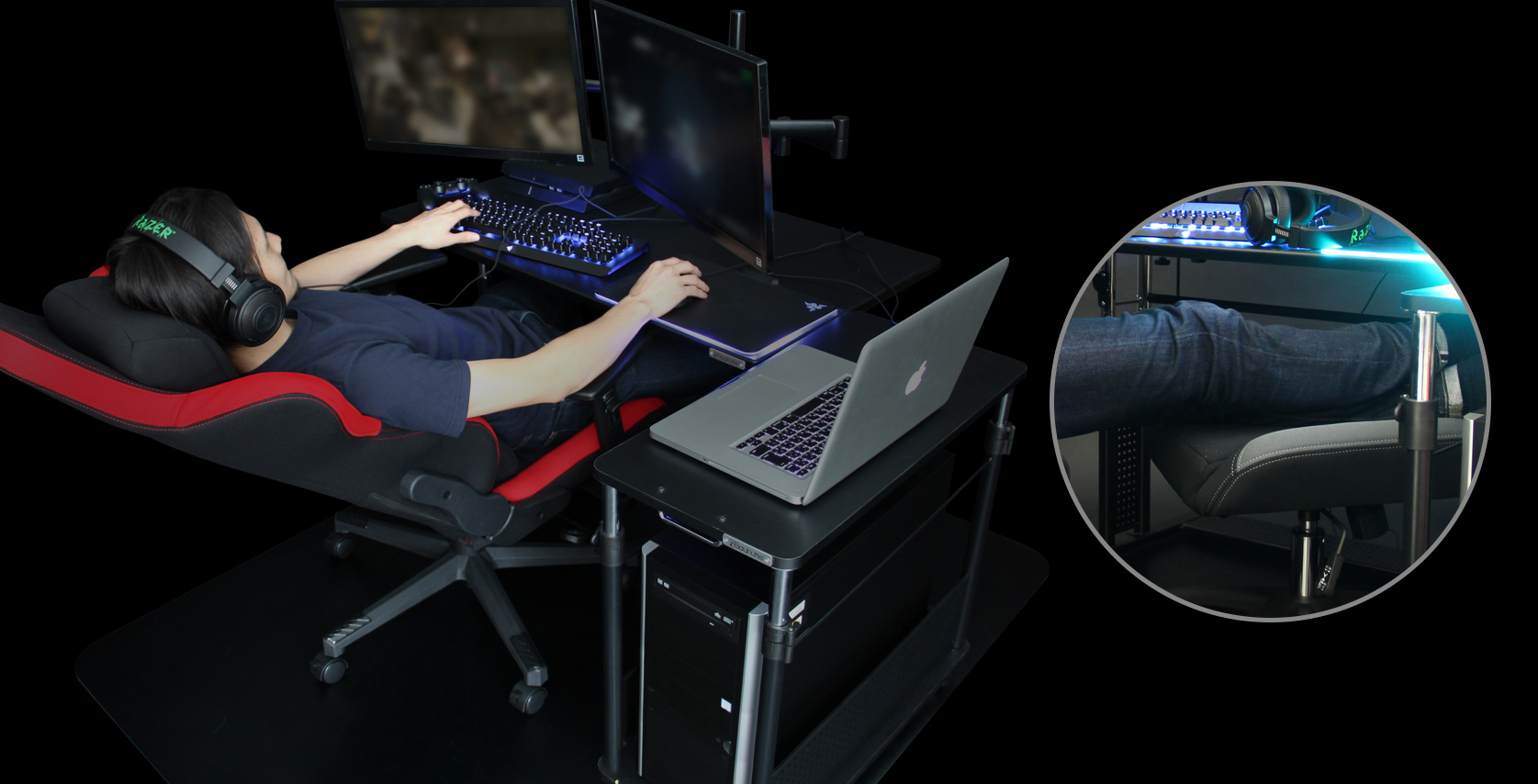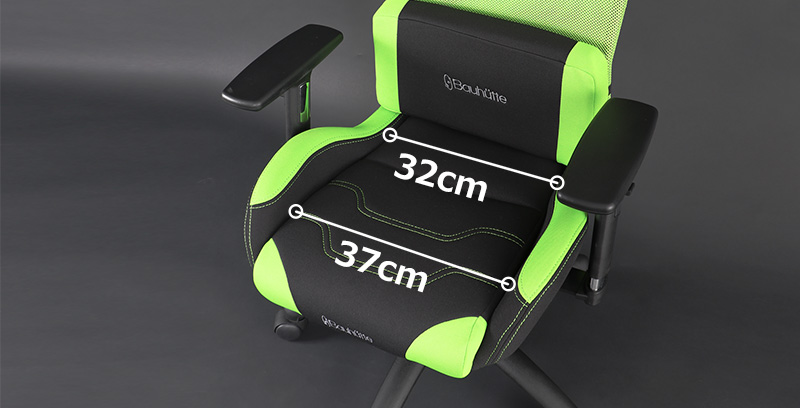 Gaming Cushion Seat
Our unique soft yet springy seat was made by alternating gel and urethane to form 4 layers. If you use it with the headrest and lumbar support, you can customize your seat to make it even more comfortable.
Fabric
It has been made with 100% polyester. Smooth on your skin and with good breathability, this ensures that you can sit in this chair comfortably for many hours.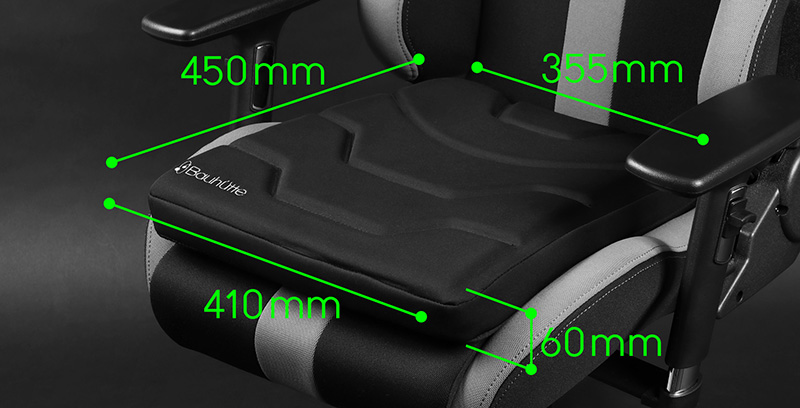 Seat Height
The height of the seat : 38~45cm. You can set it to your desirable height and use it with the Adjustable Gaming Desk (sold separately) in order to game at a height that is perfect for you.
*The height of the seat is measured from the floor to the center dipped portion of the seat.
Lockable Castors
It is equipped with castors that you can lock and unlock with one touch. For games where you need to focus for a short amount of time like with FPS and RCE, you can easily lock the castors to prevent them moving and concentrate on the screen.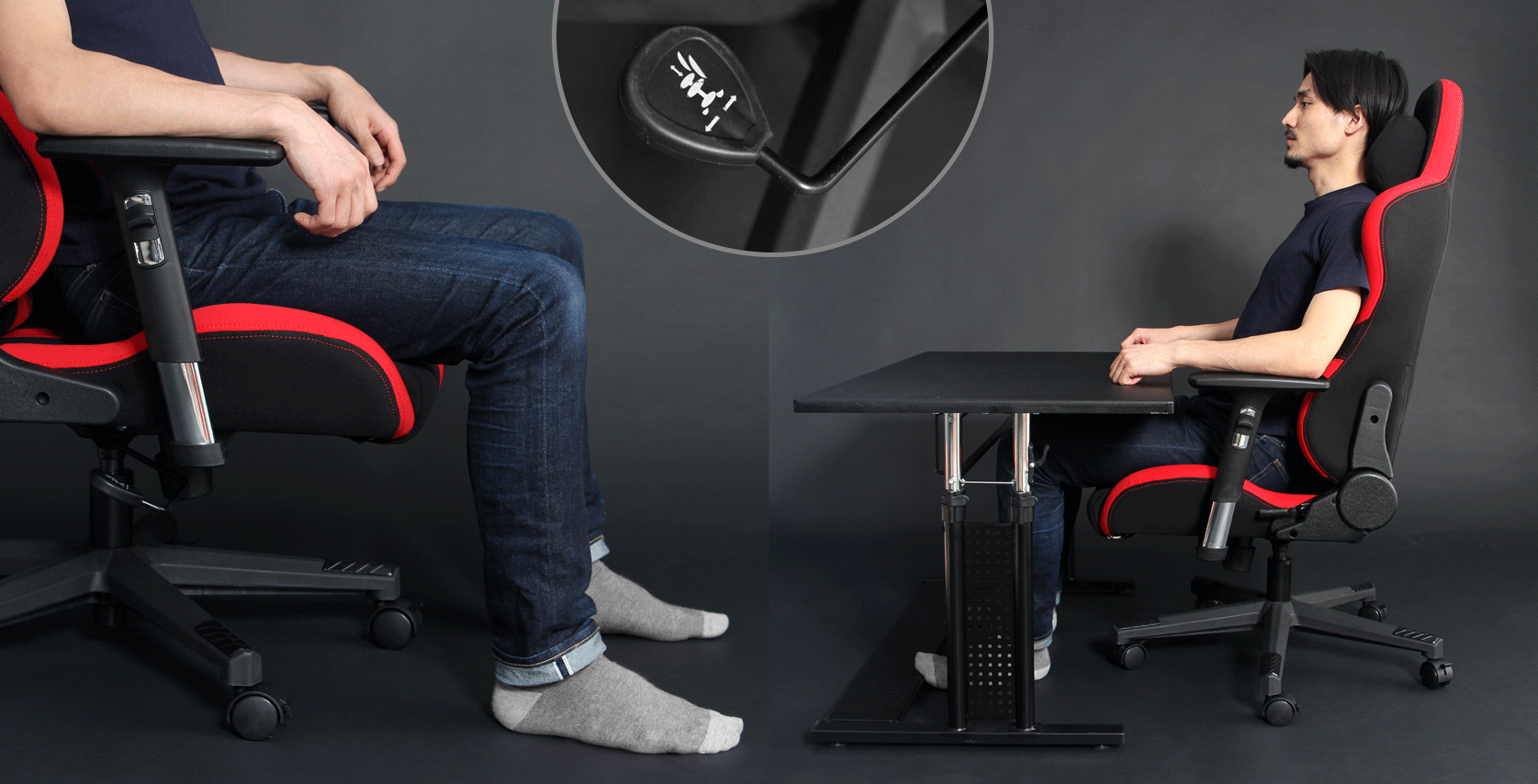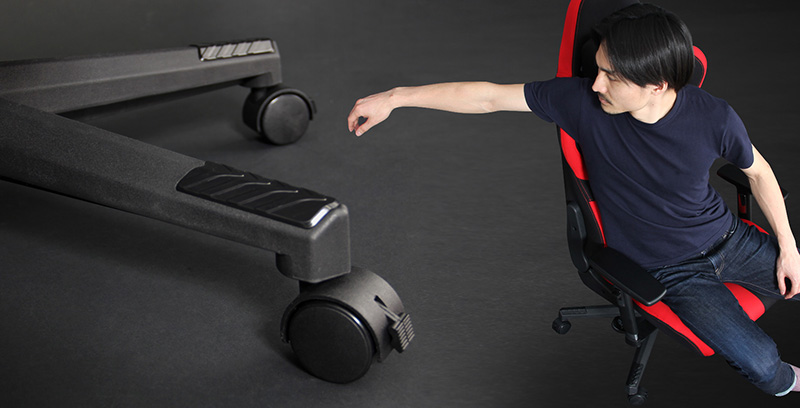 SPEC
Color
RS-950RR-BK:black
RS-950RR-RD:red&black
RS-950RR-BU:blue&black
Size
Width 740 × Depth 670 × Height 1190 mm (1190~1265mm)
height of the seat:380~455 mm
Weight
21.1kg
Components
back (of a chair), base:metal frame(steel)
armrest:PP / polypropylen, polyurethane, steel
chair legs:PP / polypropylene
castor:nylon
metal part of the seat:steel
gas cylinder:iron
Surface Finish
metal part of the seat:acrylic powder coating
Weight Limit
100kg
Cover Material
back (of a chair), base:polyester
Cushion Material
urethane foam
MSRP
Varied
JAN Code
RS-950RR-BK:4589946136098
RS-950RR-RD:4589946136104
RS-950RR-BU:4589946136111
SIZE
*The sizes written are control sizes. Depending on the individual and the way the product is assembled, measurements might differ slightly.
*The height from the floor to the middle front edge of the seat.
*Proof of quality stickers on some products may differ from the above measurements. The measurements on the product page are more accurate than those on your product.