CONCEPT
Compact Size, Maximum Storage
Store your desktop, monitor, gaming consoles, printer, etc.
The more you add to your setup,
the harder it is for you to find space for everything.
With the Adjustable PC Rack,
you can store any of the devices that end up around your computer.
The more the number of things you own increases,
the harder it is to find space for them.
For that situation, we've created a PC rack that takes up little space
while allowing for lots of storage.
Above the desk stands a large, 66×40 cm (26×15.7 in) 2-shelf rack.
You can neatly store bulky devices like slim desktop computers,
printers, and gaming consoles.
Freely Adjust the Height of the Desk
If you use a desk that isn't at the proper height for you,
you can end up with back pain and stiff shoulders.
The Adjustable PC Rack allows you to freely adjust the height of the desk.
FEATURES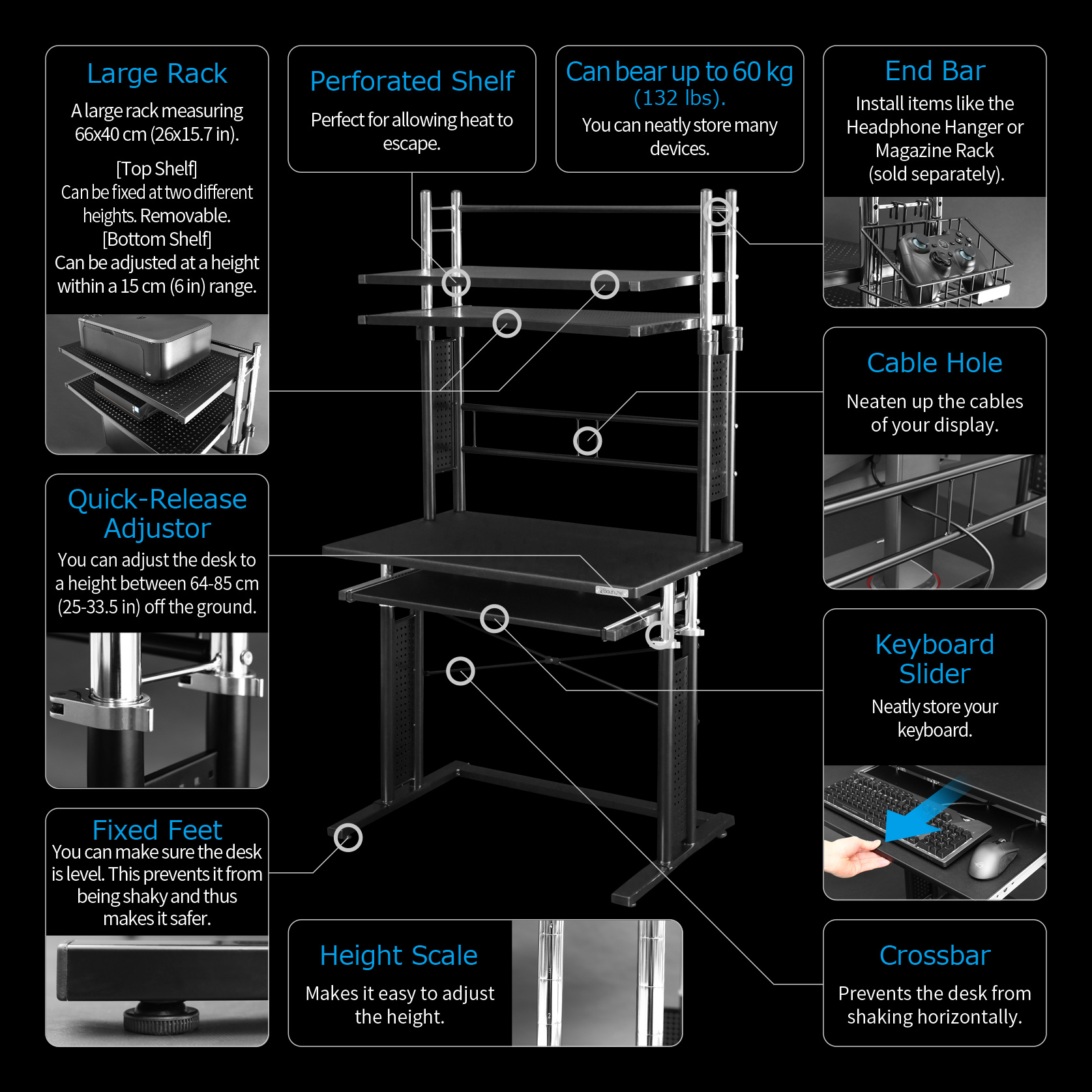 Characteristic #1:
Adjustable Height
By being able to adjust the height vertically, you can match the desk to your height.
The desk is adjustable between 64-85 cm (25-33.5 in) off the ground.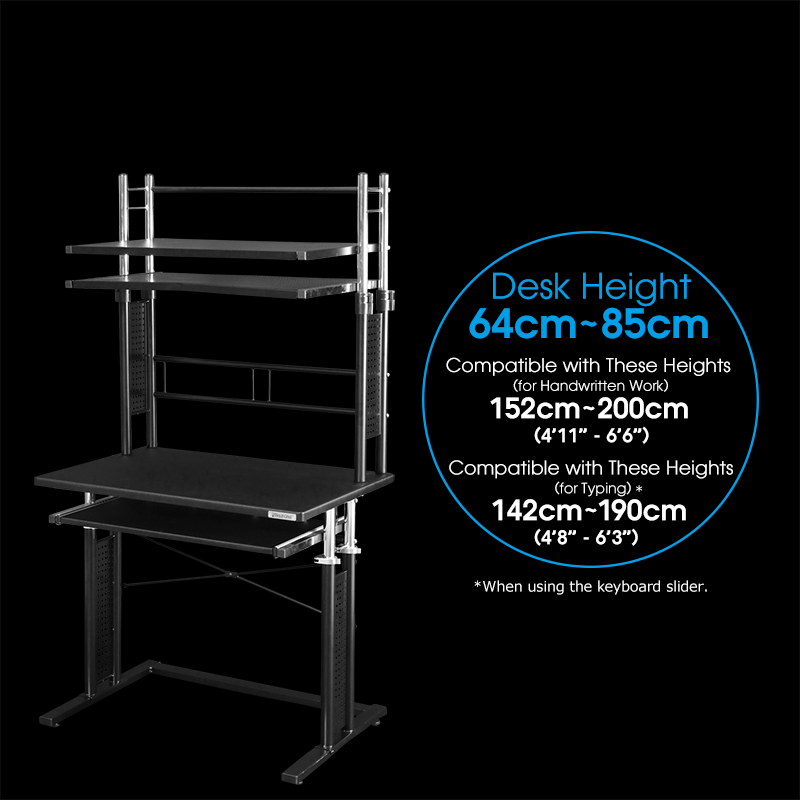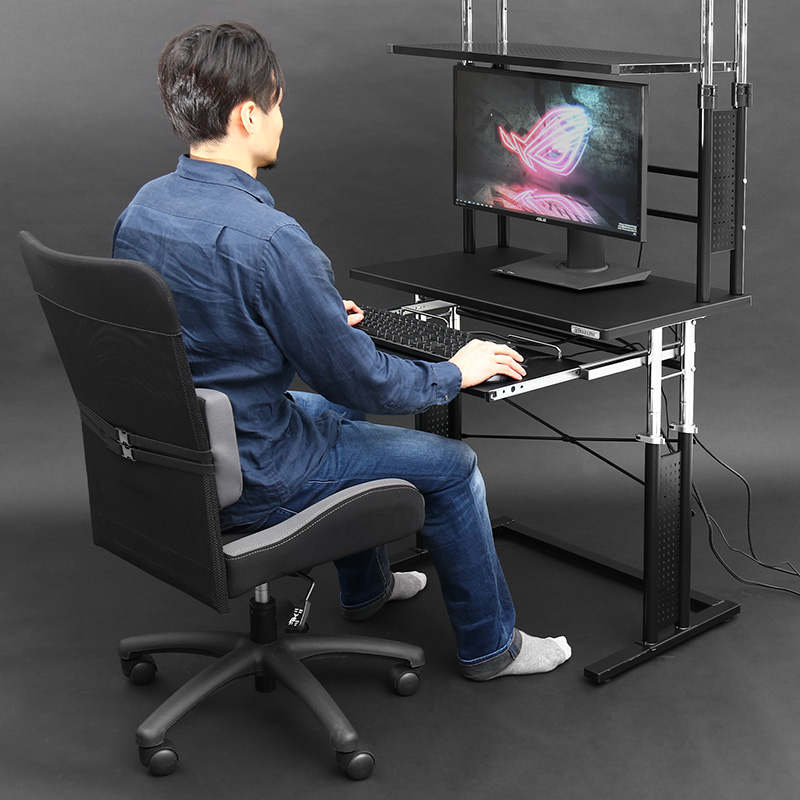 Characteristic #2:
Large 2-Shelf Rack
There's a large 2-shelf rack above the desk, space that often ends up as dead space.
It's large at 66x40 cm (26x15.7 in), so you can store slim computers, game devices, and printers there.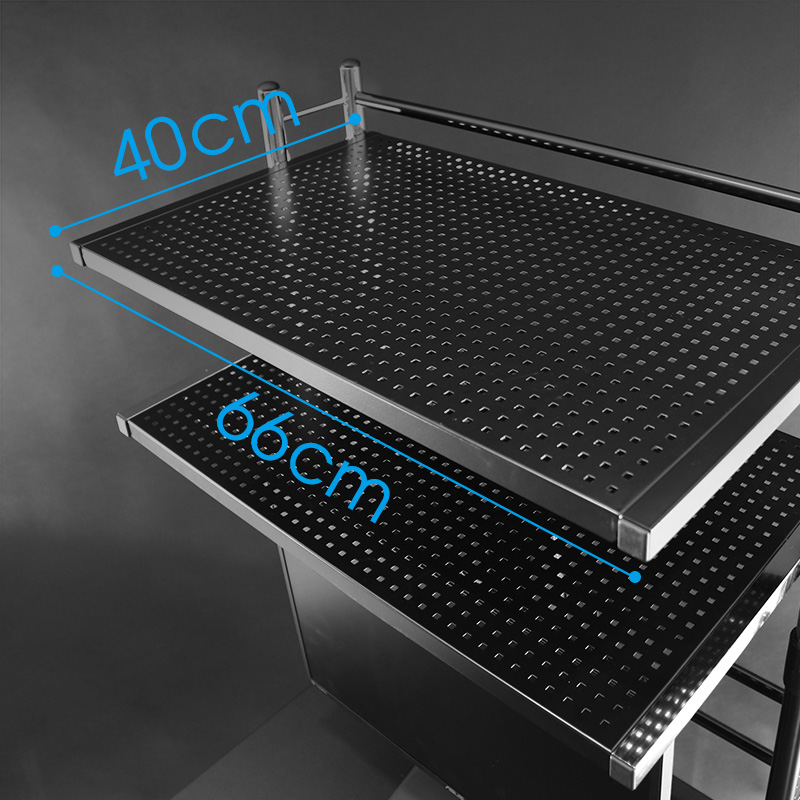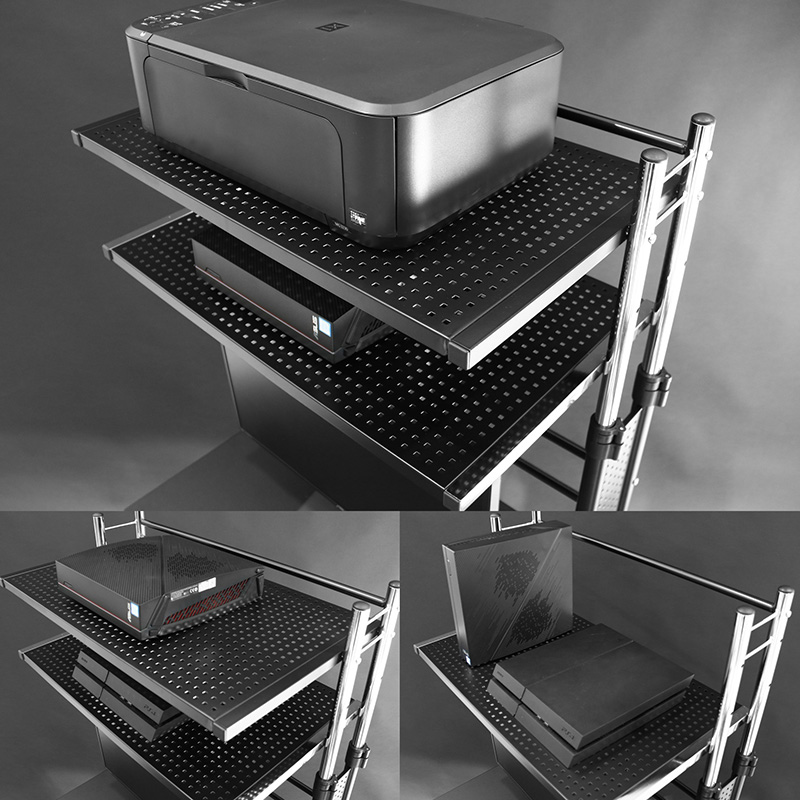 Characteristic #3:
Compact Size
The desk is compact at 75x50 cm (29.5x20 in), so you can use it even in a small space.
*When the slider is pushed in.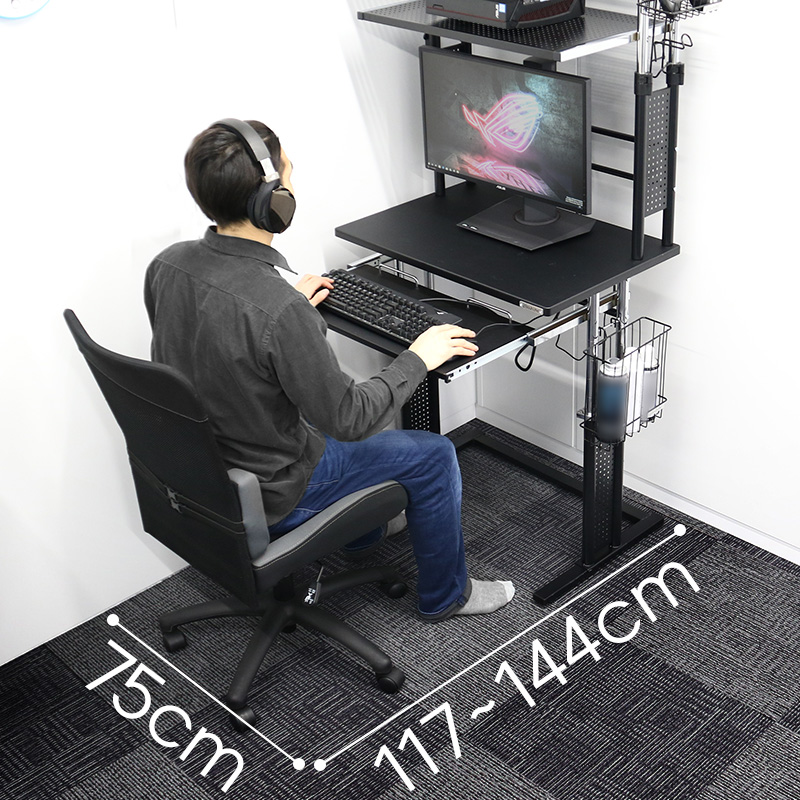 Simple Legs
The legs below the desk do not have shelves attached and are simple.
This allows for storage of large computer towers for maximum use of space.
We also recommend not putting anything under there and keeping your legs free of obstruction.
You can also neatly push in your office chair.
*For an office chair with legs that have a diameter of 65 cm (25.5 in) or more, we recommend removing the crossbar for more space.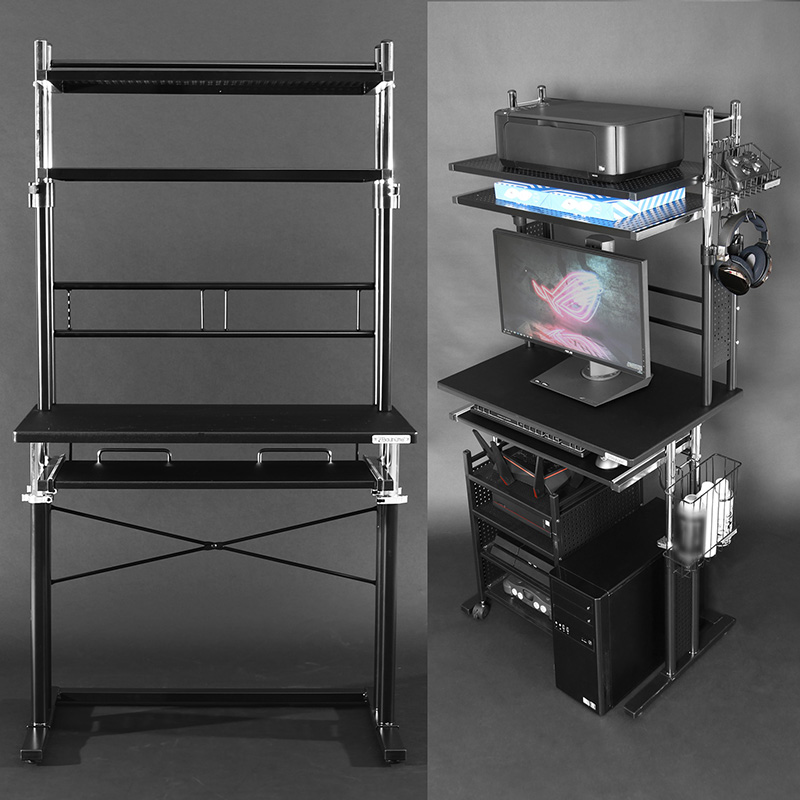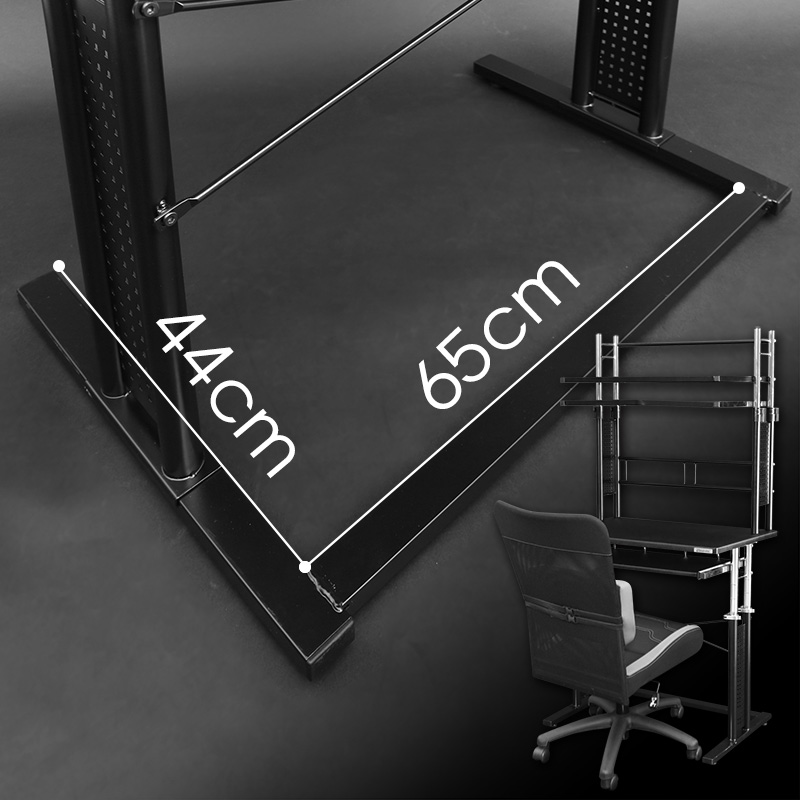 Keyboard Slider
It slides, so you can neatly push your keyboard in when it's not in use.
This allows you more space on the desk.
It's compact, but you'll be able to use the entire 26.5 cm (10 in) depth of the desk.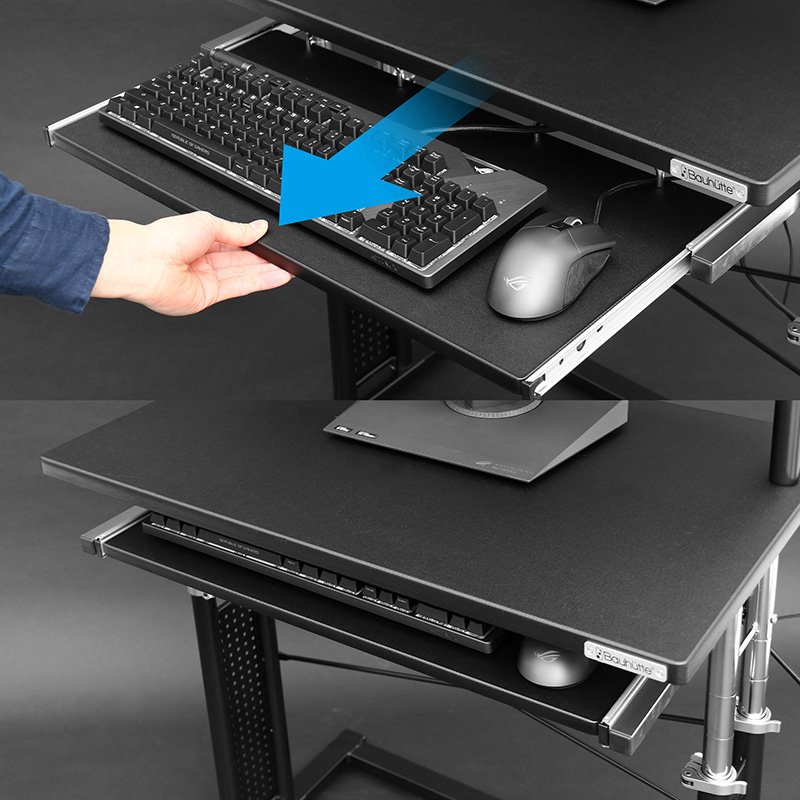 Designed to Be Stable
This product uses adjusters to keep the desk legs level
and has four supports for the large rack, so it is quite stable.
Ordinary racks often use casters and 2 supports,
but we designed this rack to prioritize stability from the very beginning.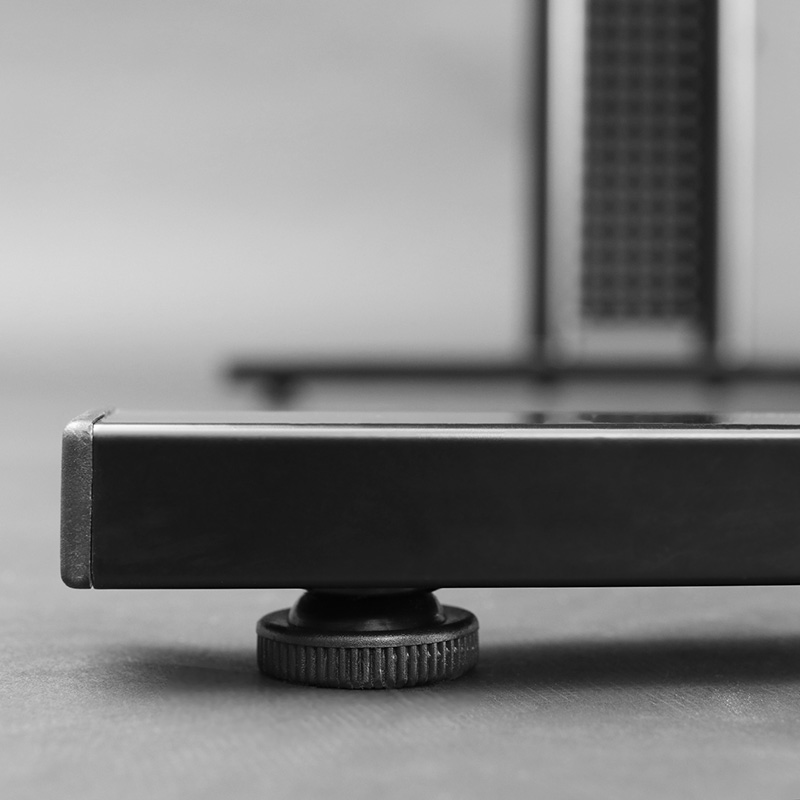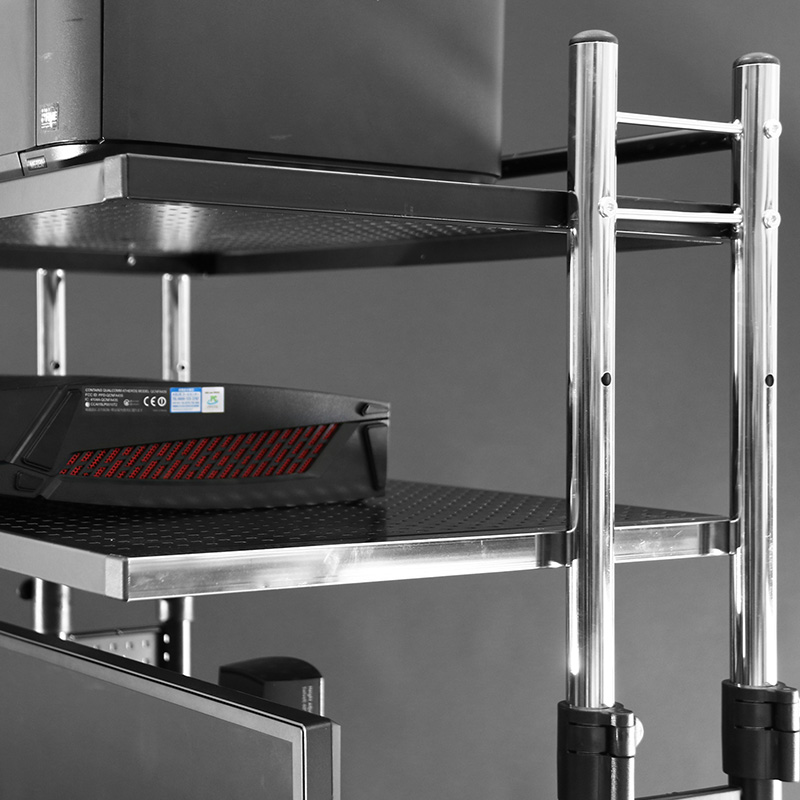 Measurements
and Storage Space Sizes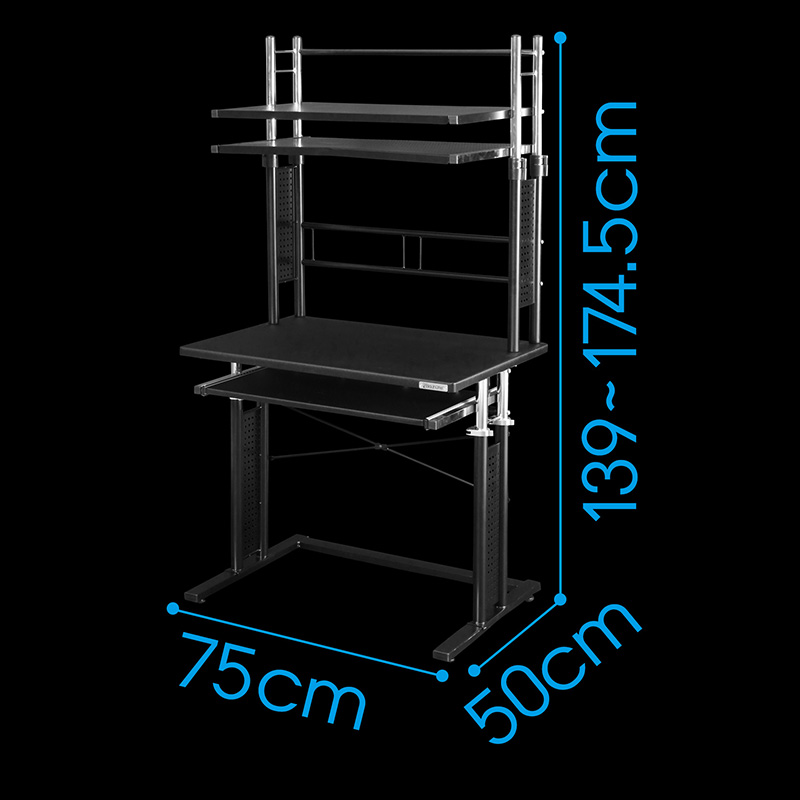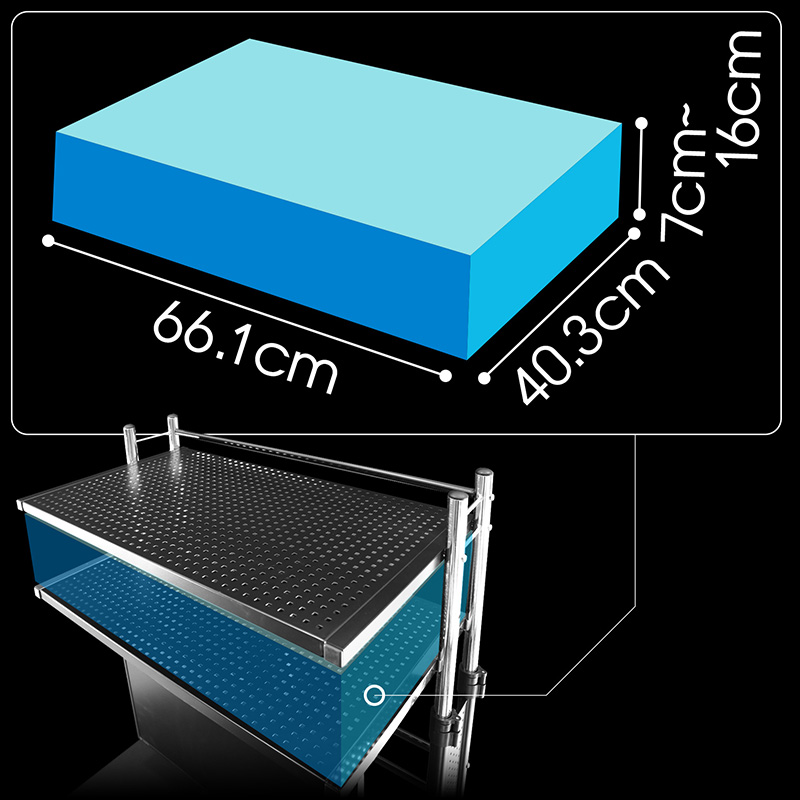 Weight Limit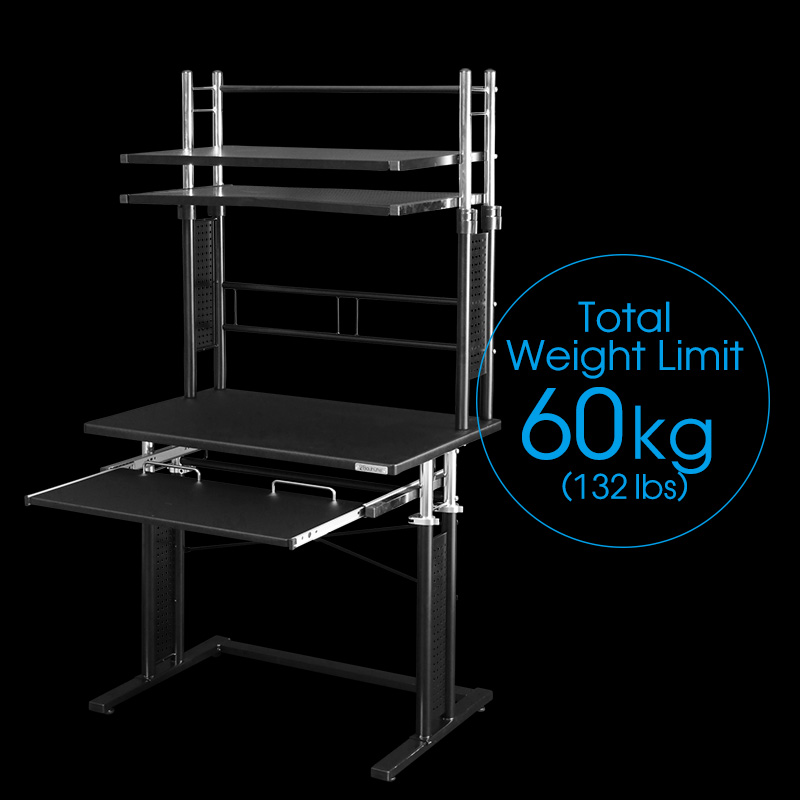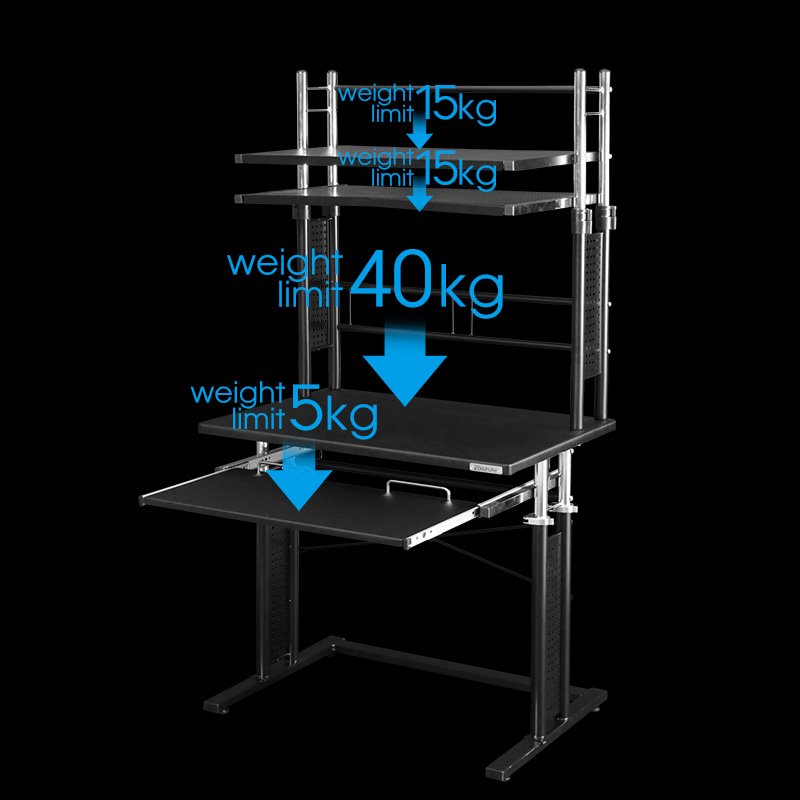 Quick Release Adjustment
To adjust the height of the desk, we used a quick-release adjuster often seen for bicycle saddles. Compared to the rest of our adjustable desk series, this desk can be adjusted far quicker. We've also greatly increased the load it can bear, so you can safely store a number of heavy gaming devices.
*Please do not pull the leg pipes up beyond their limit as that may lead to injuries or damage.
*The pictures show Gaming Desk HD BHD-1200HD, which uses the same method.
Adjustable Height
The legs of the large rack are adjustable. The amount of space between the desk and the bottom shelf of the rack can be adjusted between 46-61 cm (18-24 in). You can adjust the rack to match the height of the monitor on your desk or to your preference.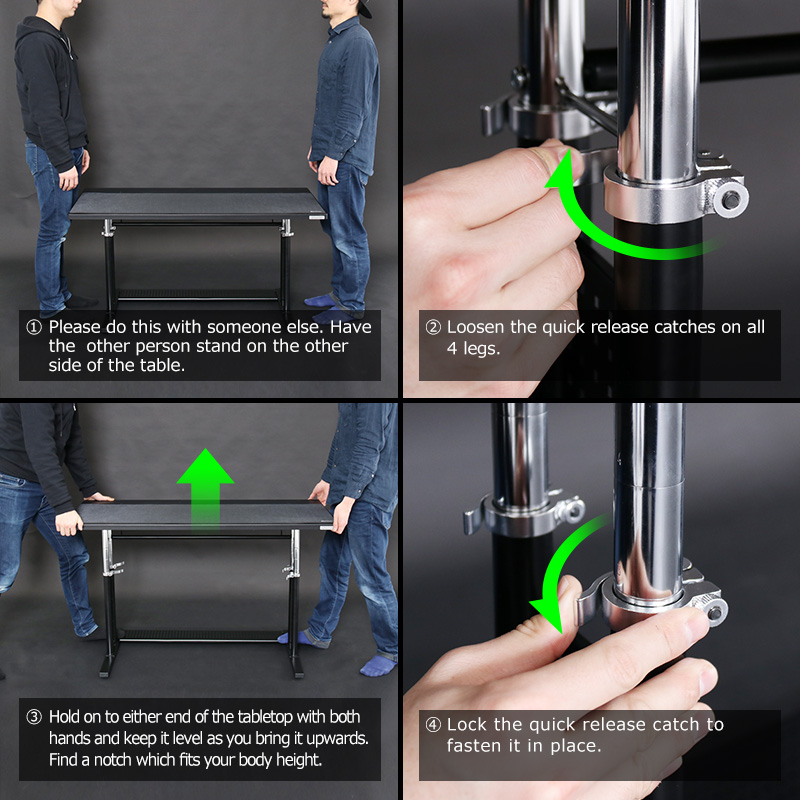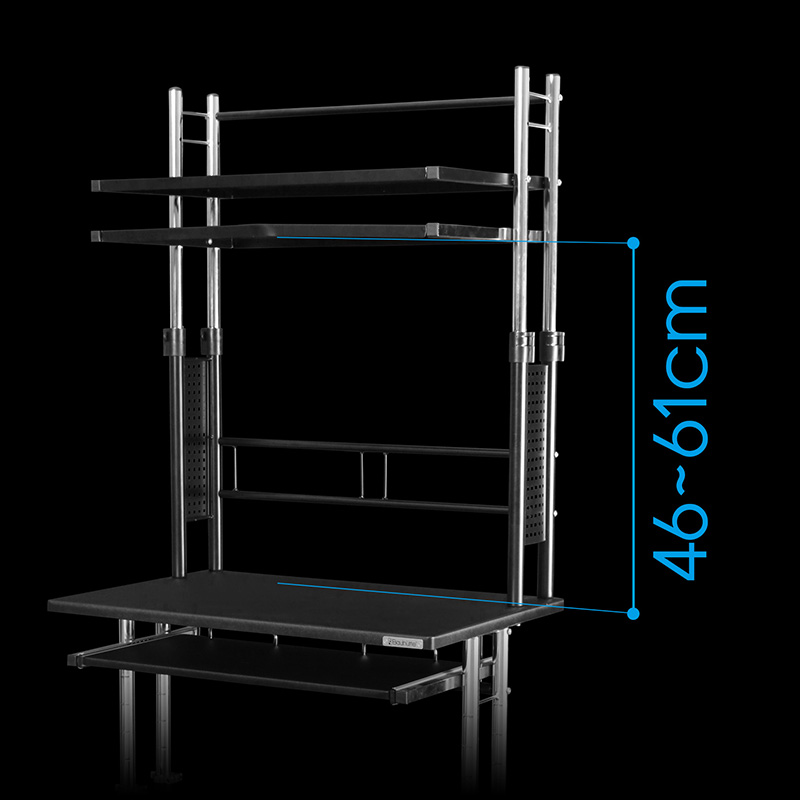 SPEC
Color
Black
Size
Width 750mm × Depth 500mm(500~765mm) × Height 1390mm(1390~1745mm)
Weight
21.6kg
Surface Finish
desk legs : epoxy powder coating
Weight Limit
Total Weight Limit : Less than 60kg
Wooden Tabletop : Less than 40kg
Wooden Tabletop (Keyboard Slider): Less than 5kg
each shelf : Less than 15kg
Amount Included in Carton
1
Total Weight of Packaging and Product
24.3kg
Material of Tabletop Surface
laminated fiberboard(PVC resin)
MSRP
Varied
JAN Code
4589946141504
*Please do not place hot vessels, like heated pots, kettles, or hot mugs, directly on it. This might result in a change in the color or shape of the product. Please lay a pot stand or coaster on the table before placing such items on it.
SIZE
*Some products have labels displaying different measurements from this page. Please note that the sizes on this page are the accurate ones.
*The sizes written are control sizes. Depending on the individual and the way the product is assembled, measurements might differ slightly.