CONCEPT
Increase your closet space and change on top of your bed.
"My closet is so full that my clothes are spilling out."
"It's too cold and annoying to get out of bed to change."
We developed this clothes organizer with extra storage space to solve those problems.
It's lower than most racks so it doesn't feel oppressive even if it's at your bedside.
You can change right after waking up without even leaving your bed.
You can also use the top as a table.
FEATURES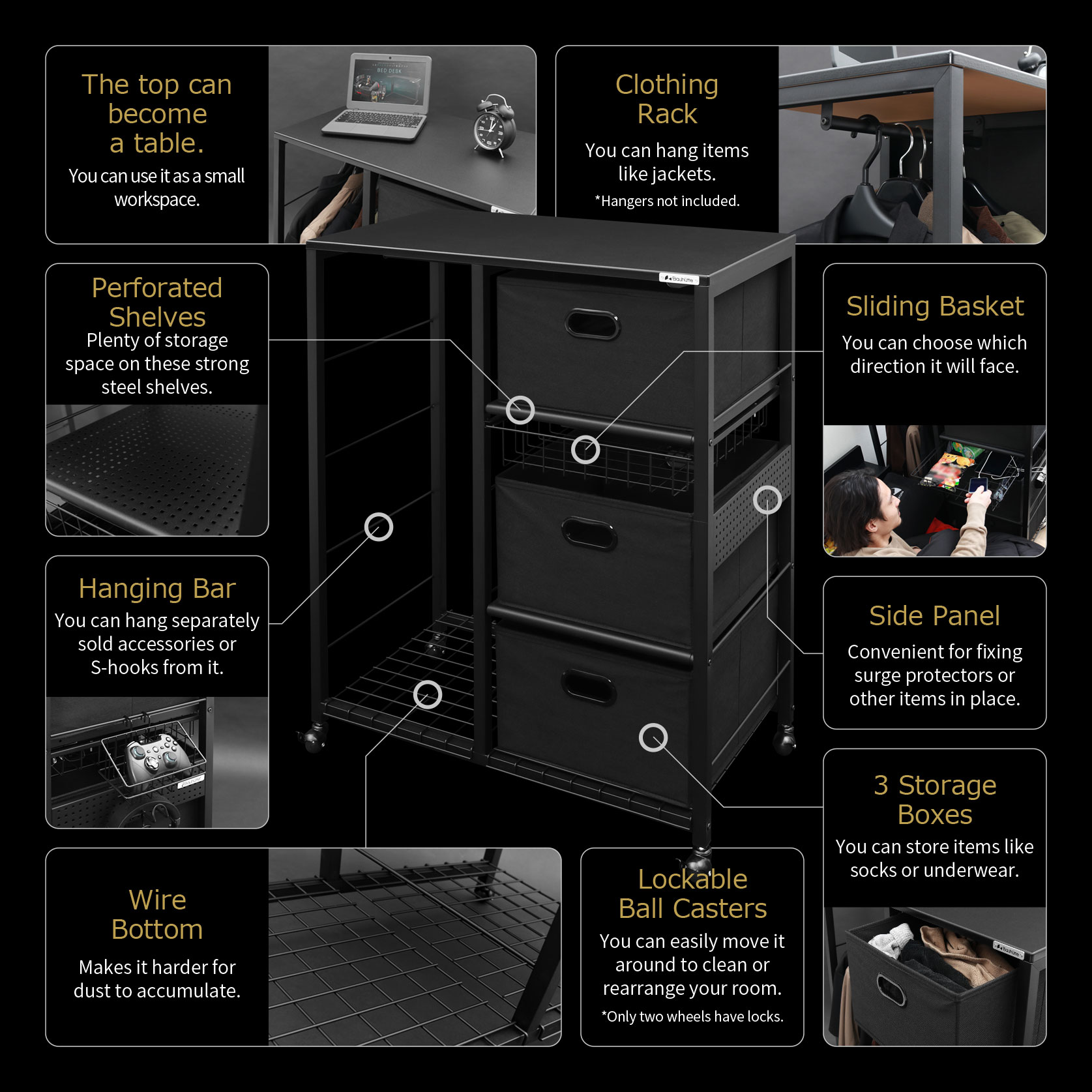 Change While Still Being In Bed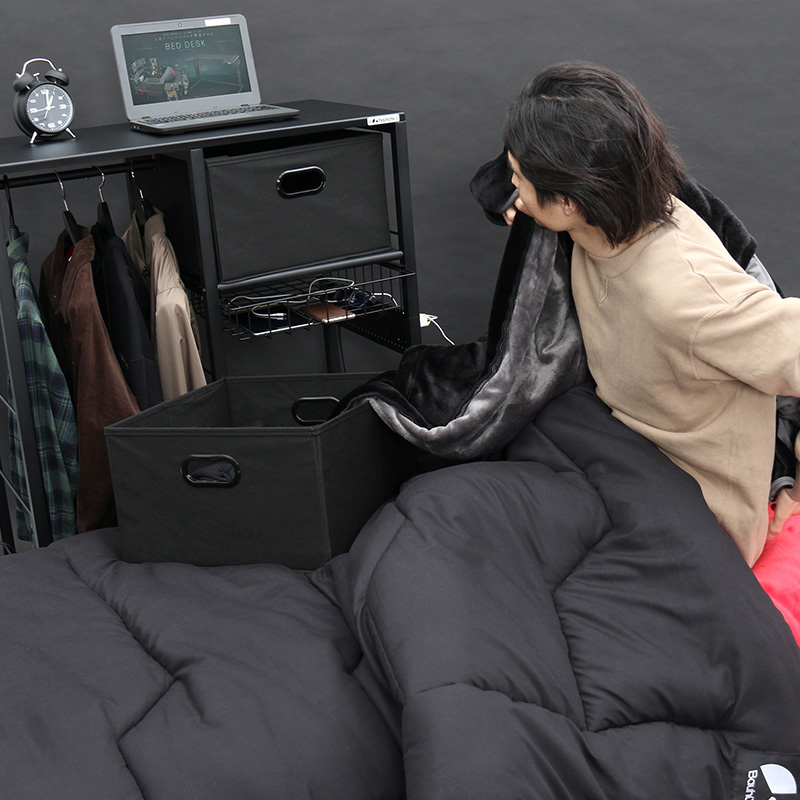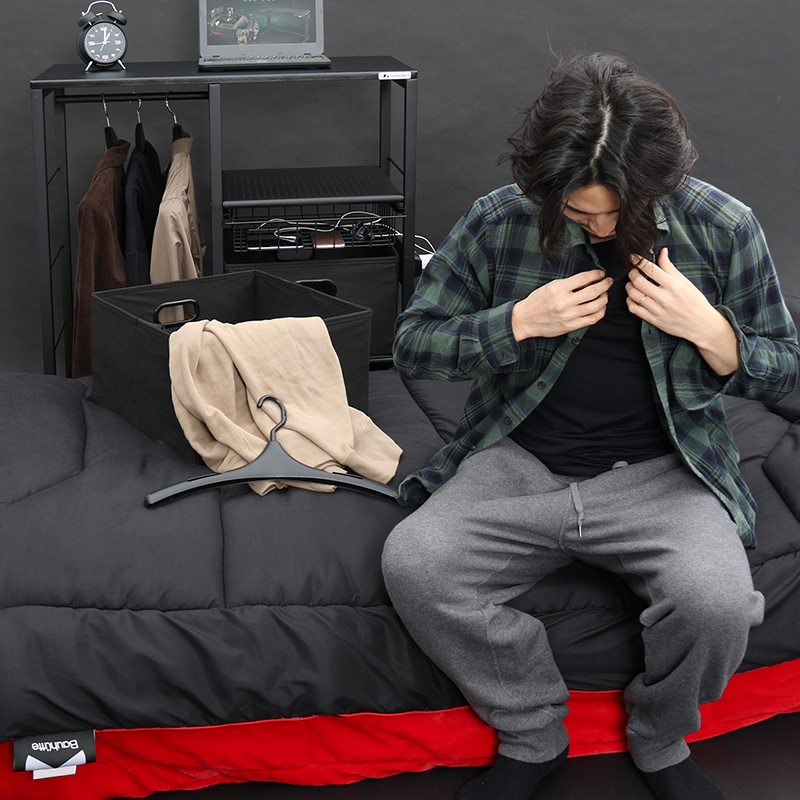 Expand Your Closet to a Convenient Space By Your Bedside
If your closet has gotten so full of clothes it's hard to find anything,
use the Clothing Rack Table to expand your space and keep items you use often by your bedside.
You can completely change clothes in your bed on those bothersome cold mornings.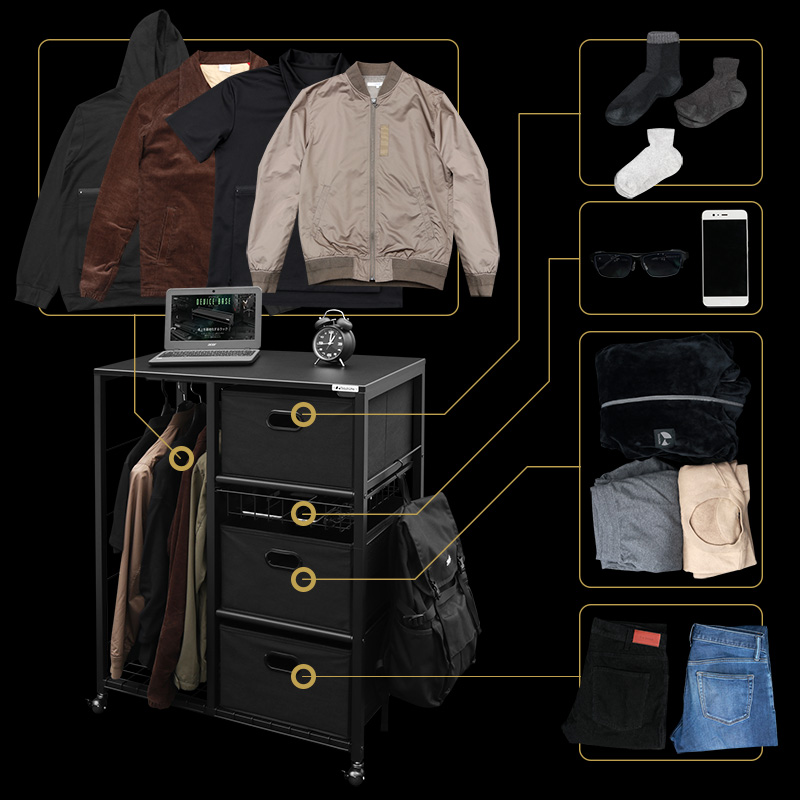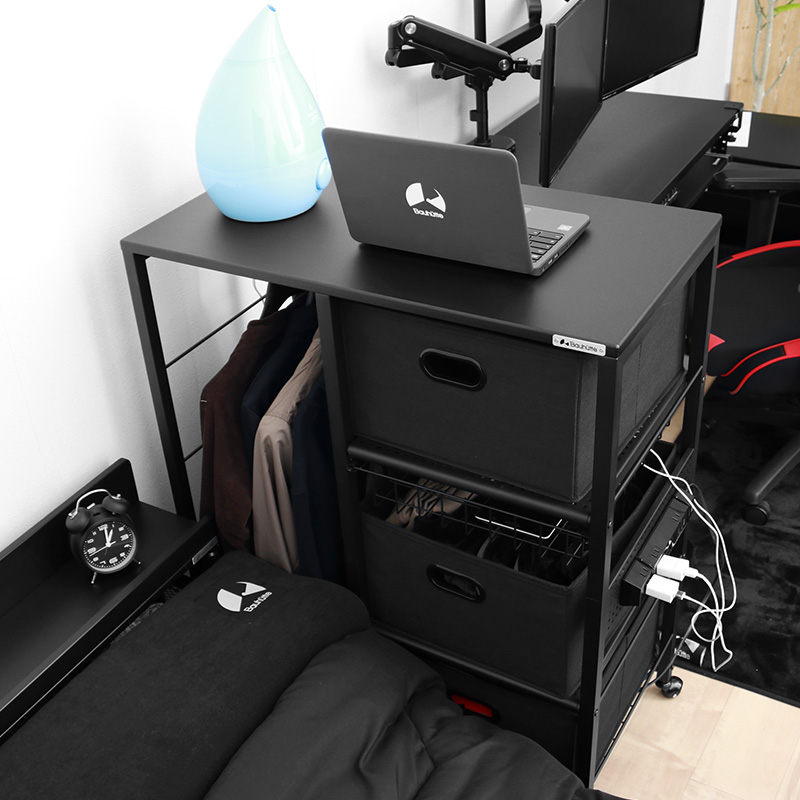 The Short Height Makes it Easy to Freely Move Around
Compared to most clothing racks, this one was built to be compact at about 105 cm (41 in).
It doesn't become an oppressive presence by your bed and is a perfect size for even tiny rooms.
It's short and stable, so you don't need to press it up against a wall.
It's perfect for a layout with a lot of rearranging freedom.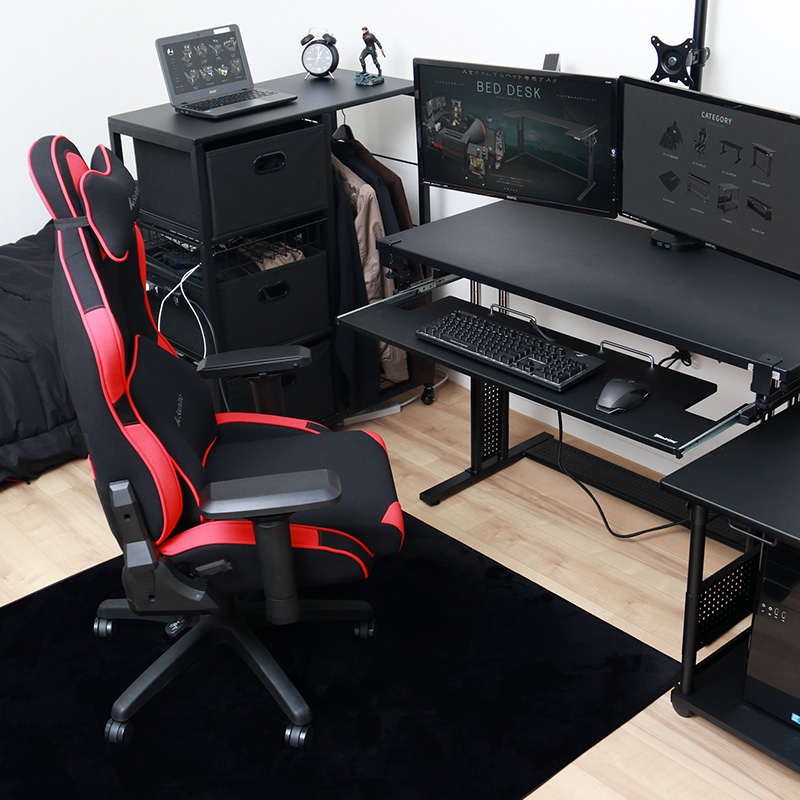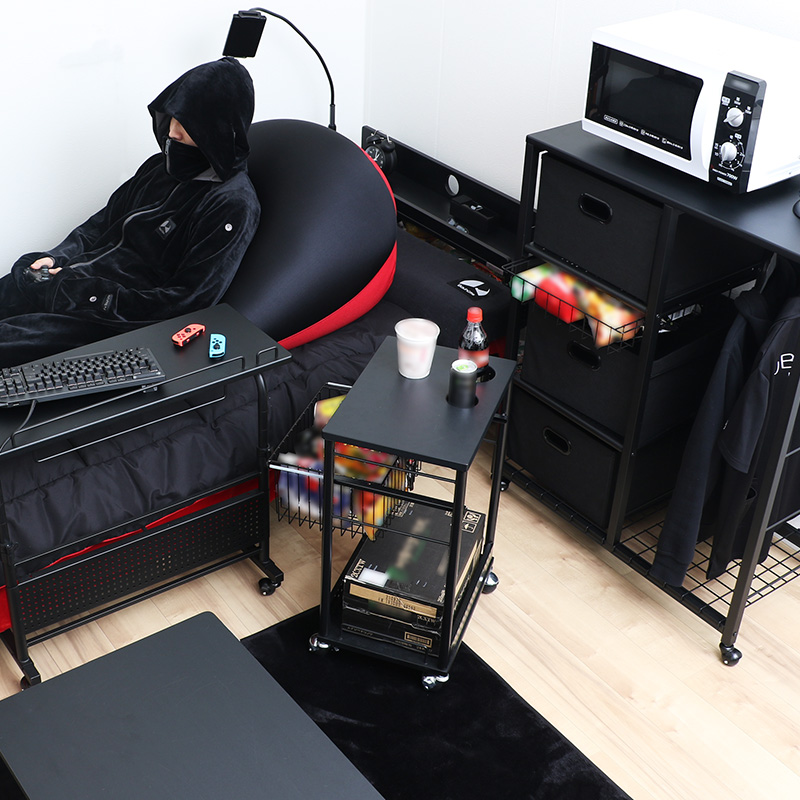 As a Table
The top of the rack is made of the same material as the Bauhutte desk series.
You can use it as a place to keep small items, a small workplace,
or even a simple standing desk.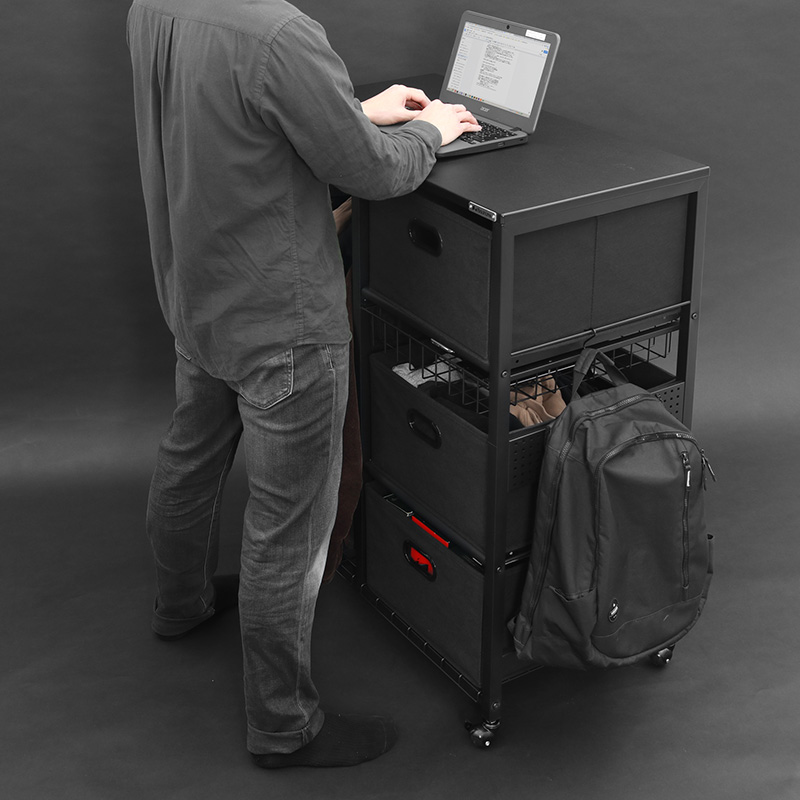 By Your Desk
You can also place it near your desk.
Sit a laptop on the countertop and use it as a workspace.
You can neatly organize your accessories and small items in the storage boxes and the sliding basket.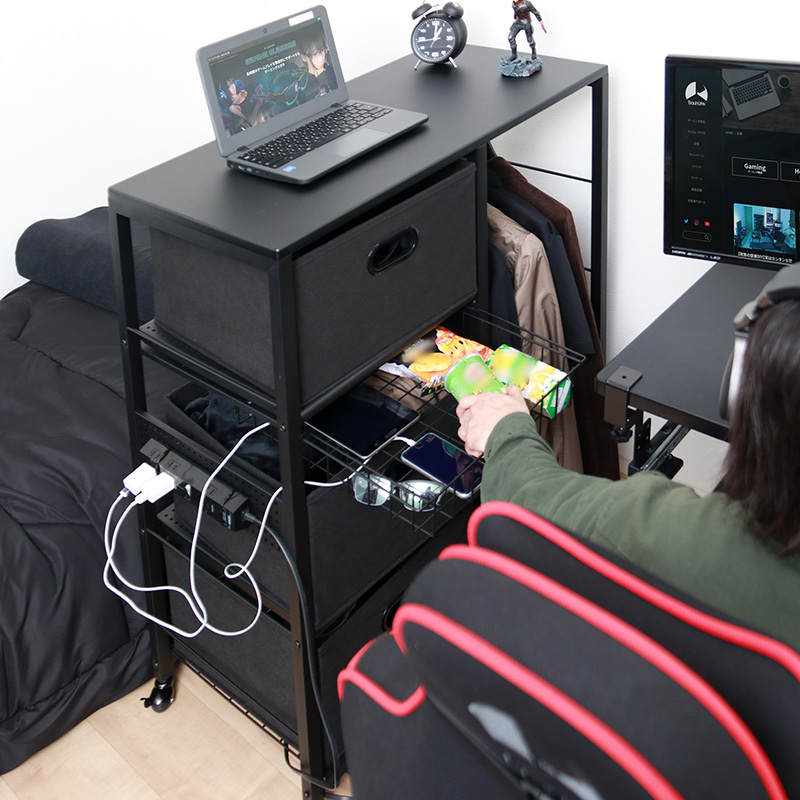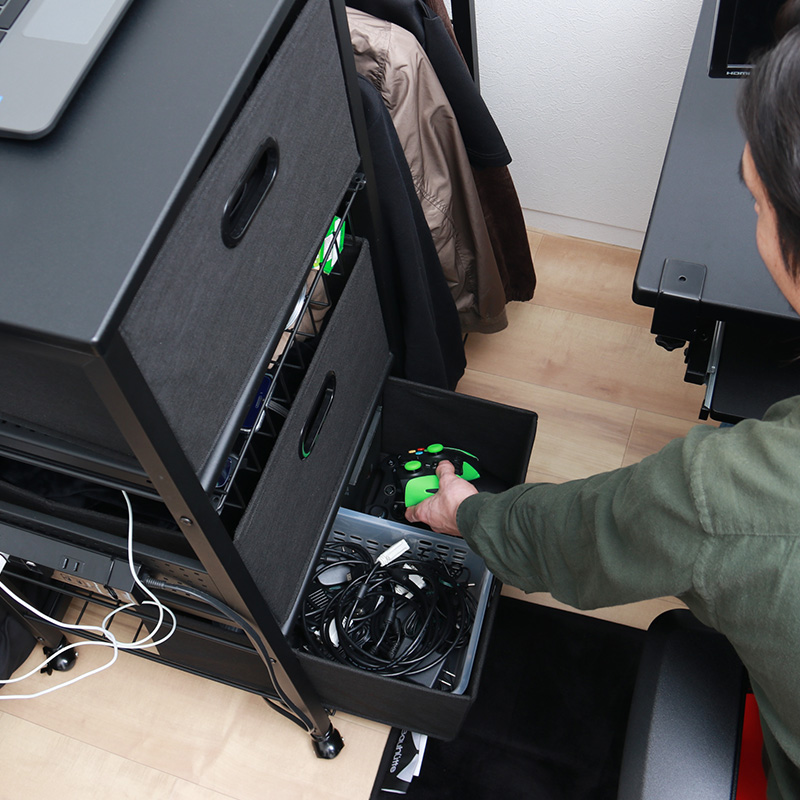 Neatly Organize Small Items
The Clothing Rack Table comes with three storage boxes.
You can neatly store a lot of clothes as well as cables,
small items, and empty boxes that are liable to make a space messy.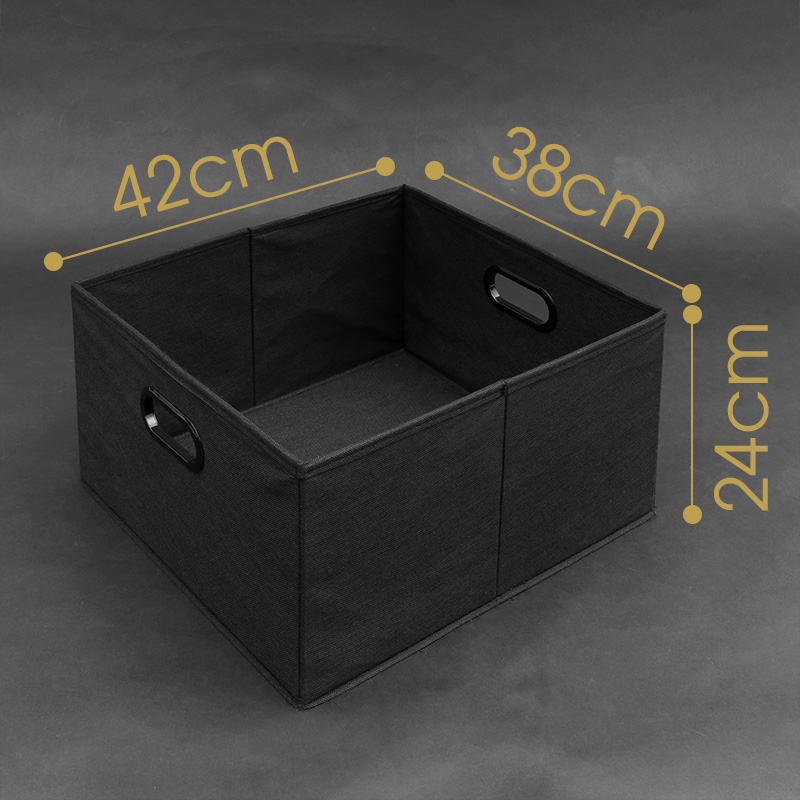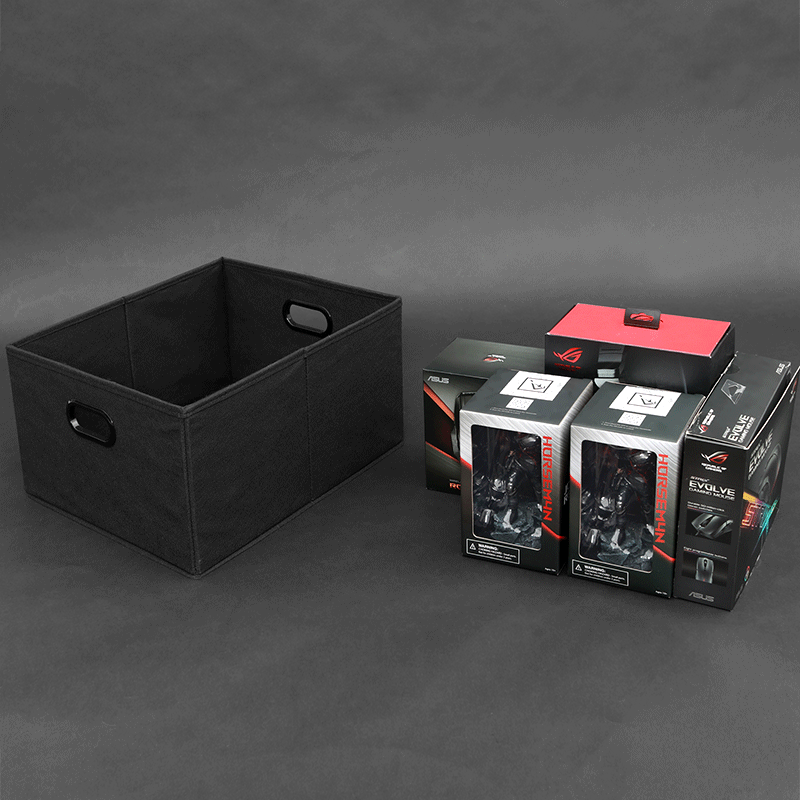 You Can Access Your Stored Items from the Front and Rear
Since the Clothing Rack Table doesn't have to be against a wall,
we used that characteristic and built it so that you can access your storage boxes and hung items from both front and back.
You can set the sliding basket to be pulled from either end based on what works better for you.
*After assembly, there may be cases where the pin on either end won't go into the insertion hole.
In that case, loosen or remove the pipe above the hole before inserting the pin.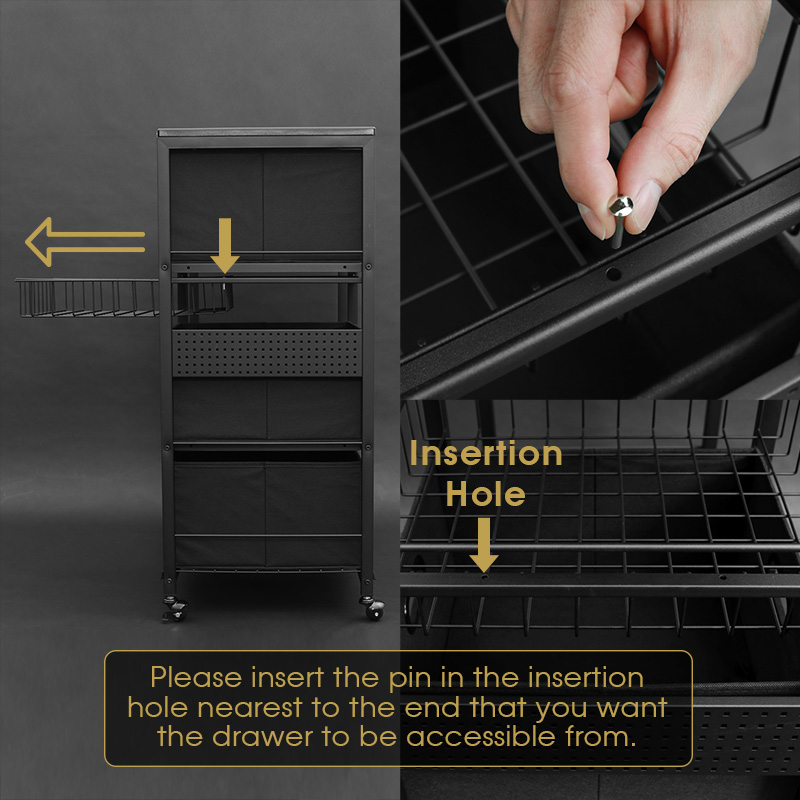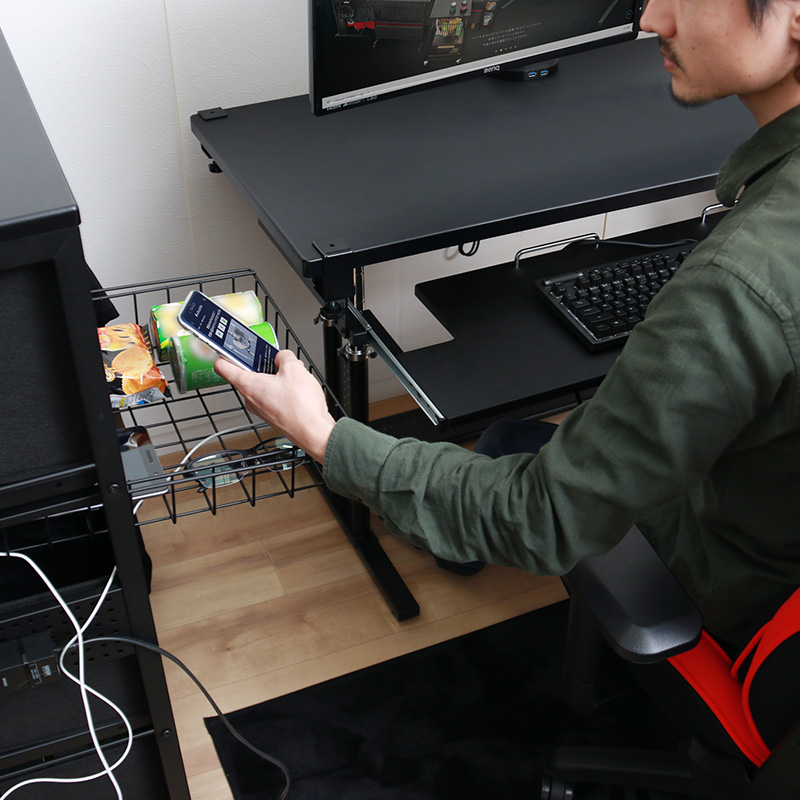 Charge and Store Your Smartphone Before Bed
It's possible to affix surge protectors to the perforated side panels using zip ties or magnets.
You can add sources of electricity around your bed to create a comfortable environment for using your smartphone.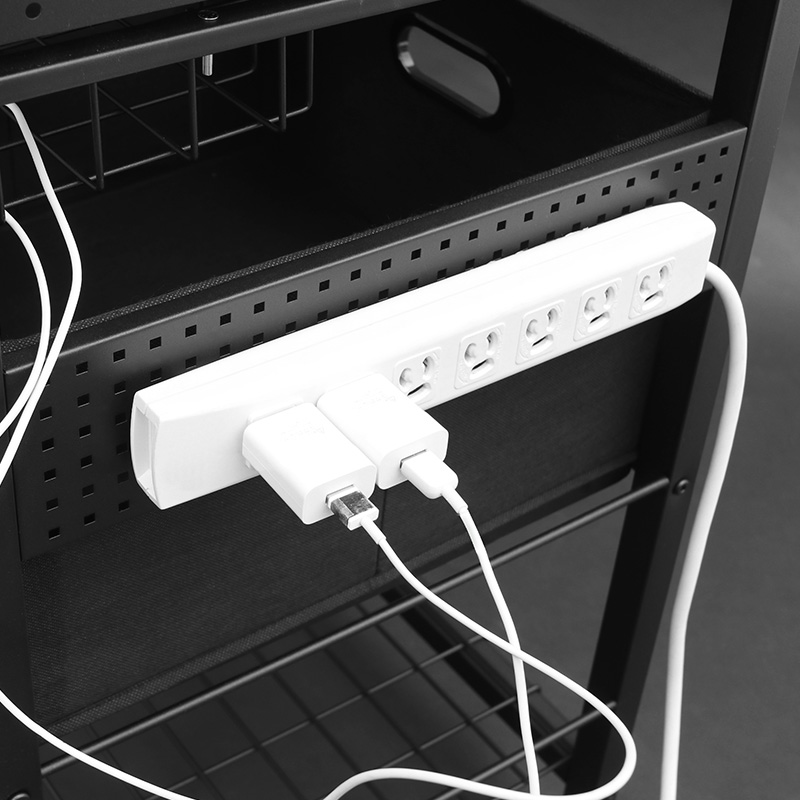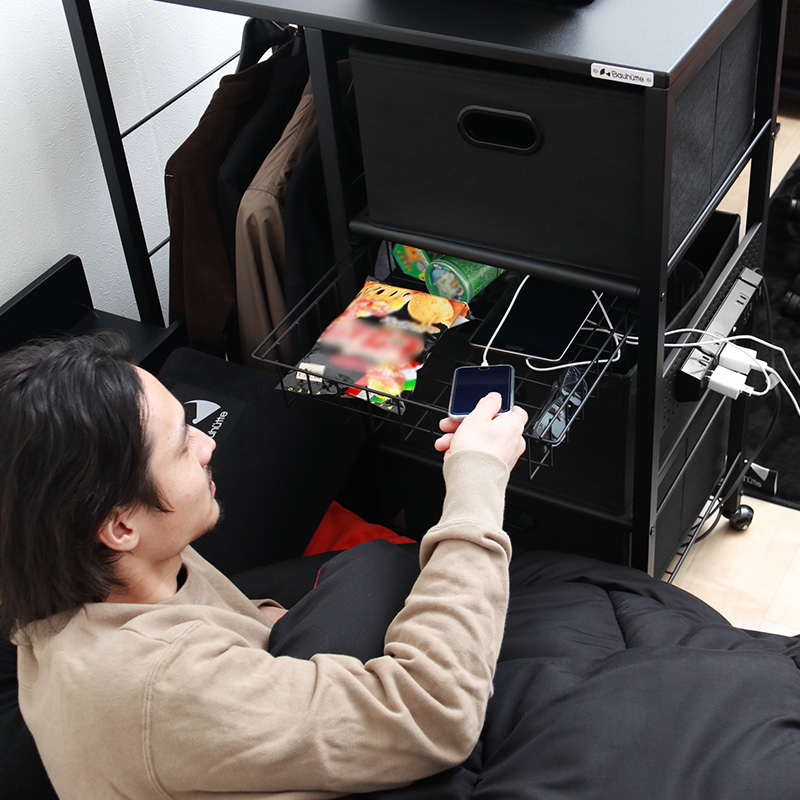 A Countertop Similar to Your Desk
The countertop is made using the same materials and process as Bauhutte's gaming series. This allows you to create a room that is coordinated to match entirely.
Pipe for Hangers
You can hang and store often used items like jackets.
*Hangers not included.
*You can't hang anything too long. (Measurement from pipe to bottom: 866 mm (34 in))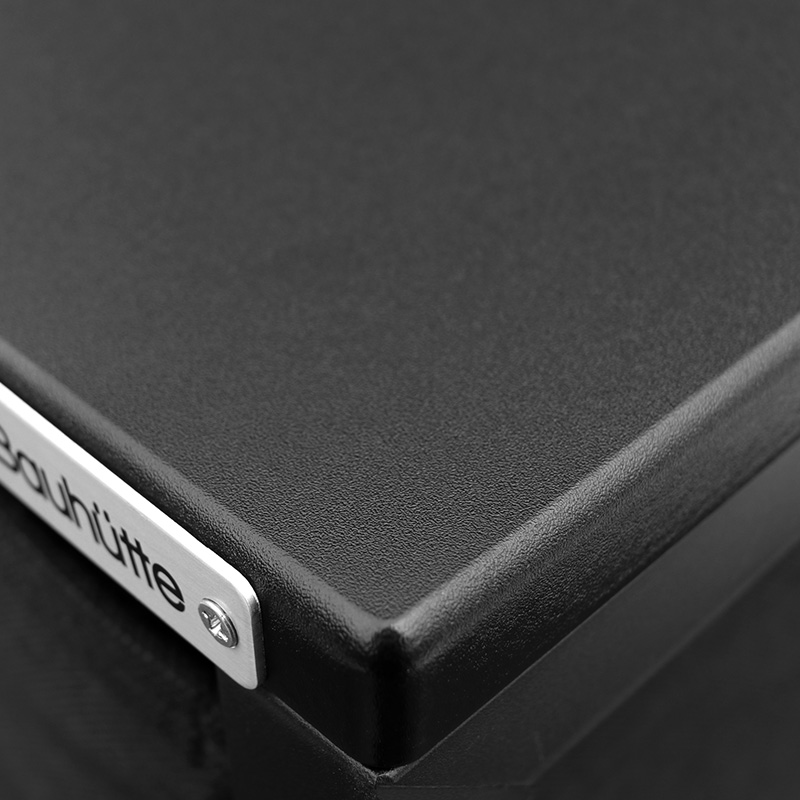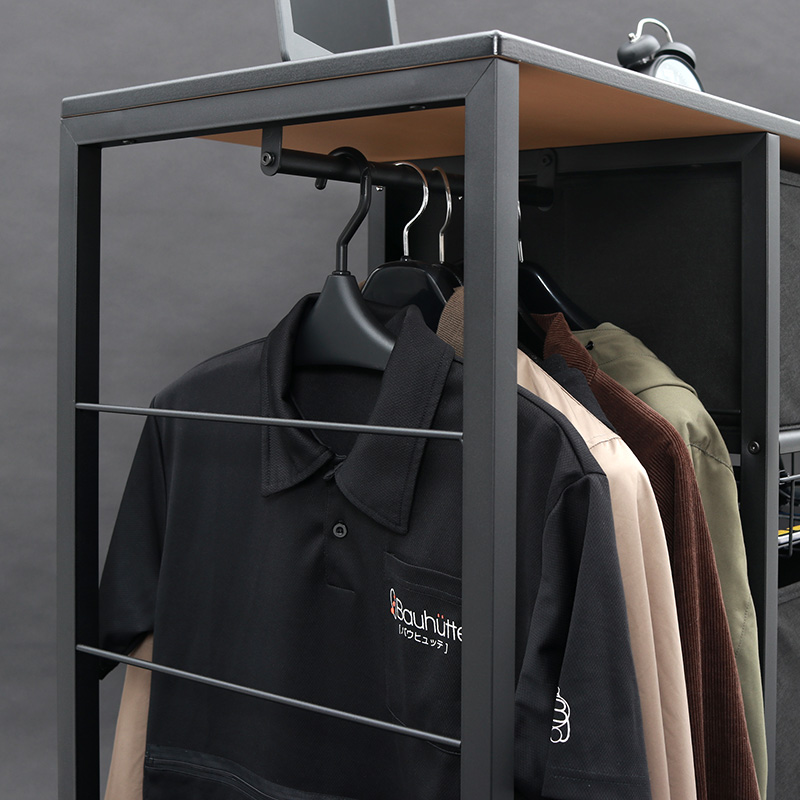 Hanging Bar
You can hang the separately sold Headphone Hanger or S-hooks from it.
Lockable Ball Casters
This has ball casters that allow the unit to be moved even if it's heavy with clothes.
*Only 2 of the casters have locks.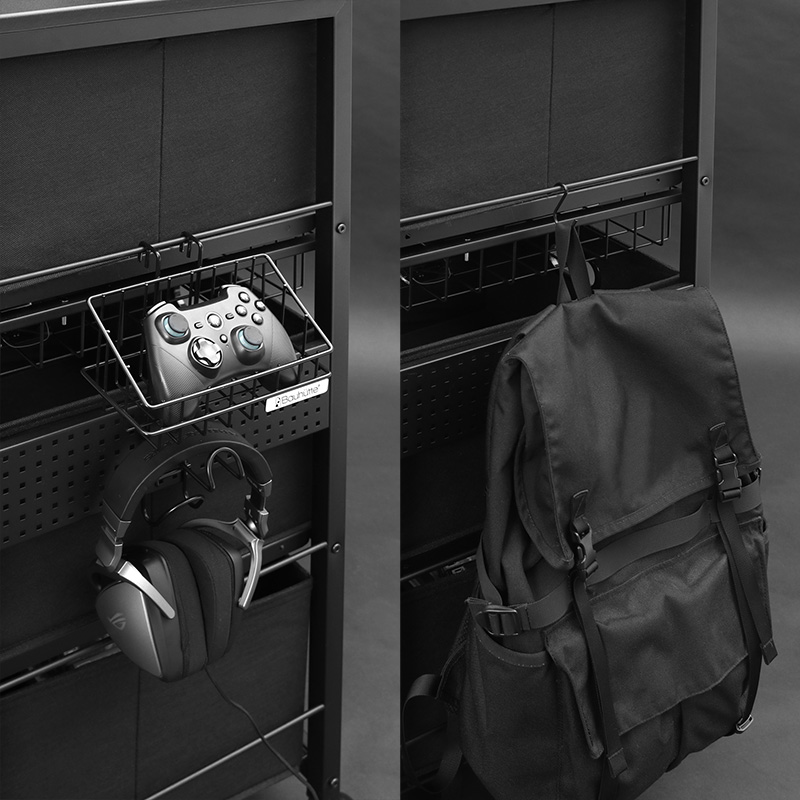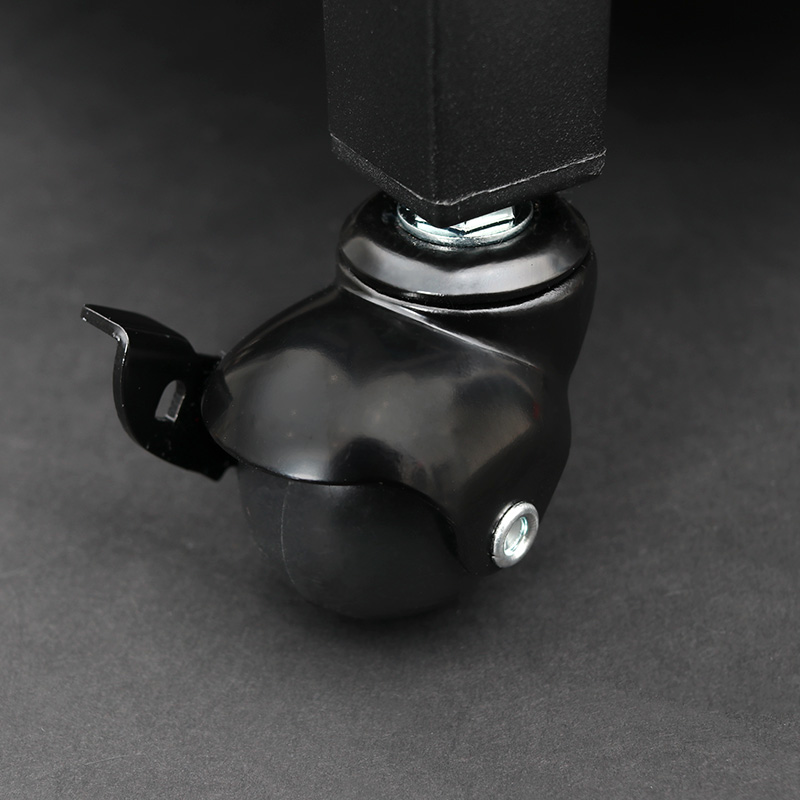 Perforated Shelves
The Clothing Rack Table uses strong, steel perforated shelves. You can use these shelves without the storage boxes. They're heat-resistant, so they're great for storing game devices.
Wire Bottom
The bottom panel is very convenient for storing bags or shoes like your slippers. It's made with mesh wire to prevent dust from accumulating.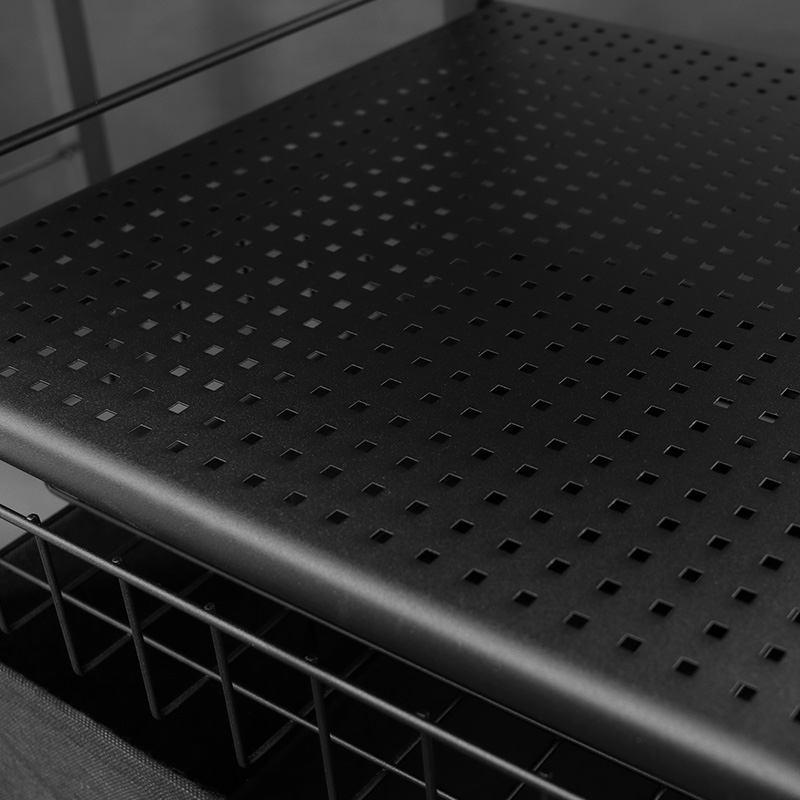 Maximum Weight
Measurements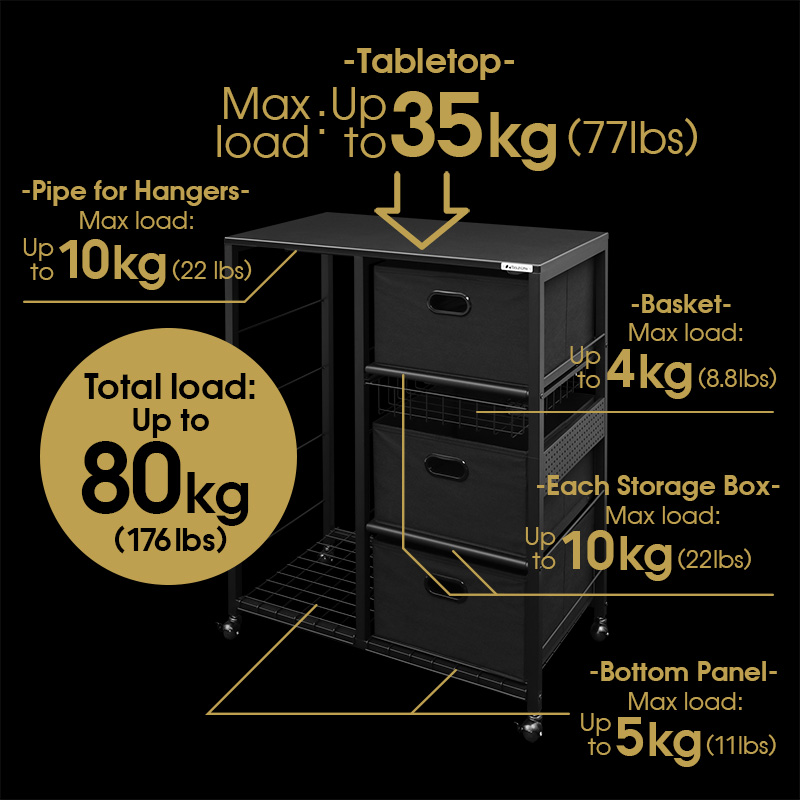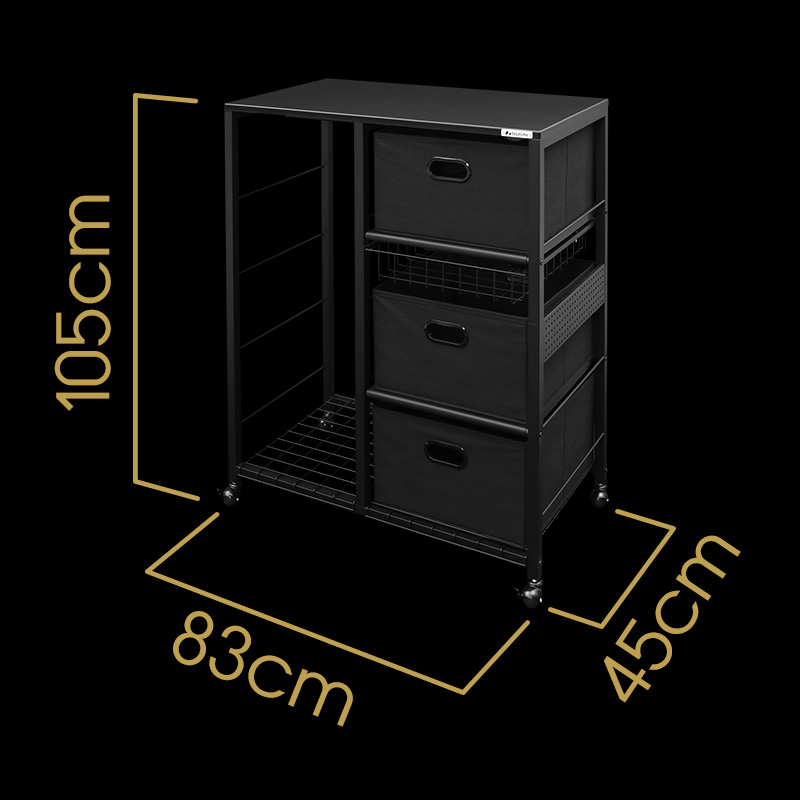 SPEC
Color
black
Size
Width 830mm × Depth 450mm × Height 1050mm
Weight
18.95kg
Surface Finish
desk legs: epoxy powder coating
Weight Limit
Total Weight Limit: Less than 80kg
(Tabletop: Less than 35kg, Each Storage Box: Less than10kg, Basket:Less than 4kg, Bottom Panel: Less than 5kg, Pipe for Hangers: Less than 10kg)
Material of Tabletop Surface
laminated fiberboard(PVC resin)
MSRP
Varied
JAN Code
4589946143416
*Please do not place hot vessels, like heated pots, kettles, or hot mugs, directly on it. This might result in a change in the color or shape of the product. Please lay a pot stand or coaster on the table before placing such items on it.
SIZE
*Some products have labels displaying different measurements from this page. Please note that the sizes on this page are the accurate ones.
*The sizes displayed are control values. Some differences will occur depending on each product and how the product is put together.